Arts And Culture
You Must Understand That Taylor Swift Knows Me Better Than Anyone Else On Earth
1:27 PM EDT on August 10, 2023
When Taylor Swift told fans at her Eras Tour show in Seattle on July 23, "If you see me staring at you, it's just because I'm actively trying to memorize your faces," she was actually talking about me personally. Never mind that at both Eras Tour shows I attended I was sitting in the nosebleeds, more than far enough away from her that the center diamond of the massive stage looked about the size of an literal diamond ring. Never mind that I wasn't even at the show at which she said it. She was talking about me—no, to me. 
Before I elaborate, I need to indoctrinate you into the way these shows work: For every show that Taylor puts on in her Eras Tour (which she just finished the first leg of last night, by the way), she plays two acoustic versions of tracks from her catalog that haven't made it into the regular concert setlist. These songs are affectionately called "surprise songs" by fans and are a hotly anticipated section of each show. Will she sing one of your favorites? Will she sing one of the few you hate? We Swifties hope and pray and cross our fingers to hear our favorites in-person, and we feel a wash of relief upon seeing she played a lesser loved track at a show we missed, thus increasing the odds of a surprise song we actually love at a show we're actually attending. 
The first show I went to was her third night in Philadelphia on May 14. I was already overwhelmed by the time the surprise set came around, but there I was, looking down as she stood up in that floppy green dress and launched into playing "Hey Stephen," a clever track from the 2008 album Fearless. Now, if you can ignore that Taylor probably played the song at the request of Matty Healy, the scumbag she was dating for one terrible month, please open your heart to consider that she actually played it because "Hey Stephen" is one of my favorites from Fearless, and it was on my list of desired surprise songs. On top of all of that, the night prior to the show my sister and I had just visited my actual cousin Steve, who used to joke with us that the song was actually about him. How can that be a coincidence? 
I understand that you may not yet be convinced that this superstar knows who I am, so I will keep going. On June 14, just a few days before my next Eras Tour show in Pittsburgh, word got out that "Cruel Summer"—a frantic, moody, euphoric banger that conveys some of Taylor's deepest insecurities—would be released as a single. But this was no normal single. The song was released way back in 2019 as just one of many non-single tracks on Lover. Critics and fans agree it is one of the best songs she's ever written, but she had never publicly spoken about it, or even performed it prior to the Eras Tour. Knowing this, imagine my manic delight the night of the Pittsburgh show when Taylor opened her mouth to talk about "Cruel Summer," just because I was in the building! I do not remember what she said. I was so stunned from hearing my favorite artist talk about a song I never believed she would mention, that after she began to play the next song I had to sit down. I must have looked unwell, because a very kind fellow fan from the next row walked over and gave me a big hug. They must have been so happy that Taylor chose to tell me about "Cruel Summer." Artists don't just confess their innermost thoughts about their most inscrutable work to any idiot off the street! This is special! 
We had not recovered from the "Cruel Summer" speech by the time the surprise song set came around, but we put on our brave faces and got ready for whatever she had to throw at us. My friends and I were desperately hoping to hear "seven," a superb folklore track that mentions Pennsylvania, the home state Taylor and I share. And sure enough, from our bird's eye seats, we could see our favorite Taylor collaborator and folklore producer Aaron Dessner ready to pop up from below the stage at the beginning of the surprise song set. This resulted in us screaming "Aaron is in the hole!" at the top of our lungs and everyone around us probably being concerned for our sanity. Dessner emerged onto the stage and joined Taylor for a more beautiful rendition of "seven" than even I could have hoped for. Tears were shed, and they continued to flow as we waited for Taylor to play the next and final surprise song of the night. We were crossing our fingers and praying with every ounce of our being that she would play a track from Speak Now, specifically "The Story Of Us." The song is legendary among my friends, so much so that we included it in the soundtrack of an iMovie production back in middle school. And! Would you believe it? Taylor felt the deepest desires locked within our souls, connecting on a level that can only be achieved through the intertwining of fates, and she started singing "I used to think one day we'd tell the story of us…." Cue the loudest screams you've ever heard.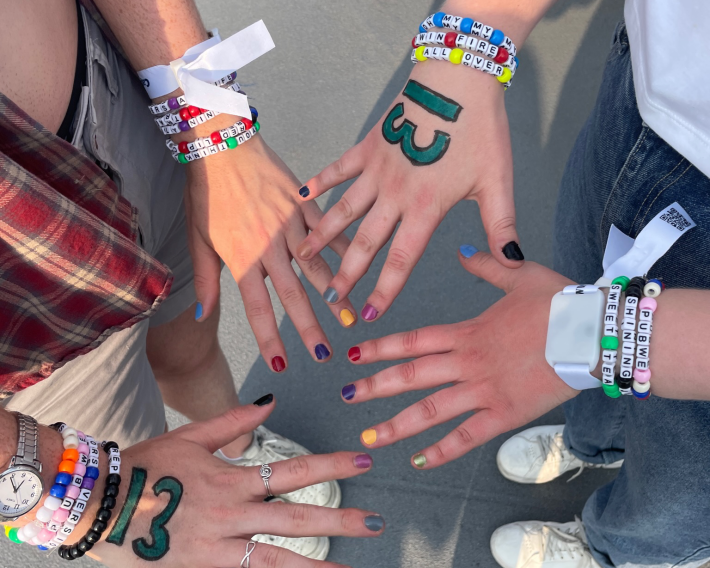 To be clear: In my head I know this is all ridiculous. Taylor Swift does not know who I am. I am but one in a vast sea of obsessive fans. But in my heart, my deepest and most precious self, I feel that Taylor and I have a connection that is more than one-directional. This is the strange thing about being a longtime Swiftie (or Swiffer, as I prefer) during a time when Swift is more popular than ever. The demand to see her play just about broke Ticketmaster in November, she's still selling out American and international tour dates, and thousands of ticketless fans gather outside the stadiums where she's performing the night of each show. Paradoxically, the Eras Tour has also made fans like myself feel even closer to her on an intensely personal level.
This parasocial bond is strengthened by the ubiquity of smartphones and social media, which allows fans around the world to feel intimately involved with each show as it happens. As Elamin Abdelmahmoud wrote for the New York Times, "The prospect of thousands of cameras fixed on a performer's micro-expressions transforms each show into a potential melodrama." In the online Swiftverse, this manifests in viral clips of Swift's facial expressions that range from silly to numb to sad, all accompanied by a kind of psychoanalysis that verges on presumptuous, but feels as natural as breathing to those of us used to decoding her every move.
Indeed, as Amanda Petrusich wrote for the New Yorker, "Swift has for years been a savant of what I might call 'you guys' energy, a chatty, ersatz intimacy that feels consonant with the way we exist on social media—offering a glimpse of our private lives, but in a deliberate and mediated way." Extending fans just a peek into her current emotions—whether genuine or performed—allows us to feel like we maintain a mutual friendship with her; she comforts us with her songs, and we return the favor with praise and undying loyalty. Hardcore Swifties may seem foolish from the outside, but that simply doesn't matter to us. We aren't looking for your approval. We're desperate for Swift's, and she offers it up at every turn. 
The reality is that even in many moments when fans shower Swift in love, she is ultimately the one in control. Take, for example, the minutes after she performs the evermore hit "Champagne Problems" on piano each show. The fans cheer, as expected, and she sits at the piano for minutes on end soaking up the endless roar. Swifties online have turned this moment into a kind of competition: Which crowd will applaud Swift the longest? But the truth is that any crowd will applaud her as long as she's on stage and not speaking or singing; she has total command of the situation. When the audience cheered for eight minutes straight on her second-to-last show in Los Angeles, it was the longest applause yet and she apparently started crying. She must realize she is the only person who could put a stop to all those cheers, yet she actively chooses to take the time she could use to sing two full songs to instead indulge the fans in their adoration of her, which is gratifying for all involved. 
Many of us, I sincerely hope, are aware of the extent of our delusions. Half-jokes that being a Swiftie is akin to being in a cult abound, as well as self-deprecating comments about the—usually wrong—conspiracy theories Swifties are notorious for spreading. If we acknowledge that our illusions of intimacy are just that, illusions, do they become less foolish? If fans derive genuine joy from following an artist's work and feeling a personal stake in it, is that such a bad thing? 
During my Eras Tour stops, I personalized events that were really just coincidence. Indeed, if Taylor had played any number of other songs during the surprise sets, or had talked about another overlooked track from long ago, I would have had the ammunition to feel special in the same way I do now. But perceiving unrelated events as an undeniable production of fate is what humans, and especially Swifties, do. We crave a connection with an artist who has articulated our ever-complicated emotions so well for so long, and we manufacture any possible rationale to feel that desperation. Happily, no Swiftie is alone in this delusion; this feeling gives way to a sense of belonging within Swift's massive fanbase. 
It is that massive fanbase for Swift and another movie you may have heard about that has made this a hot girl summer for capitalist blonde icons. The relentless marketing for Greta Gerwig's Barbie has instigated a broad discussion of what it means to find joy in an extractive society, especially as a woman. Where is the line between enjoying fun things and just being a cog in the ever-consuming machine that's destroying our planet and social ties? Aren't they often one in the same, by nature of capitalism's overwhelming reach? Logically, it seems silly or even dangerous for someone to invest so much time and money and emotional weight into loving a person like Swift, who is ultimately a cultural product that cannot reciprocate that level of care in the same way. But no one can reasonably deny that Swifties do get something invaluable out of our devotion to her: the validation, whether based in reality or hope, that our emotions, stories, friendships, and girlhoods matter. The question remains, as it so often does for consumers: Is that enough? Swift's success thus far points to yes. 
In my view, feeling hyper-connected to a musician is not all that different from feelings of spirituality, religiosity, or even loyalty to a sports team. All derive from the same deeply human desire to feel connected to some purpose bigger than ourselves. In "State Of Grace," Swift sings about the ways a relationship can deeply change all people involved. "Love is a ruthless game," she warns, "unless you play it good and right." Fandom is similarly treacherous, but you'd be hard pressed to convince me that being overly invested in the life of this rich stranger from Reading, PA is not worth it. Cynics might say I'm crazy or wasting my time, but as long as my very good friend continues writing songs about my life, I'll be there, like Taylor says, right where you left me.
Stay in touch
Sign up for our free newsletter