Some people are fans of the Indianapolis Colts. But many, many more people are NOT fans of the Indianapolis Colts. This 2023 Defector NFL team preview is for those in the latter group. Read all the previews so far here.
Your team: Indianapolis Colts.
Your 2022 record: 4-12-1. Do you believe in miracles? This team's opponents did.
Before the season started, the Colts traded a third-round draft pick to Atlanta for a washed-up Matt Ryan. Remember when the Colts traded John Elway to Denver? This trade was the inbound version of that mistake. Ryan played like he had a horse hoof lodged inside his rectal cavity, to the point where owner Jim Irsay gathered his braintrust (term used loosely) and demanded, likely in song, that they bench Ryan in favor of inevitable nobody Sam Ehlinger. And then head coach Frank Reich was like, Well that's a terrible idea sir, and then Irsay sang, Change everythinggggg turn turn turn/let's end our season turn turn turn.
And so they did. Irsay fired Reich for being too sane and then, after huffing his finest ether, hired former center Jeff Saturday as interim coach. Was Saturday already on Reich's staff prior to this? No. Did Saturday have any coaching experience at all? No. Did Saturday's own wife think taking this job was a good idea? No. Did Colts players think it was a good idea? No.
"Took a minute to register," one player admitted. "Then it clicked: he was always great on 'First Take.'"
Saturday's hiring was so embarrassing that no other coach on staff was even willing to call plays for him. The only people willing to defend the hire were Saturday's TV work friends, because TV people are all dead inside. As for White Trash Paul Allen, he dismissed all criticism of this move as being nerd shit.
"I am glad [Saturday] doesn't have any NFL experience. I'm glad he hasn't learned the fear that's in this league because it's tough for all of our coaches," Irsay said. "They're afraid. They go to analytics and it gets difficult. I mean, he doesn't have all that. He doesn't have that fear and there was no other candidate."
Every year some of you tell me, Hey man, Jim Irsay isn't on drugs anymore. He's in recovery and trying to be the best guy he can be. But come on. He's TOTALLY on drugs. I can't believe I can still find drugs available at the local drugstore, Jim Irsay is on so many drugs. He's vacuuming up every pill and powder until a talking unicorn descends from a candy-colored cloud and tells him NEIGHHHH YOU SHOULD HIRE JEFF SATURDAY NEIGHHHH.
And if this really is Jim Irsay sober, then he should go BACK on drugs to get his head right.
Saturday would go on to win his first game against Vegas, validating Irsay for six wonderful days. After that, the Ark of the Covenant slipped open and the wrath of God engulfed this team with a quickness. Saturday gifted the Steelers a victory the next week by forgetting that timeouts are a thing you can use. Then his Colts gave up the world's easiest game-winning touchdown run to Jalen Hurts. Then they got outscored 33-0 in the fourth quarter against Dallas. Not to be outdone, they then blew a 33-0 halftime lead the following week to a Minnesota Vikings team that had its subsequent NFC North title overturned upon sabermetric review. This was the largest comeback in NFL history, and here's a fun fact about it: Indy was still leading that game 36-7 with less than five minutes to go in the third quarter. And yet, no one was surprised that they lost anyway. To Kirk Cousins. Stop hey, what's that sound?/Everybody look… at this team eat shit!
And then, to end it all, the Colts gave up a touchdown pass on fourth-and-20 to Davis Mills, and also gave up the ensuing two-pointer, to lose to Houston by a single point at the gun. In a game that the Texans shouldn't have even wanted to win. Seven straight losses to end it all, and those losses don't even include the time that Taylor Heinicke stopped the steal against them.
Normally, when a team sets its reputation on fire, it does so by hiring Urban Meyer or trading for a charming sex criminal. But here we had an organization mule-kicking itself in the balls for no discernible reason. And after all of that, Irsay STILL WANTED TO KEEP SATURDAY AROUND:
This team has won Super Bowls. They even beat Kansas City a year ago, I swear. Maybe it's all of US who are on drugs.
Your coach: After a coaching search that took longer than Irsay doing a cover of "Mountain Jam," the Colts did NOT hire Saturday permanently, which frankly disappoints me. Instead, your new guy is former Eagles offensive coordinator Shane Steichen, who's here to give the team an air of reclaimed legitimacy before Irsay wakes up at 2:00 a.m. in Week 8 and decides that Donald Brown is the man to lead his guys.
Your new defensive coordinator is Gus Bradley, because sure. Your new offensive coordinator is Jim Bob Cooter, who always gets them Duke boys out of a jackpot. As for Reich, even the Colts know he's in a better place now.
Your quarterback: Anthony Richardson. A few months ago, I asked World's Most Prominent Gators Fan Spencer Hall if my team should draft Anthony Richardson. His answer was NOOOOOOOOOOOOOOOOOO, but with enough O's to wrap around the equator 76 times. Richardson throws exactly one kind of pass, and it's Philip Rivers's moonball but somehow with less English on it. And while Richardson is built like Josh Allen impregnated an urban assault vehicle, he barely completed 50 percent of his passes at Florida and had a losing record as a starter.
And you might be saying, OK but Drew, Josh Allen couldn't piss into a swimming pool accurately when he got to the NFL, and they fixed him! That's true. It's also THE FIRST AND LAST TIME THAT WILL EVER HAPPEN. Every other potential Josh Allen ended up on the curb, so don't pretend like Steichen is gonna magically fix Quarterback Mamula in an instant. And hey, guess what? Now that Irsay has gotten a taste for meddling in this team's affairs, he's already doing so with Richardson before he's even taken a snap:
"For Anthony Richardson, it's going to be tough. We know that," Irsay told McAfee. "But he has to play to get better. I mean, there's no question. Gardner [Minshew] could come out and obviously play better early on just being a veteran, but we have to get Anthony on the field. That's Shane [Steichen's] call when he decides to do it."
Totally. That's 100 percent Steichen's call, until he refuses to play Richardson at Irsay's behest. And then, again, we'll have Coach Donald Brown.
Your backup, as Irsay already noted, is Gardner Minshew, aka Dirtbag Josh McCown. Sam Ehlinger is also still here. "Ehlinger" sounds like the name of a handgun manufacturer.
What's new that sucks: The Colts are already down two players before the season after they had to waive LB Rashod Berry and CB Isaiah Rodgers after both men were suspended indefinitely by the NFL for violating the league's gambling policy, which is brought to you by FanDuel. They'll also be without LB Bobby Okereke, S Rodney McLeod, and stud corner Stephon Gilmore, whom they traded away to Dallas. This is a rebuild, only Ryan's $19 million dead cap hit means that the "-build" part of that equation can't begin in earnest until Richardson has already proven to be a bust. With little room to maneuver, the Colts could only afford to bring in flotsam like WRs Isaiah McKenzie and Breshad Perriman, DLs Samson Ebukam and Taven Bryan, Minshew, and kicker Matt Gay. It's like staring at the roll call for an open XFL tryout.
Meanwhile, star RB Jonathan Taylor missed six games during the 2022 bloodbath but is due for a contract extension this offseason, which means that the Colts can either let their best skill player walk, or sign him to a luxe deal that will condemn them to repeat the last five years of the Tennessee Titans' existence. In theory, this decision would be left to current GM Chris Ballard, but you guys are a team that officially has an Owner Problem now, and that owner is already busting out the distortion pedal:
If Irsay lets Taylor walk, it's not gonna be because he's getting shrewder, but because he's fucking cheap now. Just like his old man. Jim Irsay has spent his whole tenure insisting, No no, I'm not like the cheap angry drunk! but his Twitter feed says otherwise. Your owner is a cheap, insane asshole. You'd be better off if Irsay based all future personnel decisions strictly on whether or not a player joined him for a rendition of "Spirit In The Sky" at training camp karaoke night.
Why the players think you suck: As this is Indiana, the Colts are now on the record as having some of the worst food in the league. The union says that players prefer to, "bring their own food from home," rather than have a reassigned Saturday serve them "Sloppy Jeffs" in the team cafeteria.
What has always sucked: Speaking of Ballard, I'd like to use this space to note that he is an extremely weird looking man.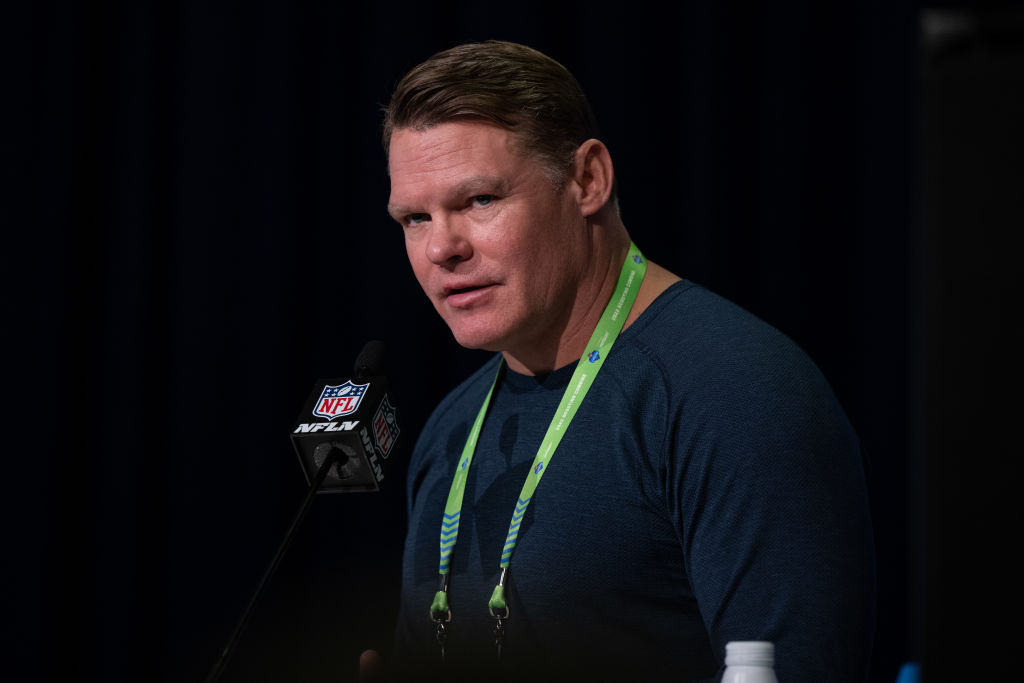 He looks like The Thing if The Thing was covered in human skin. And I'd like to sympathize with Ballard, given that his position has essentially been reduced to a no-show job as Irsay takes command of the franchise in a frantic, presumably coke-addled effort to recover from Andrew Luck's sudden retirement in 2019. But I can't because, again, I find Ballard disturbing to look at.
Also, why should I sympathize with anything related to this team or to its roly-poly fanbase? Somehow Jim Irsay is the most interesting Colts fan there is, and he runs this team like the cops are already onto him. The best thing that could happen to the Colts is that Irsay gets distracted playing an event space in Reno with Kenny Wayne Shepherd and leaves the grownups to do the work. But again, I don't want that. Last season was, as far as I'm concerned, the ideal Colts season: the comedy event of the decade. I want that run back on a loop every year, and I want nothing good for the Colts, or for the state of Indiana.
And guess what? Nothing good will ever happen for Indiana. All of your food is gas station food, all of your schools may as well be home schools, and all of your politicians' chief running platform is, Let's get more white teenagers pregnant. So go shit down a water slide, all of you.
Quenton Nelson will never return to form. The secondary is atrocious. Shaq Leonard's back will never heal properly. Parks and Recreation ended eight years ago.
Ratto says: Jeff Saturday was the best thing to happen to Indianapolis since Bob Irsay's last drink. In fact, Jeff Saturday (and yes, you can only refer to him with both names) may as well be an actual Irsay because he made the hubris-drenched mistake of thinking he could do something he's never done at this level, which makes him Bob and Jim all at once. But now the Colts are coached by a Shane, and Shanes never inspire us to feel much of anything either way. The team is a disaster/under reconstruction, so it will take a couple of years for them to stop propping up this awful division. In the meantime, there is Shane: the human embodiment of Indiana Nights.
What might not suck: If Richardson hits, forget everything I said here. They'll be the funnest team in the NFL for a decade.
HEAR IT FROM COLTS FANS!
Will:
We replaced one of the NFL's greatest offensive minds with the only person who'd answer the phone for Jim Irsay at 2am who isn't his dealer.
Ryan:
This team made me hate Jeff Saturday and I'll never forgive them for it. 
Kate:
There are still people here pissed off at Andrew Luck deciding not to become a vegetable for our own amusement. And #ForTheShoe is the dumbest hashtag in the world. 
Peter:
A few years back, I got in a fight with David Simon on Twitter over whether he should get over the Colts leaving since they have now spent more time in Indianapolis than they have in Baltimore. It's the most enjoyment I've gotten out of this team since just before halftime of Super Bowl XLIV. 
Dusty:
Jim Irsay turned into his dad so gradually we almost didn't notice.
Colin:
My cousin was an intern for the Colts when he was in college and was working out at like 5AM in the facility wearing a shirt from the college he went to that was grey with red lettering. The only other person in the room with him was Ryan Grigson. They didn't exchange a word but Grigson later sent out an email to the entire staff with a new rule that people weren't allowed to wear red in the facility. So yeah there was a man you could just judge by appearance.

We wasted Manning. We ruined Luck. We'll make Anthony Richardson boring somehow. There'll be calls for Gardner Minshew to start and maybe it'll be racism but it also might just be because he looks like the average fan's most successful family member.

I still think Peyton was a better QB than Brady. I am an idiot.
Seth & Eric:
Richardson's on-target rate ranked 106th out of 114 FBS quarterbacks. Anytime you have the opportunity to draft a prospect with the exact opposite skill-set and profile of Tom Brady, you have to do it. Congratulations Indianapolis, on your 34th starting QB doesn't know how to pass. 
Jon:
My wife has diligently written a WYTS entry every year for the past 5+ years. This year I asked what she'd write on and she just said "I'll let other people vent. I'm just too sad." Sums things up.
Bryan:
At least the QB we drafted looks promising. He will, of course, retire after two seasons because our shitty o-line lets him get turned into funnel cake batter on a weekly basis.
Sean:
I am the worst anyone can say about Colts fans. Haven't paid much attention since Peyton left, even though "Colts fan" was the defining part of my personality and I defended Peyton to the death when he was losing AFC championships left and right. Bought into the hype and got an Andrew Luck jersey his rookie year and haven't worn it since. I laugh along with all the WYTS articles, but when people say bad stuff about Indianapolis, of all places, I legitimately mark out and get mad about it.

I deserve our AFC finalist banner and "James Dolan but less savvy"-ass team owner.
Maeve:
No matter how enthusiastic I get about the new coach, this year's hyper-athletic draft class, and the fact that we're no longer a carousel of castoff white pocket passers at QB, nothing will be able to make me forget that I watched the entirety of that fucking Thursday game against the Broncos.

I still miss Andrew Luck.
Zach:
Despite this roster being chock-full of the most forgettable guys north of Houston, I still have enough optimism to feel a completely unwarranted feeling of superiority when I crack jokes about the Texans. I have talked myself into being hyped about the Colts drafting a QB who has a 54% completion percentage as a college starter. The dude had six INTs before any of his WRs caught a single TD last season. The dude could come out and make Lamar look slow and inaccurate, and our stadium would still have the atmosphere of mandatory work party at Applebee's.

The last good Hoosier died with Vonnegut. The rest of us can get fucked. 
John:
"Hey what if we made the Back The Blue flag a uniform? Our mouth-breathing fan base will go bonkers for that!"
Pat:
I went to one game last year against the Commanders. Before the game, my buddy and I joked about how lucky we were to be there for Sam Ehlinger's first career start. Predictably, the game resembled a painful slog more resembling something featuring Iowa/Purdue (the score was 7-6 going into the 4th quarter) than a legitimate NFL matchup. The Colts ended up moving ahead by six with under 2:00 left, with Washington backed up deep in his their own territory and Taylor fucking Heinicke under center. Game over, right? Wrong. Heinicke proceeded to "engineer" an 89 yard game-winning touchdown drive in front of a stunned crowd.

The only appropriate reaction to witnessing something like this is to burst out laughing, which is what we did. And this was just a typical game that year; the Jeff Saturday clown show to end the season ratcheted the whole operation up to 11 and I'm convinced there will never be a funnier team than the 2022 Colts. This is how far we've come from the Manning & Polian years, but hey I'm sure our MAGA fan base will stay engaged and be super patient with Anthony Richardson.
Nicholas:
If we cut off Florida Bugs Bunny-style, the Colts would still lose at Isla Duval in the NFL Atlantis game at 9am.

"You know, Tom Brady was drafted in the sixth round too," was an actual thought my brain created as Sam Elhinger took the field.

Anthony Richardson is an absolute athletic beast, so I look forward to him murdering a litter of puppies in front of a kindergarten so we can get back to the Rent-An-Old cycle of QB play.
Tom:
I have lived in Central Indiana for the majority of my life and I can say with confidence that the Colts have one of, if not the most absurd, fickle, frustrating, and annoying franchises in all of the NFL. After Peyton Manning got injured, never have I seen such a mass exodus of fans in such a short amount of time. Attendance plummeted, people wearing Colts gear practically vanished overnight, and rather than wait out the storm, Colts fans bailed. As soon as the going got tough, Colts fans were more than happy to take their team out behind the woodshed and put a bullet in the franchise after just one season of poor performance. Every week, fans called for the heads of everyone on the squad, including Pro Bowlers Dwight Freeney, Robert Mathis, and Reggie Wayne, among others. However, as soon as the team became good again (i.e. the next season), all of the Colts fans who vowed to never support the team hopped right back on the bandwagon without a hint of irony. 
Max:
Fuck Mike Pence, fuck Mitch Daniels, superfuck every asshole with a "KEEP WHITE COUNTY WHITE" sign in their yard, and fuck Jim Irsay with one of his shitty guitars. 
Tim:
Jim Irsay used Lucas Oil Stadium to show off his guitar collection like the world's methiest feudal lord. I hope Anthony Richardson buys good life insurance before he takes his first snap behind this O-Line. 
Stro:
My girlfriend knows two truths if I'm alone on the couch: If I look sad, I'm thinking about Andrew Luck. If I'm mad, I'm thinking about Hank Fucking Baskett.
Submissions for the NFL previews are now closed. Next up: Denver Broncos.
Stay in touch
Sign up for our free newsletter