Some people are fans of the Arizona Cardinals. But many, many more people are NOT fans of the Arizona Cardinals. This 2023 Defector NFL team preview is for those in the latter group. Read all the previews so far here.
Your team: Arizona Cardinals.
Your 2022 record: 4-13. Four years ago, this team was the future of the NFC. They had a shit-hot rookie QB. They'd hired Kliff Kingsbury as their head coach after Texas Tech had fired him for being too cool and for having way too nice of a house. This is the oldest franchise in league history, with its last championship coming in 1947. It needed young blood more badly than Peter Thiel does. So it was easy to look at their latest rebuilding effort and at Kingsbury's immaculate facial grooming, and imagine brighter, if not more humid, seasons ahead. Instead…
Y'all brought it, man! Here's how you murder a team's future in 18 tidy weeks. First off, tear your starting QB's ACL. That sets the tone. Second, replace that QB with the formidable trio of Trace McSorley (He Is!), David (Mister) Blough, and Colt McCoy (everyone's favorite backup until they have to watch him play). Waste a first-round pick by trading it for Hollywood Brown, only to watch Brown put up 709 yards, score three touchdowns, and get hurt. Make sure your one GOOD wideout is suspended for the first six games. Lose to the Chargers on a two-point attempt right before the gun. Lose to the Falcons AT the gun. Lose to Brett Rypien. Watch kicker Matt Ammendola blow a win for the Chiefs in Indianapolis, sign him, and then watch him blow a critical field goal for YOU against the best team in the NFC. Ask that same kicker how he felt about it afterward:
"It honestly felt good," Ammendola said. "Everything felt good off my foot. It's just something that I've got to work on. I'll have to go back to watch it and look at the film."
I actually watched that film just now, and what I noticed was that he missed the kick. Ammendola must have also studied that film as intensely as I did, because he missed a PAT in the following game, and then was cut a week later. Now that's consistency.
But have you killed your team stone cold dead yet? You have not. You must also come back from 23-7 down in the fourth against Vegas, which doesn't count because no victory against Josh McDaniels ever counts. Have a Redditor discover that your QB plays statistically worse anytime he gets super horny for Call of Duty, and then lose to Minnesota in a game where your former All-Pro corner trolls your QB for it. Fire your OL coach after he groped a woman in Mexico and then tried to pin it on the GM. Put that same GM on medical leave to avoid firing him, and then fire him. And then, on Christmas Night, drop a dead bird into every desert child's stocking by blowing a 10-point lead in the fourth to a Bucs team suffering from post-divorce depression.
ALAKAZAM! You did it. What was once one of the hottest young teams in the sport is suddenly a real fuckhole! Two weeks after that Bucs debacle, the Cardinals fired Kingsbury, who then said to himself, I should really go to Thailand and check out the sex tourism there. A logical endgame for all parties involved.
Your coach: Former Eagles defensive coordinator Jonathan Gannon, the Kyle Shanahan of Super Bowl defensive minds. Gannon was such a hot commodity that the Cardinals had no choice but to tamper in order to procure his services, lest Nebraska snatch him out from underneath them. Schematically, this hire was kinda fucked.
In between tonguing electrical outlets, there's nothing that Eagles fans have loved more for the past two years than to go, WAHHHHHH WE HAVE THE WORST DC IN FOOTBALL! WOODER ICE IS THE BEST ICE! to anyone who would listen (no one). And that whole time I was like, Whatever losers, why don't you go fuck your dog some more. Then I watched Gannon effortlessly blow a 10-point lead to a one-legged Patrick Mahomes in the Super Bowl and was like, Yeah okay, I can see their beef now. Canada burns slower than that defense did. I am no longer confident in this hire.
Keep in mind that Brian Flores was also a finalist for the Cards' vacancy this past offseason before pulling himself out of the running to go oversee the worst defense in the NFC instead. Coming to Arizona is no sane person's first choice. The only people who elect to come here are incompetents, prisoners, wastoids, sunburn addicts, and Jonathan Gannon. Not our best.
New GM Monte Ossenfort is also here from Tennessee, and together with Gannon he'll attempt to salvage (or, more wisely, eradicate) whatever's left of…
Your quarterback: This charming idiot:
That's Kyler Murray, who runs with the ball like a toddler getting into some trouble. Real "ain't I a stinker"-ass running. In between roundabout three-yard scrambles that break the Next Gen Stats meter, Kyler excels at PlayStation, tearing up his knee, and getting into visible sideline fights with his teammates and coaches, all of whom hate his guts. Patrick Peterson said as much in November, and then-wideout DeAndre Hopkins added this once the season was over:
OK but that quote is just an excerpt. Maybe it's missing vital context…
Hopkins said Kyler Murray is a quarterback who loves the game and that he thinks the team is in "good hands" with new G.M. Monti Ossenfort, but noted that Murray is still returning from a torn ACL. Hopkins added that he loves Colt McCoy, but added that he doesn't "currently have a Pro Bowl quarterback or a quarterback who I would say could" before tailing off without finishing his point.
Oh I think he finished his point. After the Hail Murray two years ago, I decided that Kyler was my favorite NFL player. I have now decided that he's about to repeat Baker Mayfield's career arc. The only difference is that the Browns got rid of Mayfield before overpaying him, and the Cards didn't. As a result, they can either cut Kyler in 2024 for a $33 million dead cap hit, or play him for a $46 million cap hit. Or they can drive themselves out into the desert and let a merciless sun kill them all.
Meanwhile, Kyler is unlikely to be ready for the start of the season, which means that the Cardinals are the 57th lucky team forced to start Colt McCoy for months at a time. That's a quarterback who I would say could.
What's new that sucks: When former GM and human groundhog Steve Keim got suspended by the league for extreme DUI—yes, that was the actual name of his crime—a few years ago, this team needed his input so badly that owner Michael Bidwill ordered everyone in the organization to use burner phones to keep in contact with Keim to circumvent his punishment. Because what if they'd had a chance to bring Josh Rosen BACK, but no one around at the office to do it? I just want you to envision Bidwill laying out this Mission: Inexplicable to the otherwise reasonable men around him. I bet it sounded like a Glenn Greenwald tweet storm read aloud. Real D-Day shit.
On the field, the Kyler Factor sets any rebuilding effort in Arizona back by six election cycles, but Ossenfort is gonna do his best to make one work anyway. He released Hopkins after no one would take on his contract. He also got rid of WR Chosen Anderson, C Rodney Hudson, former first round CB Byron Murphy. J.J. Watt retired. All-Pro safety Budda Baker asked for a trade, and then took it back because it was easier to just take Bidwill's money and mail it in for a while.
As a result, this roster is a fucking abomination. Half its players will get suspended for placing prop bets against themselves while hanging out in the shitter. It's also a wildly expensive team, with $37 million in dead cap space leaving Ossenfort little in the way of flexibility this offseason. The only fresh talent he could bring in was rookie OT Paris Johnson, special teamer and depth CB Kris Boyd, OG Will Hernandez, and rookie QB Clayton Tune. No one let Chris Berman near ANY Clayton Tune highlights. I will bomb a children's hospital if they do.
Why the players think you suck: You guys ranked dead fucking last in the union report cards. Cardinals players say the team weight room is a safety hazard, with "uneven" floors. But what I told you that trying to deadlift 405 pounds on a slant increases your torqueload by 45 percent?
Cards players also told the union that they get charged for any dinners the team serves them (no other team does this), that the locker room is a dump, and that Bidwill switched out their cushy plane for road trips for a smaller, AirTran-esque model. Basically, Cardinals HQ sounds like the barebones rehab joint that your grandpa checked into to quit drinking.
What has always sucked: This is the most goatee-and-sunburn intensive fanbase in the sport. It averages 2.3 divorces per every season ticket holder. If you're wondering how the Cardinals can exist for this long and suck the entire time, you only need to look at the Bidwill family, and then back at these fans, and then out at the desiccated wasteland surrounding them. Nothing fucking grows here. Everything for miles is just sand and dead animals. The temperature will never fall below 115 again. That's why these fans are both stupid and easily ignored. It's why guns are used as currency here. It's why the only people who retire to Arizona are people too poor to retire to Florida. It's why the Coyotes play professional hockey games in an abandoned Costco. It's why the Suns will never win fuck all. And it's why the Cardinals will never matter. Arizona has the climate of Iraq and none of the charm. I wish aliens would come and bomb it.
Zach Ertz is still here. James Connor will blow up only when he's riding your fantasy bench. Rondale Moore will never be that good. The Colorado River will be bone dry in two years. I wish Kari Lake was as dead as John McCain is.
Ratto says: This is one of those rare franchises where anything they do by definition is a bad idea, with Kyler Murray being only the latest example. Imagine going through your career knowing that you could have played for the Oakland A's and it would have been the superior option. If Kyler had decided to concentrate on basketball, his rights would be controlled by the Charlotte Hornets. 
What might not suck: When they draft Caleb Williams with the pick they got from Houston next spring? Brother, WATCH OUT! For, like, two years or so. Maybe a bit less.
HEAR IT FROM CARDINALS FANS!
Thomas:
What is the point of this team? Am I supposed to watch this shit again? With their new NPC-ass coach/GM combo deflecting all blame onto Kyler? Why?
Matt:
Larry never got his ring. Our best QBs have been a washed Palmer and soon to be washed Kyler. We can only be good at one position at a time, and then those players leave. 
Ben:
We hired lizard person Monti Ossenfort as our third-choice general manager. He comes from a rich tradition of New England executives who fail for three or four years and leave behind press accounts of staff secretaries and QC coaches terrified that their offices are bugged. His first move as GM was to commit tampering with a head coach candidate no one wanted.

Our head coach looks like the cousin who brown-nosed 80% of your grandparents' estate in the will but got expelled for snorting lines at Concordia University. Our QB sat on the sideline when Budda Baker lay motionless on the field in a playoff game surrounded by his 50 other teammates and entire coaching staff. Our top two wideouts are Hollywood Brown and Rondale Moore, who you might know best for the Red Cross next to their names on your daily fantasy lineup.
Michael:
As I sit down to write about the terrible, deeply embarrassing football team I root for while trying to survive my 19th straight day with a high over 110 degrees in the city I enthusiastically moved back to, I've come to the realization that I have a serious decision-making problem. My only solace is the knowledge that I'll likely be taken by a heat stroke before having to watch any of the Cardinals this season.
Ryan:
Well, it finally happened. Dimestore Gosling and the meathead GM were shitcanned in the same season. It was Christmas in January for about five minutes… until I remembered none of it matters while Failson Mikey is still running the show. The only thing they left on the cutting room floor for Hard Knocks was him and Justice Drunky McBeerstain chugging Heinekens while giddily deciding which Americans needed less rights in the next term. Fuck this team. 
Sverre:
Just a friendly reminder that the good people of Arizona almost made this guy the state's top law enforcement official (he lost the 1,254,613 to 1,254,102) election. The Cards will win two games this year; this shit-ass team is just what this shit-ass state deserves.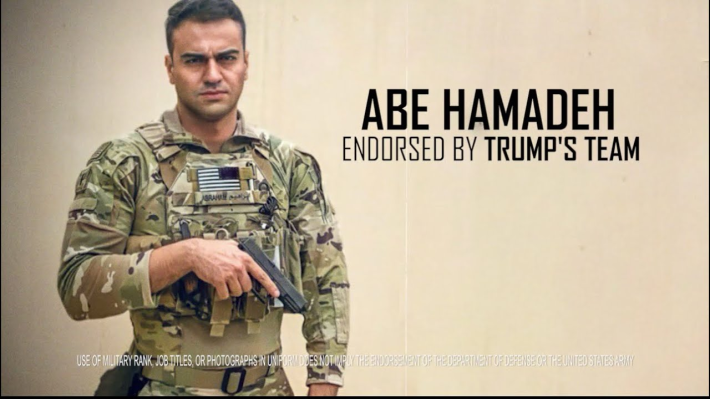 Chris:
The Bidwell family has controlled the team since 1932 and in those 90 years have only had 22 seasons above .500, including two perfect seasons ('43 & '44) where they went 0-10. Bill Bidwell took over sole ownership in 1972 and recorded only 10 winning seasons until he died in 2019. He was easily the worst NFL owner in that time frame, and the Cardinals STILL inducted him into the Ring of Honor.
Dan:
Defector, and Ratto especially, have a bias against Arizona. I've lived here for 35 years, and I can't say you guys are wrong.
Mark:
The 72-hour period in 2014 where the Cardinals signed Carson Palmer to a 50-million-dollar contract only to watch his ACL explode two days later is the perfect microcosm for this franchise's absurdly laughable history with the quarterback position. I'm fairly certain Ryan Lindley is still on suicide watch from that season, and if not, he should be.

Every fan in this racist state glorifies Kurt "the world is 4,000 years old" Warner while conveniently forgetting he was too big of a chickenshit to impede James Harrison's 100-yard pick-six IN THE FUCKING SUPER BOWL.

In 2016, year I got into a fight with my friend who was adamantly arguing that we should pursue Wes Welker out of retirement. That's right, he wanted the rotting corpse of Welker, who currently boasts a higher concussion per play average than Billy Bob from Varsity Blues, so that Palmer would have more weapons for the 2.5 games he would inevitably play in.
Steven:
I don't have anything left to say about this team. Instead, I'd like to celebrate a rare success in this heat pit.

I'm writing this right after Tempe voted against embracing the moribund Coyotes with a $2+ billion redevelopment project. All of the typical look-at-all-the-good-we'll-do public stadium tactics were in play, and I was sure our community would fall for it. The local blowhards certainly did.

Yet in a decisive move, Tempe told them to fuck off. And I couldn't be prouder. This state may act like West Texas and even Western Florida at times, but my little corner of it finally showed some backbone against the most obvious of local scams. That at least gives me a little optimism.

Until Kyler goes 2-for-7 and leaves in the 3rd quarter after throwing nothing but limp screens. This team knows how to extinguish hope.
Chris:
If you gaze into the abyss, the abyss gazes also into you, and causes you to false start on third and short.

Sixteen seasons of rooting for this sulfur fart of an organization and I think this was the one that finally broke me. Coach Pallor spent the last half of 2021 and all of 2022 shitting in his pants and ruining his franchise QB in the process. Even when this franchise has a future, the present won't allow it to manifest.

I'm a fairly distant Cards fan (and a benevolent merciful father), so I didn't push them on my son; he instead picked the Bengals of his own volition. They made the Super Bowl the following season. The fucking BENGALS are better than this bullshit franchise.

The Chiefs, who do not play in State Farm Stadium, won twice as many games in State Farm Stadium last season as the Cardinals did.
David:
I tried to indoctrinate my son into Cardinals fandom. I had dreams of him and me bonding over this piece of shit franchise and having the kind of relationship I never had with my Dad. I used to think when he grew up and we had nothing in common anymore, I'd be able to connect with him via our shared love of this horrible, awful team.

My son was seven years old when we drafted Josh Rosen in 2018, and somehow Rosen became his favorite player. I got him a Josh Rosen Funko Pop for Christmas (I believe the only other person who bought one that year was Josh Rosen himself). The Cardinals sucked ass and Rosen was repeatedly benched throughout the season, but I was building a tradition with my son. 

Four months later the Cardinals traded Rosen and drafted Kyler Murray, then paired him with the most unqualified head coach hired by an NFL team since Lane Kiffin. My son was devastated to see the first (admittedly terrible) player he'd connected with get traded away. I tried to keep him interested in the team when the season went south again, but eventually gave up and let him go play video games while I cried and cursed on the couch alone. When I'd give him a recap of the latest loss he'd always reply; "We should have never traded Josh Rosen." 

I haven't tried to get him back on board for this season since there is literally nothing to be excited about. Our head coach looks like the bastard lovechild of Paul Scheer and Pee Wee Herman. Our coordinators look less like a coaching staff and more like some douchebags at the Twin Peaks in Scottsdale being reprimanded by the manager for getting handsy with their waitress again. The team's selling point to fans is that we're in the tank this season to start rebuilding in 2024. Give me a fucking break. This team has been in rebuilding mode since Bruce Arians faked retirement so he could go win a Super Bowl with Tampa Bay. Every #1 pick in the draft they get is just a chance to find a bigger bust than the last one.  

This cursed fandom will die with me. I've stuck to this moribund team out of completely misplaced pride in my home state, but there's nothing in this arid shithole to be proud of. We are a collection of HOAs and mobile home parks gleefully sucking the aquifers dry while shouting "But it's a dry heat!" as we pick at our melanoma scars. Arizona's biggest export is racism and potbellied dudes in their 30s who wouldn't last one day in basic training but still build their entire personality around Grunt Style t-shirts and AR-15s. 

I'm not telling my kid to be proud of this hellhole. I'm telling him to get the fuck out of here before what little water left gets privatized and nighttime temps never drop below triple digits. Hopefully whatver city he moves to has a franchise he can be proud of, so that he can watch them with his kids and tell them the one good thing his old man did for him was not making him be a fan of the fucking Arizona Cardinals.

Fuck Steve Keim, fuck Kliff Kingsbury with one of his shitty Joker paintings, and fuck Michael Bidwill with the running engine of his private plane.
Clay:
Still think we did Josh Rosen dirty despite all evidence.
Submissions for the NFL previews are now closed. Next up: Indianapolis Colts.
Correction: An earlier version of this post incorrectly stated that Zaven Collins no longer plays for the Cardinals.
Stay in touch
Sign up for our free newsletter