Why Your Team Sucks
Why Your Team Sucks 2020: San Francisco 49ers
2:59 PM EDT on September 17, 2020
Some people are fans of the San Francisco 49ers. But many, many more people are NOT fans of the San Francisco 49ers. This 2020 Defector NFL team preview is for those in the latter group. Read all the previews so far here.
Your team: San Francisco 49ers.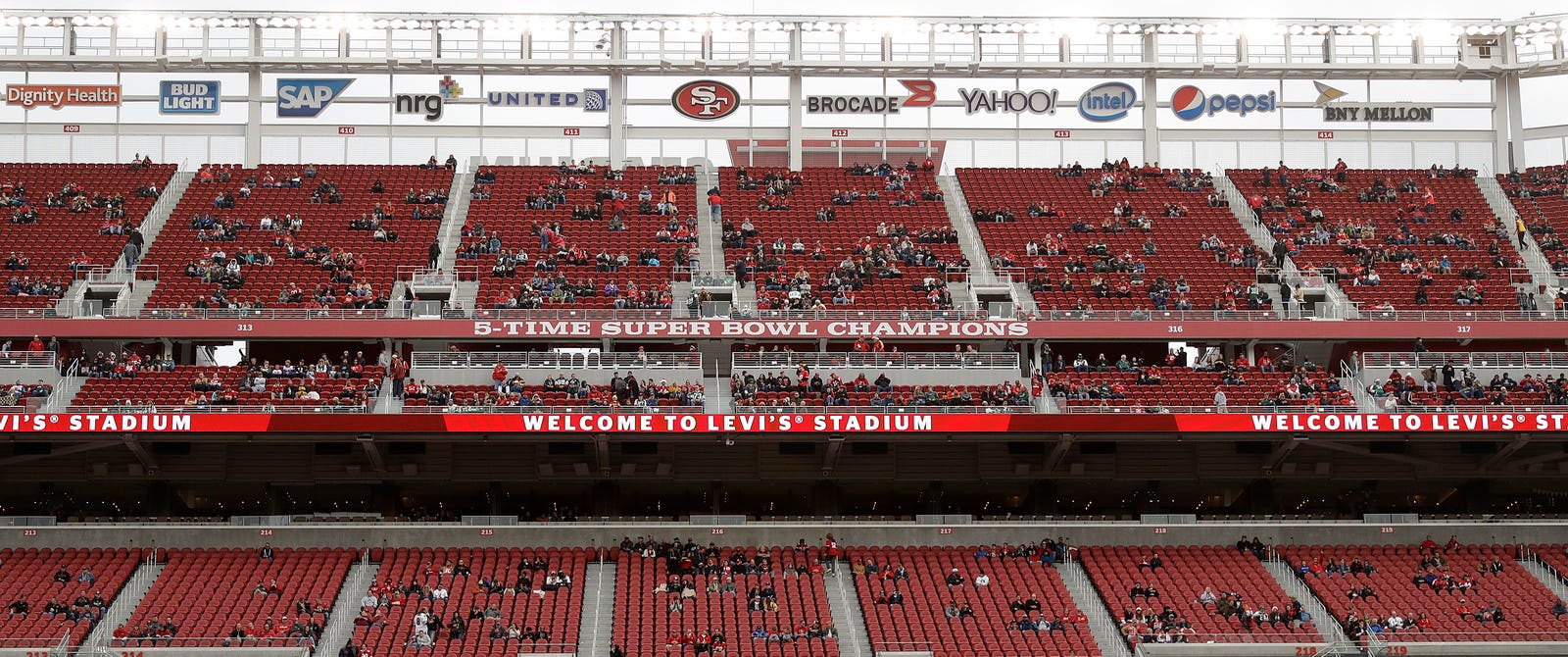 Your 2019 record: 13-3. NFC champions. Took a 10-point lead into the fourth quarter against Kansas City in the Super Bowl. In fact, the Niners held that lead for over half of that fourth quarter. AND THEN...
Normally, the question "How do you not fucking cover Tyreek Hill?" answers itself. But this was the best pass defense in football a year ago. You don't get to be like, "Well gosh he's just so fast, that one!" Jimmie Ward is no snail. Yet, one basic cut and Ward ended up so far away from him that Hill could stop and WAIT for that pass, like he was returning a goddamn punt. Five minutes later and the lead was gone. How could this happen? You guessed it…
Your coach: Mother. Fucker.
There he is, the man responsible for the two worst collapses in Super Bowl history. Kyle Shanahan could have two rings and a gold toilet by now if he ever learned to run the goddamn ball. He had the best backfield in the NFL when he was with the Falcons, and his Niners ran for 285 yards against the Packers to GET to last season's Super Bowl. It's as if God himself came down from heaven and carved RUN THE FUCKING BALL into his forearm. Did Kyle note that scar? Did he realize the bountiful rushing gifts at his disposal in either of those delicate moments? FUCK AND NO, he did not. Instead, against the Chiefs, he called 32 pass plays against 22 runs. Would you like to see one of those passes?
When you are Kyle Shanahan, you are never on the good end of a miracle. I never have to worry about this man winning a title now, because his M.O. is set in concrete. He will get a lead, and then his dick will take over playcalling duties.
Your quarterback: POOL BOY!
You probably should not have thrown that ball. I just watched Jimmy Garoppolo win an NFC title and I remain thoroughly convinced that he isn't worth a shit. He is Italian Kirk Cousins. If it's a playoff game and the Niners aren't running for nine yards a carry and the defense isn't getting a sack every other play, Garoppolo is essentially useless. He is a sprig of parsley. Trusting him to throw the ball is like trusting Michael Jackson to babysit. I watched Garoppolo piss away that game against the Cardinals on Sunday. I know a fraud when I see it.
In a way, it's almost unfair that Kyle gets all the shit for that Super Bowl collapse when Garoppolo had Emmanuel Sanders WIDE fucking open down the field and still overthrew him with the kind of gracelessness that warms Eli Manning's cornbread. You fucking choked, Jimmy. The Patriots were right to treat you like a re-gifted bottle of wine.
What's new that sucks: I remember the last time the Niners had a suddenly monstrous defense. It was back in 2011. Jim Harbaugh was the new coach. The Niners made the NFC title game. Every linebacker on that team was the second coming of Bill Romanowski. Then Kyle Williams dropped two punts, the Niners chased out Jim Harbaugh, and everyone on that defense retired. Really worked out well.  
The bill is coming due again. Forced to pay bank to Arik Armstead, GM and boyish imp John Lynch traded DeForest Buckner to the Colts without warning, then drafted Javon Kinlaw as Buckner's replacement. If you think that Lynch can afford more reinforcements than that, you would be wrong.
Let's focus on the offensive collapse that's also forthcoming. After trading for Sanders in the middle of last season, the Niners let him walk to Drew Brees, who will NOT fuck up any downfield throws headed Sanders's way. Downfield speedlord Marquise Goodwin is also gone.  The Niners signed glorified punt returner Travis Benjamin to replace both men. Joe Staley retired. Here to replace him is former Washington all-pro Trent Williams, who will retire in Week 12 with a skull clot. Also here from Washington—because what better pedigree can an NFL player have?—is future CTE revelation Jordan Reed. FUN FACT: I have not seen Jordan Reed start a football game since 1993.  

Deebo Samuel broke his foot in the offseason. Matt Breida signed with Miami. Jerick McKinnon is back from his 87th season-ending injury, which means I've already been treated to headlines that say shit like, "McKinnon Not Afraid Of Re-Injury, Certain Death." George Kittle got a monster extension. Somehow, Kyle Jusczkykzwwdlkjw will still be this fanbase's favorite player. If you're high as shit, you can sync up this team's coming regression to the mean to "Dark Side of the Moon" and have your skull blown.
What has always sucked: Like I said, we're already on the downside of this iteration of the Niners. A secondary demoralized by Patrick Mahomes seven months ago will tug that black cloud around with them wherever they go from now on, like they have it on a fucking leash. The front seven will steadily erode. The offense will do likewise. Nick Bosa will tweet out BLUE LIVES MATTER right around Election Day and then insincerely walk it back. Shanny will make the same mistakes over and over again while Robert Saleh walks to a long-deserved head coaching job and takes all of the team's credibility with him. And when the team lets fans back into the stadium, no one will show up anyway because going to a Niners game in that dump is an open request to suffer a heat stroke. The Niners got in on lethal crowding before the rest of the NFL did! THE TRUEST DISRUPTION.
Ultimately, owner Jed York won't give a shit about any of this. I know Little Jeddy pops out of his rec room every now and then to say the right thing, but ultimately he's already fulfilled all of his ambitions. He got himself an ugly-ass stadium that even the Rolling Stones will never play in again. The Rolling Stones would play at a fucking baby shower, man. He got a respectable season out of his team that makes it look like he's Serious About Winning. And he gets to be rich. This was a storied franchise in a storied city once. That city is all but gone, and the team that left it has all the appeal of a remodeled airport terminal. No city in America is as determined to ruin itself as San Francisco has been. That's why it deserves eternal visitation rights with this rotten diaper of a team. THIRD AND 15 THIRD AND 15 THIRD AND 15 THIRD AND 15 THIRD AND 15.
What might not suck: Richard Sherman is about to enter his second washed-up asshat phase. What kind of KRAYZEE shit will he pull that grows old in a matter of minutes? TUNE IN!      
Ratto says: "The media line beneath Kyle Shanahan's desk is a lengthy one, which means he probably needs a comeuppance at some point just for his own good. He has a general manager in John Lynch who works for him, which is a nice perk for any coach, and his two most important offensive players, Brows Garoppolo and Gronk-Lite Kittle, both submitted to TFDs—Team-Friendly Deals—that make the organization both thrifty and clever, which gets you great nerd points. Kittle, frankly, should have just said, 'I play three positions for you, and my idea of a team-friendly deal is that I'll only make you pay me for two,' but he's one of those 'I'd play football for almost nothing because I love it so much' types.
"But Shanahan is the face of the team, because he is the offensive warlock who prefers running the ball and a great defense. What we need, then, is a full-blown tantrum in a presser, on the sideline or in a staff meeting -- which we won't get for the same reason they avoid Hard Knocks like it's delivered in nerve gas canisters. Kyle has it in him to act like every coach you've ever hated, mocked or wanted fired, but he's too smart to let you catch him at it. What a bastard."
HEAR IT FROM NINERS FANS!
Matt:
Kyle Shanahan's teams have now been outscored 40-0 in the 4th quarter of Super Bowls.
Nick:
The only good coaches we've had over the past 15+ years have both found ways to shit their pants in the Super Bowl.
Victor:
I felt no attachment to basically anybody on last season's team. Just a machine of pretty good players executing a boring head coach's surgical game plan. The 49ers are only capable of making me feel pain or apathy.
Devin:
Kyle will never shake 28-3 and the collapse against the Chiefs proves it.
Patrick:
I am just waiting for Jed York to get sick of Kyle Shanahan and to kick him to the curb for a backup d-line coach.
Ty:
I'm truly excited to see just how Kyle Shanahan will fuck another big game up when he has a lead. Maybe Vegas starts lines.
Jon:
Kyle Shanahan looks like a less fun Kendall Roy.
James:
This came from my best friend who's a 49er season ticket holder. He doesn't want to be named because he's been hot water the team reps before. Stupid.

80% of the stadium (the blistering hot sunny side) has either stabbed someone, been stabbed, or witnessed a stabbing in the last 48 hours. 20% of the stadium (the shady side) has said the phrase, "...based on a negro spiritual" in the last 48 hours.
Jean:
We could have signed Tom Brady or Cam Newton this offseason and didn't. Can't wait to go 8-8 or 7-9 over the next few years before Jimmy G retires into a modeling career.
Patrick:
I was at a Super Bowl party with about 20-25 people. I live near Toronto, so there isn't a lot of geographical NFL allegiances, and definitely not to any of the two teams in the game. Without fail, every single person at that party was actively rooting for Kansas City to win the game. Twenty four people with no real allegiance would rather cheer for a team featuring Tyreek Hill and Frank Clark. Needless to say, I left before the final horn sounded.
Travis:
This Super Bowl was the passing of the torch. Andy Reid, the Dan Marino of coaches, finally got his ring. Someone had to take his mantle and that someone is Kyle Shanahan.

The SF defense celebrating their interception in the 4th quarter with a ten point lead is the perfect representation of 2020. Anytime we get something nice, it quickly comes unraveled before our eyes.

Jimmy Garoppolo made Chris Jones looks like a shutdown corner. Chris Jones is a Defensive Tackle.

Our left tackle retired and his replacement hasn't played football since 2018.

Ahkello Witherspoon couldn't cover a quadriplegic running without a wheel chair.

Deebo is already injured and will probably miss time.

Fuck Sammy Watkins. Dude shows up for two games last season and makes one the Super Bowl.
Kyle (not that one):
That parade in SF would have been a breeding ground for contagion.

George Kittle is fun, but you can't trust anyone who gets a Joker tattoo.

I bought an Eric Reid jersey on severe discount (in June 2020 no less!) because I am a true Bay Area hipster who couldn't just shell out the money for a Kap jersey, and wants to signal to people that I both GET IT and am NOT BASIC.

Our fanbase is full of dipshits like myself who basically ignore the team when they're bad and bag on the stadium but get super amped when they occasionally stumble into success and beg friends to sell them tickets.
Nick:
Our coach choked two Super Bowls he should have won easily. Our owner moved the team from the most beautiful city in the world to Silicon StripMall Suburbia, built a solar cooker for a stadium, tripled the ticket prices, and forced out loyal fans who bought season tickets and supported the shitshow he and the family put on the field.
Steve:
This city is a literal hellscape. I know that's not unique, but man, when you see people pretending to enjoy $22 cocktails on a piece of plywood on a dirty sidewalk while an orange haze of fire smoke (and potentially COVID) permeates their lungs...it's brutal. And just when I remember that this fall I could get a watch a Super Bowl-worthy team make a legitimate run at the title, I remember how you referred to Kyle Shanahan as "football Jared Kushner" and I'm back to fucking square one. I hope you're happy.
Matt:
Because they had the most outspoken advocate in the league for the radical idea that Black Lives Matter 4 years ago, fired him, and then started tweeting like they were on his side the whole time when it became convenient.

Because the Stadium they play in is the farthest distance from their namesake city of any team in the league. I looked up the shortest driving distance for each NFL team's stadium to the namesake City's seat of government on Google Maps. (Using Boston City Hall for New England, Minneapolis City Hall for Minnesota, etc…). It's not even close either:
| | | | |
| --- | --- | --- | --- |
| Team | Stadium | Miles | Subbed City |
| San Francisco 49ers | Levi's Stadium | 42.5 | |
| New England Patriots | Gillette Stadium | 27.7 | *Boston |
| Dallas Cowboys | AT&T Stadium | 19.3 | |
| Miami Dolphins | Hard Rock Stadium | 18.1 | |
| Arizona Cardinals | State Farm Stadium | 16.5 | *Phoenix |
| Los Angeles Chargers | SoFi Stadium[F] | 12.7 | |
| Los Angeles Rams | SoFi Stadium[F] | 12.7 | |
| Washington Football Team | FedExField | 11.2 | |
| Buffalo Bills | New Era Field | 10.9 | |
| New York Giants | MetLife Stadium[C] | 10.9 | |
| New York Jets | MetLife Stadium[C] | 10.9 | |
| Houston Texans | NRG Stadium | 8.1 | |
| Kansas City Chiefs | Arrowhead Stadium | 8.1 | |
| Las Vegas Raiders | Allegiant Stadium | 6.2 | |
| Tampa Bay Buccaneers | Raymond James Stadium | 4.8 | *Tampa |
| Philadelphia Eagles | Lincoln Financial Field | 4.1 | |
| Green Bay Packers | Lambeau Field | 3.4 | |
| Chicago Bears | Soldier Field | 2.7 | |
| Denver Broncos | Empower Field at Mile High | 2.3 | |
| Pittsburgh Steelers | Heinz Field | 2.1 | |
| Baltimore Ravens | M&T Bank Stadium | 1.5 | |
| Indianapolis Colts | Lucas Oil Stadium | 1.4 | |
| Jacksonville Jaguars | TIAA Bank Field[E] | 1.4 | |
| Carolina Panthers | Bank of America Stadium | 1.1 | *Charlotte |
| Atlanta Falcons | Mercedes-Benz Stadium | 1 | |
| Detroit Lions | Ford Field | 0.8 | |
| Seattle Seahawks | CenturyLink Field | 0.8 | |
| Tennessee Titans | Nissan Stadium | 0.7 | *Nashville |
| Cincinnati Bengals | Paul Brown Stadium | 0.6 | *Phoenix |
| Minnesota Vikings | U.S. Bank Stadium | 0.6 | *Minneapolis |
| Cleveland Browns | FirstEnergy Stadium | 0.5 | |
| New Orleans Saints | Mercedes-Benz Superdome | 0.5 | |
I get enraged when I see shots now of the Golden Gate Bridge during Niners games. I've lived in the greater Seattle area for most of my life (I'm a 49ers fan because my parents indoctrinated me into it, and now I'm bonded to a team that doesn't represent where I'm from) – so I know broadcasts of Seahawks games will show beautiful shots of Mount Rainier in the evening light. And while Mount Rainier is technically further from Seattle than Lombard Street is from Santa Clara, you can at least fucking see the mountain from town.
Submissions for the NFL previews are closed. Next up: Kansas City Chiefs.
Stay in touch
Sign up for our free newsletter