Why Your Team Sucks
Why Your Team Sucks 2020: Los Angeles Chargers
1:00 PM EDT on September 11, 2020
Some people are fans of the Los Angeles Chargers. But many, many more people are NOT fans of the Los Angeles Chargers. This 2020 Defector NFL team preview is for those in the latter group. Read all the previews so far here.
Your team: Los Angeles Chargers. I'm almost used to it! I only call them San Diego eight out of 10 times lately! Incredible progress. It's practically second nature to me now.
Your 2019 record: 5-11. Ten of those 11 losses were by 10 points or fewer. Even in purgatory, the Chargers REFUSE to be anything but the Chargers. They lost to the Chiefs when Philip Rivers capped a frantic 11-play drive at the end of the game with a pick. They lost to the Lions when Philip Rivers capped a frantic 13-play drive at the end of the game with a pick. They lost to the Steelers when Rivers—you guessed it—threw a pick on his own goal line at end of the game. They lost to the Texans when they turned the ball over on downs after a frantic 14-play drive at the end of the game. They lost to the Titans when Melvin Gordon fumbled at the Titans' ONE with :19 left on the clock. No team in any sport is as reliably, entertainingly bad in important moments than the Chargers. Put them in any other city and their misadventures would be LEGENDARY. Yet, given their current status in the world, their penchant for clutch last-second defeats attracts about as much attention as a nearby mattress sale.
Speaking of Melvin Gordon, you might remember last fall when he got to occupy the glorious role of Annual Spiteful Chargers Holdout. It's a fun tradition because, as ASCH, you can't dislocate every piece of cartilage in your body the way every other Charger like Derwin James usually does in camp. Gordon missed the first three games and let Austin Ekeler steal his shine in the process, which them prompted fans with Terminal Owner Brain to GLOAT in the fact that Gordon had overplayed his hand.
Imagine aligning yourself with fucking Dean Spanos. We actually have people like this. No wonder we can't beat this fucking virus.
Gordon signed with Denver this offseason. He will absolutely have 400 combined yards in his two games against this team.
Your coach: Anthony Lynn. Hey Coach Lynn, what would you think about signing Colin Kaepernick now that his protests of the police have (re-)proven indisputably true?
"I do like Kaep," Lynn said. "He fits what we're doing. So he definitely would be someone that, if something would happen, maybe we bring him in. I don't know."
Oh wow, what a stirring endorsement. I'M A HUGE FAN OF THE BLACKLISTED GUY AND WE'D DEFINITELY SIGN HIM IF WE EXISTED IN SOME KIND OF PARALLEL DIMENSION WHERE EASTON STICK ISN'T ALREADY ON THE ROSTER. The Chargers went 12-4 in Anthony Lynn's first season, he and they have now regressed back to being the standard chumps they've always been. This is all for the best.
Your quarterback: NOT Marmalard! I can't believe it either, but Philip Rivers has played his final game in powder blue and fled to his spiritual home of Indiana. Babysitting revenue in greater Southern California is already down a whopping 67 percent as a result. So many teenagers there won't be able to pay their data plans now. Devastating. As a result of Rivers going to the Colts, the Chargers find themselves in an all-too-familiar situation where a team has a stopgap starter (in this case, Tyrod Taylor, who went from being unappreciated in Buffalo to justly unappreciated afterward) to warm the throne for a first-round draft pick that said team probably doesn't believe in. For the Chargers, that first round draft pick is former Oregon standout Justin "A Herb" Herbert.
Nope. Not happening. What will it take for NFL teams to learn that you should NEVER draft a QB from Oregon? Dan Fouts may have played for Oregon, but even the Chargers should know better by now. They should know that Oregon football cranks out stiffs with even greater efficiency than Harvard Law. I'm upset. I'm upset yet another Oregon dipshit got drafted, and I'm upset that his name is Justin Herbert. Fucking accounts payable-ass name.
To be fair, Herbert's college reel is actually quite impressive, so long as you note that virtually every receiver featured in it is open by five yards or more. We call this the Ken Dorsey showcase. At least my man will be willing to run sneaks.
What's new that sucks: It's fitting that, only after Philip Rivers took his wagon train east, the Chargers finally decided to invest in an offensive line. They signed both Bryan Bulaga and Trai Turner during the offseason. In 16 years of service, these two men have played a full season a grand total of four times. Bulaga was the John Kuhn of linemen in Green Bay. Every time he got hurt, Packers fans acted like someone stole their onion rings. You Chargers fans got so used to Rivers playing through a dislocated liver that I doubt you'll experience similar pangs of grief when Bulaga limps off the field with a sprained knee brace.
But listen, that's not the new shit anyone will be talking about this Chargers season, because this will be the first year that the team gets to squat inside Satan's Teardrop:
Given the terms of their tenancy, I assume the Chargers will only be allowed to play in the manmade lake abutting SoFi Stadium. SoFi is a $5 billion blight upon the land named after the cool substitute teacher of student debt empires. This was a company that was forced to oust its CEO just three years ago for sexual harassment. Two workers died helping to erect this failed alien security council headquarters. Over two dozen MORE got the rona. All of this is so on the nose that I wanna fucking die. For the past two years, the Chargers have played all of their L.A. games in front of hostile crowds at a neighborhood soccerplex. Now, as their reward, they get to upgrade to crashing on the couch in an empty stadium owned by Stan Kroenke. Opposing fans won't be able to populate the stands and have themselves a bitchin' road trip this time around. At least for the start of this season, the Chargers will find themselves all alone. Maybe, against all previous indications, they'll finally start to get used to it.
Joey Bosa has a new contract. He'll have the rona by October.
What has always sucked: Every NFL season now is just America waiting for the Chargers to stop existing. They already have vacated this plane of reality in terms of fans, sponsors, playoff presence, cultural relevance, and fielding healthy players. I know "no one cares about this team" is the weak crutch that props up a number of these previews, but here we have a case study in what real, widespread indifference to a football team looks like. If fantasy football didn't exist, neither would the Chargers. The only people who pay any attention to them are Manhattan Beach mask truthers, LAPD fanboys, and people Dean Spanos treats to lunch.
And yet, they remain. Think of the professional devastation you've witnessed over the course of this year. Entire segments of industry have been annihilated. Your favorite restaurant probably isn't coming back. Your schools may never open again. Every gym and amusement park is now an unofficial biohazard. All that shit is gone. And THIS is what gets to remain? This fucking team? ARE YOU FUCKING KIDDING ME? This is so fucked I'm gonna start hyperventilating into a paper bag. Dean Spanos' life is documented proof that the best things go to the least deserving people. He's failed so far upward he can touch the fucking moon. I hope he dies.
What might not suck: I trust Justin Jackson more than Justin Herbert. Even at quarterback. Also, the new uniforms are bitchin'.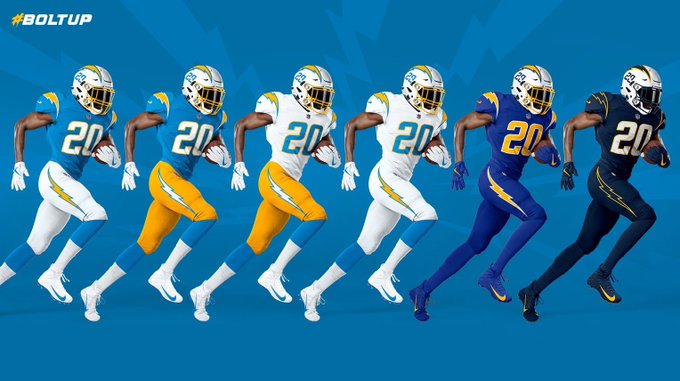 Ratto says: "Everyone loves the powder blues, almost too much to be honest. Dean Spanos' ongoing finger in the eye to the NFL for screwing him out of Los Angeles the first time continues, and whatever they get on the field will be appreciated by almost nobody off it, by ornery design. They are now an official tenant of another team in a town that can take or leave pro football in general, because the team L.A. wants most moved out of California for tax reasons. Anthony Lynn caught the COVID without telling anybody, Philip Rivers' face and taxi squad of children are no longer the team's nucleus, but mostly this is just the Chargers moving to a new place where they will be unloved and unnoticed, except at HBO, where they have helped put another knee in the groin of the sports division."
HEAR IT FROM CHARGERS FANS!
Jennie:
bc they left. fuck you forever, los angeles "chargers"
It's been almost three years now since I've stopped rooting for the Chargers. I have absolutely no regrets. But I find myself compelled to write something this year because Phil has left. In many ways, Phil and San Diego were a perfect match. He was a conservative, tall, square-headed white bro who hated condoms and loved screaming at people right up until the moment where it looked like he might get punched, and only then would he stop. And when they left for L.A., Phil still lived in San Diego and made the commute in a van he had outfitted so he could study the defenses and know everything about the cornerback who would inevitably jump one of the routes and pick him off late in the fourth quarter with the game on the line.

When I first moved from San Diego to Los Angeles, I brought my couch with me. It was a really solid couch and I'd had it for ten years and baked into it was every conceivable smell that I had to offer, but I felt like it still had a some couching left to do. And even though I was living in Los Angeles, I never really felt like I had left San Diego until the day I decided it was just too fucking gross and I had to get a new couch. And that was the moment where i felt like I was truly no longer was a part of San Diego. So, Phil's leaving made me feel like the last ties I had to this team are gone. He was a kind of a smelly couch that had been farted into ten thousand times, but he was home. Goodbye, Phil.
Tim:
Since there are a dwindling number of submissions for this cavalcade of chokey chokemeisters, and because I missed last year, Dean Spanos can eat Two Bags of Dicks!
Stephen:
Have you ever played checkers with a four year old?

Winning is meaningless. You try your best to lose. And no one is watching.

In other words: you're the Chargers.
Alex:
Justin Herbert looks like the human personification of the phrase "Do you know who my dad is?!?"
Collie:
I didn't pick an NFL team until my early 20's. I decided on the Chargers because I'm from Southern California, and at the time that was the only local-ish option.

A couple of years later my (then) two-year-old son saw a poster for the just-moved LA Rams and decided on the spot that he liked the Rams more than his dad's Chargers.

My son is so much smarter than me. Thank God.
Chris:
Lightning-sparked wildfires have burned up half the state this year. It makes no sense because there's not even any rain. Just lightning.

Every year, injuries strike down half this team. And the other half finds a way to lose about nine games by an average of five points. Every game, late fourth quarter, they are tantalizing close to winning. But their innate Charger-ness prevails. They lose, and the narrow margin only increases the misery.

The mascot also perfectly echoes how stupid this team is and how easily it gives up. The original Chargers logo included horses charging as well as lightning bolts. But we gave up the horse imagery to the Broncos and Colts and went with fucking Bolt Man, who should play QB this year.

If you are one of the other three fans, then you know this team only brings sadness. But our small pain isn't the amazing part of the Chargers Experience. What truly makes the Chargers remarkable is how little they matter. The story of one player captures this truth perfectly. Sports-knowers predict our best player this year will be Ekeler (RB). Is he good? He went undrafted, and he's absolutely fine. A solid 5 or 6 out of 10. Thus, he perfectly encapsulates the San Diego Chargers' ethos. All their parts, even their best ones, are simply whatever no one else noticed or wanted.

I moved to Ohio recently and I'm seriously considering switching allegiance to the Browns. At least they fail on a historic level. The San Diego Chargers are just fucking useless. No one even remembered that they're the LA Chargers now until this sentence. No one cares. Just stop. Contract this team into oblivion for all of our sakes.
Jason:
Maybe California will be so consumed with wildfires the games are moved to Portland & Paul Allen's ghost will consume the Trumpler Youth caravans descending on the city...
Jeff:
I want to tell people to shut up when they all make the same "wow, playing in front of an empty stadium is sure going to be a change of pace for the Chargers" joke. But fuck, how mad can you get at people just stating facts?

The Chargers are so fucking D-list now that the only way we finally got HBO to come film us for Hard Knocks was to let them film a second team for the first time ever. This is a program that has looked at the Bucs, Dolphins, BROWNS, Texans, Jets and Bengals (TWICE!) and said "That team is sufficiently interesting for our audience". They took one look at the Chargers and said absolutlyfuckingnot, unless there was a second team involved. And again, I can't blame them.

Justin Herbert is going to be the third stage of evolution of the shitgolem that started as Blaine Gabbert and then morphed into Blake Bortles, isn't he? He keeps getting an inch taller each time.
Tony:
I think at this point the only "L.A." Chargers fans that exist are my father and me, so this post is a virtual lock to make it to the site. Every single one of my friends who reads Defector will immediately know this post is from me, because, well, who else is there? This homeless zombie team can't even play their super funky fight song anymore, god dammit.

My father still lives a bike ride away from the Home Depot Center (or StubHub or whatever it's called these days). He actually liked going to games at the soccer stadium because, "if the stadium was bigger there would be even more of the other team's fans there pumping up their defense." The Chargers tried to get my pops to put a $10k deposit down for a seat license at SoFi and he laughed them off the phone. Since then, the price for a seat license has dropped all the way to $1k (supply and demand folks!). It will go down to $0 if it hasn't already, guaranteed.

Every time this team does something to make fans believe, they kick that hope right in the teeth - Marlon McRee, Needle Dick Nate Kaeding™. When the Chargers were the #1 seed in the AFC, my Dad and I went down the game against Sanchise and the Jets. Things were looking good - huge favorites in the game, stadium packed (predominantly with Chargers fans) and loud, my section in the upper deck collected money and paid a local stripper to flash us. Then we lost 17-14 to buttfumble guy.

Alex Spanos got his start in business price-gouging seasonal farm laborers on BOLOGNA SANDWICHES. Then he became a slum apartment mogul. I swear this is true and explains everything about this team.

I'm personally very excited we didn't draft the 5'11" bible humping lefty QB in this draft, but instead our QB of the future is a HERB. Perfect.
Ben:
Rivers is a fat hump now, and probably will end up the next repressive governor of Indiana to become the vice president who calls his wife Mother.

The Chargers don't exist anymore and you can't convince me otherwise like you try to with the "Houston Texans" every year.
Submissions for the NFL previews are already closed, alas. Next up: Carolina Panthers.
Stay in touch
Sign up for our free newsletter