Jamboroo
Truly, What The Fuck Is Going On With Lamar Jackson?
1:54 PM EST on January 12, 2023
Drew Magary's Thursday Afternoon NFL Dick Joke Jamboroo runs every Thursday at Defector during the NFL season. Got something you wanna contribute? Email the Roo. And buy Drew's book, The Night The Lights Went Out, through here.
You're forgiven if you didn't remember that the Baltimore Ravens were in the NFL playoff field this weekend. They've lost three of their last four, including a desultory loss to Cincinnati in the final week. They have to face that same extremely talented and pissy Bengals team AGAIN, on the road, on Sunday night. And no one knows who their quarterback is. In fact, no one in Baltimore has known who the quarterback is for roughly a month now. Ideally, it would be human shockwave Lamar Jackson. But Jackson suffered a PCL sprain against Denver on Dec. 4, headed off to the dreaded pop-up tent on the sideline, and hasn't been heard from since. He might still be in that tent, for all we know. Who knows what kind of sick, twisted carnival games go on inside those things.
Thus, all we have to go on regarding Jackson's playing status are updates from Baltimore head coach John Harbaugh. These are statements that started out chipper enough right after Jackson got hurt, and even included the delightful phrase "not a season-ending type of knee," but have since grown more and more cryptic, with just a dash of passive aggression in there to kick up the intrigue a few ticks:
Lamar Jackson is currently in a contract year and serves as his own agent (with his mom as his apparent top advisor). Just prior to the season, he turned down a contract extension from Baltimore that, depending upon whom you ask, was either exorbitant or unbefitting of his talents. Again, you're forgiven for not being able to pick between those takes. Lamar Jackson won the MVP in his first season as a starter. His record as a starter is 45-16, and Baltimore has made the playoffs in three of his four years at the controls. He's also failed to finish the last two seasons, and might be amassing a slew of chronic injuries that could soon render him ordinary. He might never withstand a full season's rigor again. Thus, it's impossible to disentangle Jackson's contract situation from his current injury situation. Can Lamar play? What does he risk if he does? Should he even take that risk? Doesn't he want to win? You can power a decade's worth of sports talk radio chitchat with these kinds of questions, and indeed Ravens radio is gorging on that fuel as we speak:
There's little to suggest that Jackson will suit up against the Bengals, and he has a few sympathetic proxies out there attempting to explain to the football world why that is. Without Jackson, the Ravens will be forced to start either regular backup Tyler Huntley—who impressed in mop-up duty a season ago but has been lackluster in the same capacity this time around, and is also injured—or third-stringer Anthony Brown. Either way they're fucked, and it's very easy for Denny from Dundalk to blame Jackson's reticence for them being so fucked. Given that the Ravens just handed a fat contract extension to newly arrived linebacker Roquan Smith, it's also easy to think that they share Denny's hostility toward their own quarterback. If it's not ugly behind the scenes right now in Baltimore, it will be very soon.
Once the Ravens are ousted from these playoffs, we're gonna be treated to an entire offseason where they, along with any number of other teams, have to decide whether or not it's worth it to pay Lamar Jackson the going rate when nearly every big QB transaction from LAST offseason has turned out disastrously. I have zero doubt that Harbaugh has said this fucking guy to people about Jackson when the mics are off, but there's also a lot of truth in the helpless I don't knows he's been tossing to reporters as this story grows more and more opaque. Because football, as both a sport and a culture, is not used to hearing I don't know. Football HATES I don't know. That's why there's an injury report. That's why every injury gets categorized as either catastrophic or one that you can play through without the threat of long-term damage. Jackson's knee injury clearly doesn't fit neatly into either of those boxes, and so he's left, essentially on his own, to figure out what course of action is best for his career, his wallet, and his body.
Meanwhile, his team (and its fans) are left in the dark, and they clearly fucking hate it. They hate not knowing, and they hate having to wait, especially with the playoffs on deck. A player making a decision that's both personal and potentially a business decision is not something that NFL teams, and their fans, are used to understanding, much less tolerating. But it's something that more franchises at least ought to understand in 2023.
In that way, Jackson represents the perfect test case for a league that, in certain spots, is supposedly progressing in its attitude toward player health. Certain coaches—particularly those from the Sean McVay coaching tree—have made a point of slow-walking players back from injury. And then you have the Dolphins, who kept trotting Tua Tagovailoa out onto the field all season long with half his brain leaking out of his ear and now have Skylar Thompson as their playoff starter as a reward. So I can't blame Jackson, either for being hurt or being cautious, or even being selfish. Then again, I REALLY don't wanna see Anthony Brown on my TV screen this weekend, and neither do the Ravens. Everyone involved in this quiet standoff is trying to walk a different kind of line right now: trying to do what's best for themselves without looking like they are. And that's very NFL now, isn't it?
In the meantime though, I'm in a state of pre-grief about Jackson's career. Lamar Jackson has always been one of those daredevil athletes whose feats conjure an uneasy mix of both awe and CONSTANT fear that they'll get hurt. Michael Vick was like that. So is Josh Allen. So is Ja Morant. Every time one of these players gets sidelined, it feels graver than when it happens to normal players. It feels like the potential end of something you never want to end but you know has to. I saw Vick leave the sport too soon (by his own doing) and then come back just a hair too late. I saw Bo Jackson cut down in his prime. Every time we lose one of these supernovas, it's like being denied a better reality. In that better reality, Lamar Jackson is healthy and already extended and on that field in Cincinnati on Sunday.
Instead I'm left to watch the Jackson/Ravens drama play out from afar, not ruminating on who will get how much money and where from, but rather wishing, predictably, that the best athletes in history had primes that never had to end. Sports has a cruel way of making better realities feel much closer than they really are.
The Games
All games in the Jamboroo are evaluated for sheer watchability on a scale of 1 to 5 Throwgasms. And for the playoffs, I pick the games, because then you can hold them against me after the fact and I absolutely won't take the derision personally no way.

Five Throwgasms
Bucs (+2.5) 28, Cowboys 16. Here is a full Hater's Guide to this year's field if you require it, but really I'm gonna need to get to the Divisional Round for this shit to feel like the playoff playoffs. Having a 17-game season and a 14-team field is weird and annoying. We're gonna get 18 games and 16 playoff teams sooner rather than later, but in the meantime we have to endure this herky-jerky bullshit where top teams have no clue how hard they should try in the final weeks and the early playoff games are rife with shitty quarterbacks and deeply uneven matchups. Let's just go the full NBA and be done with it. Make every first-round game just 30 minutes long while you're at it.
Same for college football too. I can't get to that expanded playoff fast enough.

Four Throwgasms
Jaguars (+1.5) 10, Chargers 9. In case you need a reminder, we've got new overtime rules for this postseason. Both teams will get possession of the ball to start overtime no matter what, even if the first team to possess the ball scores a touchdown. We haven't had a double overtime game in the NFL since 2013. We're about to get a shitload of them, and by "shitload," I mean maybe one every five years or so. CHAOS.

Three Throwgasms
Vikings (-3) 28, Giants 21. Edge rusher Za'Darius Smith missed the Vikings' final game of the season due to a "personal matter," and the nosy neighbor in me always wants to know what's going on when an NFL player misses a game for personal reasons. Did their parents die? Did they find their wife in bed with a teammate? Did they punch an assistant coach and everyone is keeping it on the DL? I WANT ANSWERS. YOU GUYS CAN'T HIDE BEHIND HIPAA LAWS FOR THIS SHIT THIS TIME!
I'll be at this game in person, by the way. Be sure to say hi if you see me, unless you're a dick.

Two Throwgasms
Bills (-10.5) 42, Dolphins 7. I have no reached the age where I will call out to the kids if I see a pretty sunset. "Come! Come, my beloved children!" I say to them. "Behold all the colors of God's majesty exploding over the horizon!" Do the kids look up from their screen when I make this entreaty? No, because they're used to me being the Dad Who Notices Things. If we drive by a train depot, I will point out the trains. If we walk by our old apartment building, I will say to them, "Did you know that mom and I used to live there?" (they do). And if there's a deer in the backyard? Oh fuck yeah I will sound the alarm. How often do you get to see a deer? In America?! You gotta point that shit out before you see it again two days from now. That's just good parenting.
Bengals 26 (-6.5), Ravens 12. I went out for Chinese a week ago and ordered Grand Marnier shrimp, because I like fried shrimp. Anyway, the dish arrives and it's covered in a fucking GALLON of mayonnaise. More mayonnaise than you've ever seen in your life. So I tell the waiter, "I didn't know this had mayonnaise, can I send it back?" but this was a legit Chinese restaurant. They weren't exactly keen to accommodate my needy request. The waiter brought back the menu and pointed at the Grand Marnier shrimp listed on there, as if to say THIS IS WHAT YOU ORDERED, YOU FUCKING STUPID WHITE MAN. YOU ASKED FOR THIS SHIT. I apologized 100 times and swore I didn't know this particular dish was famous for having mayo (which it very much is), so the waiter was like, "Well, how about the garlic shrimp? That doesn't have mayo. You want that instead?" So I said yes and then my friend said to me, "Dude, that garlic shrimp is gonna have so much spit in it." I ate it anyway, as a courtesy. So now you know: There IS mayonnaise in some Chinese food. Don't blindly assume otherwise. Keep your guard up.

One Throwgasm
Niners (-10) 30, Seahawks 10. They legalized the Bush Push on QB sneaks many years ago, but I promise you that, in some future offseason, someone out there will demand it be re-illegalized. You can't get through any NFL postseason without at least one team complaining that they got fucked over by an established rule.
Pregame Song That Makes Me Wanna Run Through A Goddamn Brick Wall
"We Got The Moves," by Electric Callboy! I was not ready to have my shit ruined by a group of ironic German electro-metalheads, but I couldn't be happier that it's happened. From Chase:
While lifting some weights in the garage because it's bulking season, Spotify gifted me with this wildly energetic electro-metal anthem from a German group that describes their music as "Porno Metal." I'm not really sure what that's supposed to mean, but this song is ridiculous and it rocks. 
It really does. Last year a reader sent in "Autoportrait" by Demob Happy and I ended up listening to it on an endless loop, praying in vain that more danceable metal would one day fall into my lap. That day is today. "We Got The Moves" starts off like Right Said Fred and Devo met in a sex club, and the guitars come and ACH! ZE METAL IST VERY GUT YES?!
Great Moments In Poop History
Reader Steven sends in this story I call DELIVERPANTS:
More than ten years ago, I was on a four-day, three-night commercial whitewater rafting trip with my dad and brother in law, Kevin. It was nearly the offseason, so it was a very small group. Just two other guests and two guides. My dad and I had been on many similar trips, but it was the first for Kevin. At the beginning of the trip, he listened carefully as the guides explained the bathroom procedure: pee in the river, poop at night or in the morning at camp after the guides have set up the portable latrine. If you need to poop during the day, there's an emergency kit that's not fun for anyone. Under no circumstances do you poop in the river.

On the second night, the guides made us chicken tikka, which was a bit more adventurous than you typically see on these trips. But it was excellent and we ate lots of it. The next day, Kevin and I took a double inflatable kayak while the passengers and all our gear went on two large oar boats.

About an hour after lunch, Kevin started pulling his hair out because last night's dinner had to come out. He didn't want the shame and the hassle of forcing everyone to pull over and search for the emergency kit, and he wasn't sure he could wait that long anyway. So for the next ten minutes, I paddled nonstop until we were nearly out of sight of the other boats. Just as we turned a bend in the river so that we were totally obscured, Kevin leapt from the back of the kayak and, in midair, pulled down his bathing suit and unleashed an incredible brown spray that continued underwater for another ten seconds. He has not been back on a river trip since.
OK but why was shitting the river forbidden? Why even have a river, I ask you?
Which Idiot GM Is This?
You know your team is in good hands when the man in charge of the roster is a professionally sweaty guy who MEANS BUSINESS. Which team does the man below hold in his meaty paws?
That's Bears GM Ryan Poles, proud owner of both the No. 1 pick and the world's fattest tie knot. This man looks like a 12-year-old with a pituitary disorder, and so I do not trust him to have the balls to trade away Justin Fields instead of that pick. The Bears will trade down, build around Fields, and then watch him tear both PCLs on a 15-yard gain 10 months from now. All very Bears shit.
Gametime Cheap Beer Of The Week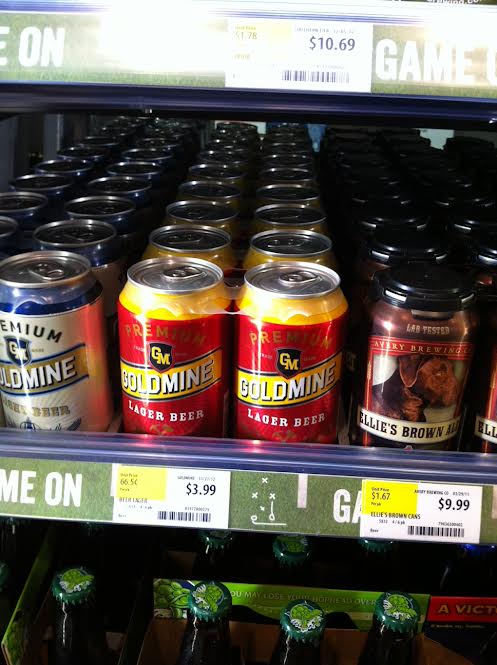 Goldmine Lager! Straight outta Whole Foods, so you KNOW it's on. From Dan:
Found this beer at Whole Foods for $3.99 a six pack! With the inflated prices at Whole Foods vs. a regular grocery store, these beers would probably cost $.67 a six-pack. As far as taste... not too bad. A hearty mix of metal and water give the beer a "I should have just sprung for the $16.99 local microbrew" taste.
Oh yeah you gotta be real careful about cheap beers that designed to look like craft beers but aren't. That Goldmine can LOOKS respectable, dressed up all nice in the refrigerated section. But take it home and it turns into a filthy little pisspot of a beer. You'd never marry this beer.
Gameday Movie Of The Week For Colts Fans
Nope, which is getting no Oscar buzz of any kind but, in my Movie Knower opinion, deserves all of it. Jordan Peele is doomed to have every movie he makes compared against his first one (Get Out), which means that titles like Nope can end up financially successful but still jusssst out of the discourse, needing a bit of revisionist history down the road to get their proper due.
So here's my attempt to revise that history right now: This was the best movie I've seen from 2022. The sound design is flawless, and Peele has become a master of atmospherics: building dread with images that are either fleeting, on the periphery of the shot, or slightly out of focus in the background. Get Out had a similarly excellent buildup, but I'd argue that Nope's payoff on the back end is even greater. When you make a carnivorous spaceship rain blood down on a house, you've given me my money's worth. An emphatic four stars. Keke Palmer for Best Supporting.
Gratuitous Simpsons Quote
"I took in a movie. An appalling little piece of filth. Its leading lady was a blonde harlot who spent half the film strolling around naked as a jaybird! No, just give the Great Unwashed a pair of oversized breasts and a happy ending, and they'll oink for more every time!"
Enjoy the games, everyone.
Stay in touch
Sign up for our free newsletter