MLB
Trea Turner Is Now Also A God Of Dingers
2:04 PM EDT on March 20, 2023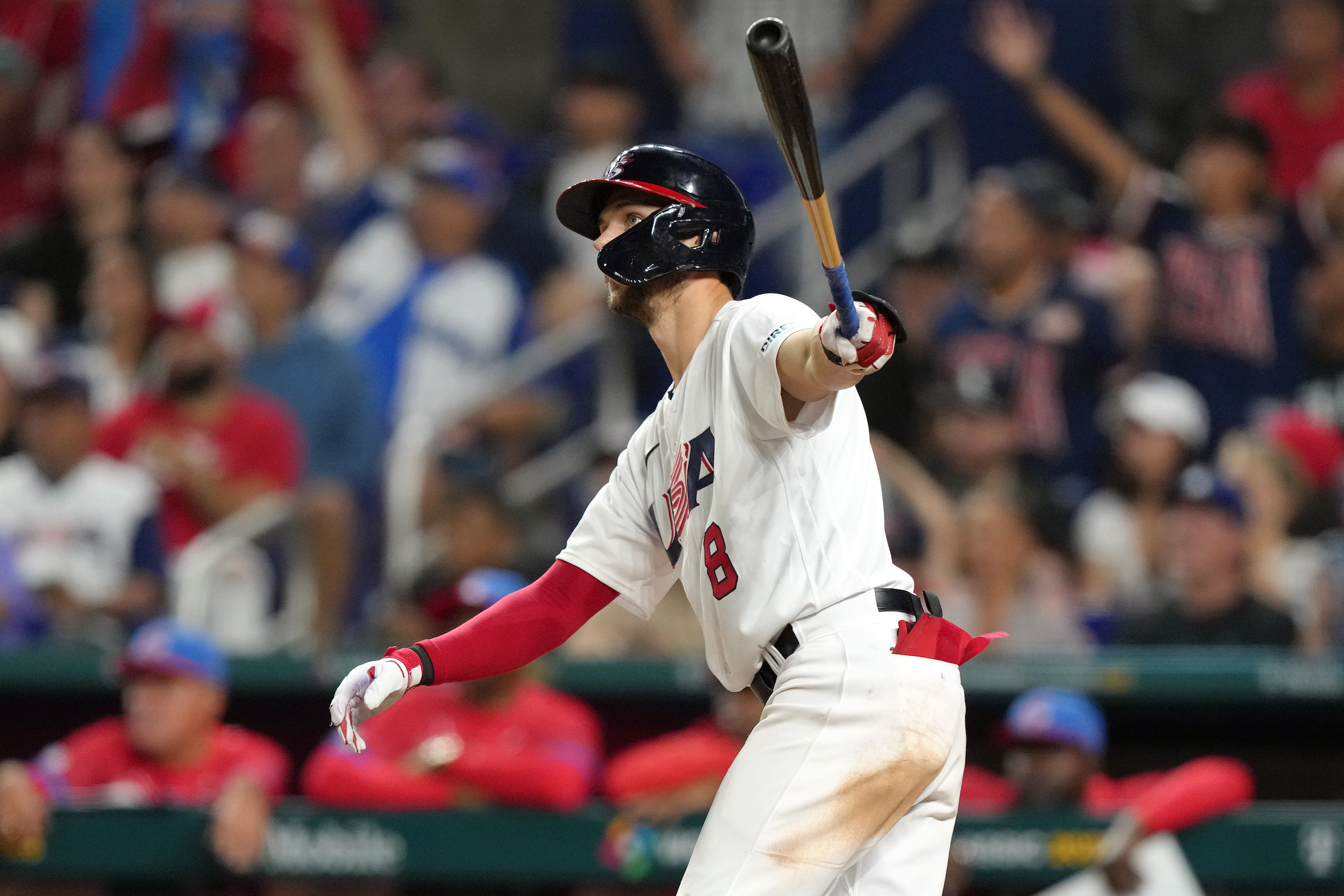 The story of the World Baseball Classic, which will wrap up Tuesday when the United States beats the absolute hell out of whatever sad-sack country dares to face it in the final, has been Trea Turner. The United States' shortstop has hit approximately 90 home runs and driven in approximately 800 runs over approximately the time that it took me to compose the first half of this sentence, to lead the U.S. team to the brink of a championship. It has been a legend-making performance. Here is Turner absolutely murdering a hanging two-strike breaking-ball for a huge eighth-inning, go-ahead grand slam in Saturday's dramatic win over Venezuela:
And here is Turner capping a dominant win Sunday over Cuba with a mighty three-run bomb, also on a two-strike, off-speed pitch:
This was Turner's third home run inside of one 24-hour period. The U.S. lineup is jammed up with big beefy sluggers, as suits a nation of beef-and-corn-fed maximalists, but somehow it is the lean and graceful Turner—batting ninth for the U.S. and in all cases the fastest human being on any baseball diamond—who is doing all the big dinger-socking. The full Trea Turner package is now so overpowered as to be approaching bullshit territory. You would feel that you had gone too far if you created Turner in a video game: he is handsome and plays the game with real verve; he is rangy and slick in the field; he is as fast as anyone in his sport; he has the prettiest swing of any right-handed hitter possibly ever; he gets lots of hits and contends for batting titles; oh and now he is also somehow a beef lad who socks huge clutch dingers and sends entire competing nations spiraling into hell. Where it has long been perfectly sensible to discuss Turner as one of the handful of extremely exciting shortstops in the game, it has become clear over the past couple of years that he is now one of the sport's transcendent superstars, and possibly also one of its two or three best overall players.
I am old enough to remember a time when Turner came to the Washington Nationals as the "player to be named later," in exchange for Steven Sousa Jr. and someone named Travis Ott. Turner wasn't even the centerpiece of the Nationals' haul from this trade! The Nationals also got Joe Ross in that deal, who started a game for them in the actual damn World Series. It's astonishing to reflect upon the fact that the Padres once had Trea Turner in their farm system, and he was not enough all on his own to buy one (1) Wil Myers. That this could have been allowed to happen is less an indictment of anyone with personnel powers than it is a testament to the crapshoot of player development. Nevertheless, it will be a darkly funny experience, a decade from now, for Padres, Nationals, and Dodgers fans to track how easily Trea actual Turner slipped out of their teams' grasps: The Nationals traded Turner plus Max Scherzer to the Dodgers for Keibert Ruiz (ha!) and Josiah Gray (ha ha!), when all it would've taken for them to retain him was money. Just money! And not even money from a person's bank account! Money that the Nationals gain from charging people to watch them play baseball!
But at least the Nationals got something from their organizational decision to not pay money to retain the services of Trea Turner. The Dodgers had him and let him go for nothing! It seems both creditable and also slightly blasphemous, after several putatively legitimate professional baseball operations opted more-or-less affirmatively against simply paying Turner to play baseball for them, that all it cost for the Phillies to hire up all of the rest of Turner's prime years was money. I am not a baseball organization, but I would seriously consider becoming one if I had the money to pay someone as good at baseball as Trea Turner is to wear a shirt with my name on it, while playing baseball.
Turner is entering his age-30 season. If he is healthy, he is going to contend for a batting title, swipe 30 bags, and possibly sock some genuinely unfair number of huge dingers, while doing cool slides and assorted other exciting things that make the game more interesting. If you are a fan of the team that simply hired him, for money, to play baseball, this will be a lot of fun. If you are the owner of a team that could've hired him and instead elected to dig around blind in a grab-bag of broadly unknowable prospects, truly may the remaining dinners of your life all be farted upon by a gut-sick opossum.
Stay in touch
Sign up for our free newsletter