MLB
These No-Good, Historically Bad Marlins Have Won Me Back
12:34 PM EDT on October 3, 2023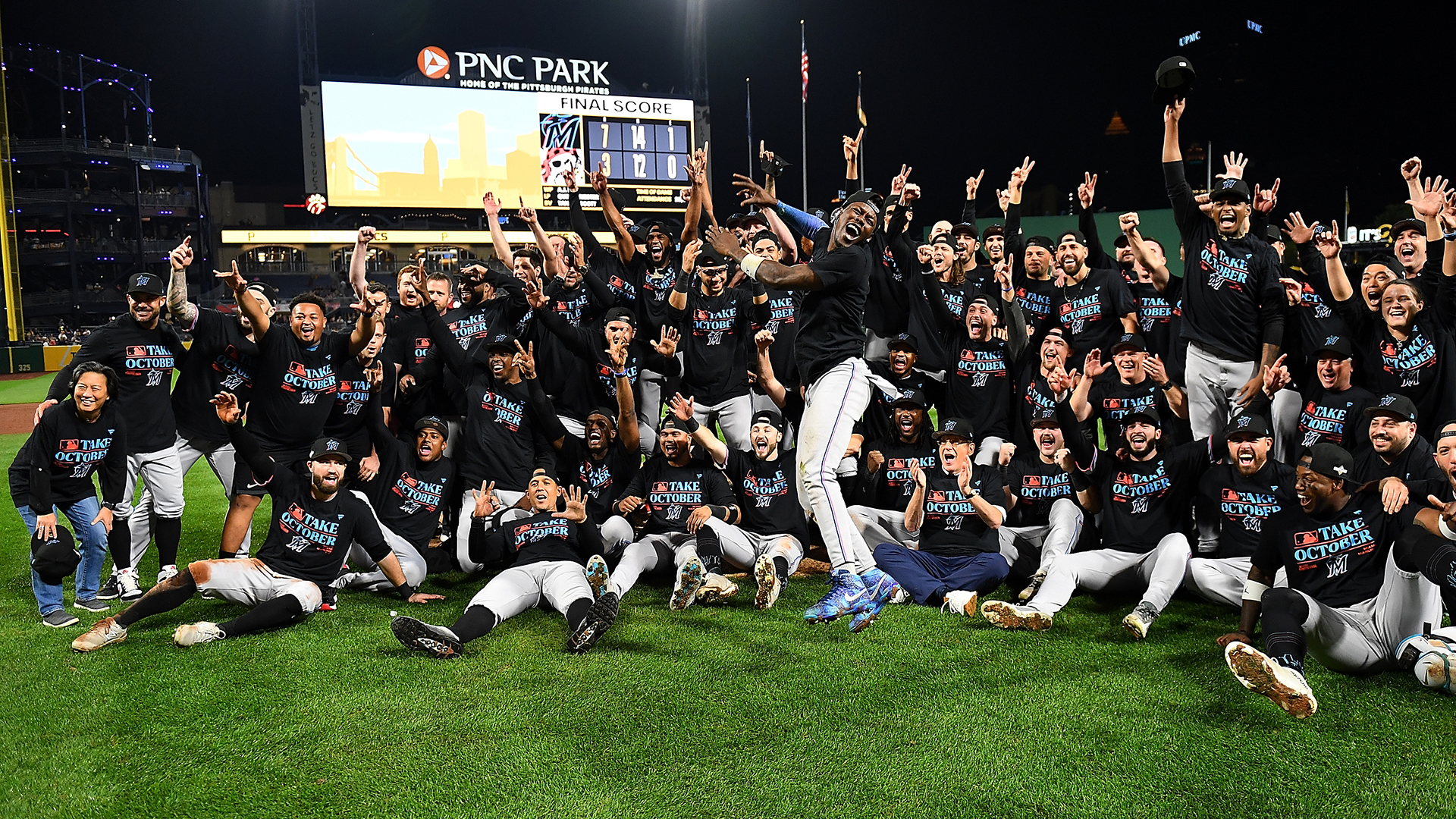 The last time I watched a Marlins playoff game in person, they still had "Florida" at the front of their name. It was Game 5 of the 2003 World Series against the New York Yankees, and I, my high school JV team's cornerback, skipped what would've been my final organized football game ever to attend.
That season, my brother and I had attended quite a few Marlins games on summer days at the old stadium, whose official name I scarcely remember after years of it ping-ponging between various sponsors. Marlins tickets were always cheap, and we used to sit in the Teal Monster area of left field for pennies, all to see Miguel Cabrera (in his rookie year!), Dontrelle Willis, Pudge Rodríguez, Juan Pierre, and the rest of the ragtag group of players who somehow made the World Series that fall.
By the time Game 5 rolled around, the disbelief over the Marlins' run—which at that point had included an incredible NLDS finale against the San Francisco Giants and, of course, Steve Bartman and the Cubs—had worn off. They had gone into the old Yankee Stadium and stolen Game 1, then bounced back from dropping 2 and 3, to win what I still consider the best non-title-clinching win in Marlins history: a 12-inning marathon Game 4 that ended when fellow Venezuelan Álex González, so awful with the bat throughout the entire 2003 postseason, hit a home run just over the fence to tie the series up and set up a perfectly dramatic Game 5. I had to be there.
History will show that the Marlins were in control of Game 5 throughout, but that didn't make 14-year-old Luis feel any better while the Yankees mounted a comeback in the top of the ninth, down 6-2. Jason Giambi, who came into the series hurt and only stepped onto the field to pinch hit when things looked dire for the Evil Empire, hit a solo homer off Braden Looper, who then gave up another run to make it 6-4. In came Ugueth Urbina, pre-murder conviction, and he was able to get the remaining two outs in quick succession as an honest-to-goodness sold-out Marlins crowd lost its mind. At that moment, I believed the Marlins would do it again, just as they had in 1997. And thanks to Josh Beckett pitching one of the great postseason games of all time at the final World Series game at that old Yankee Stadium, that's exactly what happened in Game 6.
I say all this not to revel in one of the two times that being a Marlins fan has been total bliss, but rather to explain how long it has been since the Marlins offered me the opportunity to see them play postseason baseball. From 2004 to 2019, the team barely sniffed the playoffs, coming close only in the most generous definition of "close." They made the 2020 playoffs, and even beat the Cubs in the Wild Card round, but I can't remember a time when watching baseball felt less urgent than the COVID season; no one was celebrating a 31-29 regular season—especially not me, as I of course couldn't exactly fly to Chicago to attend at Wrigley Field, nor could I take a trip to Houston for the Atlanta Braves NLDS series, held there instead of in Georgia due to the pandemic.
No, it is this year, and this specifically strange Marlins team, that has given me the opportunity once again to root root root for my home team in person. If I'm being honest, they shouldn't be here. The stats are funny all on their own: No playoff team has ever had a worse run differential than the Marlins, and in fact, they helped keep out the Cubs from the Wild Card round despite having a differential 153 runs worse than Chicago. Part of that is that the Marlins become unconquerable gods in one-run games: Their 33-13 record in those games is the seventh-best winning percentage in history. It's been an exciting year, with watching fellow Venezuelan Luis Arráez flirt with .400 for a good chunk of the season and then stressing over the mid-season swoon before rocketing into the playoffs with a 17-10 September and, improbably, finishing in the second Wild Card spot.
Even the past week has been wild in ways often seen in the dying days of the regular season. The Mets-Marlins rain delay-suspension-postponement last week added an extra bit of drama to the proceedings, with the Damoclesean threat of a possible Monday night return to New York hanging in the balance. Luckily for the Marlins, that game's finish ended up not mattering; thanks to tiebreakers, these plucky ne'er-do-wells could simply eat the convoluted 1-0 loss in a game they were winning 2-1 at its postponement and still finish with the fifth seed, setting up a three-game series in Philadelphia for a spot in the "Get Rocked By Atlanta" NLDS.
You know who else is in Philadelphia this week? This guy! Having just moved here at the beginning of September, I'm perfectly positioned to quietly attend one of those three games and see my Marlins in postseason action. When deciding which game to attend, I couldn't bear the thought of going for Game 2, when the Marlins might be playing for their lives, and Game 3 might not happen at all, so Tuesday's Game 1 is the one I've gone with. It's a bit different wandering into enemy territory, of the Philadelphia variety at that, than watching with a sold-out home crowd in the World Series, but it'll do.
Though Cabrera has at last retired, and the rest of those 2003 Marlins are long gone, the spirit of that team lives on this year. By that, I mean that this team, which isn't all that good and probably deserves to lose in a swift two-game demolition by last year's runners-up, is in the damn playoffs, led by a different Venezuelan who could not be more different than even rookie-year Miggy. Juan Pierre was fast, and that was fun, but Jake Burger is wide as a refrigerator, and that's fun too. (On the negative side, Sandy Alcántara is better than any pitcher from the 2003 team, so naturally he's out for the year with a forearm injury.) These Marlins are even less equipped to make a run beyond the Wild Card round, but hey, I thought that about the 2003 team, so maybe history will repeat itself 20 years later.
Even if it doesn't, the return to the playoffs has been such a long, rough ride that I will happily watch them give up home runs to Bryce Harper and Kyle Schwarber and my mortal enemy Trea Turner (sorry, Kelsey) for a couple of games before shifting into Miami Heat mode. Since that 2003 World Series title, being a Marlins fan has been about as depressing as expected. The team has been sold, Derek Jeter was at one point handed the keys to the place, which he used to predictably disastrous effect (maybe more than anything, I'm still enraged by his decision to remove the home run feature from the stadium). Mike Stanton was here, changed his name to Giancarlo, won an MVP, and then was shipped off. To the Yankees. Ugh. The team made a cursory attempt at building a contender to accompany the new stadium, only to blow it back up once they got the city's money. The one playoff run they did have, no one could really enjoy thanks to the state of the world. I mean, fuck, José Fernández died! I found that out at the Miami airport, and people were bawling all around me. It was horrible!
I've fallen out of love with baseball since 2003, partly because I've fallen more deeply into other sports and partly because it has not been fun to be a Marlins fan. My best baseball memories of the last 20 years tended to be when the Marlins played spoiler, as they did for the Mets in 2007 and 2008, which coincided with my first two years in New York City. Otherwise, I've been left with ironically calling them the Mighty Miami Marlins and then moving on with my life.
On Tuesday night, though, and for as long as this postseason run eventually lasts, the Marlins will be mighty once more, and I will be there, irony left back at home. It's been 20 years since I've been able to do that, and I'll enjoy every second of watching this undeserving, historically bad team make life hell for anyone standing in its path.
Stay in touch
Sign up for our free newsletter