MLB
Fish All Wet
8:58 AM EDT on September 29, 2023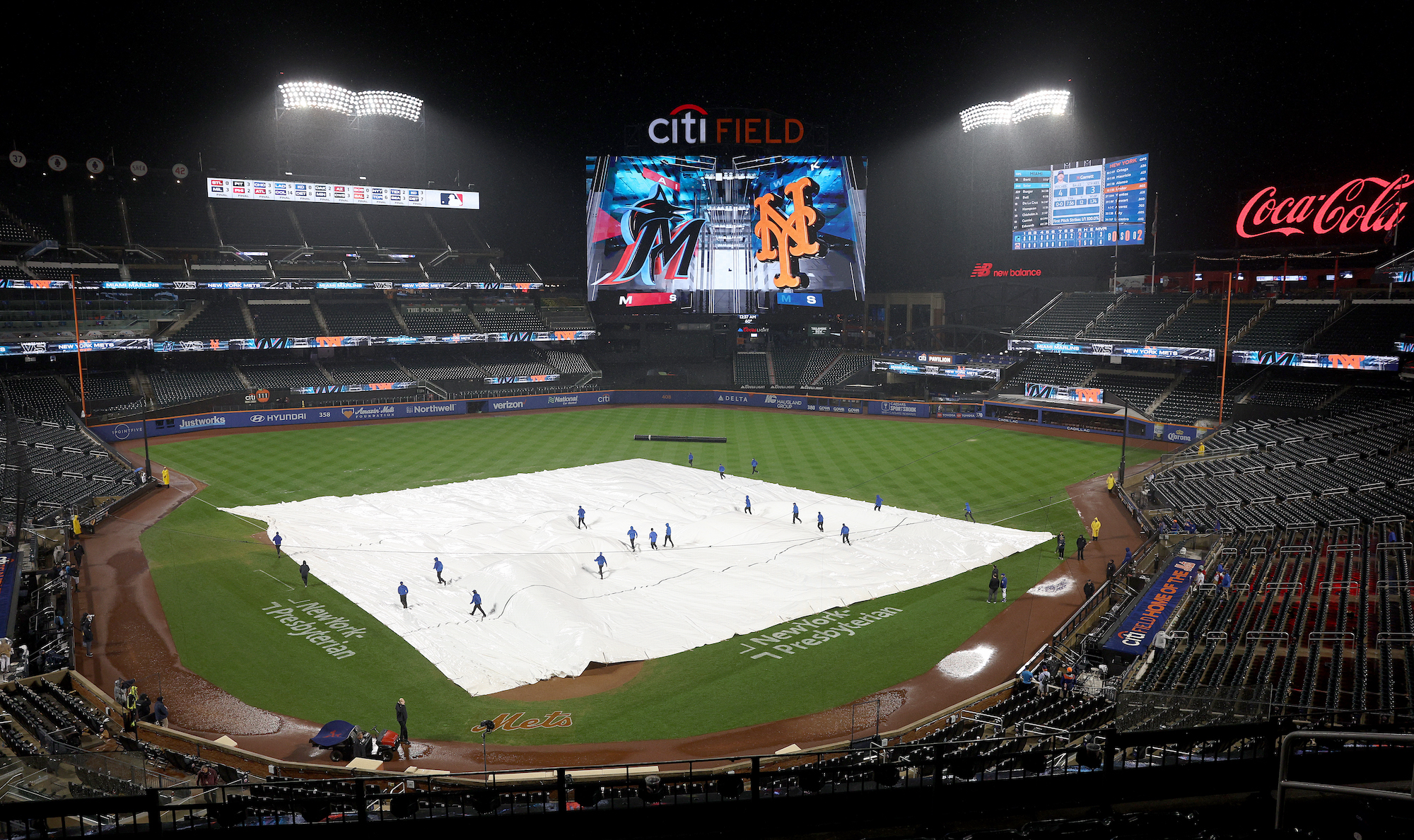 For those of us blessed few unburdened by the accursed onus of fandom, rooting interests are typically scorned as the province of the weak and unnecessarily romantic. After all, your favorite team secretly hates your guts unless you're shoveling money toward them like they are unscrupulous bail bondsmen and your kid just drove a police cruiser into a lagoon. 
But there is a rooting interest even we practiced agnostics desire now, and that is for the Miami Marlins to have to travel from Pittsburgh back to New York to finish Thursday's suspended game against the Mets on Monday. They were spitting upon their chances again last night, trailing the Mets 1-0 after eight innings only to go single, strikeout, wild pitch, RBI double, RBI single, fly out, single to take a 2-1 lead with two out in the ninth, at which point the storm which has been threatening flooding in much of the Northeast hit. Three hours and 14 minutes later, after scenes of Miami manager Skip Schumaker berating the grounds crew and general manager Kim Ng trying to make sense of the puddles in which she was standing, the game was suspended at 12:58 a.m.
And this after a soggy field forced the cancelation of Tuesday's game and a doubleheader to be played Wednesday. Thursday's game cannot be resumed Friday because the Marlins go to Pittsburgh and the Mets host the Phillies, so Monday is the only real solution—and no, nobody wants the wild cards settled with normal play. We want a full-on piefight, with ball bearings baked into every bit of meringue.
In other words, the Marlins and Mets need to be dragged back to the ballyard on Monday to play the last four outs of the ninth inning, or better yet, have to play six more innings after the Mets somehow tie the game in the ninth. Then we need the Marlins to win, get on another plane to Milwaukee in time for the start of the wild card round on Tuesday. After all, if the Marlins are going to bumble through the end of the regular season and reach the postseason with the worst run differential in baseball history, let's make them earn their stay, no matter how brief it might be.
The Marlins have been backing into playoff contention all season long, winning 82 games with a run differential that suggests a team winning only 73. Their closest pursuers, the Chicago Cubs, have a run differential that suggests an 89-win team, yet they have only won 82. In other words, the Cubs should be punished for their underachievement, but the Marlins should not get to enjoy an easy passage into October either. They should have to sweat their way in like monsoon-season Indonesia, and the only way for that to happen is if the Cubs finish their regular season a half-game better than the Marlins, which seems difficult to fathom given their current run of play (6-13 after getting swept by Atlanta). Still, let's keep a proper thought and cheer for chaos that ends in embarrassment, because that's always better than rooting for any old team.
Were the Cubs to end with that half-game lead, the resumption of Marlins-Mets becomes a necessity, because in a quirk of baseball rules, if the game is not completed, the score reverts to the last completed inning—when the Mets were leading 1-0. 
And we haven't even considered the possibility of the Reds, who have yet to be eliminated, so sure, why not them too?
Anyway, that's how you do a rooting interest. You don't have favorite teams because they don't view you as their favorites, so you may as well want blanket suffering for everyone. This may be their livelihoods, but that is nothing next to your entertainment. 
Stay in touch
Sign up for our free newsletter