NBA
The Wolves Can Do Damage When Anthony Edwards Gets Serious
9:05 AM EST on November 7, 2023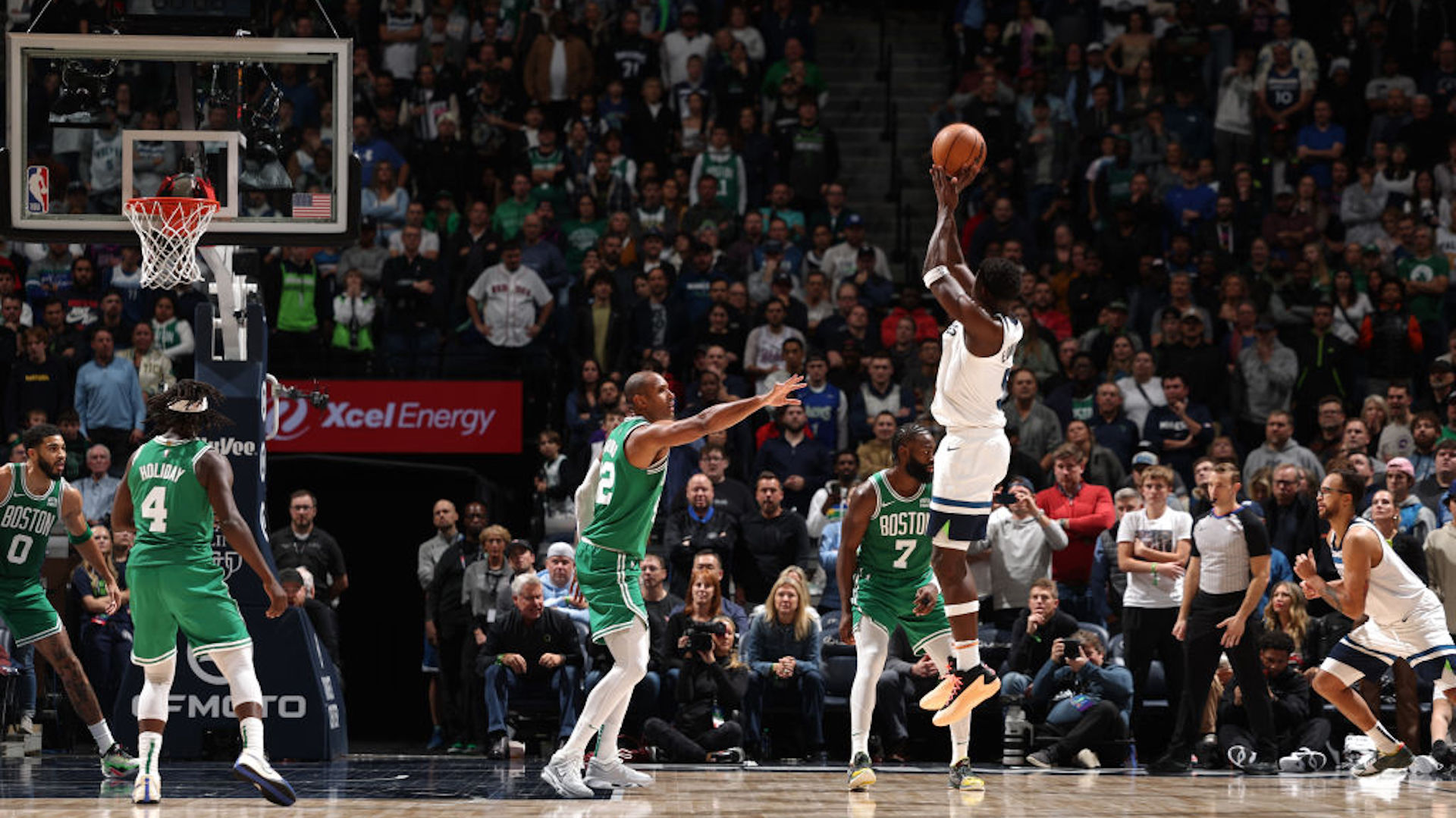 The journey from Team With Lots Of Potential to Actually Good Team never goes as smoothly or as quickly as anyone hopes. A bad team bottoms out, collects some good young players, develops those good young players into stars and useful role players, and then the real work starts. The Minnesota Timberwolves currently find themselves facing this real work, and during Monday night's game against the Boston Celtics, they demonstrated all they ways in which that work can go smoothly or horribly wrong.
The Timberwolves entered Monday night's game with a 3-2 record that was reflective of their overall situation. Their two losses had come at the hands of the Hawks and Raptors, and their three wins had been achieved through blowouts over the Jazz and last year's pair of NBA finalists, the Nuggets and Heat. These are the sort of early-season results one might expect to see from a team that won 42 games last season, was eliminated from the first round of the playoffs in five games, but also played the eventual champions tougher than any other team they would go on to face.
The Celtics presented another chance for the Wolves to show their progress. Boston came into the game 5-0 and covered in the viscera of its previous opponents. The additions of Kristaps Porzingis and Jrue Holiday to a lineup that was already one of the most fearsome in the NBA has helped turned the Celtics into a spacing, shooting, and playmaking monster. If this is to be the year that the Wolves become Actually Good, they are going to have to demonstrate an ability to stand up to teams like the Celtics.
Minnesota won Monday night's game in overtime, 114-109, and to Timberwolves fans around the world I would like to say this: I don't know how you guys deal with this. There were long passages of this game in which the Wolves did indeed look like one of the best teams in the league. Their league-best defense spent these passages whirring to life, switching and rotating and smothering an offense that none of the Celtics' previous opponents had any chance against. And then there were portions of the game in which the Timberwolves looked like a bunch of doofuses. Perhaps this is an overlooked aspect of getting over the hump from Lots Of Potential to Actually Good: you need some serious guys. You need guys who won't foolishly get into and then stay in foul trouble in a big game, as Anthony Edwards, Karl-Anthony Towns, and Rudy Gobert all did last night. You need guys who will shoot better than 52 percent from the free-throw line, not turn the ball over 23 times, and not do whatever the hell it is that Towns was trying to do on his way to fouling out with seven points on 3-of-10 shooting.
So it's no surprise that Anthony Edwards, the one guy on this roster who looks most capable of becoming a serious guy, is the biggest reason Minnesota won on Monday night. When the overtime period started, the following things happened: Towns received a pass at the free-throw line, spun to his left, and threw an elbow into Holiday's chest while executing one of his baby-deer-running-on-ice drives to the basket. That gave Towns five fouls. On the next Celtics possession he knocked a free-and-clear rebound out of Gobert's hands, lost the ball between his legs, and turned around just in time to watch Holiday scoop the ball up and lay it in while surrounded by three defenders. On the next Celtics possession, Towns got himself iso'd with Jayson Tatum at the top of the key, watched Tatum dribble around and spin into a fadeaway jumper, and then reached out and just slapped him right on the arm for no reason. Six fouls.
Not a serious guy, is the thought that filled my head while, out loud, I muttered, "Jesus Christ, Karl." Those are the kinds of sequences that kill games and eventually seasons, which makes what happened next all the more impressive.
Tatum hit his two free throws to put the Celtics up 105-103 with under four minutes to play, and at that moment it felt totally impossible that the game was going to end in anything but a Celtics victory. But then Anthony Edwards decided to lock in, and he turned in the most stunning sequence of clutch basketball we've seen so far this season. After missing a three, Edwards found himself guarding Tatum on an island with five fouls. Tatum tried to go left, Edwards shuffled his feet and beat him to the spot, poked the ball away, and then forced a jump ball by scrapping for the loose ball with a seated Tatum. Edwards came out of that scrum with an alarmingly intense look in his eyes, and after winning the jump ball he set up Mike Conley for a corner three that put the Wolves up 106-105. Edwards followed that up by hitting the following shots: A 19-foot pull-up jumper over Al Horford; a foot-on-the-line pull-up jumper from 22 feet that he walked into from the back court; a spinning, hanging, one-handed fadeaway in the middle of the lane.
Serious guy, I thought to myself while exclaiming, "Jesus Christ, Ant!"
The Timberwolves now have early-season wins over the two best teams that the Eastern and Western conference have to offer, and what was clear at the end of last season's postseason push gets easier to see every day: This is Anthony Edwards's team, and nobody will have more of a say in how effectively or quickly the Wolves continue their evolution than him. I said that an NBA team's path from potential to competence is long and halting, but shortcuts do exist. They require a player like Edwards, who can turn what looked like a certain losing position into a winning one with just a few minutes of furious basketball.
Stay in touch
Sign up for our free newsletter