NBA
Victor Wembanyama Is Way Ahead Of Schedule
9:11 AM EDT on November 3, 2023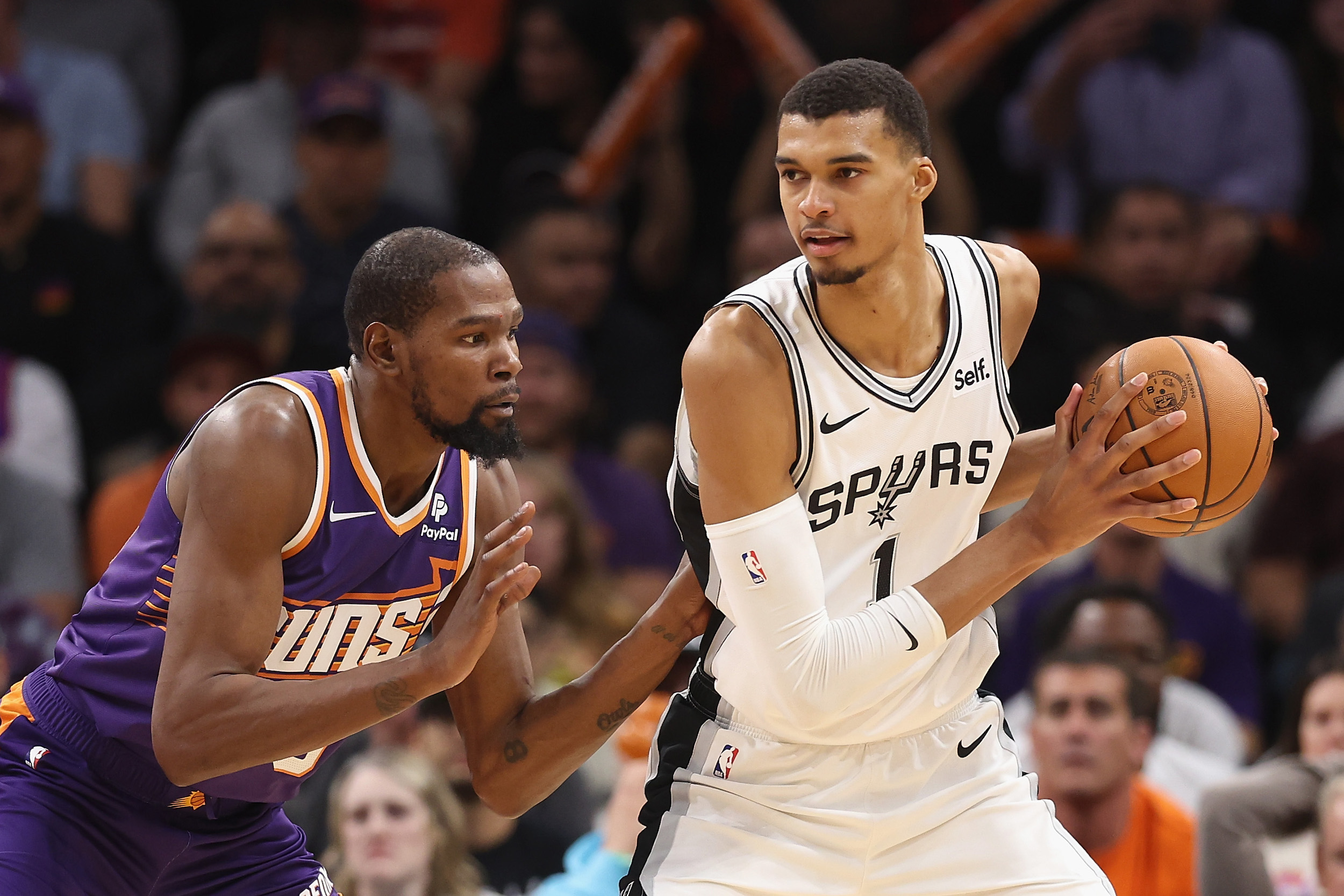 Victor Wembanyama played his fifth career NBA game Thursday night. Already we'd seen some good things from our large noodle-sculpture son. He is a game-breaking defensive force, recording nine blocks and six steals over his first four games and looming over opponent's possessions as a large frightening web of telescoping limbs. He both spaces the floor as a willing shooter and warps it as a cheat-code-level lob-threat: 75 percent of his three-pointers and 81 percent of his dunks and layups have so far been assisted, per NBA tracking stats. The NBA TV pre-game show Thursday night said that through his first four games Wembanyama was the league's most productive fourth-quarter performer, a metric they failed to explain but which is not hard to believe after Wembanyama's late heroics led a closing flurry to upset the depleted Suns two nights earlier. It did not take Wembanyama much time to start doing things as an NBA player.
Thursday night was something else. The Suns expected to have a better time in the rematch, with Devin Booker returning to the starting lineup for the first time since opening night and finally getting Kevin Durant some reinforcements. And right away it was The Wemby Show: Wembanyama swooped in to personally wreck three of Phoenix's first four possessions, including rudely blocking Booker's first shot attempt. The Suns needed a timeout at the nine-minute mark of the first quarter after Wembanyama beat them all up the court for a transition dunk. Two minutes later he dropped in—as in, from high above—a layup in traffic the way you or I casually drop a crumpled grocery store receipt into a nearby trashcan. He caught a screen-and-roll pass at the free-throw line and smoothly no-looked the ball out to a teammate on the wing for a wide-open three-pointer, a pass that in over 1,000 career games DeAndre Jordan may have gotten right twice, both times by happy accident.
The Suns were in a bind. Wembanyama was mostly not operating as San Antonio's lone big, a lineup luxury Gregg Popovich enjoys due to Wembanyama's freakish ability to operate comfortably out on the perimeter. Suns head coach Frank Vogel opted early on to stick his most center-like defender on Zach Collins, a somewhat more energetic rebounder but otherwise a much simpler defensive assignment for anyone expecting to serve as his team's rim protector. This meant that there were stretches of the game when Wembanyama's defender across consecutive possessions was thick-set and well-meaning 34-year-old Eric Gordon, who by the NBA's official measurements gives up 13 inches of height in the matchup. Gordon has never in his life looked more turtle-like—and would never have been more justified in going Yertle mode—than the handful of times when Wembanyama simply relocated the action to spaces several feet over his head.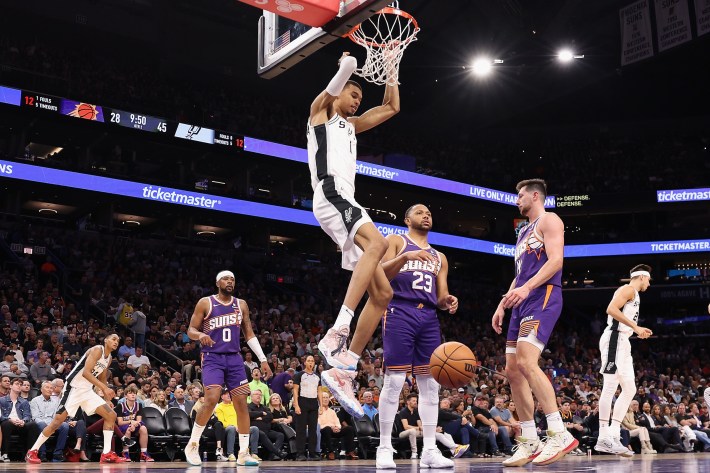 Inside the final minute of the first half, Wembanyama coolly banged home a pick-and-pop three-pointer to put the Spurs up 19. On San Antonio's next possession, bringing the ball slowly up the left side, Wembanyama noticed Phoenix's defense sagging below the three-point line and skittered rather alarmingly into a smooth pull-up three-pointer, to extend San Antonio's lead to 20 points. He went into the half with a game-high 20 points on 14 shots; the Spurs had won his 16 minutes of action by 21 points.
The Suns made a second-half run, which is not something I would feel compelled to mention except that it set the stage for Wembanyama to dominate a fourth quarter. The game was tied at 116 with 4:21 remaining following a Keita Bates-Diop three-pointer. Wembanyama earned free throws on San Antonio's next two possessions and put the Spurs up three. Next he threw home a contested dunk to force a timeout. A minute later, with the Phoenix crowd on their feet chanting "DEFENSE," he rained home a ridiculous pull-up three-pointer to put the Spurs up 10; on the next possession, with Spurs color commentator Sean Elliott insisting that the team focus on milking the clock, Wembanyama popped to the free-throw line, took an entry pass, and immediately rose up for a back-breaking jumper. Wembanyama finished with a 38-point double-double, in the second consecutive road game against a title contender, in his fifth career game.
Victor Wembanyama is supposed to be good and exciting. Not just in a big-paws-on-a-puppy sort of way, detectable in occasional highlight flashes as he otherwise spins in confused circles on an NBA court. As Popovich insisted from his first up-close looks at San Antonio's newest centerpiece, Wembanyama's professional experience overseas means that none of this is quite as new to him as it was to, say, Kwame Brown. But it's for sure supposed to be harder than this! Wembanyama was the best defender on the floor Thursday night, and also the game's toughest cover and most versatile offensive weapon. He is very quickly making a lot of otherwise perfectly respectable NBA types seem obsolete, or even farcical.
Imagine being Phoenix's Drew Eubanks, a reasonably tall and reasonably athletic try-hard rotation big who up until a few days ago was excited to have carved out a rotation role on a team with serious title aspirations. Eubanks will spend this season playing for his next contract, and along comes this Lovecraftian cosmic monstrosity who suddenly threatens to force a reconsideration of what makes for a playable big in the Western Conference. I spent a part of Thursday's game wondering how quickly Wembanyama will make two-time MVP Giannis Antetokounmpo obsolete; a guy like Eubanks looks absolutely hysterical sharing a position group with Wembanyama. After five games!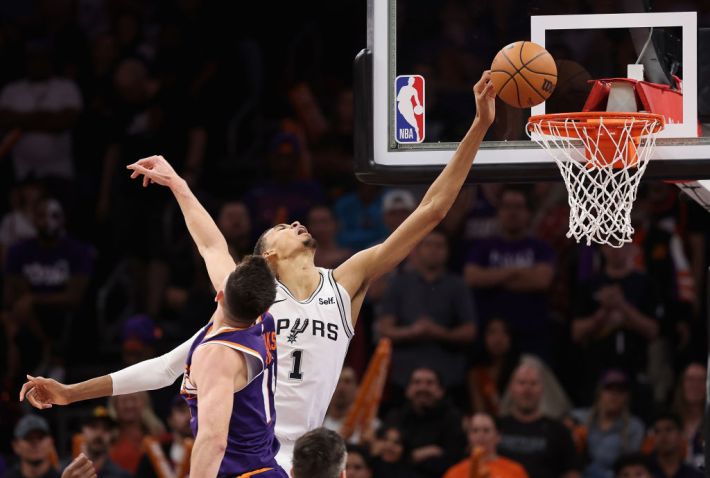 Possibly I am getting ahead of myself, but it's hard not to. Thursday night Wembanyama made Kevin actual Durant look like a diminutive and tragically earthbound floor-spacer. Imagine being Kyle Kuzma! Imagine watching Kyle Kuzma play basketball on your television, on purpose, after this. My God.
Correction: A previous version of this blog said that Thursday's game was the second of a back-to-back.
Stay in touch
Sign up for our free newsletter