NBA
Anthony Edwards Needs Some New Pals
9:27 AM EDT on April 26, 2023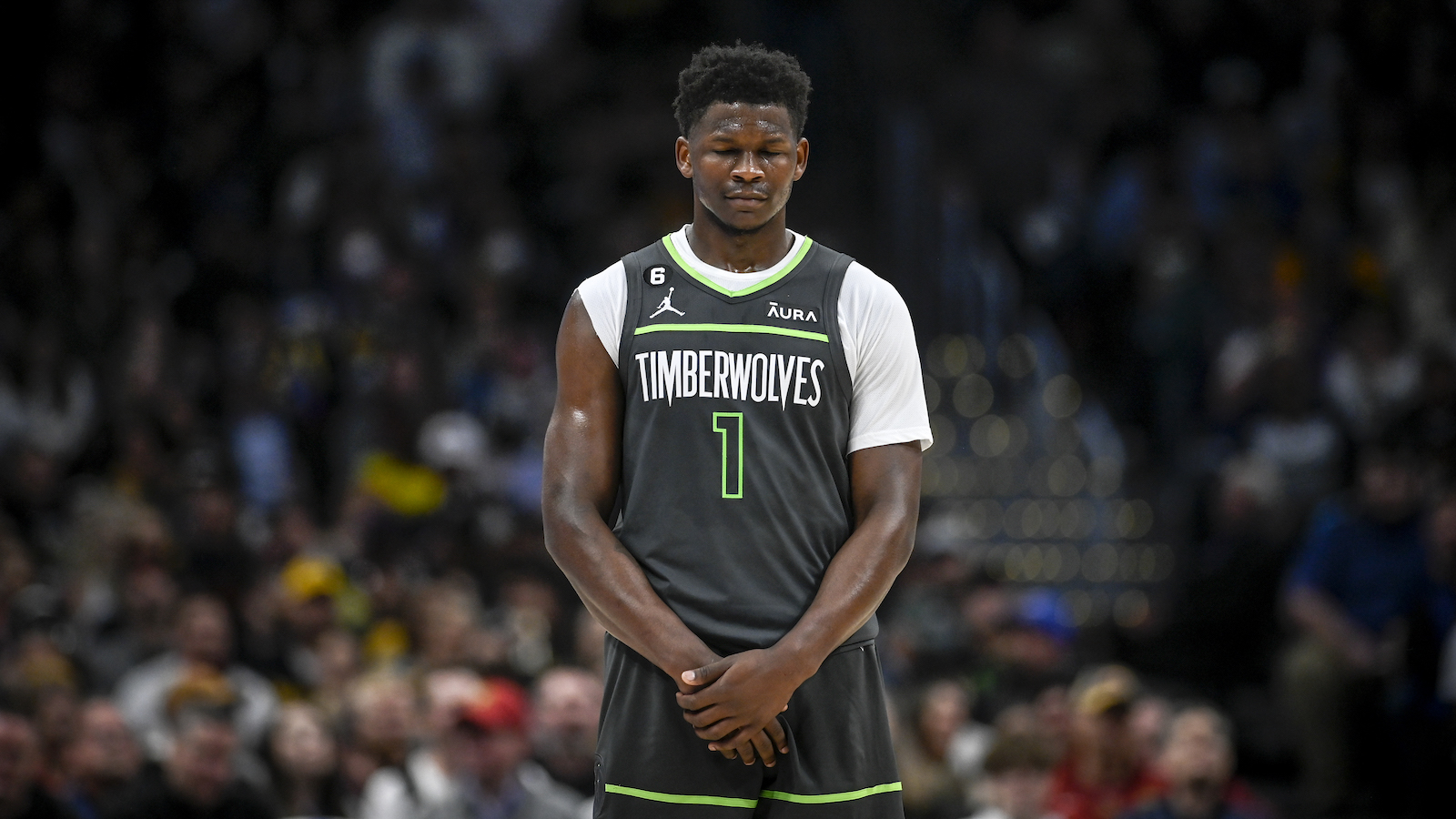 Losing a playoff series in five games, even as an eight seed, is never a good outcome. But "good" can be defined and redefined based on context, and I suppose if you consider where the Minnesota Timberwolves were when they entered their first-round series against the Nuggets—down a key rotation player after he broke his hand punching a wall; bereft of team spirit after their very large and very expensive center tried to punch a teammate in the huddle—getting a win at home and being competitive in four of five games can read like something of a moral victory.
Ah, who am I kidding? Any feeling of accomplishment that the Wolves will take with them from this series, which ended in a 112-109 Nuggets win on Tuesday night, will fade quickly. What will be left in its place are questions about just what the hell this Minnesota team is supposed to be, and why it struggles so mightily to be more than it is now.
Consider the Denver Nuggets: a No. 1 seed that played awful during the last month of the season and entered the playoffs just begging to have its packing-peanut defense exposed by an opponent willing and able to execute Playoff Basketball. That is, basketball designed to hunt and mercilessly exploit an opponent's biggest weakness. Completing such a task effectively is a lot to ask of any eight seed, but if you had to design one that should have been, at least on paper, up for giving the Nuggets a hard time, it might look a lot like the Timberwolves.
Take the names off of the jerseys for a moment, and consider what the Timberwolves have. There's the 6-foot-11, 27-year-old, do-it-all scoring big man who is a two-time all-star and made the All-NBA team twice. He averages 23 points per game for his career, shoots 39 percent from three, and can't really be guarded one-on-one when he's playing well. Then you have the 7-foot-1 center, a three-time Defensive Player of the Year and a guy who was brought in via a pile of first-round picks in order to establish a one-man defense. Add to that the 21-year-old shooting guard who scored 24 points per game this season and is maybe the most explosive perimeter player to enter the league since Dwyane Wade, and it starts to feel like you are looking at a team that could give the Nuggets some problems. Hell, I didn't even mention the savvy veteran point guard with loads of playoff experience.
The problem for the Timberwolves is that there are names and personalities attached to those player profiles, and two of those names are Rudy Gobert and Karl-Anthony Towns. If you want to be generous, you could say that Towns played two good games in this series—he scored 27 points in the Game 3 loss and 26 points in Tuesday's series-clincher. He also scored 11 points in Game 1, 10 points in Game 2, and 17 points in Game 4. He shot 45 percent from the floor, 25 percent from behind the arc, and fouled out of the final two games of the series. Gobert's series numbers look mostly fine (it's hard to not get 15 points and 12 rebounds when you are that size), but he also didn't really do anything to slow down the Nuggets' offense, spent the whole series in foul trouble, and fumbled every big moment that came his way. He was particularly bad on Tuesday night, failing to secure several much-needed rebounds down the stretch and gifting the Nuggets the biggest bucket of the night when he tried to flop an off-ball foul and then just laid on the floor, leaving his team to defend a 4-on-5:
The only Timberwolf who played to type was Anthony Edwards. He scored 31 points per game for the series, and it was only his relentless effort and shot-making that kept Minnesota from going down in an embarrassing sweep. Edwards was the only non-Nugget in this series who seemed to understand who he is (a vicious athlete who can shoot off the dribble and blow by any defender in his way) and what he should do (go straight to the rim on every single possession and lay the ball in over Denver's non-existent interior defense).
In other words, Edwards was ready and able to play Playoff Basketball, and I, a Nuggets fan, can attest to his effectiveness based on how much fear I felt every time he got the ball. By midway through Game 5, Nuggets head coach Mike Malone was sending a double-team at Edwards as soon as he caught the ball. I felt a little embarrassed by this—really? The top team in the Western Conference can't guard a 21-year-old straight up?—but it was the right decision, not just because of how inevitably Edwards was going to exploit the Nuggets' weaknesses if left alone, but because of how assured he was to be let down by his teammates. Edwards still got a chance to tie the game at the buzzer, though, and I was convinced this was going in:
I don't think he meant anything by it, but it was fitting for Edwards to sprint off the court by himself as the buzzer sounded. It made me think about how lonely he was in this series, and about the postgame interview he gave after staving off the sweep in Game 4, in which he said he spent the previous night hanging out with Towns at Towns's house, talking about the upcoming game. I felt a lot of pity for Edwards in that moment, not just because he likely had to spend a few hours pretending to enjoy smoking a hookah and looking at Towns's collection of swords, but because he didn't really have any other choice. Not only is Edwards stuck with these bozos, he's putting in time off the court to try and help them get their shit together. Following that motivational hangout session, Towns took nine shots in Game 4, scored 17 points, and fouled out.
Stay in touch
Sign up for our free newsletter