NFL
The Vikings Caught The Turnover Bug Again
1:03 PM EST on November 20, 2023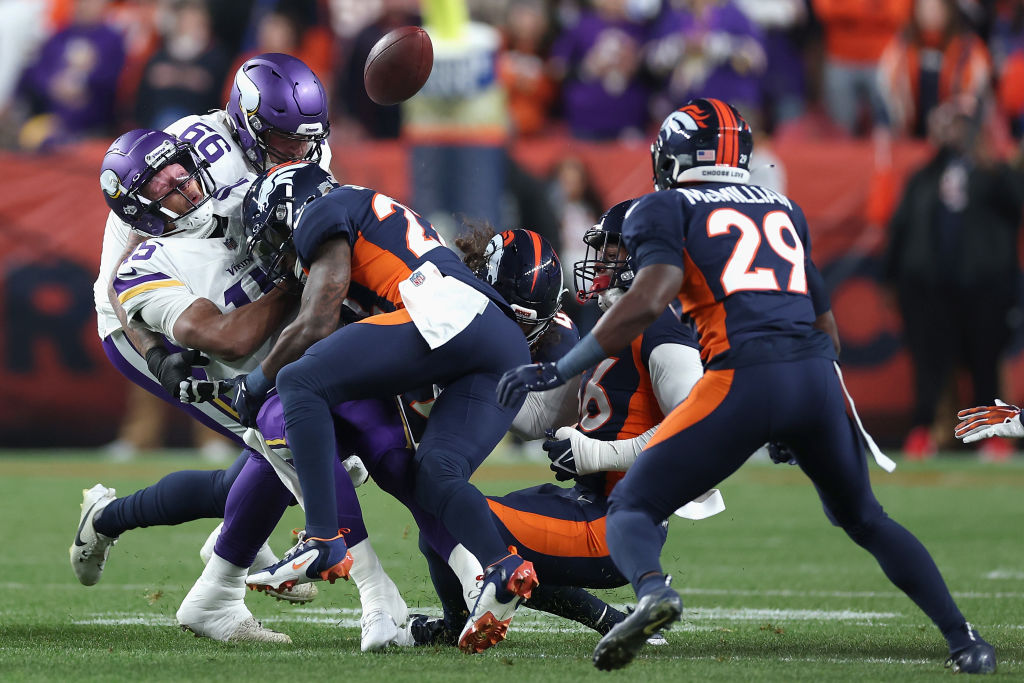 The Minnesota Vikings have transformed so much since their early-season losing streak that it's easy to forget what September was like for these playoff hopefuls. In each of their first two games, the Vikings kept the score within a touchdown but were felled in the turnover battle, which they lost by three. In their third game, facing the Chargers, they bookended a four-point loss with giveaways, losing a fumble on their first drive and then tossing an interception with the team just six yards away from victory. The Vikes could not win for as long as they were this careless with possession, and to their credit, they got back on track over the course of the five-game win streak that reenergized their season, tying or winning the turnover competition each week.
This current version of the Vikings is missing the franchise's two most recognizable players, Justin Jefferson and Kirk Cousins. But on Sunday, as underdog playmaker Joshua Dobbs lined up behind center with hopes of winning three out of three, they looked a lot like those same Vikings that blew so many chances early on. While the Broncos struggled again and again to turn red-zone visits into touchdowns, Minnesota's three giveaways bailed them out in this 21-20 Denver victory. And even though the NFC's glut of bad teams means the Vikings are still clinging to a playoff spot, this very avoidable prime-time disappointment struck a sour note for a squad that had been riding high.
The Broncos were obsessed with kicking field goals in this one—couldn't get enough of them!—and the Vikings helped them out from their very first series. Getting creative on a third-and-1, they had Dobbs take a toss from the running back spot, but as he tried to fight his way to the yellow line, a couple of Broncos defenders evaded their blockers and trapped him. It was Baron Browning who popped the ball loose, and a few minutes later his team was leading 3-0.
Dobbs's limitations and inconsistencies were plainer to see than in his first two starts as a Viking, particularly on an unsuccessful final drive where Minnesota seemed completely unable to dial up a deep pass. But with his mobility and quick thinking, he still has a knack for making a few special plays each game—like this first Vikings touchdown, in which he rolled out, made it look like he had grease on his shoulder pads, and didn't crumple even as he stared down the open mouths of hungry rushers.
Dobbs's highlights mostly contrasted with Russell Wilson's failure to convert third downs as Minnesota took a 17-9 lead in the third quarter. But two key mistakes swung this game in the other direction. First, Alexander Mattison couldn't hold on to the football during a run straight up the middle. The Broncos turned that change of direction into a field goal, their fourth, and they got their fifth when Dobbs, under pressure, threw a turkey that was gobbled up by Ja'Quan McMillian. The Broncos didn't even have to gain a yard to turn that field position into three more points.
A gutsy Vikings response that included a fake punt and an escape from third-and-20 came to a screeching halt in the red zone, and the good version of Russell Wilson suddenly reappeared to lead a triumphant winning drive that ended with only a minute left on the clock. But for as dramatic as the finale proved to be, the Vikings and their still-new leader had a very clear understanding of how this game was lost.
"It's hard in this league to go on the road and win. And it's even harder when you don't take care of the football like you're supposed to," Dobbs said in the postgame.
The Vikings' season has been defined by sickening emotional swings. They came into this year still vibing off the buzz of a 13-4 record made possible by magic in tight situations. Then they played sloppy, regressed hard, ended up 1-4, and saw their top wideout get injured. They turned it around from there, only to lose their quarterback just as things started to click. Their backup QB got knocked out almost instantly. But they found an unlikely savior in a trade that cost them basically nothing. Now, they've dropped an important game they really should have had handled, and they did so by repeating the same errors that weighed them down two months ago. For something like the fourth time this year, the Vikings feel like they're back at square one.
Stay in touch
Sign up for our free newsletter