NFL
The Vikings Forgot How To Be Clutch
12:18 PM EDT on September 25, 2023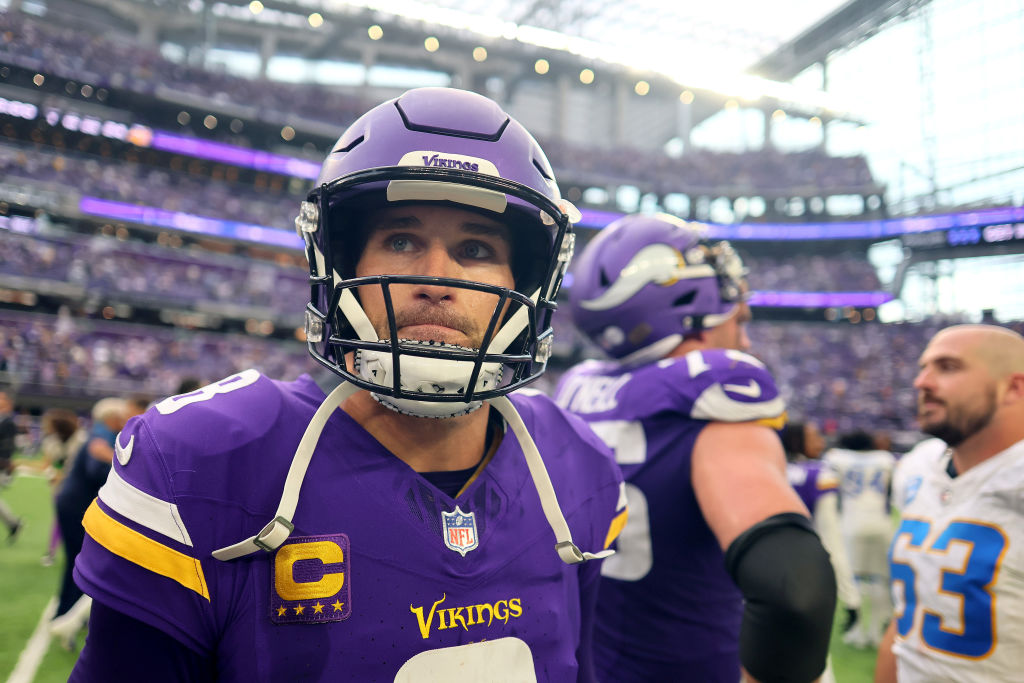 I don't know who coined the phrase "more haste, less speed," but I know it wasn't Vikings coach Kevin O'Connell at a team meeting before Sunday's loss to the Chargers. Playing at home in a battle of two skidding squads that had high hopes to start the year, the Vikings knocked on the door of a comeback win but instead fell victim to last-minute mismanagement and a game-ending mistake.
The Chargers, missing Austin Ekeler, all but ignored the run game in this one, gaining just 19 yards from their two backs compared to 405 through the air for Justin Herbert, and 49 more from Keenan Allen on a trick play. The Vikings were more balanced, but they too took their second-half lead off the back of a couple of long-distance aerial assaults, first to K.J. Osborn and then to Justin Jefferson, who gave yet another stellar performance.
The Chargers regained the advantage with a crazy 30-yard catch of their own to make it 28-24 in the fourth, and the Vikings' response ended with four straight failures on the goal line. But with a chance for L.A. to ice the game, they turned instead to their biggest weakness. On fourth-and-1 from their own 24, with under two minutes to go and Minnesota out of timeouts, they sent Joshua Kelley straight up the middle and didn't gain anything.
The Vikings had a chance to win from prime starting position, but instead of making the clock work for them they smashed the hourglass and scattered its sand. With 40 seconds left, Kirk Cousins completed a pass to T. J. Hockenson at the six. But after the whistle blew there was no urgency until it was too late. Cousins, electing not to spike, struggled to both hear the play call in his helmet and deliver it to his teammates. Over 20 seconds fell off the clock. Finally, Cousins called his own play, took the snap, and tossed the ball into an area saturated with Chargers, where it was deflected and then picked off to seal the game.
The decision not to spike it, or know what they were doing at all, looms large for a team that took until mid-December to lose their third game last season. Talking to reporters afterward, Cousins said that the excited home crowd was a factor in disrupting his offense's communication at the end.
"Just couldn't hear him with the noise," he said. "Just ended up calling a play, and the play I called was the same play he was trying to get to."
Even if the routes were the same, the fact that the Vikings couldn't get settled, and had so few seconds to work with, could not in any way have helped Cousins make the decision to throw that ball where and when he did. While you can point to the previous drive as the real instance of where the team should have punched in the game-winner, the messiness of the final play still provided a perfect flashpoint for which disappointed team leaders had to give answers.
"Definitely looking back on it, just wish I would have clocked it," O'Connell said. "No matter the benefit we had going fast, the value was not received clearly with what that execution looked like in that moment."
"I mean I could do anything I want," Cousins said of the idea that he maybe should have taken control of the situation. "I can do the quarterback sneak. I can do whatever I want, but at the same time you also have to deal with the consequences. Against Buffalo last year I snuck it on my own and didn't get in, so until you know the future it's hard to know whether to take the reins or not, but I've done it before."
What's so strange about Minnesota's confusion and failure at the end of this game is how unlike last season it is. You could throw a dart at the Vikings' 2022 schedule and have a good chance of hitting a game in which they pulled off a dramatic late victory. Against the Lions almost exactly a year ago they scored 14 unanswered in the fourth, including a final-minute touchdown, to win 28-24. Facing the Saints in England, they watched New Orleans tie the game with under two minutes and then marched down the field for a winning kick. Against Chicago the next week Cousins directed a 17-play, seven-minute drive to score eight and win 29-22. In Buffalo in November, they pulled off the kind of ridiculous win that turns your hair grey. They humiliated the Colts by coming back from a 33-0 deficit to triumph in overtime last December. And on Christmas Eve they grinched the Giants at the end of a furious fourth quarter with a 61-yard field goal. (New York would later have its revenge.)
All in all, the Vikings won 11 one-score games last season, and they're 0-3 in them in 2023. The wise woman would say to this that one-score games are fickle and dependent on moments that have nothing to do with a team's true talent level, so it makes sense that the same group can't keep replicating magic forever. I don't disagree, exactly, but it still seems odd to me that the Vikings seemed so unready when the opportunity came to steal a win. They've done it plenty of times, and yet they still had stage fright. In addition to a debilitating Minnesota loss, this game is also, I think, a fascinating little window into how most everyone in the NFL might just be winging it when the pressure's on. Because if all of last year didn't prepare the Vikings to look competent on their final drives, I don't know what could.
Stay in touch
Sign up for our free newsletter