NFL
The Game Of The Year Is In Six Days
9:29 AM EDT on September 25, 2023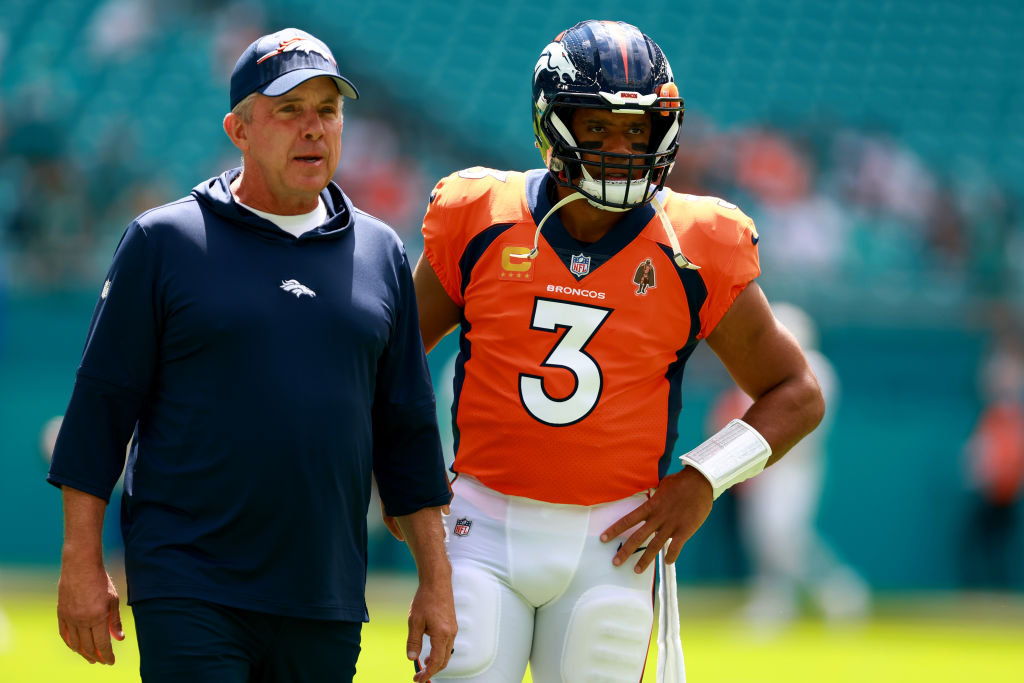 The foolish football fan will look at the remaining NFL schedule this morning and circle a Nov. 5 game between the Chiefs and Dolphins. "We got our game of the year, folks!" this idiot will say. The learned football fan will look upon the dolt in disgust and say, "You fool. You bastard. The game of the year is next weekend."
It's not that the Dolphins and Chiefs aren't good teams, or that a match-up between them is doomed to disappoint. The Chiefs are the defending Super Bowl champions and have started the season 2-1, and the Dolphins are currently the biggest party in the NFL and are 3-0. But Nov. 5 is far away, and who knows what kind of shape either of these teams will be in by the time they get together. Tua Tagovailoa could suffer several more concussions between now and then. One of Patrick Mahomes's knee or ankle ligaments could start barking again. Mike McDaniel could die from not showering enough. It's too risky to pin too much anticipation on any NFL game that is more than a week away, which means we should be focusing our attention on the sure thing: next week's matchup between the 0-3 Broncos and 0-3 Bears, the two teams that the Dolphins and Chiefs respectively just beat the shit out of.
The Broncos will head to Chicago next week dragging the shame of a historic loss behind them. They were beaten 70-20 by the Dolphins on Sunday, in a game that was left bursting with unbelievable statistics. The Dolphins scored on 10 of their first 12 drives, gained 726 yards (376 passing, 350 rushing), and scored the most points in an NFL game since Washington put up 72 points against the New York Giants in 1966. The Dolphins could have broken that record, too, but McDaniel chose to ease up when his team got into field-goal range with 33 seconds remaining in the game. He instructed his team to kneel the ball on the Broncos' 28-yard line rather than attempt the record-breaking kick.
Record or no, that's the sort of loss that can spiritually break a football team. Broncos offensive lineman Garett Bolles certainly seemed to be suffering while sitting in front of his locker after the game, where this loss caused him to briefly considered whether his entire career has been a waste of time. "Shit. Huh. Shit," Bolles said when asked to describe the emotions going through his head. "Tired of losing, man. Been here for seven years, and all I've done is lost."
Broncos head coach Sean Payton was in a similarly rotten postgame mood. While standing at the podium for his press conference, looking like he'd just spent the last hour in a headlock, he lost his shit at a reporter who reiterated the historic nature of the Broncos' loss. "What's the question? What's the question? I just finished telling you. Next question," Payton said, sounding like a man who is starting to regret a few of his more recent life choices.
The Bears, meanwhile, lost to the Chiefs by a comparatively respectable score of 41-10. The humiliation they suffered on Sunday may not have been as concentrated as what was doled out to the Broncos, but they are on equally precarious footing all the same. If the Broncos spent Sunday reaching rock bottom, then the Bears spent it chipping away at the sea floor that they already called home. Chicago came into Sunday's game in the midst of a franchise-wide meltdown. Defensive coordinator Alan Williams suddenly resigned over what ESPN has described as "inappropriate activity"; their overmatched and overwhelmed starting quarterback publicly laid the blame for his poor play at the feet of his equally overwhelmed and overmatched offensive coordinator, and then tried to smooth things over by recreating the infamous Stan Van Gundy and Dwight Howard photo op. The Bears can't score points and have the worst defense in the entire world. Perhaps the meanest thing you can say about the Bears is that whatever agency (talent or intelligence) is responsible for cooking up the Travis Kelce–Taylor Swift relationship chose Sunday's game as the place to initiate operations, because if there was any team that was optimized to deliver the most broadcast shots of a Chiefs fan cheering from inside a luxury box, it was the Bears.
So why should anyone be looking forward to these two teams meeting next Sunday? This isn't a case in which you should tune in just for the sake of laughing at two bad football teams playing poorly. What sets this matchup apart from past meetings between winless franchises is that the Bears and Broncos are existentially fucked.
The Broncos aren't just a bad football team. They are a team that surrendered years worth of draft assets in order to acquire Russell Wilson and then locked themselves into a long-term deal with him, only to watch their supposed franchise quarterback melt into one of the worst QBs in the league. Then they threw away even more draft capital in order to lure a past-it head coach out of TV-analyst retirement, entrusted him to fix whatever is broken with this team, and have now just watched him avoid suffering the worst loss in NFL history thanks to nothing more than Mike McDaniel's mercy. What the Broncos are right now is all they are going to be for years to come.
On the other hand, the Bears were supposed to be good! It will be impossible to get anyone to believe this in another week or two, but this is a team that had real buzz around it during the preseason. Guys on ESPN were going on TV every day and talking about how Justin Fields was set to become the NFL's newest superstar quarterback. New GM Ryan Poles was supposed to be recreating the success of the Chiefs' rebuild, but so far his team looks even worse than it did when it finished 3-14 last season. We're three weeks into the season and the best thing Bears fans have to hope for is that the losses pile high enough for them to reach Caleb Williams.
Failure like this, the kind that arrives suddenly and forcefully and shows no signs of leaving, can terrorize a football team. It can stuff desperation and doubt into players, turn coaches feral, and compound until what could have just been a bad season turns into one that will always haunt those who played and watched it. This is the reason to tune in and watch Broncos-Bears on Sunday: It's not every day that you get to see several people live out one of the worst days of their life on national television.
Correction: A previous version of this post said the Chiefs are 3-0.
Stay in touch
Sign up for our free newsletter