NFL
The Bears Have Wasted No Time In Initiating Their Meltdown
3:33 PM EDT on September 20, 2023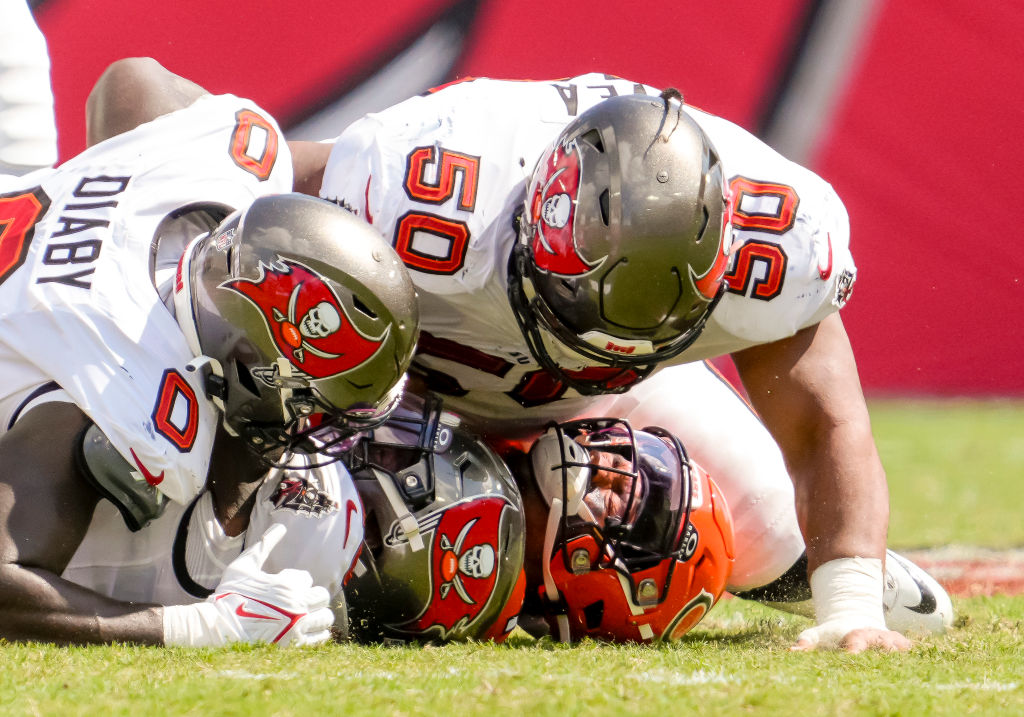 The Chicago Bears are bad—so bad that they've lost 12 consecutive games dating back to last season. So bad that they've allowed at least 25 points in each of those losses. So bad that right now, it's unclear if their defensive coordinator is actually their defensive coordinator.
The Bears held their usual media availability on Wednesday, giving reporters a chance to seek updates on a few questions swirling around the 0-2 team. One of those questions concerns defensive coordinator Alan Williams, who missed Sunday's game against the Tampa Bay Buccaneers due to personal reasons. Head coach Matt Eberflus was asked today if Williams will be back on the sideline for the upcoming game against the Kansas City Chiefs, to which he replied, "I do not have an update on Alan Williams right now." When Eberflus was then asked if Williams was still the team's defensive coordinator, he repeated that he did not have an update. Update (4:53 p.m. ET): Williams released a statement through the team announcing his resignation.
Eberflus, whose previous job was defensive coordinator for the Indianapolis Colts, will once again call defensive plays against the Chiefs in Williams's absence, but the quantum uncertainty of that job is second to the greater question hanging over the Bears: What the fuck is wrong with Justin Fields? The offense has plenty of problems, but Chicago's starting quarterback has been dreadful in his first two games this season, throwing two touchdowns to three interceptions while being sacked 10 times. He's also carried the ball 13 times for 62 yards and a touchdown. No starting quarterback has looked as unsteady and uncomfortable in the pocket as Fields, whose poor play was recently the subject of 95 minutes of increasingly exasperated video analysis from former NFL quarterback J.T. O'Sullivan. When a video explaining everything a quarterback and his coaches have done wrong over the course of a single game has the same runtime as a mid-budget indie film, that's not a good sign.
Fields was asked about his performance at today's press conference, and he responded by saying that the fault more or less rests with his coaches. He said some of his problems are owed to him thinking too much on the field, and then he was asked to explain what's causing him to do that. "You know, could be coaching, I think," he said. "At the end of the day, they are doing their job when they are giving me what to look at, but at the end of the day I can't be thinking about that when the game comes."
An example of what Fields might be talking about can be found at about the 4:05 mark of O'Sullivan's video, where Fields is tasked with running a play that requires him to read defenders on opposite sides of the formation while trying to execute a read-option. Messes like that are the responsibility of offensive coordinator Luke Getsy, who is the one calling the plays. So when the Bears run a play in which two receivers line up next to each other and run the exact same route into the same patch of grass, that's on Getsy. When the Buccaneers get an absurdly easy pick-six because the Bears tried to run the exact same play three times in a row out of the same formation, that's also on Getsy.
There's plenty more to worry about. Wide receiver Chase Claypool, who the Bears traded a second-round pick for last season, has been playing with such low effort that the team reportedly told him he'll be deactivated or traded if he doesn't start trying. Eberflus also announced today that starting left tackle Braxton Jones is being placed on injured reserve, although it's undetermined whether it'll be for four games or the whole season. For dealing with all of these problems two weeks in, the Bears' reward is a road game against last season's Super Bowl champs. This team is bad, but it can get worse.
Stay in touch
Sign up for our free newsletter