NHL
The Red Wings Are Still A Long Way From New Jersey
1:01 PM EST on January 5, 2023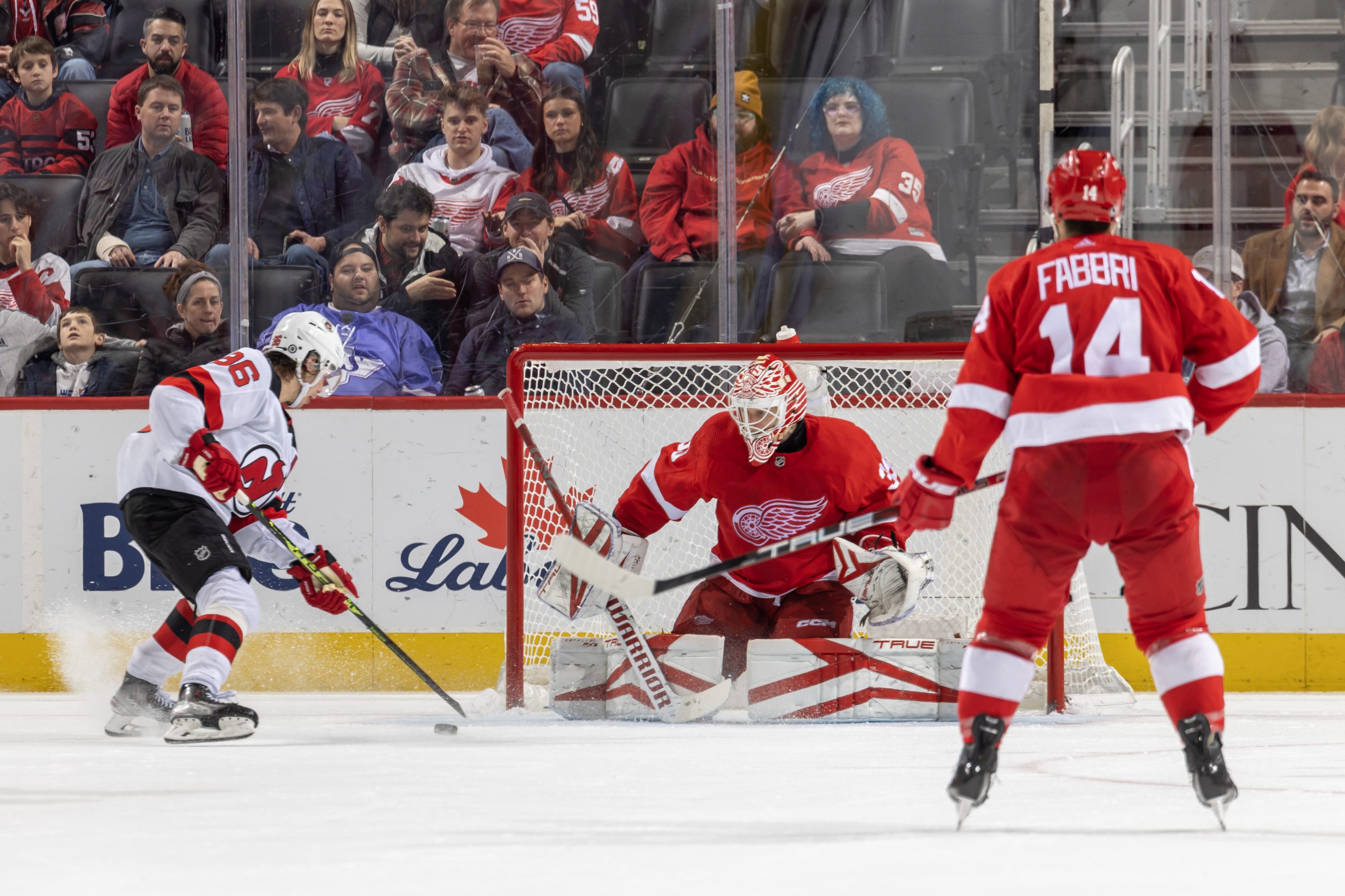 The New Jersey Devils, who spent the early part of this season just tearing through the competition as they finally lived up to their huge potential, got a bit of their moxie back on Wednesday night. After a pretty dreadful stretch that saw them win just two of their last 11 games—they're still second in their division—the Devils went west to Detroit and took advantage of an uneasy Red Wings squad, pounding them 5-1 on national TV.
To say the visitors outright dominated beyond the brutality of the final score would be an overstatement. In the first half hour of this game, actually, the Wings doubled up New Jersey on shots, even as both teams failed to get one in the net. A couple of power-play goals in the second period, however, tilted things in the Devils' favor, and in the third the Wings just crumbled. A fast-break goal for Michael McLeod (I love how this youthful, hungry team executes fast-break goals) made it 3-0, Vitek Vanecek stayed strong in net, and when Alexander Holtz entered the zone untouched on the man advantage, firing a shot into the top right corner past Ville Husso with 13 minutes left, the game was all but over.
But there was a humiliating final blow left to be dealt, and it came courtesy of a 21-year-old who had previously badmouthed southeast Michigan's bagels and pizza. Jack Hughes, who's really a delight when he's on the ice and not sharing food opinions, took the puck across the blue line off a turnover, sent it backwards to Erik Haula, and then was inexplicably allowed by two Detroit defensemen to skate into a wide-open square mile of space directly in front of the crease. Haula did his job and sent the puck back to Hughes, close enough to the goalie that the two could have shared a basket of disco fries, and then Hughes just chilled out for a sec. With no defenders to bother him, Hughes faked right, went left to the side of the net, hesitated, and then popped it off Husso from behind. That's a stylish way to pile on.
The Red Wings, at 16-13-7, are far from the league's most embarrassing franchise. In fact, they've even won three of their last five. But everything about them feels kind of off right now. They just finished a stretch of carrying three goalies on their main roster, none of whom have been reassuring of late, by sending last year's starter Alex Nedeljkovic down to the minors. Meanwhile Jakub Vrana, a former big-time trade acquisition from Washington, just cleared waivers and has a completely uncertain future with the club after the 26-year-old scorer spent the latter chunk of 2022 in the league's player assistance program.
While their victories can be thrilling, particularly when they catch an opposing goalie on a bad night, there are still too many games like Wednesday where they look like the incomplete rebuilders they've been for several years now. On defense, the pairing of analytics enemy and offseason free-agent signing Ben Chiarot with the reigning Calder winner Moritz Seider has flopped, dragging down an overwhelmed Mo while Chiarot stays mostly the same. And at forward, while captain Dylan Larkin holds this team together and new addition David Perron has done his fair share, Detroit's still lacking those one or two guys they can turn to for a spark when the game starts to escape their control.
The Devils do not have that problem, both because they've been a little less tentative on swinging big to bring in outside names and, more importantly, because their lottery luck has far exceeded Detroit's. The Red Wings have only picked in the top five of the draft once since their playoff drought began in 2017. In that same span New Jersey, with nearly the same odds as Detroit each time, has been blessed with a pair of first overalls in Hughes and Nico Hischier, who've so far panned out perfectly. (Plus the Devils have drafted other exciting kids who, if they don't heat up for this team, could help them land Patrick Kane at the trade deadline.) In this rough month or so, the goaltending has dropped off a bit, and the banged-up defense hasn't been quite as solid, but the talent and energy permeating this group of youngsters remain plain to see. The excitement is building, and the ceiling is high. Detroit got a taste of it on Wednesday night. But not all rebuilding franchises can be so fortunate.
Stay in touch
Sign up for our free newsletter