NHL
The Rangers Should Have Traded For A Proven Playoff Scorer
11:58 AM EDT on April 25, 2023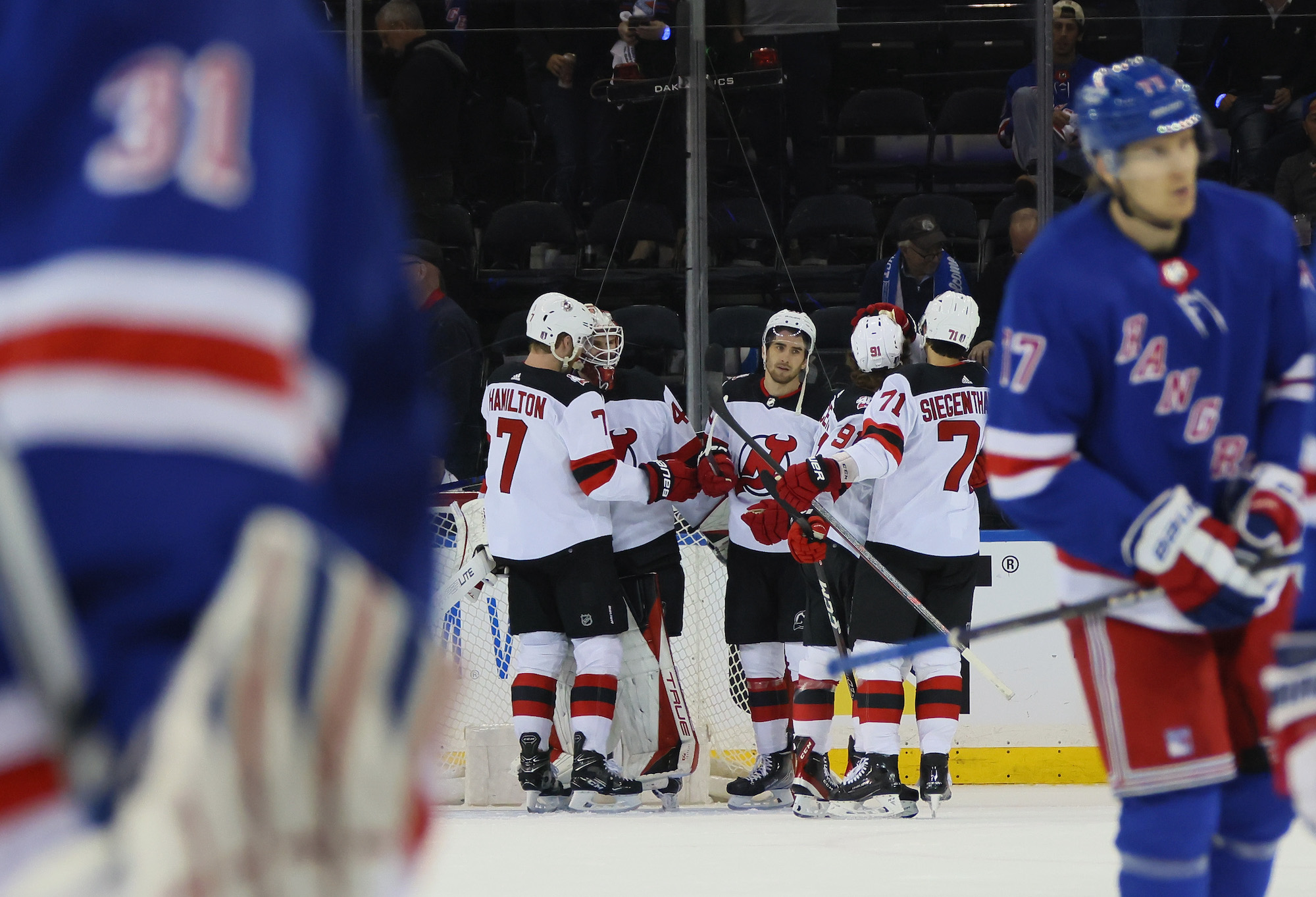 There's a version of the Rangers in my imagination that's actually a lot of fun to watch. The leading offensive duo of Mika Zibanejad and Chris Kreider is one of the most endearing in hockey, and both men are able to touch 40 goals. Artemi Panarin's here too, still one of the smoothest passers in the game. There's Adam Fox, who can manipulate the O-zone like a chess board. And then the Rangers have good kids at forward, too: They enjoyed a breakout season from Filip Chytil, and they're still developing the No. 1 overall pick in 2020 and the No. 2 pick in 2019.
This is a recipe for an exciting team! But clearly, it's not enough. While their goal-scoring hovers around average-to-decent, the Rangers have instead opted for the identity of an electric fence. Their go-to goalie, Igor Shesterkin, has the talent that can often win games singlehandedly, and their captain, Jacob Trouba, is paid eight million not for his skill but for his statement-making violence. And while that strategy worked fine in their first two playoff games, where they imposed their will on a shaky, inexperienced New Jersey Devils gang, it became a morale-sapping disaster in their potentially triumphant return to the Garden. In Games 3 and 4 at home, the Rangers scored just one goal in each, and their failure to find a spark has tied this series at two.
The lone goal of the first two periods was Jack Hughes executing a vicious early counterattack on the breakaway after one of the Rangers' best chances to score. In the third, Vincent Trocheck forced through an equalizer after some bounces went New York's way. But Jonas Siegenthaler, a meat-and-potatoes defenseman who was scratched for Game 2, became a hero when he took a cross-ice pass and banged it in off the post. The 2-1 advantage held until Ondřej Palát earned an empty netter with just a few ticks left.
The Rangers were flat all night, but the stretch between Devil goals two and three was especially notable because the offense looked zapped and useless and bereft of ideas in the moments where they most needed to make some noise. It's a little difficult to include visual aids when talking about something that didn't happen—a telling stat is Sportsnet's Youtube channel clocking the so-called highlights for this game under six minutes, when basically every other playoff tilt's recap is over eight—but this little screenshot might be of assistance. Here's a play-by-play of what should have been the game's most intense stretch, as the Rangers battled to avoid giving back home ice for a best-of-three: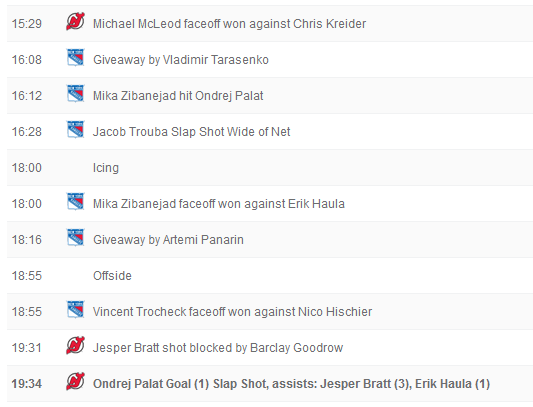 You know what? Let's watch some nothing. Here's a completely uneventful 90 seconds, in front of a parched crowd that wishes it could go wild with enthusiastic support but is instead as quiet as church on a Tuesday.
"It was real disappointing to watch that," Rangers coach Gerard Gallant said of the game as a whole.
The Devils deserve a lot of credit. Even though they were a top-five scoring team this year, and even though only a small handful of their guys had ever protected a late playoff lead before, they played disciplined, forceful hockey that just saturated all the areas where the Rangers hoped to get creative. Akira Schmid is due praise for the turnaround, too, as the replacement in goal beginning in Game 3. But the absolute paucity of New York chances goes beyond just what Jersey did. Even when they had a man advantage, the Rangers spent their time on home ice distanced from the most dangerous spots, slowly letting their air out of their crowd as they failed to see or take advantage of weaknesses in the defense.
Playoff shortcomings aren't created in the playoffs, however. They're built in the weeks, months, and even years leading up to the tournament. In the Rangers' case, yes, they should have scored more, but it's hard to blame them when management failed to bolster this roster before the trade deadline. It would have been great for the Rangers to add to their choppy, work-in-progress scoring ranks with an optimistic mid-season move, like the Islanders did with Bo Horvat or the Devils themselves with Timo Meier.
Even if it wasn't a guy in his prime, they could have found a name-brand winner with experience creating goals in a Stanley Cup run. Look at Ryan O'Reilly, who's come up huge with a goal and four assists as his new team the Maple Leafs have snatched a pair of overtime wins in Tampa. The Rangers have to be kicking themselves for not raiding one of those former champions in decline, like say St. Louis, or maybe Chicago. If they had, I can't imagine that this series would be tied. Surely, they would have had all the firepower they needed to score more than two goals in 131 minutes at home against a 22-year-old goalie. The difference between moving on and going home can be a simple as one flashy mid-season acquisition. Maybe two.
Stay in touch
Sign up for our free newsletter