NHL
Maybe Put A Body On Chris Kreider In Front
9:42 AM EDT on April 21, 2023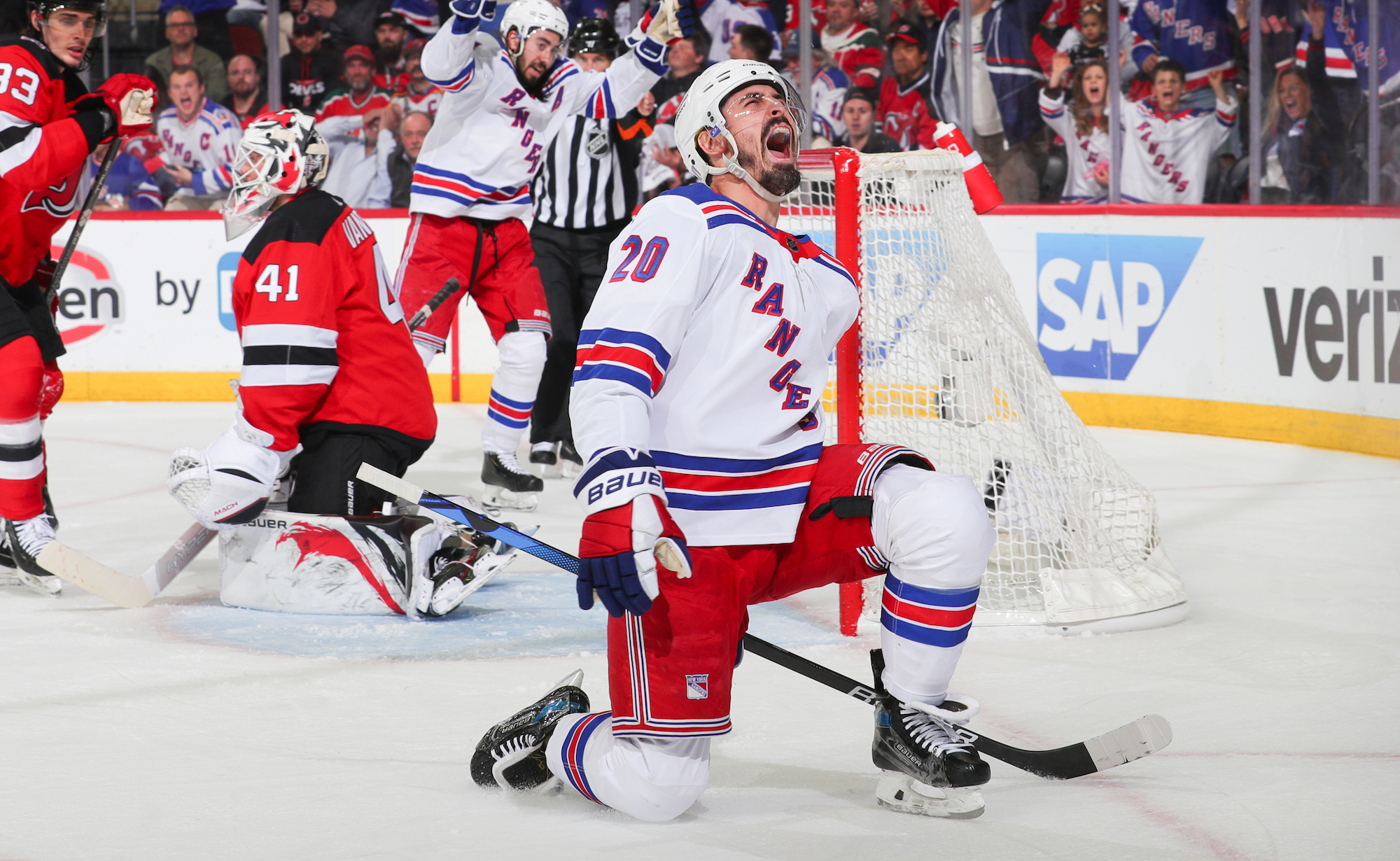 When you lose by 5-1 scores in consecutive games, you're probably doing everything worse than your opponent. Some of the Devils are pointing to the disparity on special teams, where New Jersey is 1-for-8 on the power play while the Rangers (specifically Chris Kreider) have racked up four goals. But that feels like a symptom of a larger problem: The Devils are taking bad penalties, and are ineffective on the kill, because they're getting pushed around. Jersey is a fast, skilled, young team that wants to fly around the ice, to create chances at speed, and did so to great effect in the regular season. But the playoffs are a different beast. The ice tightens up. Every zone entry is contested. If you have a puck, you will be hit. The Rangers are a better-balanced team for this type of game. No slouches in the skill department, they like very much to hit, and they're good at it, and they're big and strong and willing to take your hits in return. And if this series comes down to battles in the trenches, the Rangers aren't losing.
That said—maybe someone in red ought to try to move Kreider from Vitek Vanecek's doorstep? Every one of Kreider's four goals through two games has looked more or less identical, with the Rangers' power play moving the puck well, Kreider posting up unmolested in his office to the goalie's left, and redirecting a shot through traffic with a perfectly angled tip.
A pair of tip-ins off Adam Fox shots in Tuesday's Game 1...
...and more of the same, both off shots from Patrick Kane, on Thursday.
At this point in my life, I've probably heard Sam Rosen say "Chris Kreider! It's a power-play goal!" more than I've heard my mother say "I love you," but that's a me issue. The point is, it's not easy to deflect a puck where you want it to go—especially on that significant redirection on the fourth goal—no matter how effortless he makes it look. But the Devils are making it easier for him than it needs to be.
Look, I get that it's a pick of poisons. The Rangers' top power-play unit is a monster, and the math coldly clarifies that you're not going to be able to defend every one of Kreider, do-it-all center Mika Zibanejad, puck-moving wizard Artemi Panarin, PP1 quarterback Adam Fox, and Patrick Kane, who showed off the old-time hands last night in his best game as a Ranger. But what the Devils are doing now is not working. It's time to pick another poison and let someone else beat you, because Kreider, the Rangers' all-time leading playoffs scorer, has soundly proven that he will do it every time if you let him.
Maybe this looks like trying to muscle Kreider out of his office, or maybe it looks like tightening up the PK formation in front of the net, at the expense of ceding some more perimeter. There are no good solutions here, as Rangers defenseman Jacob Trouba, who's got to make decisions like that on the other end, knows well. "It's hard to defend a guy who can tip pucks like that in front of the net," Trouba said. "You got all these other guys to worry about, as well. He's taking advantage of his opportunities."
But it all stems from the Rangers' physicality. They keep ending up on the man advantage because the Devils keep taking desperate penalties caused by the Rangers' relentless, four-line forecheck—"rolling thunder," Kreider calls it. The Devils don't seem to have an answer for it, and New Jersey's intentions of drawing the Rangers into an end-to-end game have proven fruitless, even after taking a first-period lead on Thursday. "There are times in the regular season if we're behind we fall into the trap of saying, 'Let's skill it out.'" Trouba said. "But we didn't fall into that trap tonight." If the Devils can't make the Rangers play their game, and they can't beat the Rangers at their game, this series is more than halfway over.
Stay in touch
Sign up for our free newsletter