NHL
You're Better Off Ignoring Jacob Trouba
9:04 AM EST on February 7, 2023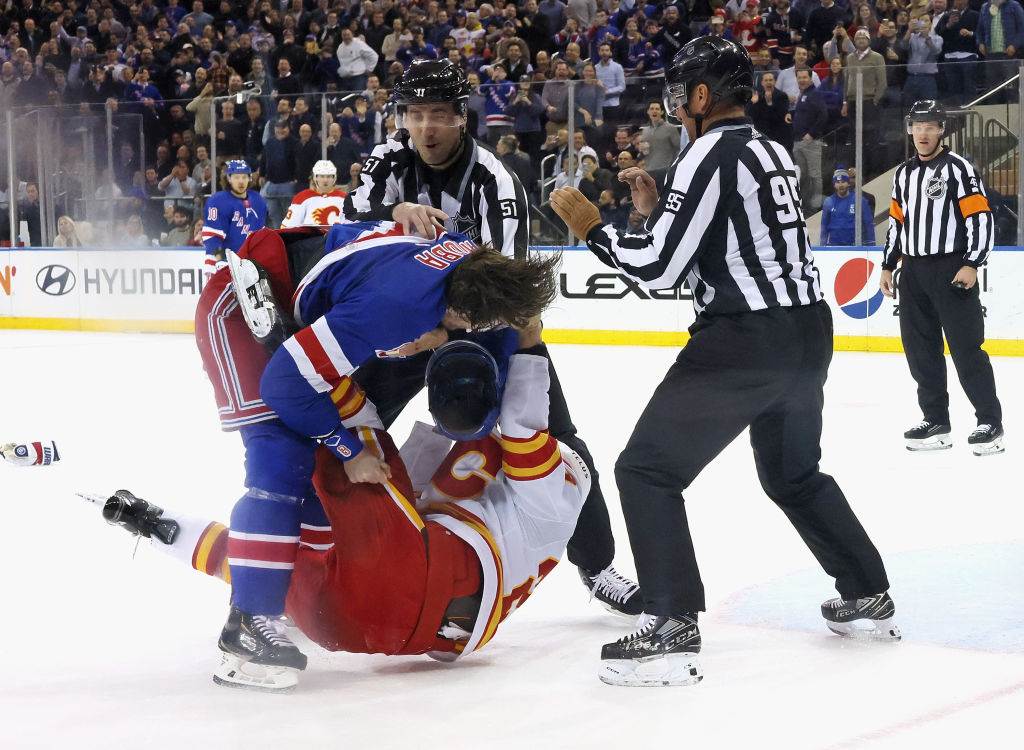 A lot of people don't like Rangers defenseman and captain Jacob Trouba, a fact I had stamped on me when I wrote about him in December without explicitly telling him to go to hell. But legally, under the boundaries of libel laws, I can't in good conscience label him a "dirty player." He does have one suspension to his name, for a high check back in 2017, but despite the open-ice hits—and occasional injuries they've caused—that have made him Public Enemy No. 1 in a lot of towns over the last six years, the NHL's Department of Player Safety has yet to really mark him as an outlaw. Compared to the aggressive suspension history of guys like Tom Wilson, Brad Marchand, and Nazem Kadri, Trouba, at least superficially, looks like a saint.
We're at something of crossroads in the NHL when it comes to hitting. On the one hand, high-speed collisions and macho violence are an inextricable part of the game's history, and rivalry-feeding physicality has given many fans some of their favorite memories. On the other hand: brain damage, and the fact that talents like Sidney Crosby shouldn't have to sacrifice chunks of their career and potentially their long-term health for some cheap thrills.
Nobody takes advantage of the gap between the NHL's actual rulebook and the league's sensitivity around checking better than Trouba. Analytically, he's never graded out as a particularly effective defenseman—though the Rangers are at least net-positive on their 5-on-5 chances with him on the ice this year—and he hasn't been much of an offensive presence either, putting up just three goals and 11 assists in 2022–23. But Trouba has a hefty contract and a "C" on his jersey because it's still very easy to notice his handiwork.
The 6-foot-3, 209-pounder currently sits second in the NHL with 123 blocked shots and 11th in hits with 153. He often appears to possess a single-minded desire to knock opponents off their feet, sometimes to the point of looking stupid himself, and with his high-powered hits he lives in that grey area where the league's authority ends but the other team's touchiness still exists. This unsubtle combativeness is an easy rallying point for a squad that's winning games and having fun. Because of both Trouba and the Rangers' fiery persistence, Monday's New York victory over Calgary was really the kind of special moment that makes a team feel like it ripped off a 10-game win streak in one night.
In an extremely tense battle between nontraditional foes coming out of what I guess wasn't a very relaxing all-star break, the Rangers surrendered a third-period lead but sent things to overtime tied 4-4 off Mika Zibanejad's second of the night. In three-on-three, it was the still-young former first overall pick Alexis Lafrenière who ended the chaos with a game-winner, taking the puck coast-to-coast and then cleaning up a juicy rebound for just his seventh goal of the season.
But it was Trouba's troublemaking that stood out more than any goal. Three times in this game—twice Trouba's—the Rangers delivered a very hard, very emphatic unpenalized check to someone on the Flames, and Calgary responded by starting a fight. Trouba's first incident came in the opening period, when a nasty pummeling of Dillon Dubé cheesed off Chris Tanev and put the two in a tussle. Both got five for fighting, but Tanev got an extra roughing call, so the Rangers ended up on the power play. (Despite Trouba's absence, another fight followed with an additional Calgary penalty just a few minutes later.)
Late in the second period, it happened again. Trouba set his sights on Nazem Kadri and threw all his weight into him. The ref didn't raise his arm on this play, either, but Dubé tried to take justice into his own hands.
By instigating a confrontation with Trouba, Dubé put the Rangers back on the power play, and this time, some sweet New York puck movement earned Zibanejad an opening, and he didn't let it go to waste. Without this goal, the Rangers don't get to OT.
By Trouba standards, there was a surprising lack of controversy in the postgame comments. Rangers coach Gerard Gallant stood up for his man, of course, saying, "It's a shame you have to [fight] every time you throw a hit ... I understand guys standing up for their teammates. I just think sometimes it gets a little overreaction." But his counterpart in Calgary, Darryl Sutter, also let Trouba off the hook. "There were three or four big hits," he said. "They were all clean, good hits."
So why did the Flames get so heated? A natural instinct to protect teammates, I suppose, and the tenets of old-time hockey. But Trouba has learned how to toe the line and rattle opponents without bothering officials. Even with the two fights Calgary forced him into, Trouba's 51 minutes of penalties this year aren't particularly glaring, and given the way it worked out on Monday, his trips to the sin bin can be a tangible positive for his team. Maybe there's a future NHL where Trouba's violent tendencies cut into his paycheck and his value. But for now, teams seeking revenge might be wise to do it within the confines of the rulebook.
Stay in touch
Sign up for our free newsletter