NHL
The Kraken Have An Offense Now!
3:31 PM EST on January 10, 2023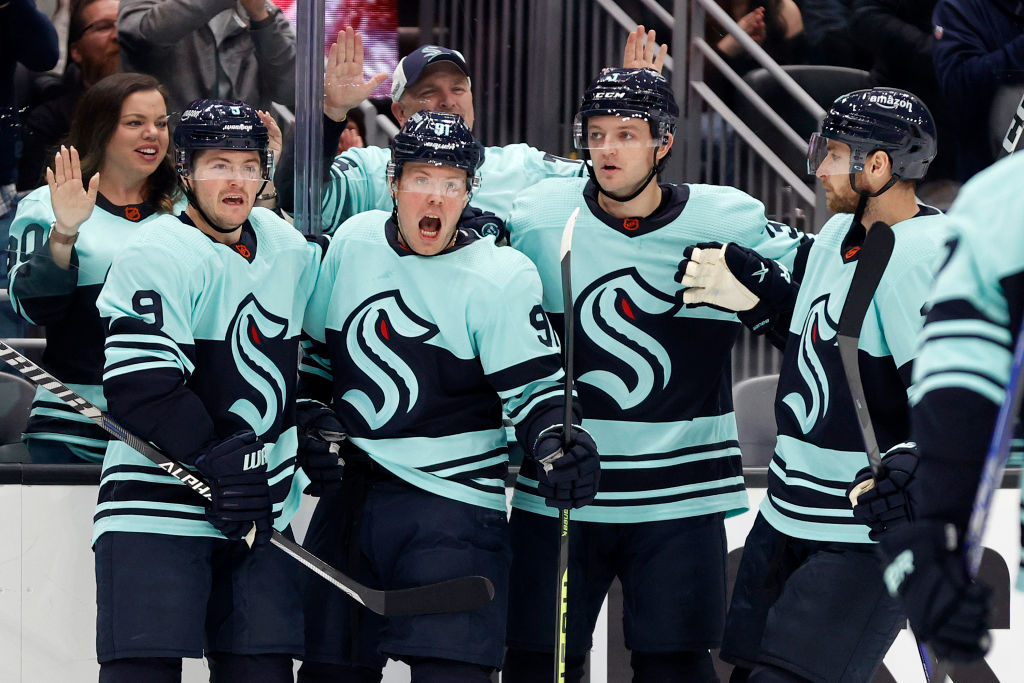 Defense was never the Seattle Kraken's problem. Even in their worst-case scenario of an inaugural season—one in which their 27-49-6 record saw them eliminated from playoff contention with over a month left to play—the guys on the blue line were not the ones who deserved the blame. Carson Soucy had a minor breakout as a puck-mover after an anonymous start to his career in Minnesota; Vince Dunn led the team in assists; Adam Larsson did dirty work checking and blocking shots; and Jamie Oleksiak was a gigantic human being. None of them were individual standouts, but as a unit (with Mark Giordano before his trade to Toronto), they held opponents to the sixth-fewest 5-on-5 scoring chances of any team in the league.
The Kraken are once again a solid defensive team this year, aided by the signing of steady veteran Justin Schultz from Washington. But everything else has changed. With a goal differential that's flipped from -69 to +21, a current five-game hot streak, and an overall 23-12-4 record, this second-year squad is actually contending for a Pacific Division title. And the biggest reason why is that they've finally got some guys on the other end of the ice finishing their chances.
Last year's Kraken roster simply wasn't potent enough on offense. Jared McCann, Jordan Eberle, and Yanni Gourde were the headlining forwards out of the expansion draft—all of them secondary weapons on playoff teams—but no member of that trio significantly upped their production even with increased ice time. And below them, there was basically nothing. The Kraken finished seventh-worst in shots at 5-on-5 and 29th in total goals scored. But after a season of low-scoring losses, another trio of newcomers is sparking change. Here's my favorite highlight from my favorite of them:
Matty Beniers, 20 years old and the second pick in the 2021 draft, is the obvious superstar-in-the-making. In his first full NHL season, Beniers has continually shown the vision, creativity, and drive to make him valuable in any area of the ice, and he's not getting cold feet on his scoring chances either. His 15 goals and 17 assists have made him both an all-star and a Calder favorite. Augmenting those contributions on the left wing is Andre Burakovsky, a major signing from the Cup-winning, cap-pressed Avalanche. And further down the lines, Seattle is getting a wholly unexpected career year from 25-year-old Dutch winger Daniel Sprong.
Sprong deserves special mention here because absolutely no one saw this coming—not even the Kraken. He was an elite scorer at lower levels, but in the NHL he's bounced through four franchises in just 234 games as he's battled injuries and plain old inconsistency. The Capitals threw him in with a couple of draft picks to get Marcus Johansson at the deadline last year, and Seattle's impression of him was limp enough that they let his contract expire and brought him back to training camp on a tryout basis after no other franchise bit. They signed him on a two-way deal, played him maybe 10 minutes a night for a while, and then suddenly, in just the past month, he rediscovered that magic stick he had in the QMJHL. Sprong's earned more and more opportunities as he's scored 13 times this year, plus 12 assists, despite the fact that he's 17th on the team with 358 minutes. Here he is going Ovi Mode on a nice pass from Burakovsky on Monday.
And just baffling Cam Talbot with his shot on a break in the game before that, when the Kraken were still reeling from a Tim Stützle equalizer:
Sprong's not the only pleasant surprise. Eeli Tolvanen, once an intriguing but ultimately underwhelming prospect with Nashville, was claimed off waivers in December and has chipped in five points in his first five games. A couple of his goals have been powerful one-timers, but this tap-in, from Monday's Montreal win, showed off some pretty overall teamwork from the Kraken as they quickly moved the puck from one end to the other.
When you've got afterthoughts like Tolvanen and Sprong producing top-six numbers on bottom-six lines, it's a pretty great sign, and it reflects well on head coach Dave Hakstol that in just a year and a half he's got a roster where rookies, veteran free agents, and even waiver detritus have coalesced into something greater than the sum of their name value. If last year was a failure of a getting-to-know-you campaign, this has been a season where the Kraken have actually been able to start on steady ground—with players who knew Seattle, knew the facilities, and knew each other—and build from there.
"Everything was kind of new," Larsson remembered last month. "'We had guys last year that hadn't moved into their places before the season even started, so it was a little chaotic at the start of the season. Then, we got off to a rough start too, and that did not help."
I've held off on noting the most peculiar thing about the Kraken until now, and that's been their inability to get anything even resembling competent goaltending. Philipp Grubauer, brought in from Colorado after finishing third in the Vezina voting, suffered through far and away the worst season of his decade-long career when he moved to Seattle, finishing below all other NHL goalies with a dreadful -26.44 goals saved "above" average. He hasn't picked up the pieces this year, and Seattle doesn't have a proven Plan B. But they possibly have a stopgap solution in the 33-year-old Martin Jones, who was always the weak link of the 2010s Sharks and didn't redeem himself in Philly last year either. Jones has not bucked his old leaky ways in Seattle, but he's been good enough, sometimes. In January, though he had one bad outing against Ottawa, he's got a .934 save percentage starting each of the Kraken's five straight wins.
This may be grasping at straws, but if the rest of the team keeps clicking, Jones could be enough. With the soundness of the Kraken's defensive play and an overachieving offense, all they really need is some basic adequacy in net. That was on display in a dominant first period Monday, in which the Kraken at one point were outshooting the Habs 18-2. Jones practically enjoyed a mid-game vacation. "It looks like I'm not doing anything but I'm still out there on the ice," he joked after the game. "I just worry about the next shot, that's all."
Is it wise to expect sustained success from a collection of unproven and overlooked talent, supported by the ricketiest of backstops? Absolutely not. But whatever happens the rest of this season, the Kraken have already delivered more fun and more competition in this second time out than they did in the entirety of their first year.
Stay in touch
Sign up for our free newsletter