NHL
The Devils Make Their Own Fun
9:00 AM EDT on May 2, 2023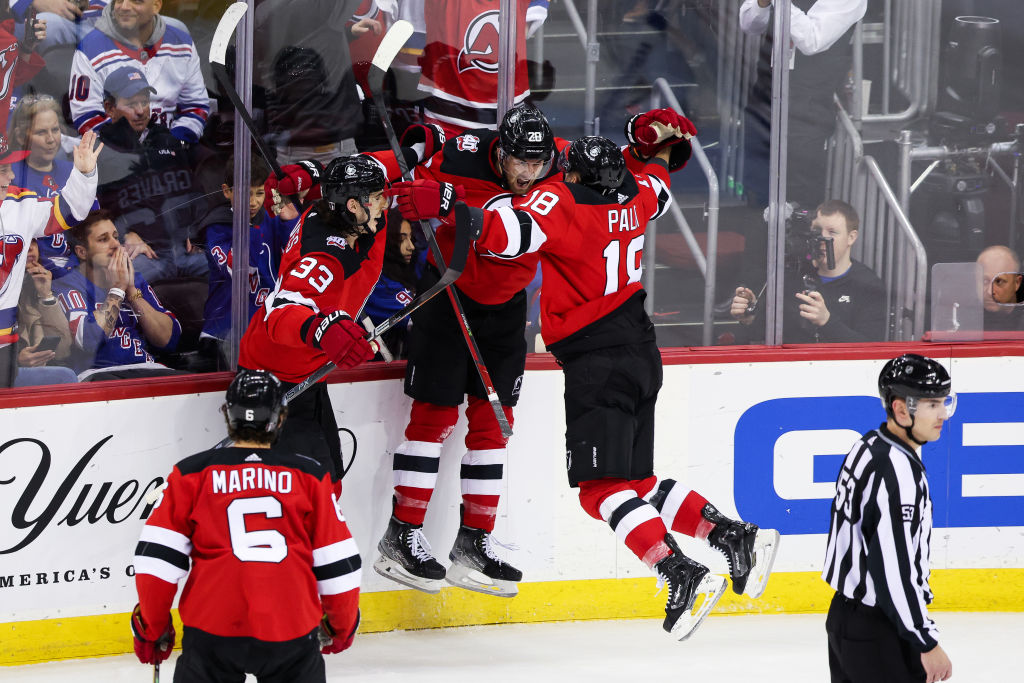 The New York Rangers had the clear experience edge heading into a Game 7 against the Devils. They'd won two of them just last year, while New Jersey, before this series, had only earned a single playoff victory, total, since 2012. But that familiarity looked like a liability from the moment the puck dropped in Newark. Like any virgin encountering, um, the playoffs for the first time, the Devils zoomed through the opening minutes with an energy and enthusiasm that screamed, "We've waited our whole lives for this!" The uninspired Rangers, on the other hand, seemed to be collectively sighing, "Ugh, I hate Mondays." That attitude is all well and good for a cartoon cat, but in an elimination game, it'll send you on vacation faster than a private jet. In a win that proved the viability of this long-simmering collection of youngsters, the Devils weathered a few tense moments and then crushed the Rangers four goals to zip.
After the game had already begun, the Devils tweeted out a video from their pregame locker room. They seemed relaxed but excited for the moment. I especially appreciated captain Nico Hischier taking time to say, "Let's not forget to have fun," before calling out the starting lineup.
I think it's just a coincidence that I saw this tweet at the same time as this first-period play from Timo Meier, but it felt indicative of that "have fun, embrace the moment" ethos. The coveted winger, who the Devils saved from irrelevance in San Jose at the trade deadline, swiped the puck off the stick of a too-slow Tyler Motte with the ease of a dog snagging roast beef off an unwatched counter. Then he instantly created this dramatic chance.
But Meier didn't score there, as he didn't all series, because Igor Shesterkin looked like the only Ranger who did the homework as he made every save he could to fluster the Devils. Even as New Jersey kept controlling the pace, you could see a bit of stress creep in, like when Jack Hughes really, really thought he was hooked on a breakaway late in the first. Nearly halfway through the game, with the score still 0-0, it was reasonable to brace for a Rangers bounce against the flow of play, as punishment for the Devils not being able to force one onto the board. But as a 4-on-4 dissolved into a New York power play, Ondřej Palát finally concocted a goal through sheer force of will for the low-scoring center Michael McLeod. I want to elope with this goal. It's my favorite of the whole first round. Look at this hustle! That's what I call some goddamn Devils hockey.
That determination was infectious. New Jersey looked like they wanted the puck, wanted to shoot, and wanted to stay out of their own zone so much more than the Rangers did. About five minutes after the first goal, it was ex-Penguins defenseman John Marino, of all people, looking like he scored 40 and not four goals this year as he homed in on the crease and allowed the veteran Tomáš Tatar to double the lead. When I saw this live, I wanted to say Marino, I don't know, "weaved through the defense like he was late for a train," but on further review it's almost unbelievable how the constantly retreating Rangers basically clear a path for him to the most dangerous part of the ice.
Akira Schmid, the 22-year-old goalie who was basically an afterthought for most of the year but stepped up when New Jersey went down 2-0 in the series, didn't even have the decency to ratchet up the tension. Schmido, as his boys call him, made some sweet saves when the Rangers did manage chances, and his resilience in the wake of his first tough loss in Game 6 forced New York into panic mode by the third. But even their go-to momentum boost—an ultraviolent hit from captain Jacob Trouba—couldn't tilt the ice.
The Devils played more conservatively in the third, for understandable reasons, but they never quite parked the bus, and they remained ready to take advantage of chances when they did arrive. With five minutes to play, a team effort thwarted New York on the attack and created a two-on-one for Hughes and Erik Haula. They were quick and ruthless, and then the empty netter came not long after. Game over, party at Mary's place.
As much as I believe in the randomness of the playoffs, where even the greatest teams of all time can be labelled failures because of just a couple bad nights, this was a disappointing performance by the Rangers. They've always been a bit of a contradiction. They have what could be a 95-percent taxable wealth of talent on offense—just on the power play they were able to send out Adam Fox, Chris Kreider, Mika Zibanejad, Artemi Panarin, and Vladimir Tarasenko all at once—and they specifically aimed to bolster their scoring with a pair of flashy mid-season acquisitions. But instead of competing with the Devils' fast, open-ice DNA, they clearly preferred to control the action with obstinate physicality and then ramp up the pressure on the power play. When that works, it's great, as they showed in three impressive multi-goal wins in this series. But the fact that they only managed two goals combined across four losses is a failure of execution. In these defeats, a tough, defense-first style of play seemed to morph into a bored unwillingness to create chances. That lack of initiative proved lethal, especially against a group as eager as New Jersey.
"I know we can play better," defenseman K'Andre Miller said afterward. "It's pathetic. … It's embarrassing. You look around this room—stacked, top to bottom. I don't know if any of us are going to be on a team this good (again). It's just frustrating."
"I love to have talent but I love to have a work ethic and more forecheck and stuff like that and we just didn't get it done," head coach Gerard Gallant said.
While the Rangers are left pointing fingers, the Devils can move on to a different kind of series against the Carolina Hurricanes, who snatched the division title from them by one point. Unlike the Rangers, the Canes haven't really had the consistent goaltending that Shesterkin can provide. And also unlike the Rangers (when they don't suck), they're lacking brand-name finishers at forward, especially with injuries to Teuvo Teravainen, Andrei Svechnikov, and Max Pacioretty. But Carolina makes up for those deficiencies by being smart with the puck and playing an aggressive downhill style that keeps possession in their offensive zone. This should be an exciting clash of lively squads that hate to sit back and absorb pressure. The Canes will have the experience advantage, having won a series in five straight postseasons, but after what the Devils just showed, maybe that doesn't matter.
Stay in touch
Sign up for our free newsletter