NFL
The Chiefs Wouldn't Let The Super Bowl Be Anything But Great
12:23 AM EST on February 13, 2023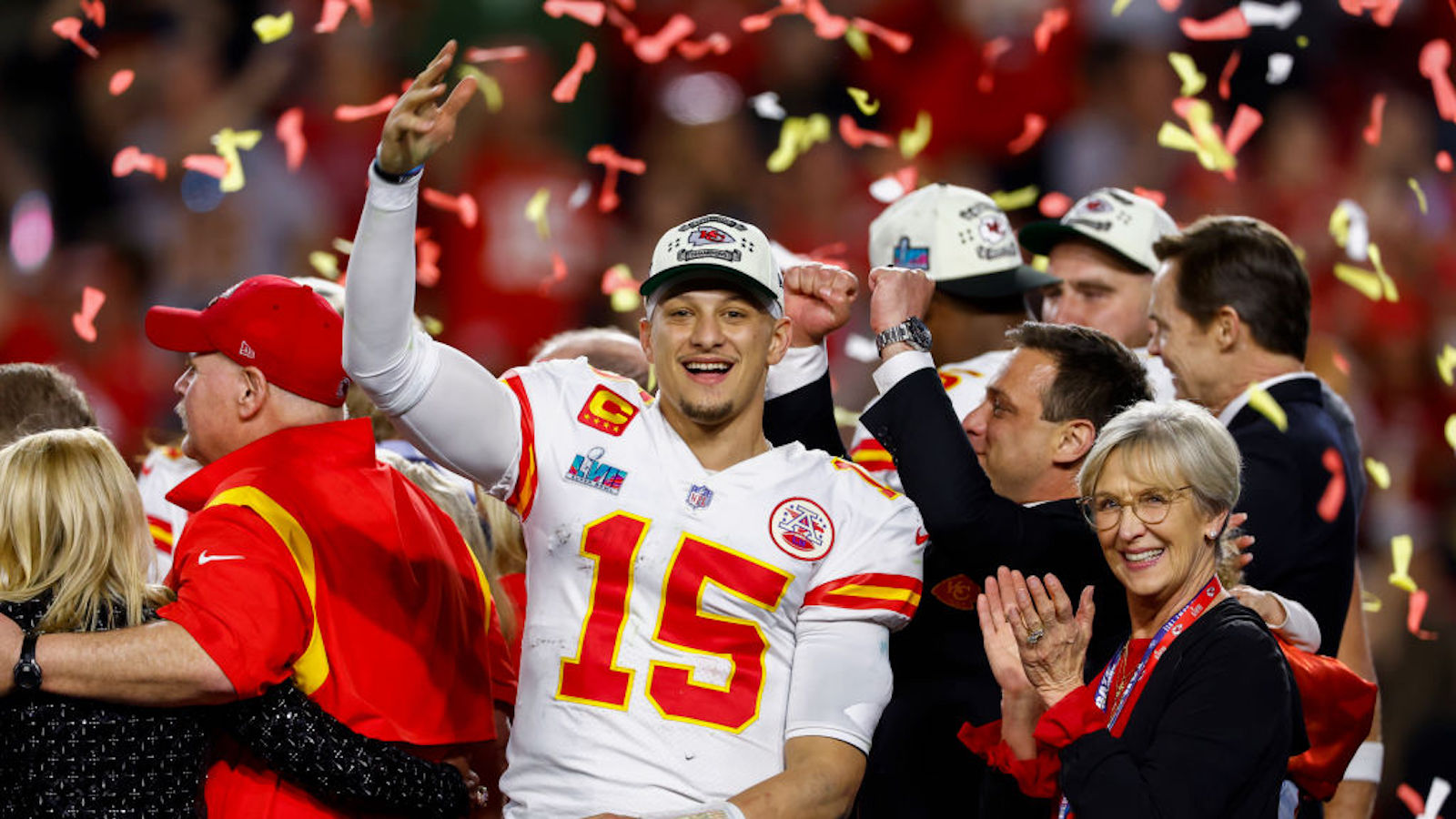 Never mind the fact that the Super Bowl ended with an anemic holding penalty that would have ruined Colts-Texans in the third week of the exhibition season. Never mind that the catch is still a metaphysical conundrum that people in suits cannot decipher and people in whistles and polo shirts cannot understand, and never mind that the field was Anaheim's ice surface during a heat wave. The Super Bowl isn't meant to solve all your narrative problems. I mean, there's another one next year, so how good is it supposed to be?
Take instead these truths: Patrick Mahomes's leg is a dirty filthy liar, and he could actually inherit the crown of The Brady. Andy Reid has playbooks in which all the players become invisible and then re-materialize in an end zone with a football, and might well be the new Belichick. The Kansas City Chiefs are the most dominant team never to dominate anyone. They have mastered the art of letting the other team dictate terms for extended stretches, and then playing the most perfect football imagined by man. And so, despite the shortcomings of the rulebook and the officials and the field and Travis Kelce's tedious obsession with what other people say about his team, the Chiefs have reinforced their reputation as The Team That Can't Be Killed When Everyone Is Looking.
This had been hyped, as all Super Bowls are, as a battle between two titans of equal might, only unlike most of them, this game largely lived up to it. It didn't deliver all the late-game drama it could have because of a gussied-up touch foul by Philadelphia cornerback James Bradberry on JuJu Smith-Schuster in the final minute that allowed the Chiefs to ease into victory rather than sweat it out, and there were enough dodgy catches and bad footing that the game could have indeed been ruined, but it wasn't. The ending wasn't awful as much as it was less than perfect in keeping with a game that entertained both Rupert Murdoch and Elon Musk, but injustice was not done here. The right team won because the right team did all the things when they had to be done—just as the Chiefs had done three years earlier against San Francisco.
Indeed, the Chiefs have had 10 second-half possessions in their two championships, and gone interception-interception-touchdown-touchdown-touchdown-kneeldown-touchdown-touchdown-touchdown-field goal. They have outscored teams that were kicking their arses going into the fourth quarter, 38-8, and those touchdowns have come from household names Travis Kelce (when everyone was watching Tyreek Hill), Damian Williams, Kadarius Toney, and Skyy Moore. The obvious narratives are Mahomes and his peg leg, Reid and the mustache he stole from a comatose aquarium walrus, and the shrieking Kelce. The bigger story is that the Chiefs were supposed to lose both lines of scrimmage Sunday night out of sheer terror, but did more than merely break even. The trickery is what you'll remember, but the hard and grubby work of blocking and defending, of which the Eagles are considered the game's platinum standard, is what made this happen.
In sum, the Chiefs won not by bamboozling the Eagles, the officials, and the grounds crew, but by outmuscling them. Mahomes's crabbed ankle will be credited for its heroic work on the 14-yard and 26-yard improvisations that got the Chiefs within three at 24-21 and then set up the winning field goal, but Kansas City didn't magic their way to this one any more than they were gifted it by a rulebook made of smoke. They earned what came to them by putting themselves in position to benefit from it, and they knew what to do when it did. They were fun as hell, and nothing ruined it enough to change that fact. They even met Rihanna's halftime show on the entertainment scale, and played it to a well-earned draw.
But to be fair here, let's see them win a Super Bowl when they're all pregnant.
Stay in touch
Sign up for our free newsletter