NHL
The Canucks Are Blessed, So Who Cares If They Regress?
4:33 PM EST on November 16, 2023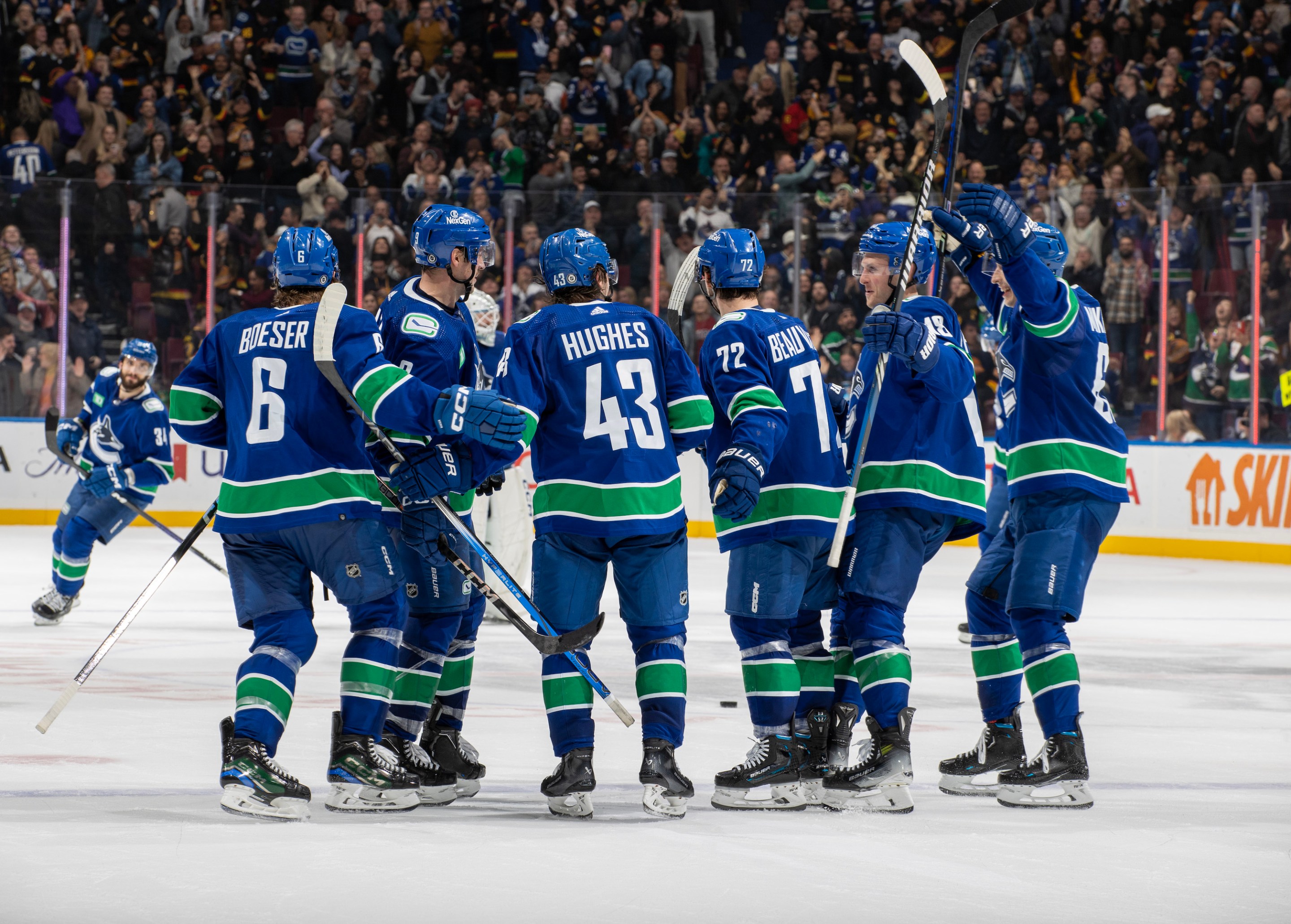 PDO is a nifty stat—intuitive, easily explained, linked to a nice round number. A team's PDO is the sum of its shooting percentage and save percentage at even strength. The number should approach 100. That's the intuitive part: Every 5v5 shot taken by a skater is a shot faced by a goalie. A high shooting percentage will show up elsewhere on the league's balance sheet as a low save percentage and vice versa. It's also a little goofy. Like, PDO doesn't actually stand for anything; it was named after its creator's handle. Capital letters should stand for something. The stat which stands for nothing will fall for anything. As a proxy for luck, it's imperfect for the same reasons save percentage and shooting percentage are. Not all shots are created equal. Some teams have great goalies, some teams create more dangerous scoring chances. But it's true that a team with a PDO well below or well above 100 might be due for correction.
On a totally different subject, the Vancouver Canucks are a wagon. They're 12-3-1 on the year, tied with the reigning champion Golden Knights for first in the Pacific, and are clobbering opponents more often than they eke by them. The season has felt like the arrival of something long promised to Canucks fans. Every core player is playing out of his mind at the same time, and it rules. As of this morning, three Canucks are tied for the NHL scoring lead: Elias Pettersson, J.T. Miller and Quinn Hughes each have 26 points through 16 games.
Miller and Hughes earned their 26th on this great OT winner (around the 4:15 mark below) against the Islanders and former Canucks captain Bo Horvat last night. Miller moved as if about to regroup in the Vancouver zone, and instead found a streaking Hughes, who had realized all three Islanders were under the same wrong impression:
To resolve the impending three-way tie for the Art Ross Trophy, Gary Bettman can let Miller have it, and then offer Hughes the Norris Trophy and Pettersson the Selke and Hart Trophies as consolation.
Hughes and Pettersson won't ever be confused for each other. They play different positions. One is short and nervous-looking. The other is a tall and stylish Swede. But the team's superstar skaters do resemble each other in temperament, always scanning the ice unbothered and aloof, and able to catch opponents off guard as a result. This year, Hughes demands more respect from his opponents; his six goals are already approaching his career-high of eight. And while it's hard for puck-moving defensemen to shed the backhanded "offensive defenseman" label, he draws on his skating talent to smother rush chances and get the puck back out of his zone and up the ice. He hardly needs to, with Thatcher Demko and his .932 save percentage locking things down in net. Vancouver's assorted fake playoff pushes in recent years have depended on Demko heroics, which makes it refreshing to see the Canucks win without working him to death. (The Canucks have banked nine of 10 possible points when starting backup Casey DeSmith.) The NHL awards can just be held in Vancouver because—oh!—Brock Boeser also leads the league in goals.
A few weeks ago, reveling in another Canucks W, I came across this post from hockey data viz guy JFresh: "it's reasonable for fans to get excited about their team winning games or a player scoring at a ridiculous pace even if it's not 'sustainable.' it's fun. but it's also not the job of people who cover the league as a whole to ignore those signs and just be hypemen," he wrote.
I nodded at these sage words. Frankly, I pitied such fans, who had most likely turned to sports to compensate for something missing in their lives and were trying in vain to make narrative sense of what was, fundamentally, random. Couldn't they just enjoy their wins? I could hardly blame them for lashing out at wise media skeptics, though I knew too well the experience of raising an eyebrow at a fraudulent team only for some pesky commenter to insist, No, no, but this team is SPECIAL for these REASONS.
Then I looked at the replies and realized he was talking about the Canucks. MY Canucks! Were they PDO merchants? Had this escaped my notice? I could tell from watching the games that Demko was playing extremely well and that they did seem to score a lot of goals, but it hadn't crossed my mind to look at the numbers. When I did, I saw that PDO "bender" was understating it. This was the contents of every liquor store in greater Vancouver. Last year's historically good Bruins ended their season with a PDO of 104, the highest of any team in the last decade. The 2023-24 Canucks' PDO has ticked down to 105 from nearly 110 a week ago, so this team and its sub-50 expected goals percentage may already be in the throes of regression.
But the good news for the Canucks faithful is that the team is still winning. And the points you win on your PDO bender can never be clawed back. They still count in the standings, even after the team cools off, even after you stop playing the Sharks. Here's what PDO stands for: Petey-Demko oasis. Pacific Division's Ours. Pretty damn optimal. Please don't object.
Stay in touch
Sign up for our free newsletter