WNBA
The Aces Are The Aces Are The Aces
1:15 PM EDT on October 19, 2023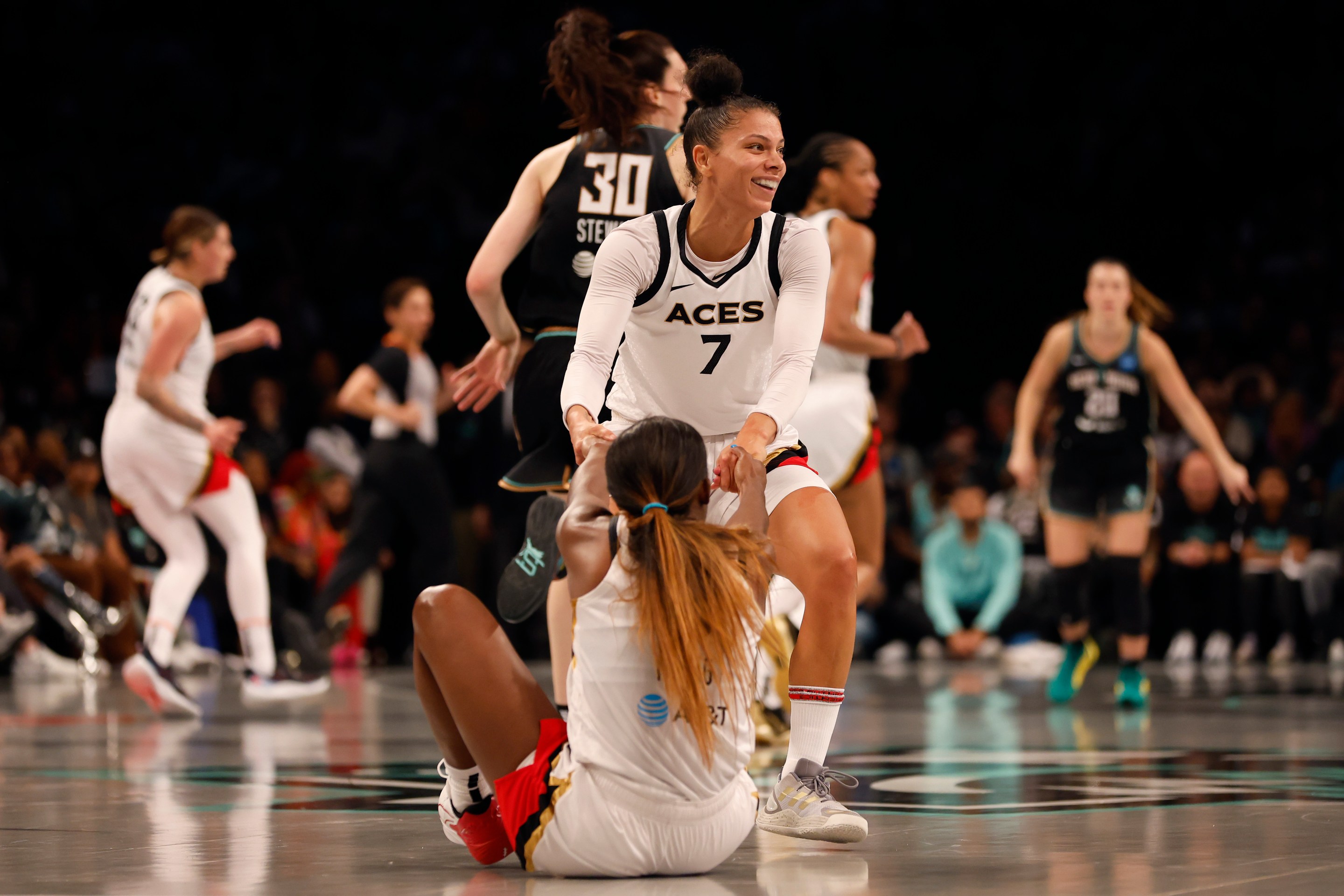 After the buzzer sounded, there was one pile of Aces on the court, all tangled together, and what a fitting image. It's a shame that fans in the league's best building haven't witnessed either of their team's title wins in person, but for the WNBA's first back-to-back champions in 21 seasons, the only thing that mattered in that moment was being with each other. Las Vegas, down two starters and on the road, won an ugly Game 4 of the WNBA Finals, 70-69, over the New York Liberty. All distinctions between core piece and role player or starters and bench mob fell away. In their minds, the players said afterward, those distinctions had never existed. On Wednesday night, there were just the Aces, and everybody else. 
The mood of this series changed late in Game 3 when Chelsea Gray suffered a foot injury that would keep her out of Game 4 and likely out for Game 5, had one been necessary. She had a surprise companion on Tuesday's injury report: Starting center Kiah Stokes, a key defensive player, had been playing through serious pain in her last few games and ended up on crutches. Becky Hammon had no choice but to trust her largely untested bench. Cayla George, an Australian center who hadn't played more than four minutes a game all postseason, took over for Stokes and played 30 on Wednesday. Gray's absence meant more minutes for Syd Colson, whose benchwarmer status is so enshrined she recently turned it into a buddy comedy show that follows her ironic attempt to be the "face of the league."
The Liberty were content to let George shoot—and she did, attempting 10 wide-open threes—but they were less content to see those threes falling. Colson finished with the perfect stat line of two points, five fouls and a +17 in the 15 minutes she played. "I knew Cayla was going to hit threes. I knew Syd was going to get up in some faces," Hammon said. She knew because everyone on this team takes their job seriously. The Aces may be driven by a "core four," but the bench players are "their biggest fans, biggest advocates, biggest accountability partners," Hammon said. When Hammon called George to tell her she was starting in this game, George was in the weight room. Where else would she be?
New York struggled offensively again, the team's 17-of-46 finishing from two haunting them late. A string of smoked layups and another suspiciously bad shooting night from Breanna Stewart left Vegas room to make a run in the second half, so that the Liberty were down one with eight seconds to execute a play. The call out of the timeout put the ball in Stewart's hands. Unguardable one-on-one most of the time and with a five-inch height advantage, she still had no solution for her former teammate and this year's Sixth Player of the Year, Alysha Clark, who had defended her pretty much perfectly all game. Stewart waffled long enough to draw a double from Jackie Young, and kicked the ball out, so it fell on Courtney Vandersloot to take the last shot, a long two that missed everything.
"People forget, if you accept a role, doesn't mean it's the only role you're capable of," said Clark. Now a three-time champion, she was drafted in the second round by the San Antonio Silver Stars, back when they were still the San Antonio Silver Stars and Hammon was still the team's veteran point guard. Clark never made a roster there. But she carved out an 11-year WNBA career doing exactly what her team needed of her. "I've been cut, I've been the last person on the bench, I've been a starter, I've been left open, I've been a go-to," she said. It never crossed her mind or her teammates' minds that the team's six-player rotation would falter with two different players in it. After Game 3, when Gray's injury was still a mystery, I'd searched A'ja Wilson's and Hammon's faces in the postgame press conference for some clue as to its severity. There was nothing. Those weren't poker faces, they were actual faces. They truly believed that the other players in the locker room could make up the difference, because they were Aces.
The strength of that bond can manifest with a kind of ugliness. Before the game, Plum spoke about the team's resilience and one line raised some eyebrows. "We've been through a lot," she said. "Shoot, we've been hurt, sued, arrested, you name it." You can question the way those trials are lumped together. Surely they can't claim themselves the victims of a discrimination lawsuit or of the domestic violence charges against their teammate, but that is how they have understood the world this season. Anything that threatens to fracture the team, or harm any of its members, qualifies as adversity. "You can't crack this group," said Hammon. "You just can't." When Colson concluded the postgame ceremonies by grabbing the microphone from Holly Rowe and shouting, "Night Night!" to the unidentified haters and losers who had apparently been doubting this team, it read as remarkably sincere. It's normal for teams to find motivation in imagined legions of enemies, but sincere belief is required for a player who committed a foul every three minutes to deliver such a message.
They are each other's fiercest defenders. Wilson, named Finals MVP, had the last laugh in this series. Her turnaround jumper with Jonquel Jones's hand in her face put the Aces up six with a minute left, and capped off a 24-point, 16-rebound performance. But even as they celebrated their championship, the regular season just a hazy, champagne-clouded memory, Clark brought up Wilson's third-place finish in MVP voting and that one vote her teammates will never forgive. "Who voted A'ja fourth place for MVP?" Clark asked the press, and the rest of the team chirped with her.
Stay in touch
Sign up for our free newsletter