WNBA
Everyone Made Their MVP Case Last Night
10:27 AM EDT on September 27, 2023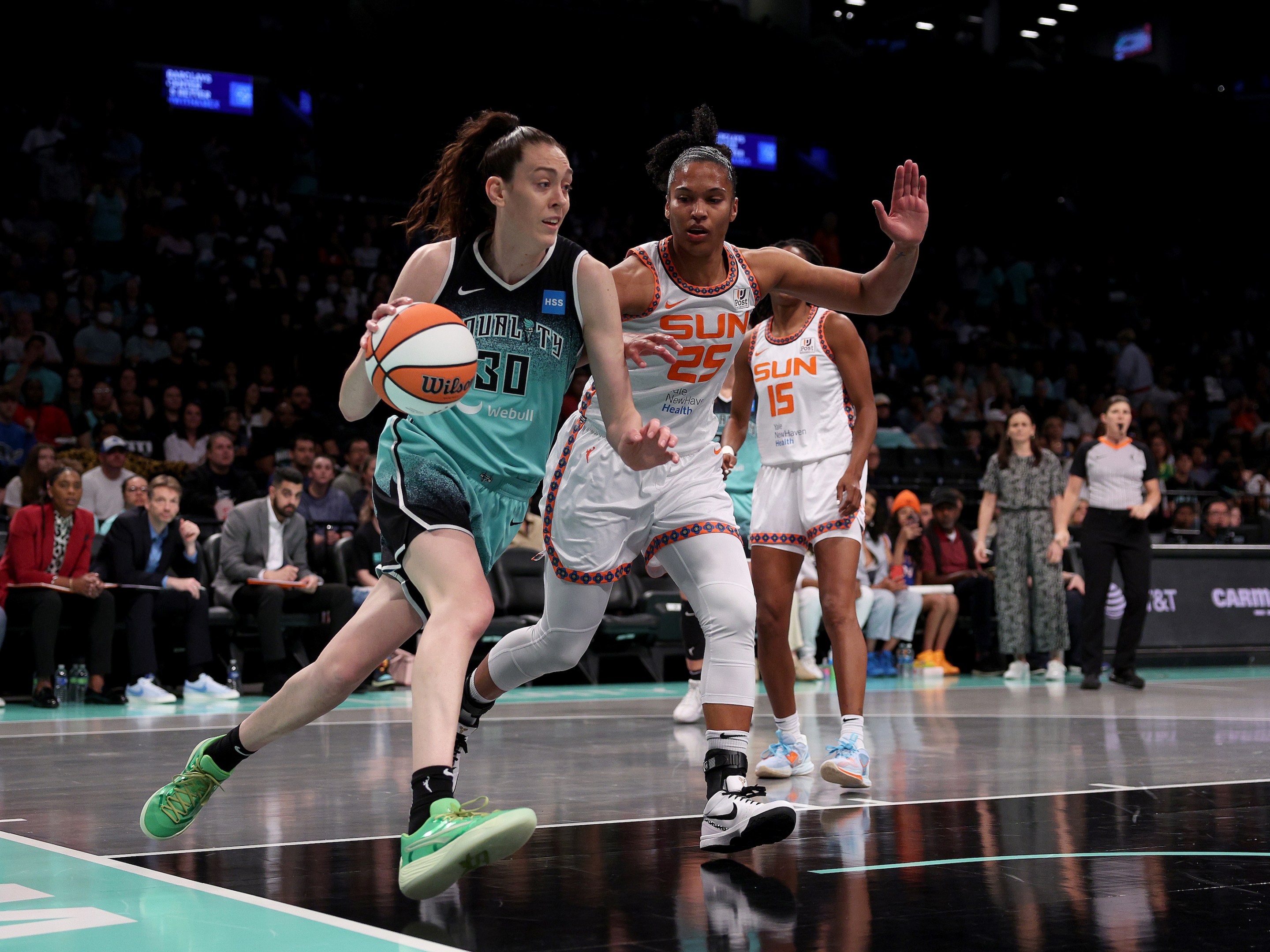 The WNBA MVP race was tight enough this year that you could watch last night's semifinal games and conclude that the award had been won rightfully by Breanna Stewart or that [insert name here] had been robbed, and either way, you would be correct. Stewart was named MVP for the second time in her career, the league announced Tuesday, though the margins were so close that she really won on account of the second-place votes she received. Alyssa Thomas, who earned 23 first-place votes to Stewart's 20, finished second in the voting because she ended up being something of a polarizing candidate; she also finished with the most third-place votes. 
And the games were so good they vindicated even the shameless deviants in the voting pool: The sicko who tossed a fifth-place vote Courtney Vandersloot's way was feeling smug as she put up 14 points in the second half of the Liberty's series-tying win against the Sun; the much-derided freak who gave Chelsea Gray a third-place vote and left A'ja Wilson out of the top three altogether (!) was surely proud to see the Point Gawd back in her typically fantastic playoff form last night, as the Aces defeated the Dallas Wings to take a 2-0 series lead.
Each runner-up handled the disappointment in her own way. Wilson embarrassed Dallas's frontcourt again with her third straight 30-point playoff game and offered reporters an ice cream metaphor that I don't actually understand at all but sounds delicious: "This award, it's a cherry on top on the mountain of ice cream we've built up. The sundae is still good without the cherry. I'm not going to finish the bowl of ice cream because the cherry's not on top. I've still done enough, and this team has more to give," she told the Las Vegas Sun's Danny Webster. Yum. Before the game, Wilson's head coach had come equipped with her per-minute stats scribbled onto a notecard, which showed that the numbers were deflated by the time she spent sitting in blowout games. "Math doesn't lie," Becky Hammon said.
It says pretty great things about the field that Wilson was merely one of three reasonable possibilities in a season where she played better than she had in her MVP season last year. To me, she functioned like an MVP of the second half the way Stewart had been an MVP of the first half, carrying some extra weight while her teammates were slumping. 
At some point in the season Thomas graduated from hipster candidate to legitimate frontrunner, and her teammates seemed especially disappointed on her behalf. ("I think I've been snubbed so many times in my career that it's a normal feeling for me," Thomas said after the Sun's loss.) DeWanna Bonner, Thomas's teammate and fiancée and a player I think has been a little overlooked in the rush to cast Thomas as the savior of an anti-superteam with no talent, congratulated Stewart but admitted that the MVP news had made for an emotional day in the Sun locker room. On the court, Thomas made the Sun offense sing, manufacturing easy layups for her teammates and poking holes in a Liberty defense that eventually had no choice but to hit the zone panic button.
And then there was Stewart, who has looked not quite herself as a scorer for the last month, but did what MVPs do and found a way to be useful nonetheless. She finished Game 2 with five blocks, the coolest of which punctuated a Liberty scoring run and left Olivia Nelson-Ododa on the ground while the crowd chanted "MVP."
If you're the type of person who enjoys exhausting online arguments about MVP results, then today is a big day for you, no matter your allegiance. Just pick any highlight produced by any of the candidates last night, splash a shushing face emoji over it, and share it with righteous feeling.
Stay in touch
Sign up for our free newsletter