NFL
Subscribe To Defector Media For Continuing Coverage Of Glum Philly Fans After Huge Eagles Wins
2:22 PM EST on November 21, 2023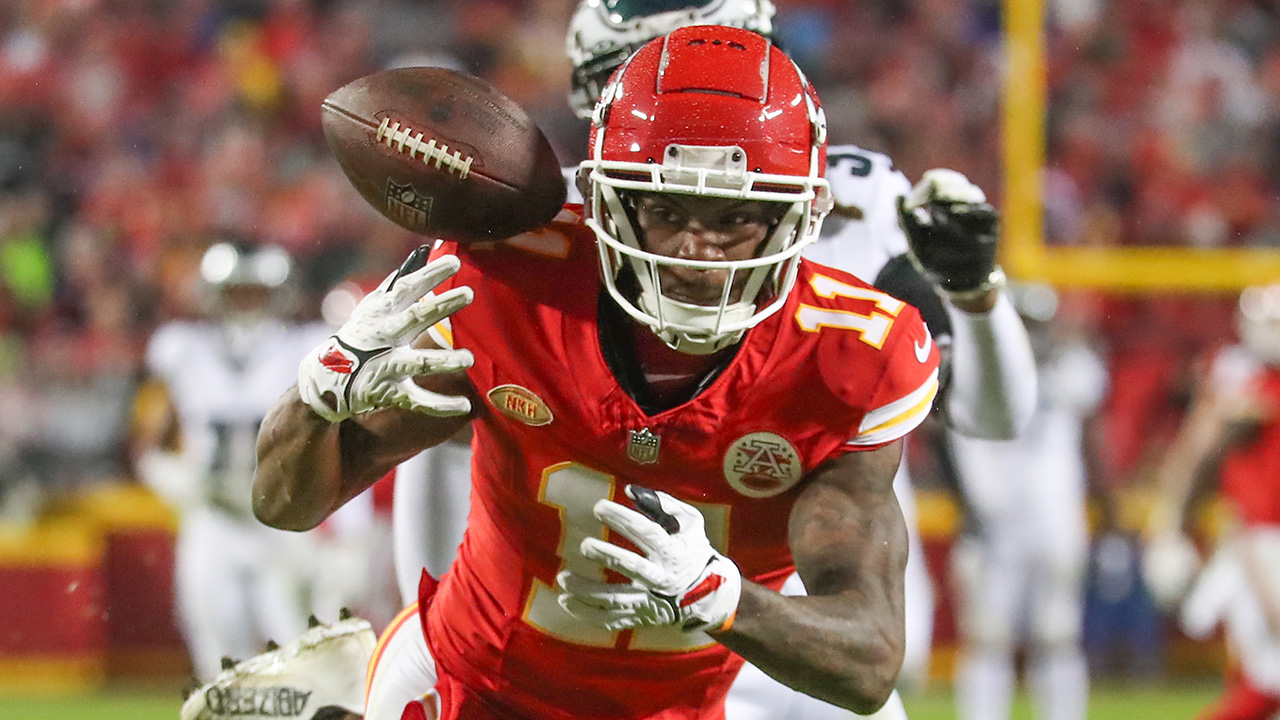 I've created a monster.
Last night I went out for the Eagles game for the first time all season. I've been busy, I've been working, and I've watched every previous game from my couch. I'm not complaining about this, and also I am not really watching alone. I text my parents, my friends, my enemies (Cowboys fans) throughout the game. One game a friend happened to stop by and I ended up getting to explain to her how NFL overtime worked. Then my wife came down the stairs and I got to explain it again. Oh, man, when I got to that Thanksgiving game where they screwed up the coin toss? Heaven. The sort of moment you live for, as a sports pedant.
But some friends were throwing a party last night, and it was for charity, and so I was motivated to go. It was also the biggest game of the year so far, a Super Bowl rematch against the Chiefs. With any luck I'd have a great time with my friends, the Eagles would win big, and the Sodfather would slip in the mud.
I didn't get a blowout. The Sodfather, as far as I know, remains unsoiled. But I had fun, and the Eagles won! So far this year I'd only been able to high-five my cat after a touchdown. But the 21-17 victory has some beat writers talking Super Bowl. Maybe it was just the atmosphere, but I left the party Monday night really upbeat about the game and the season. The Eagles were 9-1 and they'd just beaten Andy Reid for the first time ever. They're still a game up in the NFC. I wasn't sure what to write; it should be getting more and more difficult to find people who are worried or upset about the team, especially after a game like this. Two good teams played pretty well, and the Eagles made a few more plays and caught a few more passes. Great win! This is how I felt.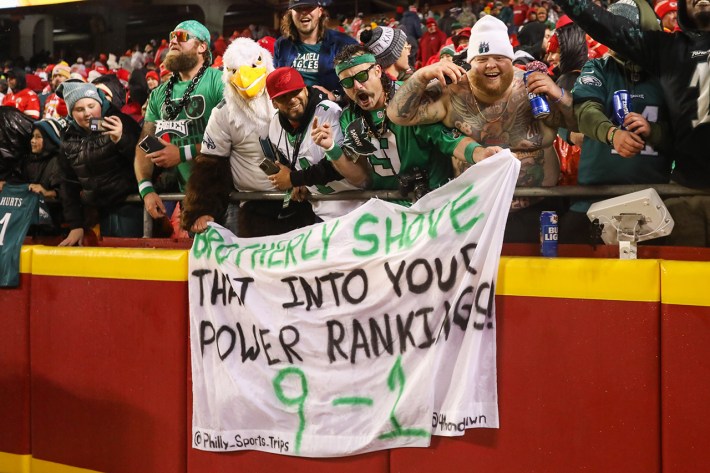 But sports talk radio on the way home was less thrilled than I had expected. A lot of people, surprisingly or not, were pretty angry. I got several texts from friends about how this game would fit into this gag, and I also got some texts that just seemed to embody it. This dude Eric in my fantasy league rules. He wanted Eagles offensive coordinator Brian Johnson fired during game… and after the game, too. I get it. Check the play-by-play and you will see that at one point in the second half the Eagles ran seven short passes in eight offensive plays, and that the other play was a Jalen Hurts scramble. It was so strange that I wondered if Hurts had injured himself and couldn't go downfield. But maybe the Eagles were like a boxer setting up a big left hook. Right after those eight jabs from the Eagles, Hurts threw a bomb to DeVonta Smith. The Eagles got a crucial knockdown—or touchdown, if you want to drop the boxing metaphor—with the tush push on the next play. Then Patrick Mahomes got two chances to win the game and got almost nowhere. The defense, which sacked Mahomes 10 seconds into the game and hadn't gotten to him since, forced him into an intentional grounding penalty. That should-be sack basically clinched the game.
This is not the first time I have gotten trapped in a bit. But it now seems like every Eagles fan is now trapped in here with me. I woke up to this headline:

Even the Eagles are stealing the bit! Jalen Hurts could at least tell people to subscribe to Defector or put some money in the tip jar (or wear a t-shirt with my cat on it). The Eagles are 9-1, but fans absolutely can complain. They have played some iffy games. But last night was not one of those, really. They struggled to move the ball because the Chiefs' defense is great. Kansas City turned it over deep in Eagles territory twice, but so what? That stuff can be kind of flukey, but it still happened. The Eagles' D stepped up. The Eagles offense also had two really good second-half drives. Good win, at least? Right?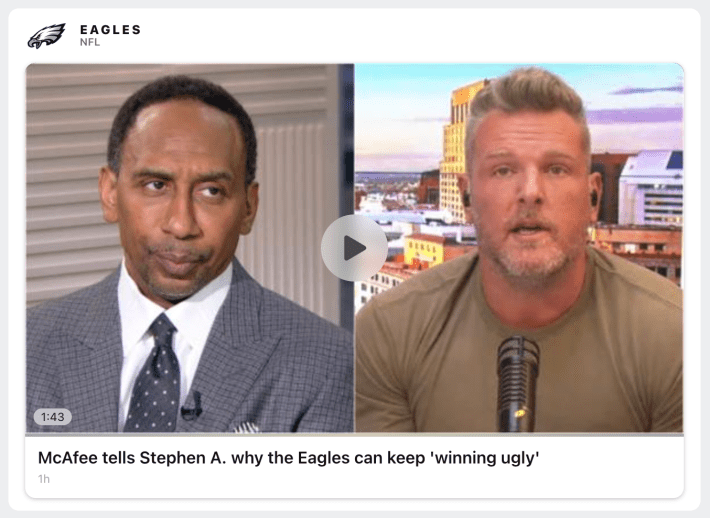 I think there's just one group of fans who should be upset after last night's game, and it's Chiefs fans who can talk about their team losing ugly. Yes, even the guy in the KC suit that made him look like "Chiefs Matthew Lesko" can feel that way. Their big guns, Mahomes and Travis Kelce, each turned the ball over in the red zone. Marquez Valdes-Scantling's brutal fourth-quarter drop in the end zone is one of a league-leading 26 drops for Chiefs. Justin Watson had the most targets of any Chiefs receiver with 11; Seth Keysor called him the "apparent WR1." Fittingly, the game ended with Watson's drop on fourth-and-25. The main difference between this Chiefs' performance and most 2023 Eagles games is that Philly has been winning the games in which they make that many mistakes.
The Eagles play the Bills on Sunday, and maybe I'll have a chance to complain about an actually frustrating win after that one. But the Eagles escaped with this one against a really good team. I bet the Sodfather hated it. So it's all smiles on Tuesday for me.
Stay in touch
Sign up for our free newsletter