NHL
The Stars Stay Alive With A Little Old-Guy Magic
9:17 AM EDT on September 27, 2020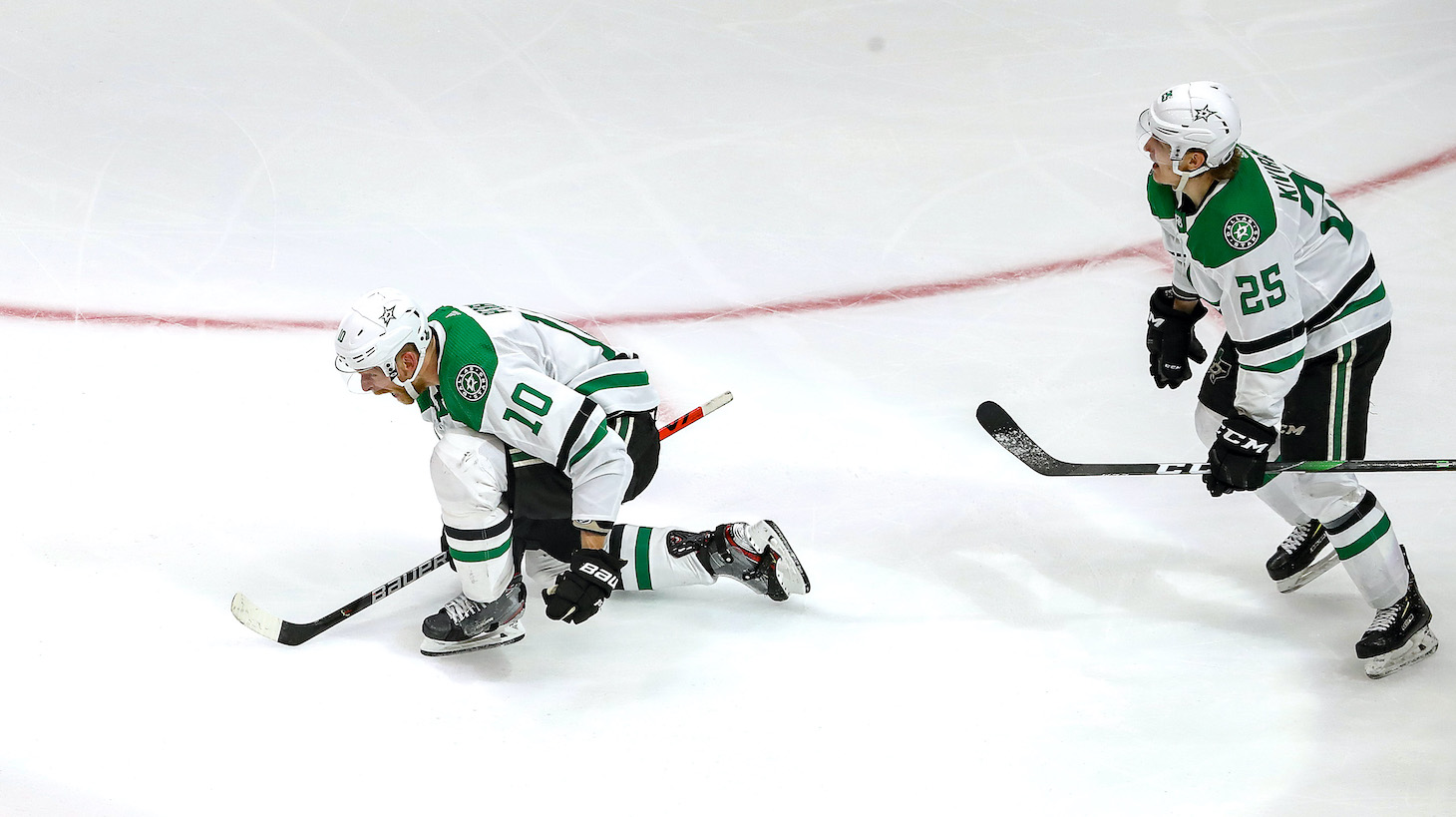 This is why Corey Perry is here. No, not to be an unlikable pest. Well yes, that, but also to save the Stars' bacon when it counts the most. A Dallas team that had kept coming up just short in playoff series needed some veteran leadership and postseason experience, decided GM Jim Nill ... so they signed Joe Pavelski. It was almost as an afterthought that Dallas added Perry, whose body and stat lines had broken down during the last of his 14 seasons in Anaheim. But Perry came cheap—one year, $1.5 million, plus incentives—and he had a history of big goals in big moments, something the Stars needed desperately.
Has it worked out for Dallas and Perry? If you had asked that question 48, even 12 hours ago, the answer would have been a resounding no. Perry looked washed in the regular season, racking up as many goals as games suspended for a dirty hit. He potted a couple goals early in the weird maybe-playoffs after the NHL entered the bubble, then went absolutely silent, racking up no goals and just two assists across the semis, conference final, and the first three games of the Cup final. He was done, it was clear.
And then a funny thing happened. Rick Bowness tinkered with the idea of putting Perry and the similarly scuffling Pavelski on the same line. It didn't make a lot of sense on its face. Both are right-handed shots, and both are on the wrong side of age 35, at the point of the postseason in which young legs usually win out. But Bowness figured the two could somehow get each other going.
After Saturday's Game 5, won by the Stars 3-2, Perry and Pavelski have now scored Dallas's last six goals against the Lightning. Perry, with his team hard up against elimination, scored twice last night, including the double-OT winner. Again, this is why he's here.
There was a lot to like for Dallas in the 89 minutes before Perry stuffed home a rebound. The defense standing strong, reduced by injury to five skaters (and just four that Bowness really trusts) for most of the game but hanging on for dear life. Anton Khuodobin stepping up, demanding and receiving the start after getting shaken and getting pulled the night before, and saving the team by a toe. John Klingberg, possession machine, walking the line and waiting for a shooting lane, before Perry ultimately cleaned up the mess in front.
But it was Pavelski and Perry being in the right place and the right time that spared the Stars and made necessary Monday's Game 6. Tyler Seguin, mired in a scoring slump even if he's looked a little friskier these past couple games, said the team came out flat and defensive in the first overtime, playing not to lose rather than to win, and it showed, with Dallas getting just two shots on goal, neither particularly dangerous. Back in the dressing room, Perry and Pavelski addressed the team; they've been here before, you see. "We can't be sitting back and hoping to win," Seguin said the message was.
"I forgot who said it," deadpanned Pavelski, who definitely said it. "The talk was that we needed to go at them a bit."
And what do you know? Perry is now just the fifth NHLer in history to score five career playoff overtime goals. Pavelski, whose goal with 6:45 remaining was the reason this one even went to overtime, now has 61 postseason goals in his career, setting a record for American-born players.
This, on the the very first time in the league's long history that Stanley Cup Final games went to overtime on back-to-back days. Who needs young legs? "With how they play, I don't know if you can call them old," Seguin said. "Two perfect guys," Bowness said.
I don't know about that, but Perry has now equaled his regular season goal total (5) in these playoffs, and Pavelski (13) is just one away. And these goals are coming just when Dallas needs them most: No other Stars forward has scored an even-strength goal since Game 2. This is not really a sustainable way to win, but nothing that happens in the Cup Final needs to be sustainable. There are either one or two games left in this long, strange season, and the Stars do not care where their goals come from, as long as they come, and as long as they come more frequently than Tampa's. If it's the old guys that have to carry them for two more games, they'll take it happily, and they'll throw them a damned parade.
Stay in touch
Sign up for our free newsletter