Arts And Culture
Princess Diana Bought That Eagles Jacket Herself
3:28 PM EST on November 10, 2023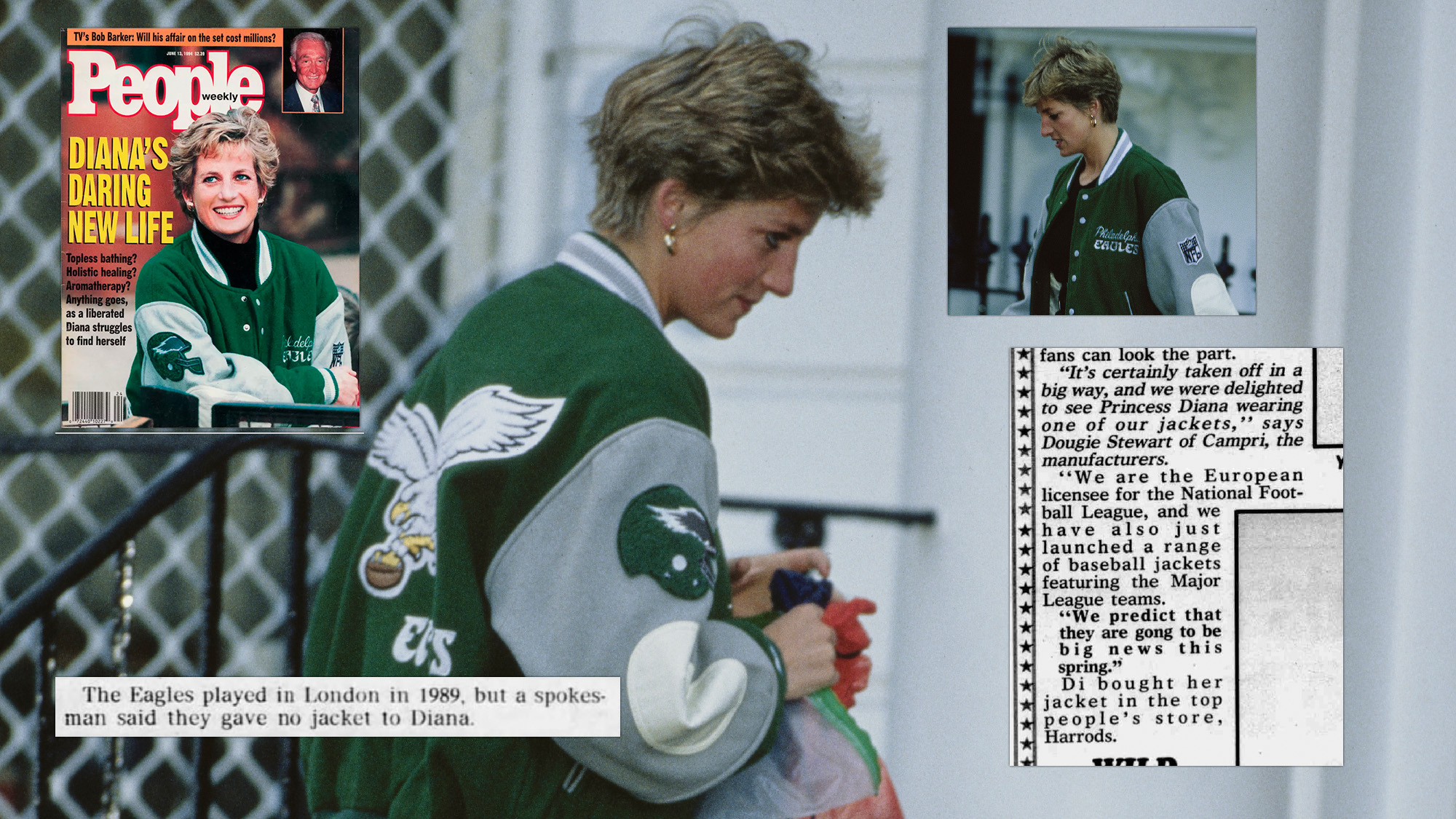 PHILADELPHIA — The photos are absurd. When you first see them, you cannot believe they are real. They are. Paparazzi took them in 1991. Princess Diana, by then estranged from Prince Charles, dropped William and Harry off at school. She was wearing a gorgeous green and silver Philadelphia Eagles jacket. This was not a one-off outfit; in 1994 she was on the cover of People in the same jacket. The photos and magazine covers resurfaced over the years, reaching an improbable late crescendo of attention after people started printing it on clothing in the last decade or so.
The whole thing is very funny, and also quite confusing. For one thing, how the heck did Princess Di get an Eagles jacket? An official story has been told over the years, first by team statistician Jack Edelstein after Diana's death in 1997. Edelstein told the Philadelphia Daily News he met Diana at the funeral of Philly native and Princess of Monaco Grace Kelly. Edelstein was friends with the Kelly family, and said he struck up a conversation with Diana while in Monaco. He told her that he worked for the Eagles, and she mentioned that her favorite colors were silver and green. The team shipped her a bunch of gear, including a custom-made jacket. That's the one she wore in those photos.
That story has spread, perhaps more now than when she first wore the jacket. In 2017 the Philadelphia Daily News did a look back at Edelstein's jacket story, which seems the most likely catalyst for it re-entering the public consciousness. Two weeks ago ESPN did a five-minute segment that repeated the story of the Eagles sending the princess a custom jacket. It's been repeated incessantly in the two weeks since. "My grandfather said she's a princess, you can't send her just T-shirts," Marnie Schneider, Tose's granddaughter, told KYW-TV recently. "We've got to do something special for this woman."
On Thursday, Mitchell & Ness released a replica of that jacket. Its $400 retail price did not prevent it from selling out; the release led to a fight over the jackets at the Eagles Pro Shop, although that also might have just happened regardless. The release was a disaster at the main Eagles shop at the stadium, with no quantity limits and a mad rush for jackets in the store when it opened. While reporting on this yesterday, I happened to discover something else: The official story about Diana's famous jacket is not true.
---
Here is a great Philadelphia story I know to be true: Once a woman from here was so hot and talented that the city gained a permanent connection to European royalty. Grace Kelly met Prince Rainier III while in France for the Cannes Film Festival. They were married in 1956 after a year of courtship and she retired from acting. She was reportedly about as wonderful as a princess could be; her 1982 death in a car crash was a tragedy.
Edelstein, an Eagles statistician at the time, did attend the funeral. The Philadelphia Inquirer reported he was "representing Leonard Tose" and that he shared memories of Grace with "Barbara Sinatra, Robert Marx, and Marian Dragone of Huntington Valley." Princess Diana was there too. She'd just given birth to Prince William in June and flew into Monaco 45 minutes before the funeral. She was scheduled to leave right after, but the Inquirer reported from Monaco that she was at the wake. The UK's Bristol Evening Post reported that Diana offered condolences to Prince Rainier after the funeral, then "was driven back to Nice to take a direct flight to Aberdeen to rejoin her husband and ten-week-old son, Prince William." She was not in Monaco for very long that day.
The story about Diana getting a shipment of merch from the Eagles, including that "custom-made" jacket, only came out after Princess Diana's death in a car crash, in 1997. Edelstein told the Daily News that he'd accompanied the Kellys back to the palace in Monaco and met Diana there. He also claimed that he introduced Diana to the wine spritzer, and that she gave him her secretary's phone number. Back in Philadelphia, the story goes, Edelstein and Tose decided to send her a box of Eagles merch. "We also sent her a beautiful Eagles jacket, made for her," Edelstein told the paper. "It was Leonard Tose's idea. He never went second class. She sent me a very nice note, how she'd been wearing them around town."
Sending Diana a jacket seems reasonable enough. The rest seems quite far-fetched, but Jack Edelstein was absolutely the type of person who would just walk up to Princess Di and tell her about wine spritzers and the Philadelphia Eagles. "Those who took part in recounting his life talked about Mr. Edelstein's role in the entertainment and sports worlds; his flings with movie actresses; his pranks; and his famous double talk," Edelstein's obituary read.
The Eagles may well have sent her a jacket, but it was not the famous one. Her jacket was not custom-made, for one thing. Casey Pitocchelli, who runs the vintage store RareVntg, posted a blog on Wednesday about a recent acquisition—an original jacket in the style of Princess Diana's. It was not a replica. He'd acquired it in a trade with Chris Milner of National Vintage League, a London-based retailer of American vintage sports clothes. He sent Milner a Rod Smart "He Hate Me" Las Vegas Outlaws XFL Pro Cut jersey, writing that it was "a deal that made us both very happy." (I checked with Pitocchelli. This was not a joke.)
He'd realized before making that deal that the Princess Di jacket was not custom; Milner had told him he'd seen two others for sale. Yesterday Pitocchelli heard from another person in London with the same vintage jacket. Once he had it in hand, he saw the jacket was tagged Campri, a UK-based brand that had the European NFL license in the early 1990s. He also realized it was not likely to be a jacket from the 1980s. "That tag would've been from right around 1990-91," he told me.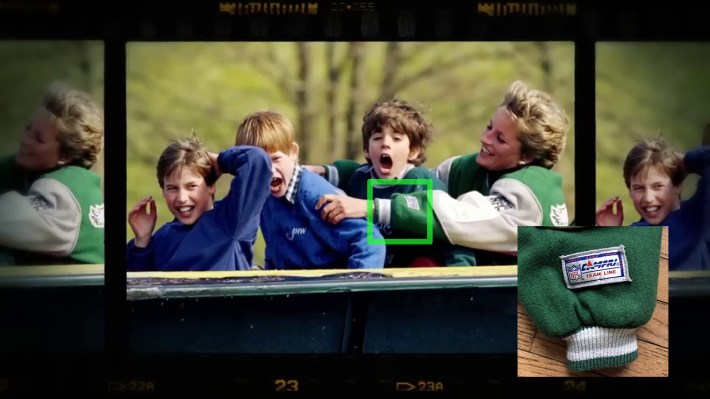 I went searching. Diana's Eagles jacket made news in 1991, and those reports were much different than the later stories that centered around Edelstein's charm and Princess Diana's favorite colors. The Times of London decried "the Americanization of England." The Eagles straight up told the Philadelphia Daily News the opposite of Edelstein's tale. "The Eagles played in London in 1989, but a spokesman said they gave no jacket to Diana," the paper wrote. Tose had sold the team to pay off gambling debts in 1985, but front office turnover was limited. Edelstein himself worked for the team until his death in 2000.
Philly's tabloid was not finished running the story down. Barbara Beck reported from London about the brouhaha over the jacket. At first she did not get much info, but she did something incredible. On Jan. 5, 1991, the Eagles lost to Washington, 20-6, in a wild card playoff game. Buddy Ryan was fired Jan. 8. Diana wore the jacket in public two days later. Beck actually called Buckingham Palace to ask if Princess Diana was an Eagles fan and if she had any thoughts on Buddy Ryan. I confirmed with Beck today that she actually did all this. I miss the Daily News.
Beck got good info, too, by speaking with royalty experts. They agreed that Diana was not an Eagles fan, and indeed had never even seen an American football game. "She wears things because they create a look," said Andrew Morton, a tacky UK biographer. He was actually the perfect source as he was close with the princess. In 1992, he wrote Diana: Her True Story; after the princess's death he revealed that Diana herself was his primary source for the book. The consensus from Morton and other "Di watchers" was that she bought the coat "for about $200 from one of the fashionable London stores that sell clothes adorned with NFL logos." A similar Raiders jacket mentioned in the story was priced at $350.
A story from Jan. 26, 1991 in Scotland's Daily Record had the full scoop. As part of a preview of Super Bowl 25—the paper called it "the NFL's Silver Anniversary championship"—the fashion editor interviewed someone from Campri.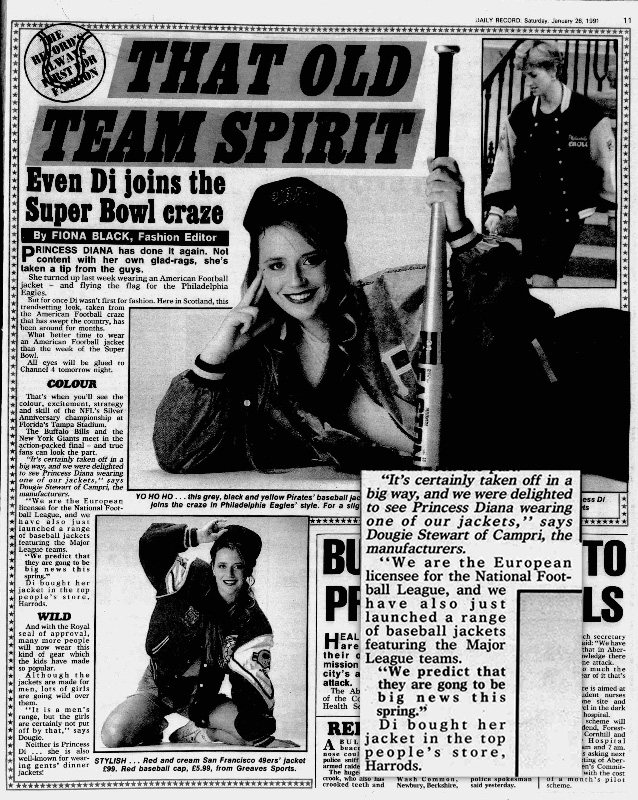 Diana bought the jacket at the top people's store, Harrods! The story includes photos of similar jackets, as they were apparently a bit of a trend at the time. Stewart said the jackets were made for men, but "the girls are certainly not put off by that."
The old story was pretty good, but I think this one is better. The Eagles jacket Diana wore in public was not one the team sent her. Instead the princess, or someone in her employ, went into the fanciest department store in the world and picked out a Philadelphia Eagles jacket. She might as well have been some Eagles fan from Croydon (Pennsylvania) picking out a winter coat at the mall. She just didn't have to fight through a mob of hoagiemouths to buy one.
---
So the jacket was not a custom-made item, but a limited-release style from Europe. The one that went on sale yesterday was limited as well. A source told me about 1,400 were made, and they were only released at a few places. Mitchell & Ness told CBS Philadelphia they sold "nearly 120" at their retail location in Center City Philadelphia. Lapstone & Hammer, a Philly sneaker boutique, got some, too. So did Snipes, the chain sneaker store. Lines were long. One wrapped around the stadium. At the Mitchell & Ness opening, there were 72 people in line. You did not have to camp out overnight. A man who goes by "The Reese's Guy" was first in line at the Eagles Pro Shop in Cherry Hill; he posted about it at 5:45 a.m.
Mitchell & Ness allowed people to try on the jacket the day before. Obviously I did this. I was disappointed. I liked the way the material felt, but this was a $400 jacket and it was a 60/40 polyester/wool blend. I have a Mitchell & Ness replica of a sweater Buddy Ryan wore in 1990, and it is 75 percent acrylic. But it feels nice. I think they are getting better with the plastic fabric, but also I have only had it for a little bit. How long will it still feel nice? Incidentally, Mitchell & Ness is now owned by Fanatics.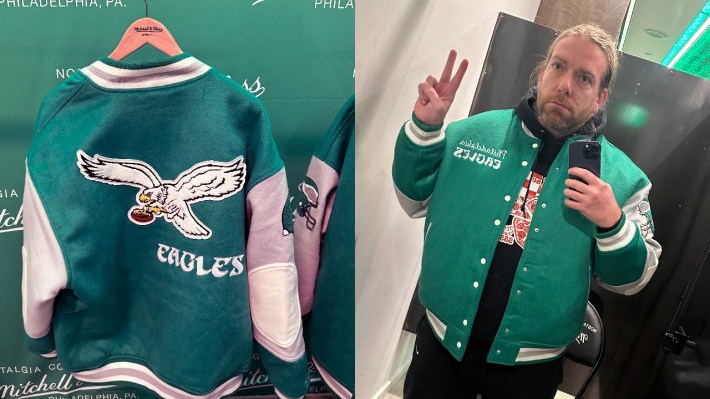 A $400 jacket that's mostly plastic is one thing. But the fit of this coat is absolutely bonkers. It is huge. It is so boxy. Complex reported that "even the fit of the jacket [is] modeled after photos of Diana." People in line weren't so sure. Dena Driscoll, a regular at that M&N store, says the company struggles to cut clothes for women. "Give me five minutes with your womenswear designers," she said, "and I'll explain boobs and hips. And being short."
Still, the boxy cut did not deter shoppers. Driscoll, who was seventh in line when she arrived at 7:45 yesterday, bought a jacket. Sarah Micklow is a native of Mayfair (a section of Philadelphia). She was in line as long as Driscoll. Her experience echoed many I talked to: She was a big Eagles fan, knew of this Princess Di photo for a long time, and jumped at the chance to buy the jacket.
"I have a Randall Cunningham starter shirt that was my older brothers' that I got handed down to me," she said. "There are photos of me wearing it as a nightshirt. I've been an Eagles fan since birth. My dad loves to tell a story of every time a Philly team has won something big, he would run out of the house to go to the Boulevard and celebrate with everybody. It's just it's been ingrained in us."
Another buyer was Tracey Ulrich-Matalon, who grew up in South Philly and now lives part-time in Rittenhouse Square. "I've been waiting for this jacket since the 1990s," she said. "It's iconic. I was excited. So I made a plan to be here today, and stood in line for three hours with these lovely people. It's been awesome."
She agreed with the others that the fit was a bit off. "It's a little big," she said. "But it's really more about just the whole look of the jacket. It's the nostalgia, right?"
---
The jacket's release was odd. The story ESPN did with the Eagles about the jacket aired on Oct. 22, the day the team wore its early 1990s Kelly green jerseys. On Wednesday of this week, Mitchell & Ness announced that the jacket would go on sale the next day. Not every store even advertised their stock. Despite my qualms with the jacket, I was caught in the trap, too. More to the point: I got one. My friend Kyle found the SKU on Mitchell & Ness's website, googled it, and noticed that Kentucky boutique Oneness was selling it. We each got one; I think mine is going to a friend. Snipes didn't appear to announce their release either. With such a quick rollout, there was one group that was definitely going to acquire a bunch: resellers.
The Mitchell & Ness line yesterday had plenty of resellers. Lines always do. For some, it's a full-time job. But there was a limit of two jackets per person. The line was well-organized; 10 people were let in to start, and small groups followed as people finished their transactions. Waiting in line to buy a luxury item is so embarrassing; I know this because I have done it many times. It can also be fun as heck! I had a blast interviewing people in line yesterday, and I wasn't even picking up a coat in person.
This was notably not the case at the stadium store. Nina D'Agostino arrived about 9:15 a.m. She was 41st in line. Plenty of resellers were there, too. They'd arrived earlier. She estimated that there were 150 people in line when the store opened. Despite being pretty far up in line, D'Agostino did not get a jacket. At 10 a.m., employees told shoppers the jackets were in two locations in the store and let everyone in. There were no quantity limits. People were grabbing bundles of jackets and clutching them to their chests. Why not? They had a valuable item.
"By the time I got to the rack, there were 20 or 30 people surrounding the jackets," D'Agostino said. "I wish I'd known I needed to be more ruthless. It was a Black Friday situation. I didn't realize that was the energy I needed to bring." By the time she got a coat, all she could get was an XL. She let someone else have it. Many left disappointed. "Lisa F., who declined to give her last name because she was supposed to be at work and not waiting in line for the Diana jacket, arrived at the stadium pro-shop at 7 a.m., and was seventh in line," The Philadelphia Inquirer reported. "Staff opened the doors and everyone flooded in at once, she said, and she left empty handed." D'Agostino told me that she saw people heading to checkout with as many as four coats.
The pro shop chaos also led to a minor tussle. D'Agostino said two men were having a tug of war over a jacket and screaming at each other. She walked away. WPVI-TV 6 reported it was a "melee" in the store. "There may or may not have been a fight that broke out over a jacket," Andrew Kruger said. It was not a major fight. Police were not called. Still, that kind of chaos didn't happen at the store that ran an orderly release.
It seems unreal the Eagles did not know how to run a release for a limited product. Their primary business is doing just that. The Eagles had a huge crowd at the pro shop this summer when they released the retro Kelly green jerseys, but letting everyone rush in to buy jerseys works. The team has a ton of them and can satisfy most if not all of the demand, even with Fanatics inevitably botching the release. But a limited item like this needs to be handled more carefully. "I don't think the Eagles were prepared for the hype, honestly," said Joe Vernacchio, the owner of Past To Present Vintage​ in South Jersey.
And there is a lot of hype. A search of completed sales on eBay shows some jackets have sold for as much as $1,500. If you search eBay now you'll also find a selection of hilariously bad bootlegs for sale, promoted above any ones from resellers. In my reporting yesterday I learned of at least two Philadelphia-based sellers who have been selling replicas of this jacket. (Neither would comment.) Bootlegs, both made overseas or hand-made here, have been popping up for the last few years. "It's gonna be the most bootlegged Eagles jacket ever," Kevin, a vintage seller who goes by @oxybathandcotton, told me.
People are very angry at resellers—"there's a special place in hell for these people," one tweet read—but I think that's a little misguided. Resellers are filling a place in the market; apparel companies even cater to them, as well they might given that resellers spend a lot of money regularly. They're the best customers! If you want to hate the free market and the various operators within it for this reality, you should also make time to hate the companies that made and collaborated on this jacket. They are the one that pushed it out in such a way that resellers would be able to do what they do. The secondary prices are absurd, but there will inevitably be a restock. The high resale price will probably make people want it even more the next time. The team and Michael Rubin will make money. It's still a bummer no matter who you want to blame. A lot of people wanted this jacket, even at the $400 price point, and most of them missed out. It's infuriating to see the jacket pop up on eBay for a grand just a few minutes after the release.
There's another thing, too. The jacket is $400 and high in demand because it is the one that Princess Diana wore. But the people selling the jacket don't say that in official marketing—that's left to the press. The copy comes as close as it can to the edge without saying "Princess Diana." Mitchell & Ness writes the jacket recalls "the essence of a royal moment." The Eagles, in advertising a jacket autographed by Kylie Kelce currently going for $20,000 at a charity auction, call it a "limited-edition release pays homage to an iconic era in Eagles' and pop-culture history."
This is the kind of thing the Eagles and the NFL are currently attempting to prevent. The fans invented the phrase "Go Birds!" When Leonard Tose attempted to secretly move the team to Phoenix in 1984, two fans went to his door at 11 p.m. to tell him not to. "Go Birds!" they scribbled on a note left for him. The Eagles received a trademark for that term last December. The NFL quickly began filing takedown notices with Instagram and Etsy and got busy getting local artists selling fan-made and upcycled gear kicked off the platforms. Some of the work was clearly violating trademarks, but others were about as generic as selling a Princess Di jacket without mentioning her. Now the Eagles have filed to trademark the term "Kelly green." One can easily see the Eagles going after sellers advertising vintage "Kelly green" gear from the '80s and '90s.
The Inquirer reported that the team is "looking to basically prohibit anyone from using that phrase in relation to anything involving football or other sporting exhibitions." If the NFL could make you pay to say the words "Philadelphia Eagles," they would. Jeffrey Lurie owns the Eagles franchise, but ownership of the team belongs to fans. Lurie, the NFL, and Michael Rubin's Fanatics are exploiting people's love of the team to make those people spend more money on it. I am a sucker. I got the jacket yesterday. I am not the only one. D'Agostino got one as well. She was iffy on it, but got in line after the lure of nostalgia became overwhelming. She didn't get one at the shop, but after talking to her about the scene I shared the link from Oneness with her. We talked later about how we could not believe we'd each spent $400 on this jacket we liked, but did not love. It's a feeling you get a lot as a consumer, and maybe even more often as a fan.
I certainly feel pretty stupid about buying the jacket. But I think there is a real bright spot to this story that kind of makes me love that I got it. Jack Edelstein was a real Philadelphia character. When he died in 2000, the Inquirer's Bill Lyon wrote that most people wondered, "What's he do, anyway?" There was not a simple answer. He gave stats to the Eagles radio guys. He cracked jokes. He made incessant appearances at banquets and roasts and fundraisers. He was the kind of guy who'd give a speech at a sports banquet about how the best way to stop the Philadelphia Eagles from coming into your house is to put a pair of goalposts on your front lawn. People found him a joy to be around.
And he really was locally famous for his double-talk, which was more like a party trick than anything else. Lyon described Edelstein's "forte" as such: "He would speak like a trumpeter does the triple tongue, and what came out sounded, at first hearing, reasonable enough. But it would dawn on you as he went along that either your hearing had become impaired or he was speaking gibberish."
And so in the end this story warms my heart. Jack Edelstein loved pranks, and the sound of his own voice. And so, a decade and a half after Princess Grace's funeral, Edelstein spun a story about how he met Princess Diana, told her about wine spritzers, got her phone number, and eventually sent her some custom Eagles gear. That story has lasted for a quarter-century. It was too good to check. Basically everyone buying the jacket yesterday knew Edelstein's story, even if they didn't know his name. In the final years of his life, Jack Edelstein delivered one last great prank to Eagles fans. Now that is another great Philadelphia story.
Stay in touch
Sign up for our free newsletter