NFL
Nobody Does It Like The Chargers
10:00 AM EDT on October 17, 2023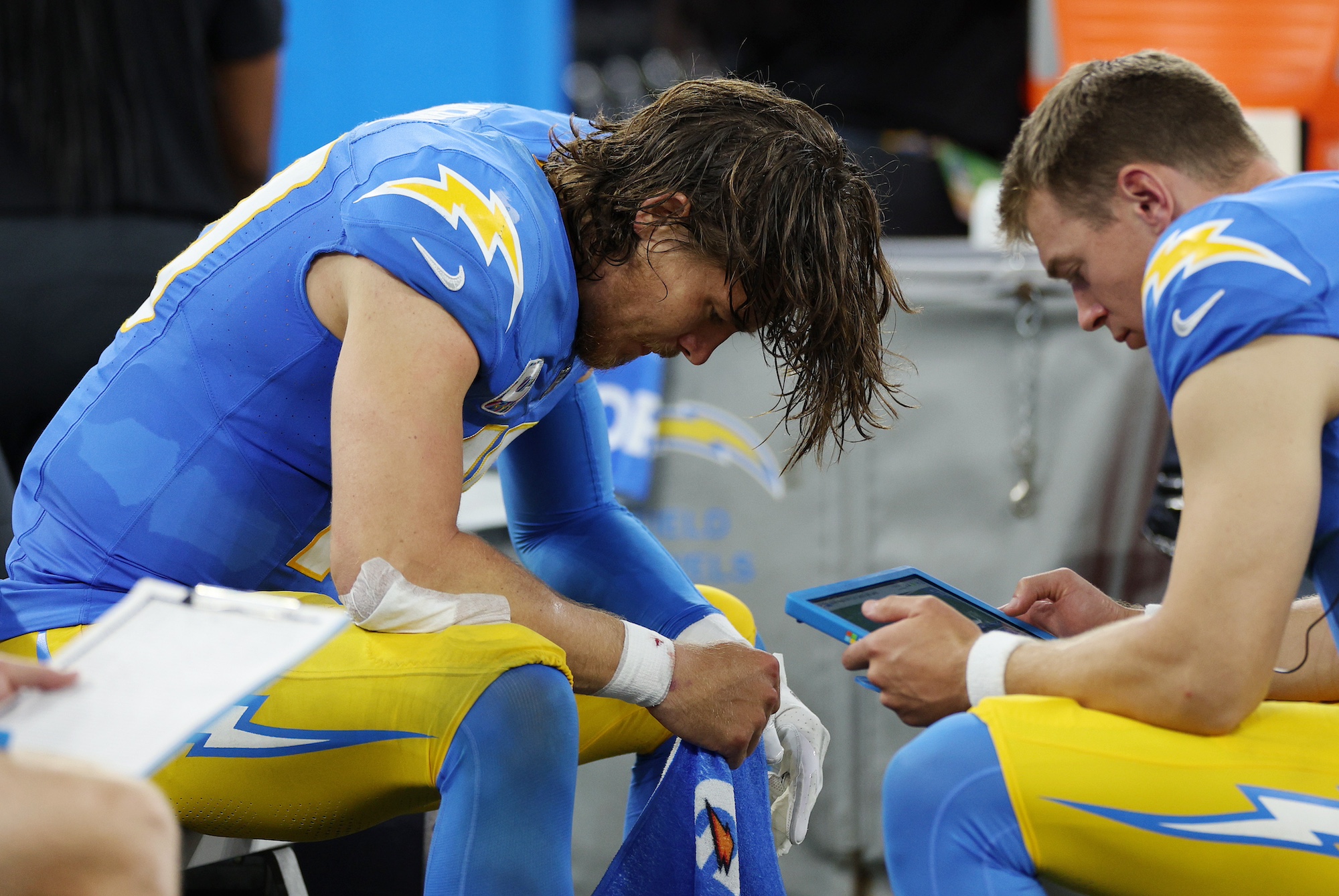 The Los Angeles Chargers were again as they always seem to be: a field goal short of whatever they're trying to achieve. Thus, losing 20-17 to Dallas Monday night was the kind of inevitable ratings grabber that reminds us that the Chargers are a sitcom with the same plot, which is Returning Success Unopened To The Highest Shelf In The Pantry And Then Putting The Ladder Back In The Shed.
We used to wonder how the Chargers could lose by a touchdown or less so consistently (16 times under soon-to-be-ex-coach Brandon Staley, 16 more times in the two years before that), but no more. They did last night what they usually do: look stylish and stay close enough to every opponent, good, bad, or mediocre, before losing in the end, which is their M.O. when they're not blowing a massive lead, like they did in the playoffs. They're just so Chargers that way.
It has been suggested that Staley is the problem here because we are trained in our Pavlovian way to believe a good coach doesn't permit this to happen continually. But cultures are far less mutable than that, unless you think kneecap-eating is what made the Detroit Lions stop being the Lions. The Chargers do this because for whatever insane reason the cosmos has for keeping them the Chargers, they just do that. They are what they are, and that's all that they are.
Monday night we were confronted by a 17-10 Dallas lead when the Chargers had to punt with just inside nine minutes left. The Cowboys aren't all that confidence-inspiring themselves, so we waited to see how long it would take for them to return the ball to Los Angeles and the answer came within 14 seconds—a muffed punt return by Jalen Tolbert. We would have to continue watching, damn it.
Four plays later the Chargers scored on a nifty one-yard roll-and-slip Justin Herbert and his broken finger to Gerald Everett that tied the game at 17 with 7:11 left. Now we could turn off the game in safety—but even there we hedged our bets and merely hit mute because while we knew the Cowboys would go ahead again, we didn't trust them enough to hold even that lead without needing to score yet again in the dying seconds—the Full Charger, if you will.
But no, it was a run-of-the-mill ending. Dallas drove 54 yards in 14 plays, converting a third-and-18, a third-and-6, and a third-and-9 to set up a 39-yard field goal from 28-year-old rookie Brandon Aubrey with 2:23 left to make it 20-17. That's when we turned it off, confident that the Chargers could do nothing to change what is their brief. A sack and an interception later, our lack of faith was justified.
Some suggested that this win scrubbed out the rancid taste of Dallas's 42-10 loss to San Francisco the week before, but we know better. Dallas is the NFC's Chargers, and Mike McCarthy is no safer than Staley. Indeed, when ESPN posed their typically nonsensical debate question this morning—"Are the Cowboys Too Conservative?"—the answer was obvious. No. They're the Cowboys, and they underachieve in their own particular key.
But the Chargers are the best at it. If you need a close loss, a galling loss, or a ridiculous loss, you don't go to a team like Carolina or Chicago or Denver. They just lose, and you will always have the entire second half to come up with reasons to clean out the garage you cleaned out the day before.
If what you're looking for, however, is a way to manifest your own self-hatred in a team that makes you watch the entire game to find out how they will lose and by how thin a margin, there's only one place to go. The Chargers always disappoint, which is why they never disappoint.
Stay in touch
Sign up for our free newsletter