Soccer
Luis Suárez Gave Barcelona Just As Much As It Gave Him
10:09 AM EDT on September 25, 2020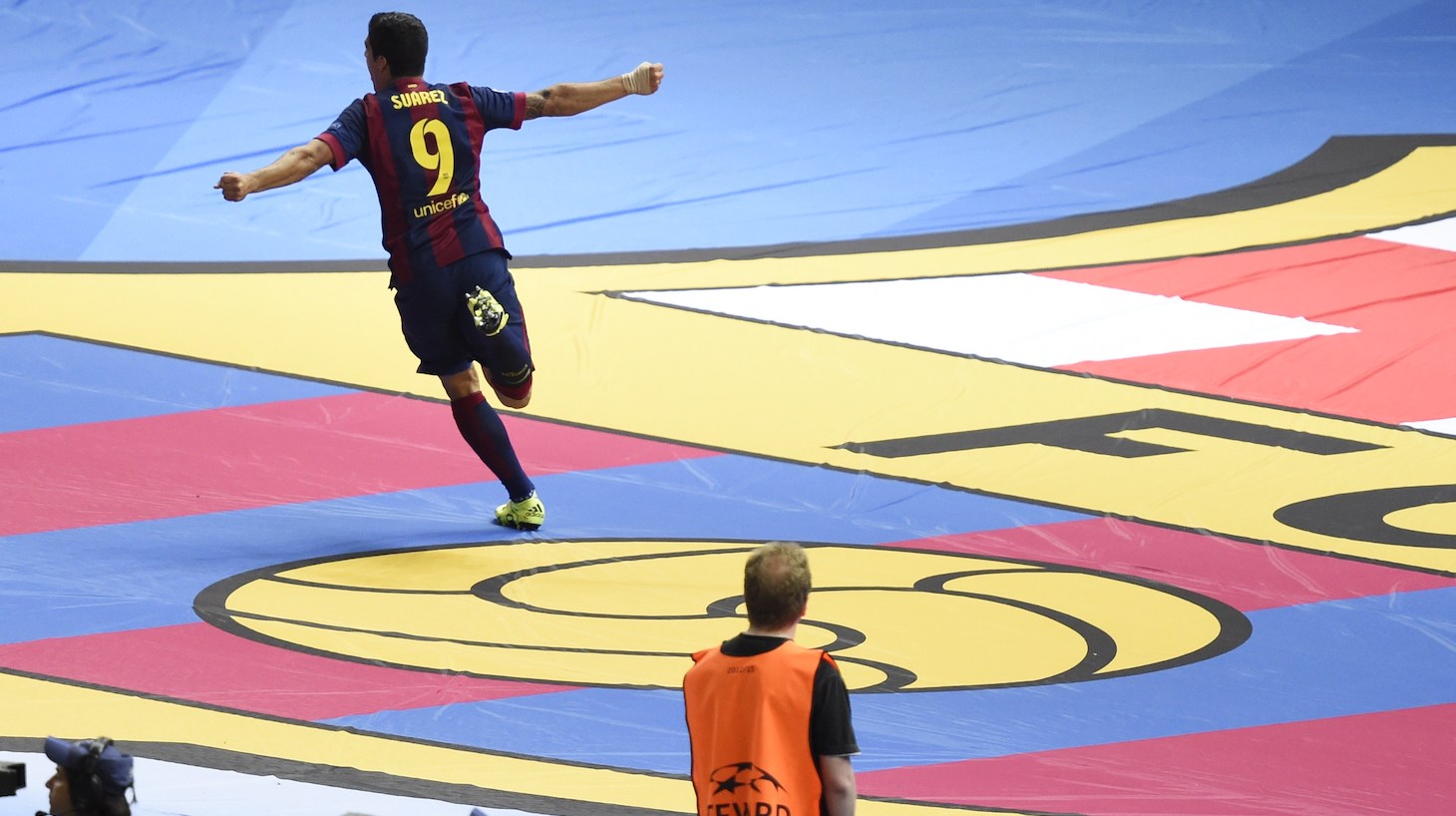 After a long, agonizing, and acrimonious month and a half for Barcelona—a period that featured maybe the worst loss in the club's history, an ultimately failed transfer demand from the best player in the club's history, and a board that botched the handling of those two things so egregiously that club members voted in record numbers to oust what some have called the worst president in the club's history—the most significant change yet to come from the fallout has finally happened: Luis Suárez no longer plays for Barça.
Yesterday's announcement of Suárez's transfer to Atlético Madrid symbolizes the official end of an era, the same way his transfer to Barcelona symbolized the start of a new one. The Suárez Era was one of such dizzying success that the countless memories of big wins and gorgeous goals and title celebrations threaten to overshadow one fundamental truth: Barcelona gave Suárez a lot, but he gave it just as much.
It is easy and true enough to say that no one will forget what Suárez did at Barcelona. His four La Liga titles in six seasons, the 198 goals he scored in 283 appearances to become the club's third-highest scorer of all time, the exploits of the historically powerful Messi-Suárez-Neymar forward trio, the 2015 treble in MSN's first season, the steady slide outside Europe's true elite from the post-Neymar Barça, this month's ugly divorce—all of those things and more will be etched forever in the sport's historical memory.
But history is necessarily flattening. Less likely to make it into the historical record is just how hard it was to get MSN to click in those first couple months, when manager Luis Enrique came within a hair's breadth of losing his job because he couldn't get those three pieces to fit. Or how those endless streams of league goals masked the fact that, for fully half of his Barça tenure, Suárez's continued prominence in the side held the team back from competing with Europe's strongest teams in Champions League play. Or, from a different perspective, how the best version of Suárez was actually the one in Liverpool, and that rather than challenge his future teammate and close friend Messi from afar for the title of world's best player, Suárez instead joined Messi, subordinated his game to Messi's, and in doing so lowered his own ceiling so as to lift Messi's and the team's.
The best thing you can say about a team is that the sum is greater than its parts. There are nearly infinite ways to be a good soccer player, and just as many ways to put together a good team. But for the latter to happen, you need a specific collection of the former—good players whose strengths and tendencies mesh with and compensate for their teammates' strengths and weaknesses, so that together they form a coherent whole. To make a good team you have to have good players, but sometimes a team with lesser but more complimentary talents can beat a team with greater individuals who nevertheless don't combine well. Hence when the sum is greater than its parts.
Barcelona signed Luis Suárez in the summer of 2014 to be the shiny new part that would increase the team's sum both individually and collectively. A couple of the gears central to the previous machine had begun to spin a little slower—Xavi Hernández aging out of his imperial prime, Lionel Messi finding it harder to dominate as a false 9—and the club settled on Suárez as the new addition to get it all working again.
Suárez was of course no mere role player. In that summer of 2014 the Uruguayan was coming off quite possibly the greatest individual season in Premier League history. He scored a league-record 31 goals, added on 12 assists, and brought Liverpool to the cusp of immortality by just barely coming up short for what would've been a historic league title. But those gaudy stats only begin to encapsulate what a titanic player Suárez had become. No player besides Messi himself contributed such otherworldly levels of offensive production in every single phase of attack. And not even Messi could match Suárez's tenacity off the ball, whether or not his team had possession. Manager Brendan Rodgers's Liverpool was like a cartoon tornado, and Suárez, with his nonstop energy and all-encompassing skill set, was the Tasmanian Devil at the center, the source of it all.
Naturally, Suárez would not be able to continue playing like that at Barcelona. What had been Suárez's Liverpool became Messi's Barça, and a team built around Messi's precision and control and structure could never fully accommodate Suárez's speed and anarchy. The Barcelona of MSN was indeed more vertical and frenetic than the one prior, which had been centered around Xavi's calm stability, but the figures who benefitted most were firstly Messi, secondly Neymar, and only thirdly Suárez. Whereas the Suárez at Liverpool could use his versatility and breadth of skills to roam the entire pitch in search of a place in which he could do the most damage, the Suárez at Barcelona was more constrained in his movements and range of influence. Whereas in Liverpool the entire team was built around compensating Suárez's flights of fancy, in Barcelona he was one of the compensating pieces, moving around the pitch primarily to facilitate the whims of others.
Now, facilitating the whims of Messi is far from a thankless task. A forward doing the hard work to free up Messi is often compensated with a bevy of chances on goal as Messi tees them up again and again. This is how as Suárez, as Messi's squire, wound up scoring more goals than he probably ever imagined possible, and how the pair utterly dominated Spanish soccer for the duration of their time together.
But eventually Neymar left, driven by the desire to see just how good he could be in his own plenitude and thus unwilling to mimic Suárez's career-limiting sacrifice. The club proved incapable of providing Messi and Suárez the assistance the two aging greats required to stay at something close to their best, and so the team slowly but steadily suffered. By the end of their dismal final season together, it became blindingly obvious that the cracks in Barcelona's facade that had been noticeable since even before Neymar's exit had grown into giant fissures. Just about the only thing that still worked at all was Messi and Suárez playing to and for each other in the final third.
In a world just a little bit different than ours, Luis Suárez wins Liverpool that league title in 2014 and signs a big new contract that keeps him in England for the rest of his prime. In that world, Suárez probably goes on to become an even greater player than ours did, and he's remembered as one of Lionel Messi's great rivals for the title of world's best player. That world's Suárez probably reaches higher individual heights, but probably isn't as decorated in winner's medals and hasn't amassed as many career goals and assists and iconic moments as the one who dedicated his best years to joining and helping the greatest of all time instead of challenging him. Only Suárez can know which of those existences would've been "better" for him, but something tells me he's perfectly content with how things have gone.
Stay in touch
Sign up for our free newsletter