Defector Annual Report, September 2022 – August 2023
Published on November 14, 2023
Purpose of this report
More than three years into the company's existence, Defector continues to have no outside investors and no intention of raising outside capital. We continue to have no legal obligation to write an annual report about our business operations. But after publishing a second annual report in 2022, we seem to have established our own convention of writing this report every year. We will likely do so until the structures and dynamics of a business like ours (i.e., a subscription-first, worker-owned and -operated media company) feel so conventional as to be boring to our subscribers, interested media parties, and ourselves.
Financial summary*
Year 2
(9/21-8/22)
Year 3
(9/22-8/23)
Total subscription revenue
$3,600,000
$3,750,000
All other revenue combined (podcast advertising, events, merch, raffle, site sponsorships, streaming)
$200,000
$750,000
Total revenue
~$3,800,000
~$4,500,000
Employee-owner compensation
$2,000,000
$2,500,000
Employee-owner benefits
$200,000
$250,000
Alley Lede fees
$300,000
$300,000
Other tech, processing, and platform fees (Pico, Stripe, email, Getty, etc.)
$400,000
$350,000
Professional fees (legal, HR, accounting), commissions, and insurance costs
$175,000
$200,000
Merch COGS & fulfillment fees (including promotional giveaways without direct revenue)
$60,000
$100,000
Live Event production costs
Not broken out
$25,000
Freelance spend and reporting expenses
$175,000
$250,000
Paid advertising
$5,000
$1,500
Rent
$30,000
$30,000
Taxes, state and federal filings, and related processing fees
$250,000
$275,000
Taco Bell
$28
Other General & Administrative expenses
$80,000
$100,000
Total operating expenses
~$3,700,000
~$4,400,000
*These numbers are stylized approximations, published for the informational and educational purposes of this public annual report, and do not align precisely to Defector's official P&L statements or tax filings.
Subscription revenue details
Subscribers' direct subscription dollars continue to be our primary source of income for funding editorial and business operations. Of the $4.5mm revenue Defector recognized this past year, 85% was generated by subscriptions to the website. It was a hard-fought battle to grow subscription revenue by mid-single digits; new subscriber acquisition was reasonably steady, but churn was up.
Following conventions of public annual reports, here are two paragraphs where we largely just update the numbers every year without really rewriting the copy:
The gross number of people who have ever held a paid subscription to Defector.com is 57k. Net of churned subscribers (i.e., people who once held a paid subscription, but no longer do), we reached a high-water mark of 42.1k net active subscribers in late August 2023. In September 2023, roughly half of our subscribers faced an annual renewal decision. Slightly more than 90% of that cohort successfully renewed, meaning that we exited September with just over 40k active subscribers. 
Approximately 60% of subscribers are Readers, our base tier; 30% are Pals, the next tier up; and 10% are subscribed via our Normal Gossip podcast products (Friend and Friend-of-a-Friend). We currently have about 80 subscribers at the $1,000/year or $100/month Accomplice level. More than 75% of our subscribers are on annual plans rather than monthly ones. Over the full period of Year 3 (September 2022-August 2023), the rate of retention for annual subscribers averaged out to 87%, with earlier subscriber cohorts generally retaining better than later ones and Pals generally retaining better than Readers. For those on monthly subscriptions, our average churn rate from September 2022-August 2023 was 4% per month, though that number varied meaningfully by cohort. 
Growth in our subscriber base came from a number of sources and initiatives in Year 3:
In July-August 2023, we offered promotional pricing for the second time. The deal was structured the same way as the first time we offered it, in late 2021: roughly $1 for the first month (technically $1.08, adjusting for inflation from the first time we offered the deal) before converting to a regular Reader subscription price. We ran the deal for four weeks and sold over 1,500 promotional subscriptions. The most important marketing channel was direct email to our non-paying mailing list of ~200,000 email addresses, though significant numbers of new subscribers did come in through encountering the deal on the website and through social channels. Additionally, we ran a major reader survey (more on the results later) in roughly the same time frame, so we could conveniently offer survey respondents who weren't subscribers the promotion at the end of the survey. Encouragingly, 80% of those 1,500 promotional subscribers converted to full-price after the promotional month was over, a significant increase over the ~60% conversion we saw the first time we tried promotional pricing. Some amount of that conversion improvement was probably due to good timing within the sports and editorial calendar: The campaign lined up with our robust World Cup coverage and the start of Drew's Why Your Team Sucks NFL season previews. We also ran an onboarding engagement campaign where staffers curated their favorite recent blogs or provided some commentary on their recent work (e.g., Giri on his French Open and Wimbledon visits) to guide new subscribers to form a habit of regularly reading the site. On that front, we hope to expand our onboarding engagement campaigns to all new subscribers, taking our cues from the New York Times and Washington Post teams who've publicly talked about treating new subscribers as a liminal cohort between non-subscribers and established subscribers.

The products aimed at Normal Gossip listeners—the $5/month Friend-of-a-Friend tier (access to exclusive subscriber episodes plus a limited number of Defector blogs a month) and $12/month Friend tier (access to the exclusive episodes, plus a chance to be the guest on those episodes, access to Normal Gossip "Close Friends" Instagram Stories, and full access to Defector blogs)—now total over 4,000 subscribers. We've consistently seen Friend and FoaF subscriptions surge during the first and last week of new seasons, though our single best-selling week for Normal Gossip subscriptions was the first week of April, the week before tickets for the Normal Gossip Live tour went on sale, as we announced that subscribers would get 48-hour early access to tickets.

We once again ran a holiday subscription gifting campaign in December 2022, where you'd get a piece of merch with each gift subscription purchased. We still had leftover inventory of branded beanies from the same campaign in 2021, so we just gave away beanies for the second year in a row. We sold another 300 gift subscriptions in 2022 and got through our full inventory of beanies.

We ran a "winback" campaign for the first time starting in November 2022 through which we offered churned subscribers a temporarily discounted price to re-up. We converted 600 (~8%) of the ex-subscribers we contacted back into active subscribers. This group is set to graduate back to full price in the next month. At present, it looks like ~75% will survive that transition, which would put a nicer bow on a nice result. As part of the winback campaign, we ran a small experiment where we sent some segments the offer email "From" the specific byline that they had previously read the most frequently, and sent some segments the offer email from a generic Defector email account. We discovered that ex-subscribers who saw a specific blogger's name in their email inbox converted at twice the rate of those receiving the offer email from the generic Defector Media name. (Note that we don't have the technical capability to put automated churn prevention offers—e.g., "Are You Sure You Want To Cancel? How About Another Year Plus Defector Cooking And Games For $9.99"—in our cancellation flow, so there's no reason to try and game that system. We built the winback offer email list manually and will do the same the next time we run this campaign. In fact, Sean will specifically look for people poking around in the cancellation flow and exclude you from the list.)

We redoubled our efforts to increase overall awareness of Defector Media in non-social channels by having our staffers show up as guests on other shows, primarily podcasts and radio programs. Perhaps the only downside of Dan Snyder finally selling the Washington Commanders is that Dave McKenna will no longer be invited to comment on Dan Snyder. Special shoutouts to Alex and Kelsey for taking on an array of Normal Gossip press hits; Dan for becoming a regular on several podcasts and Twitch streams; Patrick for giving voice to long-suffering Kings fans across mediums; and David Roth for extensively Remembering Guys on an episode of the Poscast with Joe Posnanski and Mike Schur that somehow lasted two-and-a-half hours. It's hard to measure the impact of these efforts, but enough new subscribers say something to the effect of "I heard/read about you on this other podcast/show/magazine/website" that our staff will continue to show up elsewhere in the media ecosystem.
It bears repeating each year: We believe good blogs are our best marketing tool for acquiring subscribers. Despite the best efforts of Our Heroes Of Capitalism, timely, well-written posts still reach and resonate with new readers. In turn, this allows people to discover Defector, read a couple of blogs, encounter the registration wall, and give us their email address to enter the top of our conversion funnel. Good blogs are good for business, whether that's keeping current subscribers happy or attracting new readers.
We observed a significant, sustained uptick in churn among annual subscribers starting in late Q1 2023. Like clockwork, each cohort of annual subscribers had previously churned at a 10-15% clip for 15 consecutive months dating back to 2021. And then suddenly, starting in March 2023, annual subscribers began churning at rates up to 10% (1,000 basis points) higher than our steady baseline. The precise cause of this excess churn remains somewhat mysterious. Surveying those churned subscribers on why they were canceling produced data that closely matched responses collected from all prior ex-subscribers. 
If only because misery loves company, we spoke with peers at other subscription-forward media companies who were also seeing elevated churn. Their hypotheses included: consumers are cutting back on discretionary spending given perceptions of high inflation and uncertain economic conditions; people are unwilling to pay as much for news in non-election years; general subscription fatigue is finally settling in; and new click-to-cancel standards are broadly reminding people to cancel unused subscriptions. 
Whatever the reason for the excess churn, we spent Q2 pulling various levers to try to get it under control. This entailed adding more robust messaging in our renewal reminder emails, testing different appeals to those who are scheduled to cancel, creating automated drip campaigns to increase engagement with early-stage subscribers, and so on. Through some combination of these efforts, mix effects, and regression to the mean, renewals have looked much more normal since August. As noted above, September's renewal cliff went well, and October's performance was more like the longer sweep of Defector's history than Q2 of this year.
Other revenue details
Our other major revenue streams include podcast ad sales, live event ticketing, merch sales, an annual raffle, and monetization of our Twitch and YouTube channels.
Defector currently has three podcasts: The Distraction, Namedropping, and Normal Gossip. The Distraction's relationship with SiriusXM/Stitcher concluded at the end of 2022, and production, ad sales, and live events for the show are now managed by Multitude Productions under CEO Amanda McLoughlin, Head of Creative Eric Silver, and Head of Production Brandon Grugle. Despite the retirement of the Remember A Guy segment, we believe the show is as strong as it has ever been. Season 2 of Namedropping is produced by Ozzy Llinas Goodman, with ads provided by Simplecast, and has sharpened and advanced Season 1's premise that one's name can shape their day-to-day experiences in unexpected ways.
For Normal Gossip, many things have changed since our last annual report. Shortly after the premiere of Season 3 in September 2022, the Normal Gossip team began the process, led by our UTA agents A.J. Leone and Shelby Schenkman, of meeting with various podcast companies who were interested in having Normal Gossip join their network. The Radiotopia/PRX team of Executive Producer Audrey Mardavich, Network Operations Director Yooree Losordo, and Chief of Business Development Jason Saldanha immediately impressed us with their clear appreciation of Normal Gossip and deep understanding of the Defector ethos. On stage at On Air Fest in February 2023, Kelsey and Alex announced that Normal Gossip is now a proud member of the Radiotopia podcast network, which in conjunction with its parent company PRX and ad partner SoundRise handle all ad sales, marketing, and distribution for the show.
We saw a meaningful step-change in Normal Gossip listenership between Season 3 and Season 4, the first under Radiotopia/PRX. Each episode of Season 4 has received between 450,000 and 600,000 downloads, and between the end of Season 4 and the start of Season 5, the show received 25,000-50,000 downloads every day across the back catalog of episodes. Season 5 has started strong, with a double-digit increase in first-week listenership across the front half of the season so far. Jae Towle Vieira serves as Normal Gossip's Associate Producer, and Editorial Intern Abigail Segel provides additional support for the show.
In the back half of 2022, we began internal discussions on what a Normal Gossip live show tour might look like. We had previously sold out our first-ever show at Caveat NYC, but potential touring partners and venues were unimpressed that we had sold 100 tickets and asked us for additional proof that we could sell tickets. The path to acquiring such proof was unclear—You can't get booked until you show your bookings sell well felt like This entry-level job requires significant relevant experience—until we received inbound interest from Jackie Leventhal at Sixth & I in Washington, D.C., who wanted to host Normal Gossip Live in Sixth & I's 750-seat space. We ended up selling out back-to-back shows at Sixth & I in December, which allowed us to book venues across 10 nights in eight cities for Summer 2023. Many thanks to Jackie and the Sixth & I team for taking a chance on the show.
The economics of the Normal Gossip Live summer tour worked out well for Defector, as nearly every show was standalone profitable for all involved parties. Our team learned a lot about our audience, tour logistics, and event dynamics in every city. (Getting people out to downtown Los Angeles on a weekday evening was harder than we expected.) You can read Alex and Kelsey's travel blog for all the tour details. Special thanks to our partners at Mills Entertainment, especially Simone Gianfrancesco, Sara Friedman, Deborah Mann, David Miller, and Ethan Ullman, for all their support in putting on the tour.
The path that Normal Gossip has taken remains preposterous. Millions of downloads, sold-out shows, things of that nature. In 2021, no podcast network wanted to underwrite the early episodes of a new concept; Alex and Kelsey invited personal friends and called in favors to book Season 1 guests; Jasper had to enter a lottery to earn the right to buy tickets for a podcasting business conference (reviewing his notes from the conference, he circled "upload episodes to YouTube?" as the big takeaway). By 2023, an array of podcast companies had submitted bids to have Normal Gossip join their networks; PR teams routinely pitch their celebrity clients as episode guests; Kelsey and Alex are adjusting to being notable figures in the audio world; members of the team are regularly invited to speak at industry events. 
Defector's profile has risen in the podcast industry and we hope to develop new shows in the future, but we have no delusions that we will ever publish another show as successful as Normal Gossip. [Editor's note: Kelsey wants it known that she is absolutely delusional and believes that we will absolutely replicate this success.] We have no special playbook or insights for creating hits. Just as in the blog industry, our major guiding principle here is to let your talented people do what they're talented at. Most things fail, so why not try to succeed on your own terms?
Our merch shop continues to be run through Fii Marketing, a unionized merch maker based out of Rhode Island, and managed by Dan McQuade. Merch revenues grew 50% year over year, with a major boost coming from the Normal Gossip Live tour. We continue to do regular shows on Twitch for live video programming, produced by Luis Paez-Pumar. We paused our live audio programming on Amp in March before the platform shuttered operations entirely in October.
In fall 2022, we came up with the idea of the Roth Cutout Sweepstakes: Contributors to our Tip Jar were entered into a drawing to have David Roth (person) deliver David Roth (cardboard cutout) to the lucky winner's front door. Those Tip Jar contributions were then used to pay for subscriptions for students and those in need via our Pay-Forward-a-Subscription program. The campaign was wildly successful, adding over $50,000 to the Year 3 P&L. Admittedly, we were disappointed that the randomly selected winner lived a couple blocks away from Roth. We chose to run back the campaign in October 2023 with the Ray Ratto Raffle, where we'd fly the winner out to the Bay Area to have dinner with, and be harangued by, Ray Ratto. (Patrick Redford would also be there.) The raffle recently closed, and we generated over $30,000 that will accrue to the Year 4 P&L. Drawing participants will receive more information shortly.
We are still bad at selling sponsorships and put minimal effort towards sales this past year. (Given what we have heard about the overall state of the ad market, we suspect we would have been even worse than usual at sales.) We remain very much open to inbound inquiries from brands, and we expect that there will be opportunities this coming year to cross-sell the on-site sponsorship package to brands interested in podcast ads. 
Finally, by slightly more actively managing our cash (i.e., opening a high-yield small business savings account, and shopping and laddering CDs), we were able to generate meaningful interest income in Year 3. If you're reading this and have recently thought, "Am I being dumb by keeping all my cash in a checking account," the answer is [REDACTED: DEFECTOR'S ANNUAL REPORT IS NOT FINANCIAL ADVICE, JASPER DID PASS THE SERIES 65 BUT THAT'S PROBABLY EXPIRED BY NOW].
Employee-owner compensation & benefits details
Aggregate employee compensation and benefits increased in Year 3. We added two new roles, Supervising Producer and Associate Staff Writer, to the masthead, and we hired a temporary editor for roughly half the year while two editors were out on overlapping family leaves through the winter and spring. 
We continue to follow a compensation framework whereby everyone receives a regular "base salary" (i.e., what everyone receives in their twice-monthly paychecks) and then await further "target salary" payouts and company-level profit share bonuses every quarter. Those quarterly payouts are based on actual company financial performance during the prior three months and are distributed at the discretion of the Defector Manager Board. You can find the full description and rationale for this compensation schema in our Year 1 Annual Report. Staff writer target salaries have been bumped up to narrow the gap between various positions on the masthead. This past year, roughly 30% of total employee compensation was distributed as part of the four quarterly payouts. (For those analyzing our financial performance and looking to calculate our operating margin: There is an argument to be made that this 30% portion of employee compensation, which is non-guaranteed, might be thought of as somewhat akin to dividends in a more conventional business. As with many elements of our business, the fact that every staffer is both owner and employee makes otherwise straightforward company processes more complicated to categorize. We've chosen to reduce complexity by disbursing all compensation and payouts as W-2 income.)
We once again had to spend more money on health insurance, though our latest plan increases were far more palatable than in prior years. In Spring 2022, we switched our Professional Employer Organization, which processes our payroll and allows us to purchase group health insurance, from Trinet to Insperity because we were concerned about the pace of insurance plan premium increases under Trinet. Thankfully, our first plan renewals under Insperity in Spring 2023 garnered relieved reactions of "Whew, this only mildly outpaces the rate of inflation" rather than previous years' "Can you confirm they did not accidentally add an extra zero here?" For the first time in our company's history, acquiring or renewing our health insurance was not a terrifying experience, but it remains our general stance that navigating the U.S. health insurance system sucks shit.
Tech details
In January 2023, Defector migrated to the Lede by Alley v2 platform, with a redesigned homepage, streamlined content management system, and native subscription management and paywalling platform. There have certainly been bumps along the way—the widespread logout issues have largely been resolved, though Lede is continuing to run down why a small number of subscribers continue to have issues with staying logged in—but the integrated system offers an overall smoother reader experience. Crucially, it also offers meaningfully better economics for Defector and the other publications on the platform, as we no longer have to pay several percentage points of gross revenue to a third-party subscription management platform. The cost structure for Lede publishers is now in-line or better than those publishing on Substack.
As part of the platform migration, we now send emails via Sendgrid rather than Mailchimp, which represents a modest cost savings. Otherwise, nearly all of our software providers have increased their pricing over the past year, intend to increase their pricing in the next year, or both. As one example, Sprout Social, our social media management platform, will have quadrupled their monthly subscription fee over 15 months, from $249/month in September 2022 to $997/month in December 2023.
We continue to have zero product or engineering talent on staff at Defector and rely on Lede as our primary technology partner.
Additional operating expense details
With the business broadly stable over the last year, our total spending on professional services continues to tick down. Our stable of professional service partners remains the same, with Alan Lungen as outside general counsel, Rachel Strom and Jeremy Chase of Davis Wright Tremaine conducting pre-publication reviews, Black Ink Services handling bookkeeping and controller services, Romano & Associates managing accounting, and Your Other Half serving as outside HR partners. Our Culture Committee now undergoes a multi-week restorative justice training annually, with Janine Carroll of Restorative Now as our trainer. 
As we've generated more Normal Gossip revenue through podcast ads and live touring, the commissions paid out to our UTA agents have risen commensurately. The premiums for our various company liability insurance policies increased in line with inflation this past year. The monthly rent on our small office in downtown Brooklyn has not increased since we first started renting in 2021 and we can still get out of our lease with 30 days' notice. The rising costs of goods sold on our print-on-demand merchandise have outpaced inflation, and we are going to consider more preprinted limited runs to reduce per-item cost, though we'll also have to be careful not to put too much inventory on the balance sheet.
We once again meaningfully increased our reporting and freelance spend this past year. In 2023, we've sent writers to the NFL playoffs, March Madness, Wimbledon, the U.S. Gymnastics Championships, AEW Blood & Guts, LPGA Tour's U.S. Women's Open, the Targa Newfoundland road rally, the LIV Golf Team Championship, and the Upper East Side.
We commissioned freelance pieces from 75 writers and worked with a dozen freelance artists, designers, producers, and crossword constructors. Below are some particularly excellent freelance blogs that generated an outsized number of pageviews or new registrations:
We were sad to hear of the deaths of both Lori Teresa Yearwood and Alan Hanson in recent months. We are very grateful to have had the chance to work with them and are so sorry to their families and loved ones.
We did even less paid advertising in Year 3 than we did in Year 2. The $1,500 in that line item represents expenditures related to getting readers to fill out our survey—we had a random drawing of ten $100 gift cards for survey respondents, and we paid newsletter operators with "Defector-adjacent" audiences to plug our survey in their newsletters. (As Max Read, proprietor of Read Max, wrote, "My audience is bored programmers with disposable income and [Defector's] is bored lawyers with disposable income.") 
We are still open to experimenting with paid advertising in the future, when our operations team has the bandwidth to really understand the efficiency of our spend. We are, uh, not interested in spending money with Twitter at this point, and unless the policies have changed (again) we are actually not allowed to. Per an email from Twitter on April 21, we would have to purchase a Verified Organization checkmark at $1,000/month in order to "enjoy access to advertising without interruption."
We were able to have two company-wide retreats in the past year, with 90% attendance at each. In last year's Annual Report, we documented a Year 3 goal of having most people on staff meet Ray Ratto in person. We're thrilled to have accomplished this goal, as Ray traveled to New York for "intern week" in June 2023 and to our fall retreat in October.
About our community of subscribers 
Two new data sources have given us further insight into who our readers are, how they interact with the site, and what they want from a Defector subscription:
First, we conducted a 70-question reader survey in Summer 2023. We received ~18k complete responses from a sample of existing subscribers, interested non-subscribers, and people who only know about Defector through Normal Gossip. These responses have already informed both: (1) our coverage plans (subscribers and non-subscribers alike want to see more Politics and Arts and Culture); and (2) our prioritization of non-blog efforts (respondents were most-interested in crosswords, dark mode browsing, and new podcasts) for the coming year. The survey data has also caused us to update some important priors–e.g. whereas our initial survey suggested that at least 700 lawyers lurked in our comment sections, this year's responses suggest that the true count is at least twice as high. (We again found that more than 10% of Defector subscribers self-report being a lawyer, and roughly twice as many people responded to this year's survey.) In total, these responses are a rich text which will inform our approaches to podcasts, video, comment moderation, social media, newsletters, and merch. (Also, if anybody has suggestions on how we might efficiently analyze several hundred thousand distinct responses to open-ended survey questions, we're all ears.)
Second, in late September, our partners at Alley completed the engineering work needed to make our first-party engagement data queryable. This access enables us to understand the who, what, and when of Defector readership. For example, we can tell that one commenter who will remain nameless (it would be a HIPAA violation to unmask them) had more than 450 distinct event sessions with an "article read" event during the first four weeks of October. We can also use this data to calculate post-centric metrics like the number of distinct subscribers who read and the number of email signups earned by each blog on the site. To be clear, writers will not have "subscription goals" and metrics will not determine what we cover. However, we can and will use the engagement data to get a sense of what makes the site tick.
Using Engagement Data to Inform Strategy
Blogs generate revenue for Defector by: (1) keeping subscribers engaged and, in turn, making them more likely to renew; and (2) reaching new readers who might eventually subscribe. In general, the blogs that our subscribers like best also tend to reach the widest audiences. (The Spearman correlation between the count of email registrations on a post and the count of distinct, existing subscribers who read that post remains ~0.6.) 
The engagement data has clarified that the distribution of existing subscriber engagement across posts is more egalitarian than the distribution of email registrations across posts. In the plot below, the ~1.5k blogs published between February and August 2023 are ordered from left to right based on the number of registrations generated (blue) and existing subscribers reached (orange). Note that these orderings are independent. For example, Ray Ratto's blog After 41 Years, Nonexistent CFL Team Slightly Closer To End Of Nonexistence generated the 33rd most registrations of any blog published on this interval; it's therefore the 33rd blue point in the registrations series. Conversely, Ray's blog was the 629th most-read blog by existing Defector subscribers during this time period; it's therefore the 629th dot in the orange engagement series.
The blue registrations series is classically power-law distributed: ~80% of registrations are generated by ~25% of blogs, and ~50% of registrations are generated by just ~5% of blogs. On the other hand, the orange engagement series doesn't reach ~80% until you've added up more than 60% of the blogs published on the site. This disconnect reads as evidence that our subscribers trust us: Even if a blog isn't in their wheelhouse, the fact that Defector has published it means it's worth checking out: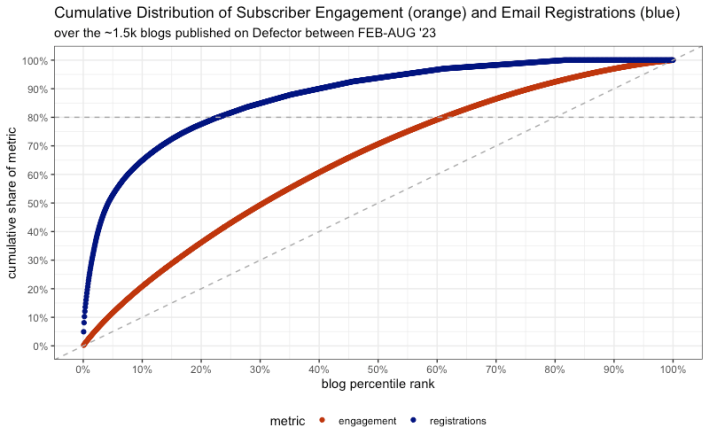 You, a savvy businessperson who has now read 10-plus pages of Annual Report, might ask: Why don't they build the whole site out of top-5%-type blogs? Surveying the top-5% blogs provides an answer: The blogs which generate the most registrations are a mix of: (a) Big Swings that take a long time to research, report, write, record, and edit; and (b) timely responses to the day's news in one of Defector's voices. Work in bucket (a) typically develops slowly–if everyone did this work all the time, we couldn't reach our normal level of blog output. And the breakout success of a blog in bucket (b) depends on exogenous factors like the nature of the news itself and how well the news matches who is available to blog when it breaks (and apparently how long the headline is).
This connects squarely with the tradeoff that our editorial staff is always working through, between making sure that the blog cup runneth over each day and making room for staffers to work on ambitious, challenging projects. We will use our engagement data to provide some additional tools to support decisions that editorial staff previously made based largely on intuition. Many of the conversations at our recent offsite were along these lines–creating structures, processes, and visibility to ensure that the site's daily output is sufficient to, in turn, free staffers up to take their big swings.
Outlook for Year 4
We expect Year 4 of Defector to be reasonably smooth sailing on the revenue side. Our subscriber churn and tech platform have stabilized; Normal Gossip is operating at the height of its powers; and we're entering a presidential election year, during which people tend to be more willing to pay for news and commentary.
All that said, we are highly conscious that the rosiness of our current financial situation will not extend indefinitely, or even more than another year or so. Our contract for producing new episodes of Normal Gossip only runs through H1 2025. The macroeconomic situation may take a more definitive turn for the worse, leading to spikes in cancellations, and the news hangover from the 2024 election could be even more severe than the one after the 2020 election.
Therefore, our overarching strategy in Year 4 is to invest in growth, carefully. That largely will look like incremental improvements to the website subscription product, for both attracting prospective new subscribers and retaining existing subscribers. Those investments have been articulated earlier in this Annual Report and elsewhere, and they include launching a regular crossword puzzle, enhancing our on-site reporting, and expanding our monthly freelance budget, including committing to regular columns like one on running by Dennis Young and others TBA. Lede is also continuously improving the technical platform, with Dark Mode reading coming in the next few months.
One simplified, stylized framework for thinking about growing subscription revenue is to think of a business's strategy as going in one of two ways: either segment your audience and offer specific subscription types to meet specific segment needs, or broadly enhance the primary subscription and hope different audience segments see enough value in parts of the overall package to pay. (That's maybe a particularly wordy explanation for "unbundling" vs. "bundling" strategies.)
Defector's approach so far has been… it depends, on both how far afield the specific segment is from our general audience, and how heavy the operational lift is to provide for a specific subscription. For Normal Gossip, we launched separate subscription products in May 2022 because we believed the listening audience was fundamentally different from our existing Defector readership. That has proven to be largely true, with relatively few Friend and Friend-of-a-Friend subscribers regularly reading Defector.com, instead choosing to engage with Normal Gossip via the exclusive episodes feed and the Instagram page. But we did add the Normal Gossip-specific benefits to our general Reader and Pal subscription products, assuming that the benefits would be seen as additive to the existing packages and potentially improve retention on the margins. A challenge in the coming year will be to help Normal Gossip subscribers begin building the habit of regularly reading the on-site Defector writing, so that NG subscribers will have more familiarity, and hopefully see more value, with the broader Defector brand and products.
Our investments in Year 4 will be geared towards enhancing the primary subscription products rather than any new products with their own packages of benefits. You can see the distinction most clearly in our rollout of crossword puzzles. Our Growth Committee discussed launching a new "Defector Games" subscription product at a few dollars a month, that would include access to the crosswords and some set of TBD benefits. But figuring out and administering those other benefits would create additional technical work, promoting and analyzing the new subscription product would create additional operational work, and the hypothesis that there is some sizable population of "people already familiar with Defector's writing who would finally be convinced to give us $8/month because they want the sports-themed crosswords" seems plausible enough that we're simply including crossword access in the existing subscription products. We reserve the right to change our minds and break out a new "Defector Games" subscription, but for now we are going down the bundled path.
We use Amuse Labs as our puzzles software platform. Many thanks to Ben Tausig at AVCX for all his guidance as we first began considering crosswords and as we continue to develop Defector's ongoing crossword program, and to Hoang-Kim Vu for partnering with Maitreyi in selecting and editing puzzles. Their support, alongside other early signs of enthusiasm from the community of cruciverbalists, encouraged us to commit to publishing regular puzzles. 
We expect to make additional forays into podcasting in Year 4. More news on that as we're ready to share (i.e., once we get out of Normal Gossip production season and the team can lie down for a minute).
We also expect to expend meaningful effort this coming year on strengthening our internal processes, with a focus on adding more structure to day-to-day editorial production and making the company culture more communicative and transparent across the team. Maybe that seems vague; really, it's probably too boring to spell out further for external parties. We spent the bulk of our time together at our recent October company retreat brainstorming paths forward on these types of topics, and if we end up implementing anything particularly innovative, we'll write about it in next year's Annual Report.
Three years in, we've shown that we can satisfy the base conditions within the hierarchy of professional needs: The company is reasonably stable, and we've created secure jobs with good salaries for ourselves. Those conditions are hard to come by in the media industry, we're proud to have achieved them, and we absolutely don't take them for granted. Being in a position to focus on consistently delivering for ourselves the higher-order needs—producing interesting editorial work of the highest quality; supporting one another as co-workers, co-owners, and friends; compelling ourselves and one another to grow; extending what influence we might have in the industry; in short, feeling sustained professional fulfillment—is a privilege and a challenge that we do not take lightly, and one we will continue to approach with great care in the coming years.
Your input
As we embark on our fourth year, it is probably now disingenuous to continue characterizing ourselves as Big Dumb Idiots Who Don't Know What They're Doing, but we continue to welcome input from subscribers and well-wishers, especially those with relevant subject matter expertise. As in prior years, we appreciate any thoughtful constructive feedback or advice you might want to offer. Feel free to email jasper@defector.com, sean@defector.com, tom@defector.com, or your favorite Defector staffer.
Thank you for your continued support of Defector. See you tomorrow.