Tennis
The Wimbledon Experience Is Diligence, Dampness, And Cream
12:32 PM EDT on July 13, 2023
LONDON — An objective tally of my week at Wimbledon would generate some cold facts. Percentage of hours intended to watch tennis that were instead spent in the rain without an umbrella: at least 35. Number of occasions on which heavy cream was sipped out of a takeout container in public: two. Seconds I spent thinking Andy Murray had died on the world's most famous tennis court: roughly 20. That the sum of all this was total enchantment is a testament to the long reign of childhood sports fantasies, or to my low standards for comfort and dignity, or both. But I was finally here, in front of the grass I'd been staring at on screens for years.
I was at Wimbledon to embrace its timeless rituals, one of which I witnessed up close, dozens of times, whenever the sky split open. A crew of six youths crank down the tension in the net, yank the net posts out of the grass, wind up and stow the net, sprint to one side of the court, unstrap the restraints on a rolled-up tarp, unfurl the tarp across the surface of the entire court while grunting in unison like oarsmen, inflate the tarp into a big bouncy balloon so as to protect the sacred grass beneath, wait out the rain, deflate the tarp, roll the tarp back up, strap it up to the wall again, place the net posts back in, and crank the net back up to its correct tension. When I was really lucky, I got to see this happen multiple times over the course of a single match. 
Sitting out on Court No. 3 one day, I watched a colossal cloud approach from the southeast. It was a malevolent, mauve destroyer that consumed every beam of light and doomed the first-round matchup between Frances Tiafoe and Yibing Wu. Interrupted once, they'd been playing for just 13 minutes before the rain returned. A reasonable course of action, like the one taken by the IMG agent sitting next to me, would be to get up, say, "I can't believe anyone lives in this fucking country," and scurry off to cover. I sat there and accepted the rain, like a rube, like someone who was just happy to be there.
---
Whenever you land somewhere new, there's an opportunity to lean into the delirium of travel. The morning of my flight, I was scrambling to take out the trash and water my plants; later that same day, I was taking a lap around a chilly public pond that contained both a magnificent heron and Andrew Garfield. Within hours I'd already surpassed my one previous visit to the United Kingdom, marked by two chief memories: a vomiting spell all over my favorite fleece at a historically significant castle, and a baby-consumerist panic attack after entering the largest toy store I'd ever seen and realizing I wanted nothing in it. I loved how green London was and accepted all the gray above that made it possible. My friend and host Dan took me on a walk, and, because he loves sports as much as he loves tragicomic social spectacles, prepared me for the class cosplay I was about to see: regular people dressing up posh and picnicking with strawberries, burnishing the traditions of an elite they would ordinarily denounce except on that day. (He contrasted this with football, which runs in the opposite direction: middle-class office dwellers play-acting as working-class toughs.) He teases me for falling under the spell of the enemy. My bad if Roger Federer's inside-out forehand turned me into a monarchist.
In our walks I liked how centuries-old buildings were folded into ordinary life, and most of all I was charmed by the gardens: softball-fat roses drooping off the stems, vines sprawling aimlessly along trellises, a general tamed-but-wild approach. In a way, that was also the sell of Wimbledon: to take a living thing like grass and regiment it into a standardized field of play. Compact the soil, cultivate a carefully selected species under grow lights, and ensure that every single blade was regulated within a millimeter of its life. Tennis in an English garden was the refrain circling in my head, courtesy of an IBM commercial that aired throughout the tournament. Walking through London's many spectacular parks on a weekday, I saw about as many gardeners in uniform tending to the plants as civilians relaxing among the fruits of their labor.
This was, coincidentally or not, also my impression of the crowd at Wimbledon. Like the impeccably groomed ivy climbing the walls of All-England Lawn Tennis Club, which hosts the tournament, all human wildness is kept within the lines. One will not find the defiant ebullience of Paris, or the hot sloppiness of New York. Over these handsome and intimate grounds, a sense of order reigns, loosened over the course of the day by mounting fatigue and BAC. After witnessing a great point, the cheers swell and subside in a bell curve, rarely requiring the interference of an impatient umpire.
Walking the grounds, I hear these polite swells, snatches of birdsong, the faraway whooping of Jelena Ostapenko. There was none of the outer-court anarchy I have come to expect in the early rounds of a major. The spirits are inflamed by fierce competition, but you're supposed to apply some cool ointment on them in a timely fashion. Cheering too lustily might earn you some silent side-eye from neighbors, so most fans obey the norms. There is perhaps a carve-out made for the Aussies, who tend to hijack the proceedings with lots of "Oi" and twangy exhortations for their countrymen. This appears to be priced in as an acceptable cost for having started that penal colony all those centuries ago. (I liked it enough to hunt down matches in a deciding set with an Australian player.)
This order holds even in times of dysfunction. At the outset of the tournament, there's a logistical fiasco in one of its great traditions. Wimbledon is known for a fun semi-populist handout: If you queue up, you can get into the venue for a tiny fraction of the cost of advance tickets, and some camp overnight to be first in that line. But this year, the people's pipeline is clogged. My contacts in the queue, six or seven hours into their wait, tell me that Americans in an equivalent position would've stormed the barricades at that point. Instead, the frustration is sublimated into passive-aggression. One steward of the queue assures the long-suffering crowd they'll make it in eventually. When informed that the 2,000th person in line had yet to make it into the venue, the steward replied: "Oh. That's not good."
Rumor was that the queue slowdown had to do with enhanced security measures, out of fear of the Just Stop Oil protestors. Two separate people tell me they had tampons plucked from their bags and closely inspected by skeptical guards, who did not seem entirely clear on what they were. That might be something to add to the training module for 2024. In any case, the protestors got in and made their mark, sprinkling onto the grass a flurry of gold confetti and a jigsaw puzzle of Centre Court that appeared to have been purchased at the gift shop.
By the end of every day, as the sunlight dims and the last drops of Pimm's are drained from their Cups, the restraints have fallen. The lads feel freer to lad. They're a little cleverer than their New World analogues, and they have more versatility with Romance languages whenever they decide to hurl their support behind some player they've never heard of, so they earn a couple sheepish chuckles out of me. These die-hards are the last ones standing when the day winds down into dark. Only one court here has lights; everywhere else the tennis fades away with the sun, to be continued only when it rises again.
---
My first thought upon seeing the grass court is that I want to touch it. I don't want to eat it, the way some champs do, but I am open to being convinced. Mowed both ways into alternating bands of mint and emerald, with bright white lines rolled on with titanium dioxide, they are beautiful to look at even without world-class tennis on them. (And when the ball strikes those lines, the "chalk" indeed flies up, just like John McEnroe said it would.) Under the strictures of the All England Lawn Tennis and Croquet Club, the grass assumes an uncanny evenness I can only associate, in a backward way, with artificial turf. Not even the vainest McMansion dweller could attain this purity.
As much as I'd love to run all over these courts to see what that perfection feels like, there is a very robust infrastructure set up to prevent that from happening. On the bigger courts, we are checked by a level of authority beyond typical event security: a whole medley of uniforms including the police department, the fire brigade, even the Royal Air Force and British Army. This military presence is another old tradition, dating back to post-WWII iterations when service people helped steer guests around bomb wreckage. One guard, tending to Centre Court, said he was thrilled to see his application for this special assignment accepted; he gets to spend these two weeks at tennis, while the rest of his colleagues shiver at altitude while training in Kenya. It's not just suits with earpieces, but all the powers of the land that have been dispatched to prevent any dreamy doofus from touching grass.
I know from experience that these courts will never be as pristine as they are on the first day. Unlike hard court, which sits inert, or clay, which is groomed and restored between matches, the grass cannot be reset. Match by match, these lawns will be chewed away by the hard work of so many mandatorily white shoes.
The Championships are a story of degradation. Before advances in racquet and string tech, back when serve-and-volley was the way of Wimbledon, you could see a funnel of brown opening from the baseline to the net. Now all the damage is behind the baseline, where the bulk of contemporary tennis goes down; the blades of grass are first trampled to a dull brown then dry out to a nearly ash-white, before abandoning the premises altogether, leaving just dirt. A few days in the bloom of brown behind the baseline I notice two big spots where players take their serves, and another cloud behind the baseline on the ad side, where right-handed players run around their backhands. The destruction of the grass reveals, in aggregate, the tendencies of the hundreds who toil on it for glory—big data in little blades.
Unable to test the grass myself, I settle for seeing how the pros navigate it. There is quiet where there should be sound. Muffled by the vegetation, there's no sneaker squeak or thud of a ball hitting the court, just the clean blast of contact on the strings, a satisfying simplicity to the audio. While I expected the courts to play differently to anything I've ever seen, the bounces, to my untrained eye, look a lot like they would on a hard court. I don't see the ball skid across bent blades of grass, or go dead when drop-shotted into its cushy embrace. What I do notice is the tentative, padding footwork.
Because of the lack of traction, playing defense is more difficult, at least early on when the grass is still fresh. Any given lunge can be punished with an ugly tumble. So the players take smaller steps, and give up on balls they might have chased on steadier footing. Rare adepts like Novak Djokovic or Iga Swiatek might have mastered the dark and esoteric art of sliding on grass as if it were clay, but most tread gingerly—even the ball kids. Some part of me mourns the ancient days of grass I wasn't really around to witness, when it demanded an even more specialized skill set, before the club weeded out the red fescue in its blend and opted for a full ryegrass recipe. Is the contemporary grass court just a hard court with a heightened risk of banana-peel slippage? Do we want that?
Whatever the current parameters, there are still players who specifically thrive here. Watching Ons Jabeur anywhere is a deep-tissue massage for my tennis brain. For all the potential treachery of the surface, the No. 6 seed never seems caught unaware, because her singular talent is making marvels out of whatever ball comes her way. Situations that would be awkward for a colleague are just an opportunity for her to flex. I am totally relaxed by the manipulation of her racquet face, her insistence on novelty—the leaping backhand swinging volley plucked out of no man's land, the junky forehand slices skipping like stones on water. She seems to do with a tennis ball what a mildly tipsy Brit can do with the English language: bending it in ways I could not anticipate, following arbitrary whims to a colorful end. After her typically stylish first-round win over Magdalena Frech, Jabeur tells the crowd that she loves playing on grass, and always sort of wanted to be a footballer anyway.
The big servers which have traditionally ruled Wimbledon still look impressive early on, in all their variants: the unplayable cannonades of Alycia Parks, who makes returning sometimes look like an act of self-defense; the screwball antics of Alexander Bublik, who is as eager to bomb the ball as he is to slip it in underarm; the spindly power of Chris Eubanks, who is in the middle of a career-altering reversal of fortune at the ripe age of 27. Earlier this year the American broke into the top 100; last month he won his first pro-level title; at this tournament he will improbably hurtle into the quarterfinals, rattling No. 3 seed Daniil Medvedev before losing in five sets.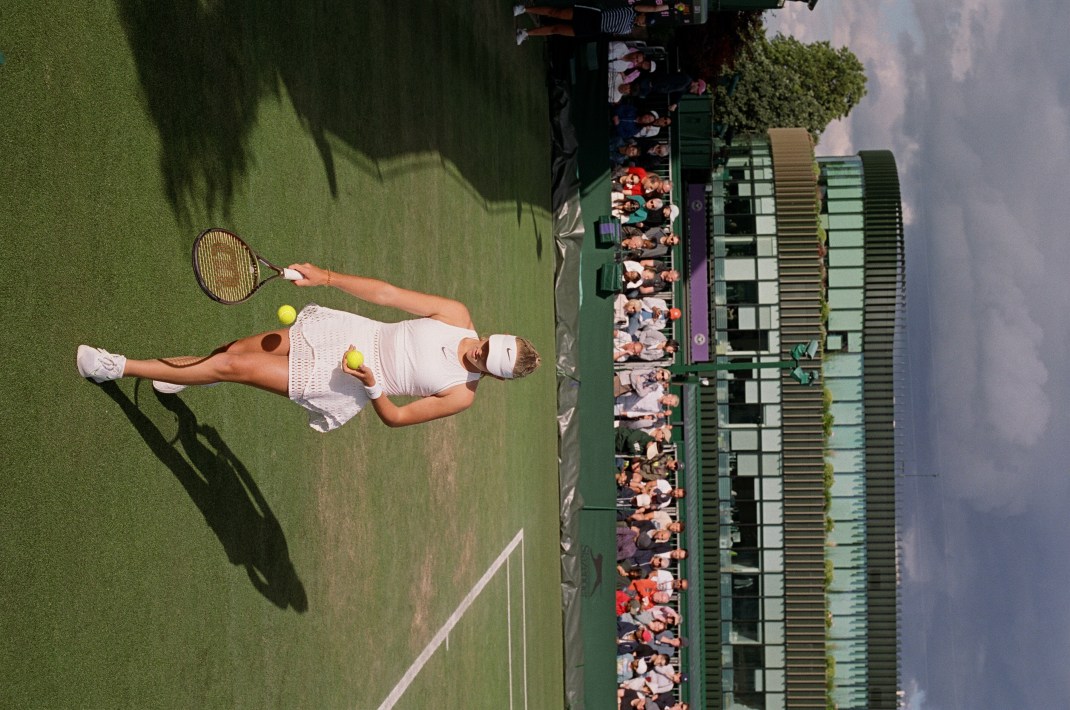 Alongside all the imposing servers, there are some unlikely thrivers. Diego Schwartzman, a former top-10 player now at risk of falling out the top 100, has always floundered on grass compared to other surfaces, owing to his 5-foot-7 stature, dinky serve, and gameplan built on scrambling baseline movement. But he assembles a clean 6-0 set at Wimbledon—somehow the third such set here of his career—wins his first match in straight sets, and even puts up a respectable first-set fight against Jannik Sinner before falling victim to his supersonic blows. There is also Mirra Andreeva, a 16-year-old scarcely removed from the juniors, who has survived three rounds of qualifying. This is her first pro-level event on the surface, though you'd never tell from her smooth, self-assured tennis. She seems to relish dragging her veteran foes into these long rallies, setting the terms of engagement with her deftly deflected backhands. Leaning into her role as the tournament's sole prodigy, she goes on to detonate two seeded players before falling out in the fourth round, amid some umpire beef. Late in her third set against Madison Keys, the racquet left Andreeva's hand and hit the ground. She argued that it had just slipped out of her hand after she slid on the grass. The umpire ruled that she threw it and, since it was her second such violation, docked her a point, which delivered Keys a match point. Andreeva was mad enough to skip the handshake with umpire afterward; tennis only allows a sullen teenager so much protest.
After the first day's smorgasbord, I got what I deserved on day two. What idiot walks onto the grounds of Wimbledon thinking to himself about how nice English rain is? I'd had a nice weekend in the countryside, unbothered by the absent sun, on a hill smiling at sheep and cows from a distance, staring into a dense magic-eye field of wildflowers, all under that telegenic flat gray light I recognized from years of tennis broadcasts. I'd blown air into some charming, stupid boulder, riddled with holes said to make it sonically resonant, that a Saxon king is supposed to have used to summon his troops in 871 AD. (We couldn't produce much sound beyond a sullen fart, and I remain skeptical that old Alfred did either.) Of course I liked how the rain felt then: a diffuse mist, like a dewy spa treatment, never conspiring to douse you outright.
But there's nothing so quaint about six straight hours of downpour. The sky here changes complexion without warning—even in steady, "good" weather, the sun's constant game of peekaboo with the clouds seems to swing on-court conditions by five degrees. I came in cocky in a T-shirt, but the locals, who knew better, had brought their layers, umbrellas, and sunglasses that can only be classified as aspirational.
I sat doused in the stands of a suspended match between Matteo Berrettini and Lorenzo Sonego, roughly a quarter full of dead-ender fans waiting for the deluge to stop. Morale spiked whenever an important-looking person popped onto the court to consult with the umpire. A few times they attempted to will good news into existence with spontaneous applause, as if this was enough to clear the clouds. The tournament organizers put them all out of their misery by canceling all matches taking place outside the two roofed courts. Because there wasn't an hour of play, there would be a refund for anyone unfortunate enough to have bought a ticket and traveled here. Since there are so many matches to be played in the early stages, the whole schedule was hurled into disorder, and first-round matches were smeared across multiple days of start-and-stop play. All that rain made me conscious of the passage of time. How many days do I get at Wimbledon this week? In my life? And one of them is spent like this? I resign myself to rationalization: It wouldn't have been a representative sample of Wimbledon without rain.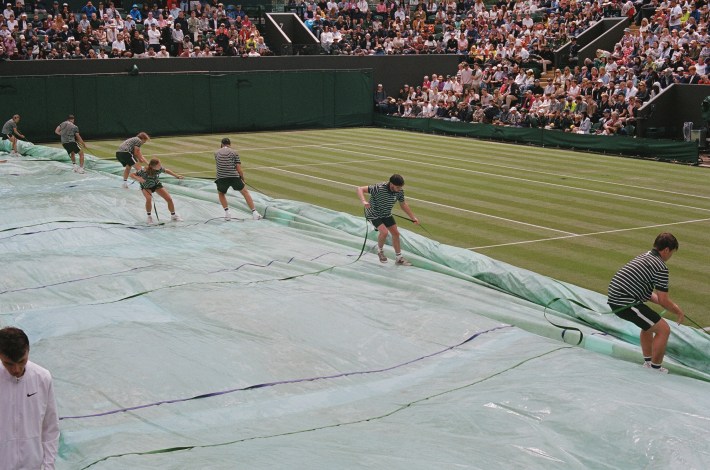 The hideous weather did free me up to leave the grounds early and pursue my secondary agenda in London: eating all its Indian food. My palate wakes up at a Sri Lankan spot in Tooting, promisingly styled in all caps on Google Maps, where two uncles across the room, deep in a lager vision quest, chatter at me about Tamil Nadu state politics and reggae music. This was an ideal soundtrack for clearing out kothu, a mound of shredded and stir-fried roti flecked with crab meat, and the hoppers, a sweeter and softer cousin to the dosa, which we use to scoop up a coarse and punchy mix of grated coconut, chili, and lime. Later I glommed onto a friend's reservation at the city's top Indian restaurant, where we dip naan into saag that had the hue not of a swamp but of grass. What a boon these subcontinental foodways are to this undersalted island. I eat what I can during the days, but my long hours of shuffling into and all around the grounds are fueled by these nocturnal feasts.
---
After so many interruptions, finally blessed with a dryish day, I commit myself to watching one match all the way through. Nearly two years after a high-rolling Leylah Fernandez played her way into the U.S. Open final as a teenager, I still can't quite decode that success. There's nothing imposing about her game or frame, just a sense of plucky insistence.
In this match she would appear to be outgunned by Caroline Garcia, the tall and athletic No. 5 seed who likes to follow her thunderbolt serves to the net and let her wingspan handle the volleys. But good luck seems to adhere to Fernandez, accumulating like a katamari over the course of the match. Five times her shot strikes the net cord, and five times it pops over the net in her favor, reducing Garcia to increasingly French gesticulations of disbelief. Fernandez, who has nearly fallen out of the top 100 this season, has revived her remarkable old habit of doubling her skill level on points of critical importance. When the match looks like it might turn, she conjures up a kind of underdog dominance. She slaps return winners, digs her knees deep into the turf to rescue low balls, and dips her lefty passing shots delicately into the back corners. Only late in the deciding set tiebreak does good fortune run dry for Fernandez, and Garcia prevails.
I also see Taylor Fritz, the top-ranked American man, flame out of the tournament after a two-set lead. Mikael Ymer, a slightly loopy Swede, appears to be seeing every tennis ball like a beach ball. I happen to be seated near Fritz's camp, which includes his tall tennis dad in a white tracksuit and Jordans, and his TikTok influencer girlfriend in tennis whites. Because players use their loved ones as mid-match therapeutic release, this lets me in on every bit of his internal monologue, as a red-lining Ymer rallies back from a two-set deficit.
"That was an awful bounce," Fritz says after an awful bounce. "Am I crazy?" he wonders after a dubious challenge of a line call. "The guy never misses," he mumbles, after Ymer ends a long rally by burying a ball deep in the bad corner, en route to burying Fritz with a double break in the deciding set. It's yet another big tournament where his run has fizzled out prematurely. The atmosphere in the box is funereal. I linger in it for a while.
---
True to its stereotype, Wimbledon has concentric circles of exclusivity and access, which reveal themselves to me over time, like layers of a white onion. Sometimes I find out by aiming a good question at a veteran, but just as often I find out because I walk into the wrong room and am told I shouldn't be there. Twice I absentmindedly dodge the crowds and walk into a strip of empty asphalt, only to be boxed out by a vigilant security guard; this strip of asphalt is only for members and guests about to enter the AELTC. Fans occasionally cluster near the front door to catch a peek of some famous person, which seems less preferable than getting a more direct look at the famous people doing their jobs on the lawns. It takes me three full days to learn the existence of the word "debenture," which I'd initially glossed over as the name of some insurance or accounting firm sponsoring the event; in fact it refers to a kind of five-year ticket that goes for heavy five-figures. Debenture holders get their own well-appointed spaces to eat, drink, and do stuff besides watch tennis.
Once I make a quick visit to the Last 8 Club, a modest hideaway only accessible to players in history who have stood among the last eight in the tournament—semifinalists in a doubles draw or quarterfinalists in a singles draw. In the words of the club's manager, this space is set aside to "offer a sense of belonging to players who have given the public great entertainment on the courts but return later to find themselves a nobody," which makes me think that everyone in there needed a hug. I can only infer that even more wonderful rooms are bestowed upon even more wonderful champions; perhaps stowed away on these noble grounds is a fully gilded restroom that can only be entered by Roger Federer. On the other side of the spectrum is the large slope at the north of the grounds, once nicknamed Henman Hill and now better known as Murray Mound, which belongs to everyone who decides to laze around and picnic on it. From here, fans who haven't paid up to access the stadium courts can still watch on towering TV screens.
I try to pay attention to the ways Wimbledon, which loves to marinate in its past, has or has not succumbed to the commercial incentives of the present. A friend's mom recently shared with me childhood memories of getting out of school in Putney, walking over to the club, grabbing still-valid tickets from departing fans, and enjoying the rest of the afternoon for free. A recent return to the tournament left her feeling the event had gotten bigger and tackier and was losing its pared-down garden feel, even if the courts themselves were as radiant as ever. Relative to the other majors I've attended, Wimbledon is still contained and understated, but in the broader arc of its history, it is slowly starting to look like any other sporting event with a lot of money in it.
The crowd is covered with various lanyards, which visually signal who is allowed to walk where. Champagne-colored lanyards indicate hospitality guests, and my purple lanyard marks me as a member of the press. Within the media there are different designations; I am a "rover," the lowest rung, needing an additional wristband to secure my seats on the show courts. At times the experience feels like being one of the last guests invited to a party and sensing that the hosts are worried I'll make a scene. But I'm just grateful to have made it here. After all, this was the reply when I applied for my credential in June:
As you may be aware, this event is regularly oversubscribed and we receive a large number of requests for media accreditation, particularly in the case of websites. Whilst Defector would not normally be an outlet that we would consider accrediting, given the award that you have received, and in consultation with ITWA, we would be happy to accredit you for Week 1 of The Championships to give you the opportunity to experience covering the event onsite.
"Whilst Defector"! Sometimes this place does exactly what you expect it to. Later in the tournament, an umpire will deliver a maximally Wimbledon admonition to the crowd: "Ladies and gentlemen, please: If you are opening a bottle of Champagne, don't do it as the players are about to serve."
There are other polite gestures of inclusion. In the media cafeteria I learn that the traditional strawberries and cream, said to be eaten here since 1877, have been cost-controlled at £2.50. The box, which has the same shape used for takeout lo mein but doubly reinforced, hails its contents as "the smallest Wimbledon hero." I'll be the judge of that. It also assures me that they've been "taste-tested," which I don't dwell on too long. I open the box and tip the jug, but there's not much left, and the sad volley of cream settles into the divots on the strawberries, forming clumps and dots that suggest an overzealous colony of mold. As a visual tableau this is not exactly doing it for me, so I do the only thing I can: find more cream. The jug has since been refilled; I tip it into the box again until the little heroes are bobbing in a wan swimming pool. 
At first bite, the strawberry is a burst of light—like they've concentrated the sum flavor of a whole box of demonic bulbous Driscoll's into a thimble-sized package. These berries are red all the way through to their honest core, with none of that packing-peanut white sponge-flesh. (A lot of eating abroad is learning what it's like to have respectable produce.) The cream is a welcome buffer against the acidity, coating the tongue and lips, reminiscent of the last dregs of an ice cream cone eaten somewhere where you don't have to wear a jacket in July. Pink wisps of berry juice weave into the cream.
Suddenly there aren't so many fruits left, and I have swapped background and foreground—it's now cream with the suggestion of strawberry. To my horror, I detect in myself no signs of stopping my meal. You don't get so many opportunities these days to eat cream. Am I about to tip a takeout container of cream and trace berry juice into my mouth? Who can say? As well-designed as this vessel is, allowing no leaks from the bottom, there is no spout mechanism to deliver the contents directly into one's gullet, a devastating oversight. Furtively I spoon it into my mouth. Eventually shame falls away and I slug it straight from the container. I feel like I've applied lip balm along my entire esophagus. This is it. This is Wimbledon. I would be OK walking directly to the airport now. I wipe my mouth, briefly I wonder why I haven't made any friends at the cafeteria so far, and hit the courts again.
---
The final element on my Wimbledon checklist is to watch Andy Murray play on Centre Court. Conveniently, his second-round match has been slated for the last slot of my last day on the grounds. Murray, now 36 and outfitted with a resurfaced hip, has been in a multi-year almost-comeback, gifting the viewing public with late-night psychodramas and some glorious wins, but still ducking out of these draws earlier than before. But he looks genuinely sharp in London, without even grading on a curve. His facility in dismantling his first-round opponent Ryan Peniston has raised some eyebrows, and his draw is soft enough that, with a decent dose of delusion and an impromptu career change for Novak Djokovic, you could talk yourself into Murray winning here for a third time.
For any of that to materialize, Sir Andy will have to pass his first real test. His opponent is No. 5 seed Stefanos Tsitsipas, who is relatively unsure of himself on grass and has seen shaky results lately, perhaps because he is tottering in a romantic swoon. He recently started dating fellow professional Paula Badosa, who hinted in a Wimbledon press conference that she had a sex dream about Tsitsipas, which turned my stomach more than the strawberries-and-cream episode ever could.
From the first point, Murray is matching Tsitsipas's power. He looks like a contender, but that isn't to say he makes it look easy. It's never been his approach anyway; the exertion is always on the surface. Whenever he must change direction or sprint to retrieve a drop shot, he bleats like a ruminant I'd admired in the countryside. Whenever he finishes a point with aplomb, he shakes his racquet at the crowd, and scrunches his face into a smaller and smaller surface area. The harder he scrunches it, the harder they cheer. If he could someday compress all his features into a single square inch, they might bust the roof off Centre Court. Tsitsipas has been mauling his forehands with total malice, but Murray appears up to the task of defending and landing his usual counterpunches. The quality of this match is unmistakable, well above expectations. They split the first two sets.
Closing on in the third set, Murray is serving, up 5-4, 40-15, ready to fling Centre Court into ecstasy, when Tsitsipas angles a violent forehand to the ad corner. Murray begins to move to it—but his leg buckles. He emits a shriek well outside of his usual repertoire of shrieks and settles into the fetal position. All the thrill the crowd felt has been yanked inside-out. The umpire and Tsitsipas walk over to check on his welfare. After the initial shock, I notice that he's clutching at his left hip, not the resurfaced right one, and feel some relief, which expands as Murray gets back to his feet, grabs his racquet, and readies himself to play the next point. He serves down the T, Tsitsipas's return floats long, and Murray leads by a set. He is met with noise as loud as any I've heard in this country. I gear myself up for a long evening of tennis, checking the number of pages in my notebook, when suddenly an official is on the grass and the players are packing their bags. Of course—I've forgotten where I am. This is not Queens or Melbourne but southwest London, where the well-heeled residents don't want to deal with the late-night clamor of the crowd or, I'm told, the din of the climate-conditioning tech that serves Centre Court. The 11 p.m. curfew is unmovable tonight. After some hearty booing, the crowd begins to mill its way out.
"Sorted" has infiltrated my vocabulary this week. What a handy word, in line with the national disposition. Everything is sorted, including the enormous horde now exiting the venue through a few narrow gates. Somehow everyone enjoys an inner tube of personal space. This orderly horde pauses whenever it is instructed to pause. Jostling is nowhere to be found. The New York resident in me is struggling to comprehend what's happening, whether everyone has fallen under mass hypnosis, why I'm not taking an elbow to the ribs or an armpit to the face as we are funneled into the bottleneck. Dutifully I shorten my stride length to that of a blade of Wimbledon grass. As I accept how long this will take—a solid half-hour to the tube—I am relieved to get a call from my friend Dan, who I blew off to watch Murray.
I'm blabbering about how precious it is to see something long-awaited with fresh eyes, how it'll never be this way again. Coming off a liquid dinner, Dan is in peak form, red-lining like Mikael Ymer the other day. While I can't do his eloquence justice here, he promises me that whatever physical genius I have witnessed, however sacred the grounds on which they occurred, whatever communal bliss I feel with my fellow tennis fan—all of this will be undone by the next hour-plus I'm about to spend navigating late-night transit in London. His final challenge, which he thinks could land me in a cell, is to strike up a conversation with an unsuspecting Brit. I do not accept. On my way home, a black cat approaches me with unnerving confidence. I dodge it and head home to pack.
The day I fly out is the day that southwest London has chosen to expel its clouds completely. No omens of rain delay loom. Even the commentators are talking about how splendid the weather is, twisting the knife as I munch on my baggies of pretzels, which were not served with cream. Fortunately the plane home has live TV, because it's an overstuffed order of play, and a little stimulation will cut through the jet lag. Murray and Tsitsipas resume their battle. Wimbledon is back in the format I have always known it—on the staticky TV at my grandparents' home in India, streamed on my iPhone while walking down Sixth Avenue, suspended above the Atlantic Ocean—in pixels. When the action gets tight and I lean in close, my whole field of vision goes green.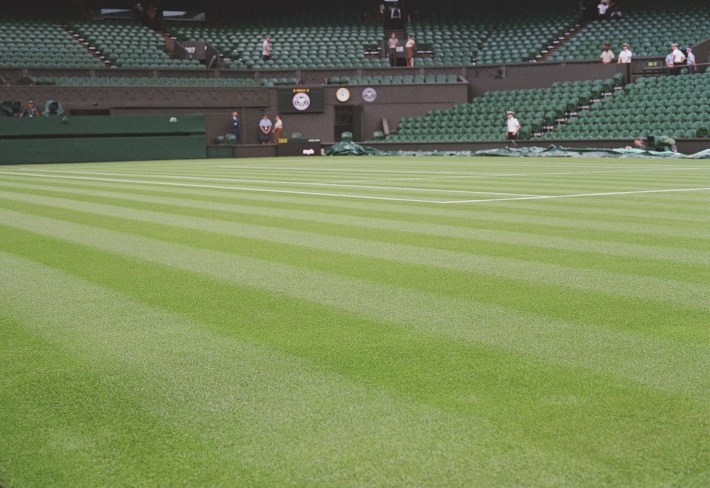 Stay in touch
Sign up for our free newsletter