MLB
Corbin Carroll's Small Ball Came Up Big
12:05 PM EDT on October 25, 2023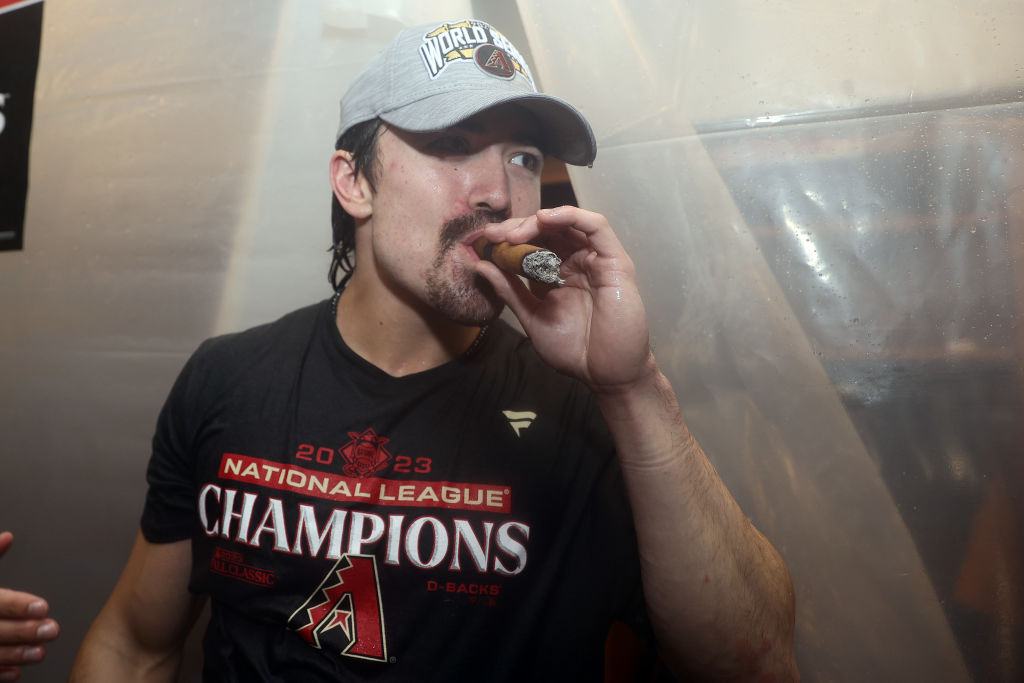 There aren't a ton of things that make sense about the 84-78 Arizona Diamondbacks being in the World Series, but Corbin Carroll is at the top of that short list. On a team that's been inching its way back into the spotlight after an absolute rock bottom of a 2021 campaign, Carroll is the easily identifiable breakout star. A 23-year-old rookie out of Seattle, his entrance into the league was perfectly timed with MLB's mandate for more stolen bases, and in Carroll's first full season, he displayed a combination of speed and power that signals the arrival of a future perennial MVP threat. Unprecedented for a rookie was his final tally of 25 home runs and 54 stolen bases (against five times caught stealing), but Carroll also led the NL with a thrilling 10 triples and finished tops on his team in both OBP and slugging. He was consistently the kind of player whose effort you could wrap your arms around, who was always ready to take an extra base, and who, even when he grounded out, could make fielders sweat bullets in the 4.08 seconds it took him to get from home to first. (Only Ji Hwan Bae did it faster.)
Carroll destroyed the Brewers in the Diamondbacks' first two games of the playoffs, reaching base six times as he hit a rally-starting two-run shot in the first game and a rally-continuing double in the debilitating sixth inning of Game 2. In the D-Backs' sweep of the Dodgers he stayed hot—walking a ton, stealing bases, and setting the tone with a couple of key hits in their Game 1 blowout. But Carroll hit a rough patch when Arizona collided with the Phillies, as the opposing pitchers did a near-flawless job of keeping him off the bases and therefore almost irrelevant. Heading into Game 7, Carroll was hitting just .130 for the series, with no RBI, no stolen bases, and just one walk. Though the underdogs slithered their way to a winner-take-all affair, they had to know they were moving at less than full strength without Carroll's usual contributions.
"Listen, we don't need you to be anyone you're not," pitcher Zac Gallen told Carroll on Tuesday, per his postgame comments. "We just need you to be you."
There wasn't one single moment that gifted Carroll immortality, like Game 7s of the past have done for guys like Luis Gonzalez. But Carroll's presence, holistically, did more to help the Diamondbacks win 4-2 than any other hitter in the lineup. In a game that felt defined by the frustration of watching the Phillies' stars fail to do a damn thing as they swung and swung at the Arizona bullpen's offerings, Carroll brought an efficient competence to his appearances, heeding Gallen's advice.
In the first inning, with a truly psychotic Philadelphia crowd in his ears, Carroll chopped a Ranger Suárez sinker across the infield and forced Bryson Stott to slide to grab it at second, dashing any hopes that he could be caught at first. (The hitting may fade in and out in ways that defy explanation, but speed doesn't take days off.) He then went first-to-third on a routine single to right and scored when the Phillies failed to turn a double play. It wasn't as pretty or emphatic as the Alec Bohm dong that tied the game in the next inning, but they were both worth one run.
His next time up, in the top of the third, Carroll kept his rhythm by singling and stealing second, though he didn't make it any farther. In the fifth, with two outs and a man on second, Carroll smacked a grounder to almost the exact same spot that he did in the first, only this time it was too fast for any infielder to reel in. A run scored, Carroll easily swiped second again, and Gabriel Moreno came through with the go-ahead RBI. Throw in the sacrifice fly Carroll manufactured in the seventh, and he played a role in every single Diamondbacks run.
Ketel Marte deservedly earned NLCS MVP honors for showing up every day and continuing his astonishing 16-game playoff career without a hitless appearance. Kevin "The Gink" Ginkel has been bestowed some sort of weird cult status because he blanked the Phillies in relief all series and his name is kind of funny. But the Diamondbacks were lucky to stretch it to seven games without the usual Corbin Carroll at the plate, and they're still alive only because he allowed them to dink and dunk runs in three different innings. It wasn't flashy, it wasn't sexy, but it was indispensable nonetheless. So too will be Carroll seeking out every edge against the mashing Rangers—from the very beginning, this time.
Stay in touch
Sign up for our free newsletter