MLB
The Diamondbacks Ginked Their Way To The World Series
9:52 AM EDT on October 25, 2023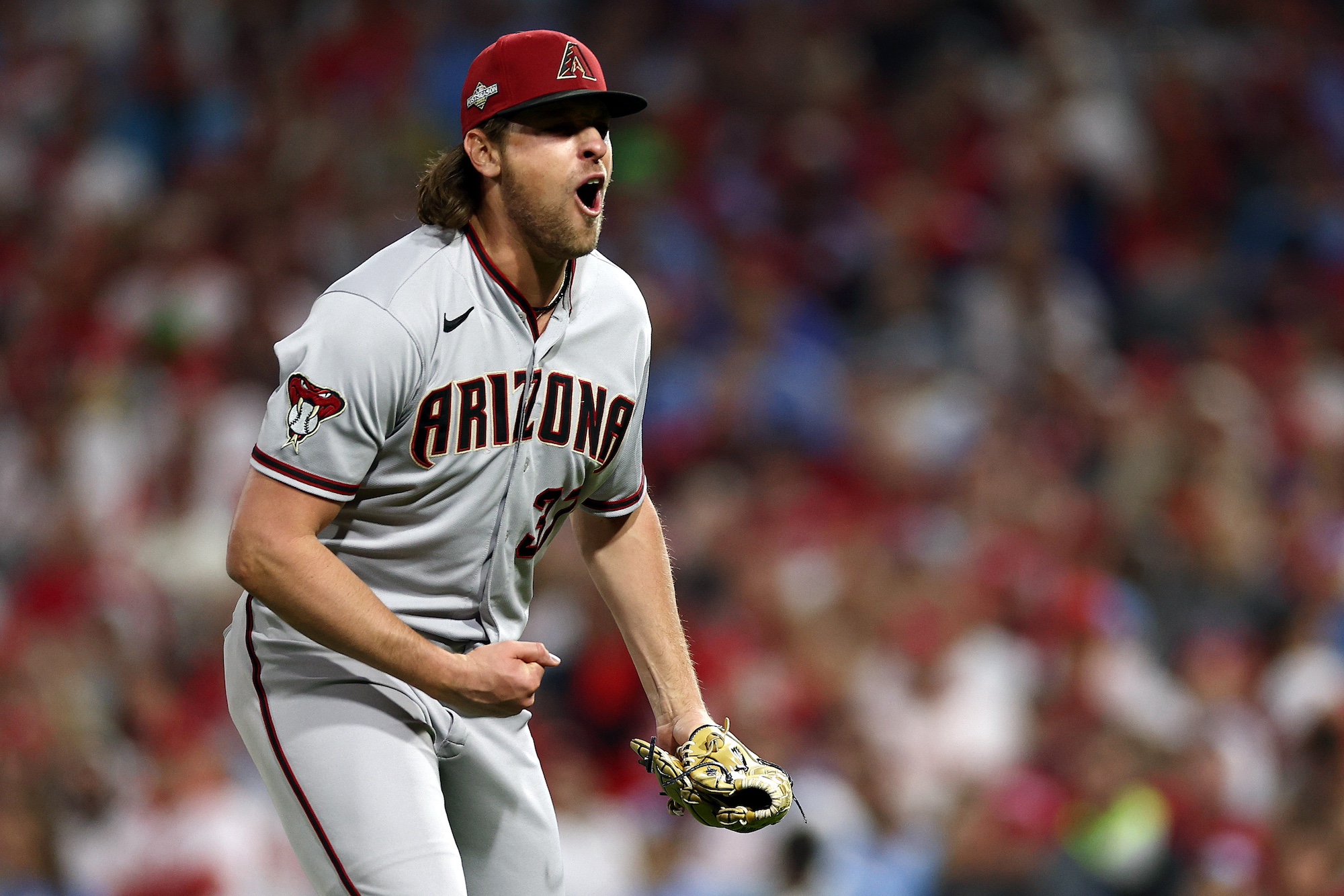 Mad Dog Russo ought to know better than to screw around and find out, but he screwed around and found out. Now he has to walk back a vow to retire "on the spot" if the Arizona Diamondbacks reached the World Series. He will, of course: In the world of professional gasbaggery, this is not an uncommon occurrence.
But misunderstand nothing. He screwed around and found out, just like the Philadelphia Phillies did: You do not pin your grand designs on mastering Kevin Ginkel.
Kevin Ginkel is the upright refrigerator with feet that choked off the Phillies' last chance to spare themselves and their city a depressing winter Tuesday night. It was the seventh inning, the Phillies were down 4-2 with pinch-hitter Cristian Pache and Kyle Schwarber having been walked by Andrew Saalfrank, and for those who believed in the essential indomitability of the C&C Boys, this was the moment when all would come good—Trea Turner, followed by Bryce Harper. The game would be won or lost here, and romance, or what passes for it in Philadelphia, was kicking some big-time ass.
But that was all pre-Ginkel, the one reliever this postseason who leveled the absurd odds the Diamondbacks faced game after game. A manager's job in the ever-expanding postseason is to find that one reliever the other teams can't beat, and most fail because there is no such creature, but somehow Torey Lovullo found Kevin Ginkel, and Kevin Ginkel ate this moment like he had all the others. He got Turner to fly out harmlessly to center fielder Alek Thomas, and then Harper did so slightly more threateningly to kill Philadelphia's last true chance at happiness.
And then in the eighth, to drive home the point both to the Phillies and to Russo, Kevin Ginkel struck out Alec Bohm, Bryson Stott and J.T. Realmuto—because he is Kevin Ginkel and they are not.
Kevin Ginkel's is an easily forgettable profile—even baseballreference.com, a repository of nicknames that almost nobody has ever used, lists him rakishly as "Kevin Andrew Ginkel." But in this, his fifth and best season, he has become the Diamondbacks' principal set-up man, the guy who tamps down the eighth inning so that trade-deadline score Paul Sewald can roll the ninth.
And so it was against the Phillies, in which Ginkel appeared in the four games the Diamondbacks won and allowed only two singles to Bohm among the 16 Phillies he faced. Games get finished in the ninth but are often decided before that, and by this fuzzier metric Kevin Ginkel was the best Diamondback pitcher—second-best if you want to make the case for Sewald. In short, the Diamondbacks, whose highest-paid player this year was Madison Bumgarner, were playing seven innings to everyone else's nine. He pitched in eight of the nine Arizona wins this postseason and none of the three losses, and threw the equivalent of a 13-strikeout complete-game shutout. Chris Russo had no idea what he tempted when he shot off his yap.
Plus, and this cannot be overstated, his name is Kevin Ginkel and Phillies fans had no idea who he was until he sat on their chests and expelled their hopes. Now he needs a nickname. Like, say, Kev.
Stay in touch
Sign up for our free newsletter