I come to you today as a devastated quasi-parent, who must deliver to concerned loved ones terrible news about his poor sick quasi-child: Color Star, the former concrete and flooring company whose primary business nowadays is writing absurd press releases wherein an outtake clip from the music video for "Money for Nothing" is described as an artificial intelligence-powered online metaverse, lies on the brink of death. After years of ambitious development and the forging of umpteen bold business partnerships and innumerable leadership changes, Color Star's once-bright future appears suddenly to be all but kaput. Not just its future as would-be Ruler Of All Online, but its future as a going concern.
This dire prognosis comes from no less authoritative a source than Color Star's own annual report, filed with the U.S. Securities and Exchange Commission on Nov. 14. The company's 2023 annual report appears to be far richer and more comprehensive than reports filed during the heady early stages of Color Star's transition from selling concrete to developing a digital metaverse, when it was being run by such cult heroes as Basil Wilson and the illusive Sir Lucas Capetian. Relatedly, Color Star appears to have come to grips with the difficulties it has traditionally had with issuing reports that are not completely insane: In a section of the report titled "Controls and Procedures," the company admits that a recent internal assessment found that those in charge of financial reporting have lacked "the requisite levels of knowledge, experience and training" to meet their responsibilities. This new report, which includes an audit by the company's accounting contractor, communicates a level of skepticism, or even despair, about Color Star's viability as a company.
At issue is Color Star's revenue, which business knowers understand can be found somewhere possibly in a company's balance sheet, or maybe its P&L Statement. It was the finding of Color Star's accountants that in fiscal 2023 the company realized zero revenue, which business knowers understand can present somewhat of a challenge for a for-profit enterprise.

I will admit that I have grown accustomed to operating under the assumption that there is some sort of hidden or obscured logic or fast-and-loose but ultimately advantageous book-cooking undergirding the generally bonkers numbers that turn up in the average Color Star SEC filing. Every so often, Color Star will distribute some large number of shares of common stock to an ostensibly real investor in exchange for what you or I (or Defector) would consider to be a large sum of cash. Indeed, as recently as Nov. 8, Color Star was distributing 1.12 million shares of common stock to something called Vast Ocean Inc.—which probably is not a pet store in suburban Illinois but may conceivably be a Taiwanese exporter of commercial fishing equipment—to raise operating capital and to fund general corporate activities.
Even though I know Color Star to be a largely imaginary enterprise that exists mostly via nonsensical press releases as a series of inexplicable transactions with bone-chillingly uncanny business partners, the fact that the company has been able to steadily raise capital by selling shares to actual by-God investors—even institutional investors, even sometimes name-brand institutional investors—has for the most part convinced me that someone over there is doing something that would be understood at least by a financial criminal to be savvy.
Unfortunately, Color Star's auditors have now disabused me of this specific naivety. It turns out it is inadvisable—and I assure you I have double-checked this with at least one person capable of arithmetic—to generate zero revenue for an entire year. It is also bad to post steep operating losses year after year, and to consistently operate with negative cash flow, and for a company to rely entirely on increasingly dire equity disbursements to raise literally all of its operating capital:
As reflected in the financial statements, the Company has a history of operating losses and negative operating cash flows and has no revenue for the year ended June 30, 2023. Accordingly, the Company has determined that these factors raise substantial doubt as to its ability to continue as a going concern for a period of one year from the issuance of this financial statement. Management intends to transform the Color World App into a fee subscription version, and fund its business by way of private placements as may be required. However, the Company has not concluded that these plans alleviate the substantial doubt related to its ability to continue as a going concern.

Color Star 2023 annual report
The company needs some dang revenue; funds will otherwise be extremely hard to come by. Take the Nov. 8 securities purchase agreement (SPA) with Vast Ocean Inc. As it has been very common over the years for Color Star to distribute shares of its stock—prior to a September 2022 40-to-1 reverse share split the company had distributed approximately 262 million shares—your eyes might gloss over when you see another SPA reported in the company's filings. But this one is worrying: In exchange for 1.12 million shares of ordinary stock, Color Star raised gross proceeds of just $280,000. How can this be? Well, it turns out something extraordinarily gruesome has happened to the price of Color Star stock, which as recently as September 2021 was trading at more than $40 per share.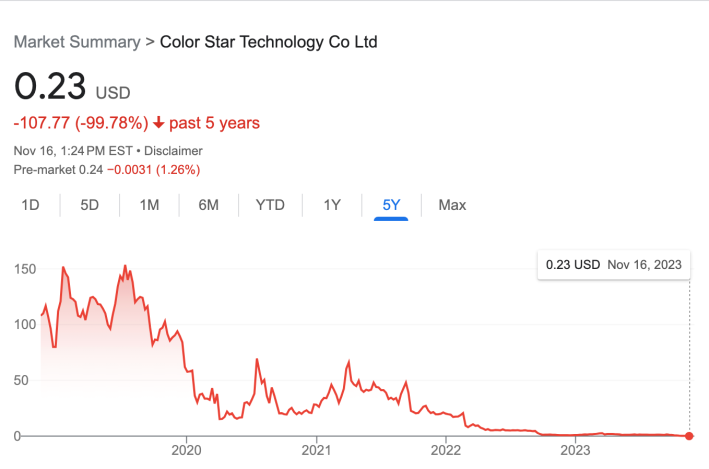 This carnage has reduced Color Star's market cap from a high of more than $90 million in early 2021 to just about $3.7 million on Nov. 17. I'm not entirely sure what that means, but a Defector-affiliated finance knower has assured me that it is a potentially WeWork-level business failure. This company has raised a ton of money over a period of years to fund its huge ambitions and today is worth less than a Bugatti sports car.
The outlook is grim, and Color Star management is running out of moves. The report warns that Color Star "may be required to curtail or cease its operations" if it cannot generate sufficient cash flow within a 12-month period to pay for future obligations. The company "is trying to alleviate the going concern risk through obtaining additional equity financings," but given that its latest maneuver of this sort raised less than the cost of one week of Pat McAfee, "there is no assurance that management will be successful in their future plans." Worse, Color Star is at risk of losing its cherished NASDAQ listing—the stock exchange sent Color Star a notice on Nov. 14 warning that its stock no longer meets the minimum bid price requirements for listing, and giving Color Star until spring to bring it back up over $1 per share—which the annual report warns would make it ever more challenging to do equity financings and would almost certainly further depress the value of its already severely beshitted stock.
How bad is the cash flow situation? Super-duper bad: The annual report notes that the company had a net loss in the year ending June 2023 of almost $38 million, and has an accumulated deficit on the balance sheet of—get this—more than $185 million. I am certainly not an accountant, but I have downloaded Color Star's Color World app multiple times and I did once stay in a Holiday Inn Express: If, as this report seems to indicate, Color Star is not simply an international money laundering operation, but is in fact in any meaningful sense a real company doing real business in the real world, I would say that this is, uhh, not great.
Assuming he has not been replaced in the time since I started writing this blog, Color Star CEO Louis Lou probably has plans for how to fix this situation. Color Star has not stopped moving and shaking out there in the world of big business. Over the summer Color Star entered into a partnership with the mostly non-fictional World Boxing Association; in August Color Star was the title sponsor for an actual real boxing event held at the Le Méridien hotel in Dubai. A company press release naturally describes this event as "perfect" and as having met a "sensational response" among boxing fans. In a delightful callback to happier times, the press release touts the "intricately designed stage lighting," echoing the time when overwhelmed and doomed Color Star Director of Communications Douglas Menelly bragged to Defector about Color Star's expertise with the "different LED screens" and "different lasers" that are used in a modern concert production.
Fresh off of this towering success, Color Star sponsored a September fan meet-and-greet in Manilla with Thai entertainment duo Putthipong Assaratanakul and Krit Amnuaydechkorn, who go professionally as Billkin and PP. This was a somewhat smaller-scale production, but as far as anyone can tell it is a second consecutive real thing that happened in the physical universe. Then, in October, Color Star signed a letter of intent to purchase something called Yi Ti Technology Ltd., a private Hong Kong-based company that according to Color Star aims "to digitally empower" the sports industry. Just over a week later, Color Star announced that it had created an artificial intelligence band, called Vibrant Music Collective, and that the band was prepared to release its debut album, titled Color World. A single from this album (it's real bad), possibly also entitled "Color World," is available—unavoidable, in fact—via an autoplay pop-up video on Color Star's incredibly busted website; the poster image on the video seems to indicate that the band has already rebranded as VirtualPhonics.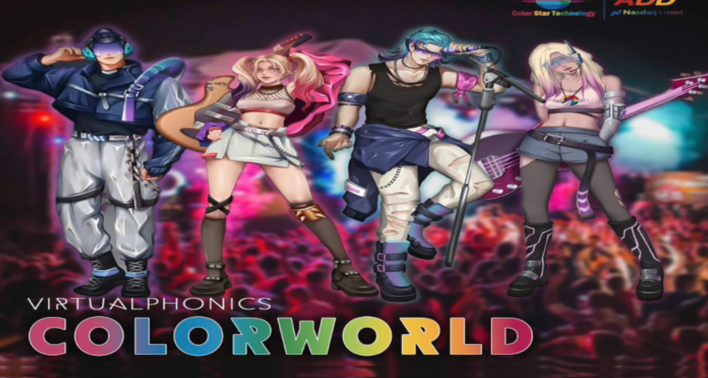 Some of what has made Color Star a fascinating enterprise to follow is the sense that it has not ever been bound by the concepts of product and quality and demand and profit that circumscribe those ventures that normal people recognize as business. Defector, for example, has to sell something. The thing that it sells has to be, to at least some minimal degree of consensus, real and transferrable; it cannot sell this thing without there being purchasers on the other end; the tender it accepts and then spends has to be the kind of thing that can be put into a bank account or at least stuffed under a mattress; the entities with which it transacts cannot be entirely fictional.
Any of the kinds of businesses you might pass while walking down a street in a town in the portion of the world that exists outside of the metaverse have to contend with this shit in order to survive. No company of this sort with anything like a rational understanding of these constraints would, for example, enter into an expensive and highly visible sponsorship deal with an NBA franchise despite having no product to sell, no method of transacting sales, no conceivable customer base, no functional website or coherent marketing footprint, and not one single competent company spokesperson. You would not purchase wall-to-wall advertising in an NBA arena if you weren't even prepared at all to receive telephone calls about the nature of your business!
It has been fun and fascinating to track a company that seems to have narrowed its purpose down to one single objective, which is to remind people via any means necessary that it has a NASDAQ listing. Apparently you can do this for a long time; apparently people who control millions of dollars will give you some of those dollars to help you continue on your quest, even as your efforts begin to feature phrases like "human cloned organs" and lead into strategic partnerships with businesspeople of questionable corporeality.
The gravy train may finally be nearing its terminus for Color Star. Its stock is worthless; its "metaverse" was obsolete the moment it was launched and is generating zero income; the company's pivot into live events may be "perfect" and "spectacular" but seems unlikely to make much of a dent in that $185 million deficit. The company's own annual report warns that it cannot continue like this. Look how they've massacred my boy: Auditors have forced Color Star to lower its gaze from the Color World and into the unforgiving real one. The company's ambitions may still be ludicrous and its executives may retain that flair for chaotic overstatement, but if even Color Star eventually has to sell something to someone in order to survive, truly the dream of the free market has died.
H/t Kellan
Stay in touch
Sign up for our free newsletter