NHL
Canadian Hockey Teams, Ranked By How Much They Deserve To Break The Cup Drought
12:15 PM EDT on June 23, 2021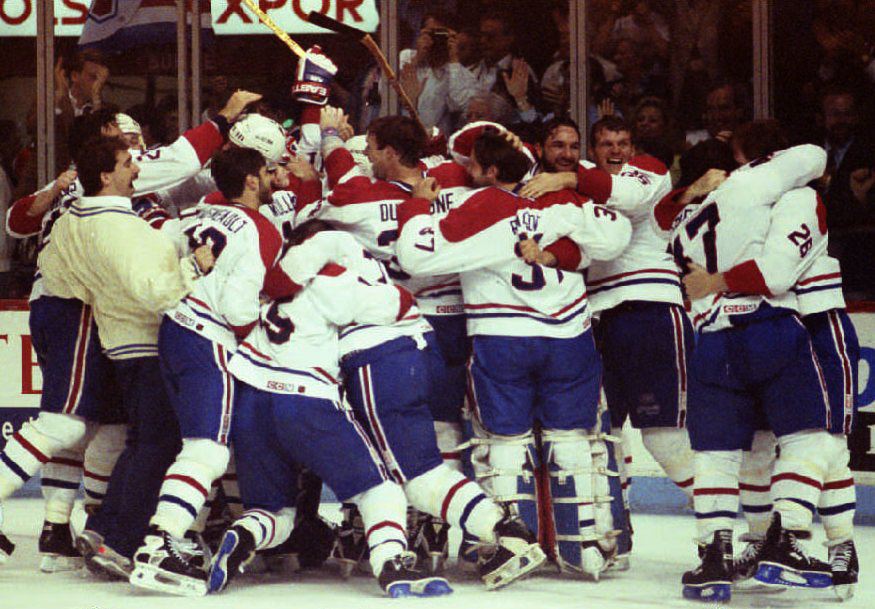 I think we all need to start preparing for the possibility that the Montreal Canadiens could hoist the Stanley Cup at the end of this season. Sure, they still have a long way to go—one more win out of two against the Golden Knights and then four out of seven as the underdog against whoever emerges from Lightning-Isles—but on Tuesday night the Habs yet again put together an expectation-defying performance, starting strong as usual and riding an early lead to an eventual 4-1 win on the road over Vegas.
There's a lot that I really like about Montreal. I've written already about how cool it is that Carey Price, despite being past his prime, is now deeper into the playoffs than he's ever been before. The Habs also have some charismatic youngsters in Jesperi Kotkaniemi (who opened the scoring in Game 5), and Nick Suzuki, and Nick Suzuki's cat, Milo. They have grizzled veterans like Shea Weber, looking for his first Cup after 16 seasons, and Eric Staal and Corey Perry, who both found glory as youngsters long ago but have been searching in vain for that high ever since. And they also do an admirable job of sharing the load with each other, as their playoff scoring leaderboard shows four guys tied for first place with five goals apiece, and then another four guys tied with three right below.
But, of all the teams that could have been Canada's hope to break the country's 28-year Stanley Cup drought, Montreal is undeniably the least satisfying option, and they'd be, I think, the least heartwarming story relative to the six other franchises who hope to win it next. It's nothing personal against this team, but ... well, a little ranked list from least deserving to most deserving should help explain things.
Montreal Canadiens: Not only is this the franchise with, by far, the most Stanley Cup wins, but they were also the last Canadian team to do it! Back in 1993! There's a whole handful of American teams that have waited longer than the Habs, plus the entirety of the Great White North. Given that their drought doesn't even qualify as all that remarkable by individual team standards (Islanders fans have waited longer!), and that their historical trophy case is overflowing already, this fanbase has suffered by far the least of anybody in Canada. They don't deserve to cut the line.
Edmonton Oilers: Edmonton certainly has the raw materials to do it, considering they have maybe the two best players in the world right now, but their "deserve it" case is seriously harmed by the way they've squandered so many gifts in this generation. While I'm sympathetic to relatively younger Oilers fans, those folks still have plenty of time to get their championship. Everyone else—the fans who lived through the '80s and saw Gretzky and the other Oiler boys win five Stanley Cups from 1984–'90—you've cheered for enough great hockey to last multiple lifetimes. Don't be greedy!
Ottawa Senators: These next two teams I could really swap with each other, but the uniquely memorable and head-scratching foibles of Sens owner Eugene Melnyk break the tie. Ottawa as a city has of course won 11 Cups, with the most recent coming in 1927, but this particular iteration of the Sens hasn't won it all since their inception in 1992–93. So they're as young as the Habs' last title, which doesn't work in their favor, and for as much affection as I've gained for the Sickos, they'd just be a really goofy team to suddenly turn it around and become the champs, after all the beloved stars they've alienated and all the shit that's been talked on hidden car cameras.
Calgary Flames: Yeah, I guess it'd be cool if the Flames won the Cup, especially if they managed to sneak in a championship before the old Saddledome becomes toast. The Flames won it just once, in '89, and came agonizingly close again in 2004, but other than that haven't really sniffed much of a deep run. It'd be totally fine if they were the ones who pulled it off!
Toronto Maple Leafs: On paper the Leafs might be the most deserving, what with their league-high 53-season stretch of existence without lifting the Cup. I, personally, would not mind it at all if the Leafs broke the curse. They've certainly suffered enough, and they currently have some of the most fun skaters in the league, and I'm a fan of the city. But, unfortunately, along with Montreal, Toronto would likely engender the least goodwill from the rest of the country if they ever managed to win a few playoff rounds. A lot of people freaking hate the Leafs and see them as a bunch of self-important underachievers who enjoy an oversized spotlight from the national media. And not only are those people totally entitled to that opinion, but it also bumps the Leafs down the rankings, because their big moment would not in any way unite the nation.
Winnipeg Jets: OK, now we're down to the real poor schmucks. The old version of the Jets won something called the Avco Cup as champions of the WHA three times in the '70s, but I won't be so harsh as to count Mr. Avco or whoever as comparable to Lord Stanley. Hockey fans in Winnipeg first got an NHL team when those Jets joined the league in 1979, only to see it leave for Arizona in 1996 after a mere two first-round series wins from back in the '80s. It's not as if those fans had to watch heartbroken as the newly christened Coyotes achieved delirious success, but they had to wait a while for the highest level of hockey to return. The Atlanta Thrashers relocated to Winnipeg in 2011, and from there the Jets have built themselves up into a very solid if never spectacular perennial playoff team—and one that's still smarting from that shock Montreal sweep a few weeks ago. But Winnipeg as a fanbase has more than put in the work. Bettman might not love it, but if they were the ones to break the drought, it'd be totally earned. And I'm not sure the rest of Canada thinks about Winnipeg the city often enough to have strong opinions against them lifting a Cup.
Vancouver Canucks: There's so much that's gone against the Canucks in their half-century of life. Since they joined as an expansion team in a cursed class alongside Buffalo in 1970, they've made it to the Final three times, and lost all three, with the '94 and 2011 defeats both coming in painful seventh games. So not a single Canucks fan can say they've ever seen their team become champs. Plus, as far as I know, Vancouver doesn't really piss anyone off like the Original Six teams do to the rest of Canada or the Albertan squads do to each other. And they had the Sedins! Who didn't love the Sedins? All of which adds up to make the Canucks the most deserving of all the Canadian teams. So maybe it's fitting that of all seven franchises, they finished last in the North this year.
Stay in touch
Sign up for our free newsletter