MLB
Atlanta's Cool Guys Forgot How To Be Cool
9:47 AM EDT on October 13, 2023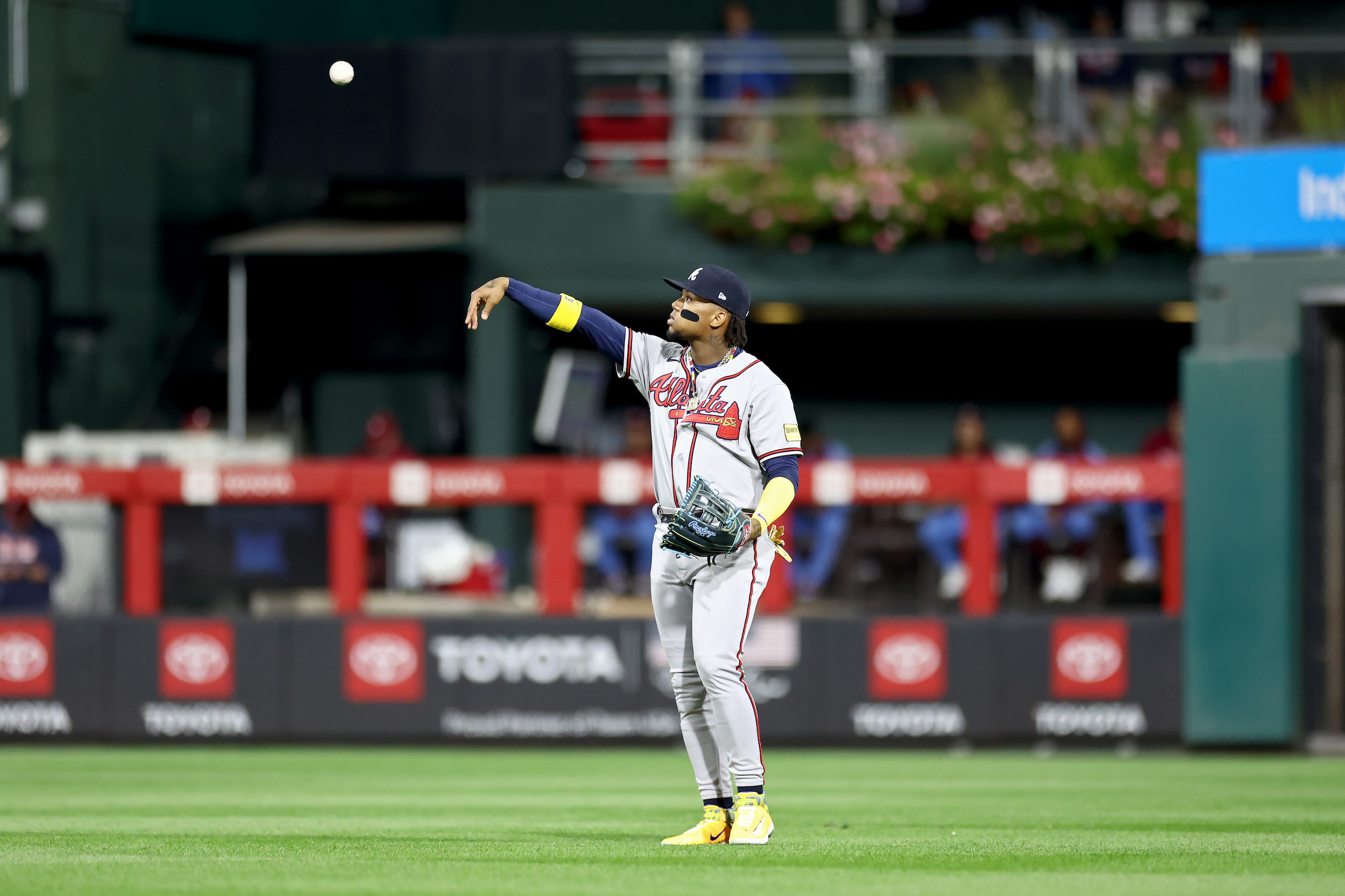 The final out of the season for the Atlanta Braves came with Ronald Acuña Jr. standing in the on-deck circle, with two men on base in a two-run game. The Braves needed someone from the bottom of their lineup to extend the inning, the game, and the series. With the tying run aboard and the top of Atlanta's feared and ballyhooed lineup tantalizingly within range, Braves manager Brian Snitker sent to the plate, in order, Kevin Pillar, Eddie Rosario, and Vaughn Grissom. Pillar popped out to shortstop and Rosario flied out to shallow left, on a combined three pitches. Grissom, playing in just his 24th game of 2023, struck out on a check swing.
Vaughn Grisson is not who the Braves ever want at the plate with their season on the line, but Snitker's hands were tied. He'd emptied out his bench to maximize Atlanta's chances during a failed seventh inning rally, pinch-running for Orlando Arcia and sending Travis d'Arnaud to the plate for Michael Harris II; when d'Arnaud subsequently walked to load the bases, Snitker sent lightly used Nicky Lopez out to run for him. That time Acuña did get to the plate, and even made good contact, socking a fly ball 379 feet to center field, where after a shaky route and an awkward and unnecessary leap it was hauled in by Phillies outfielder Johan Rojas. It was Acuña's best contact of the game and the only time all series when it looked like Atlanta's best player might've gotten ahold of something. Acuña finished these playoffs with two hits in 17 plate appearances. He stole zero bases and drove in zero runs.
Philadelphia's cool guys were incredibly, overwhelmingly cool in this series. Trea Turner had at least one hit in each game, including four hits and another home run Thursday. Bryce Harper followed his incredible Wednesday heroics with a base hit and a couple walks, lifting his on-base percentage against the Braves to an astonishing .611. Nick Castellanos socked another pair of ultra-bitchin' dingers Thursday, in the process becoming the first player in postseason history to post back-to-back multi-homer games. The second of these came on a 100-mph 1–2 fastball from Braves starter Spencer Strider; Castellanos sent the ball to hell, Philadelphia's delirious home crowd into hysterics, and Strider into an early offseason.
Atlanta's cool guys, meanwhile, were nowhere to be found. Acuña, Ozzie Albies, and Matt Olson combined to hit .208 against the Phillies, with one lousy extra-base hit between them. In four games they drove in a total of one run. The Braves organization is, on the whole, very wack: Their methods of player retention are icky; their stadium is a new high-water mark in corrupt and shameless stadium-financing side-dealing; their fans still do the chop; too many of their players are evidently whiny crybabies. But their coolest players are very cool, or are supposed to be, and Acuña might be the single coolest player not named Shohei Ohtani in all of baseball. And for the second consecutive postseason, the Braves had all their coolness magically siphoned off by the Philadelphia Phillies. The Phillies will simply take an opponent's coolness and add it to their own surplus of coolness. They will deploy your hijacked coolness against you.
"I don't know," said Snitker, when asked why his powerhouse Braves have now been creamed across consecutive playoff series by their division foes. "I mean, that's a good question. I wish I had the secret sauce for that ...Yeah, I don't know. I really don't know." Confounded Braves players pointed to Philadelphia's home-crowd-boosted postseason mojo, particularities of the postseason schedule, or something screwy or possibly missing outright from their own preparations. The common thread is mystification. What's certain is that it stinks.
"It's kind of—I don't know, I can't explain it," said Snitker, of the disappearance from action of his team's stars. "I don't know what the remedy is. It's just baseball. It happens, and it stinks when it does."
"It stinks," reflected d'Arnaud, from the loser's locker room. "We were all hoping to get to the next round, all very confident. And to come up short, it stinks right now."
"It stinks, what just happened," repeated Snitker.
"I mean, it stinks," confirmed pitcher A.J. Minter.
Baseball's playoffs can be a crapshoot. The Braves and their fans will probably feel that some injustice has been visited upon them now that a team they finished 14 games ahead of in the division has advanced in their place, but good teams aren't defined solely by their win-loss record. The Phillies spent a lot of money on their roster in order to become a playoff team, and did so again this past winter. They've invested in just as many cool guys as the Braves, and those investments not paying off fully in the regular season didn't mean they wouldn't come good in the playoffs. Slugging fewer dingers as an entire team than one single clavicle-showing Phillies outfielder is the stuff of nightmares for the Braves, but for the Phillies it's just good timing and money well spent.
Stay in touch
Sign up for our free newsletter