MLB
The Braves Are Being Babies About Bryce Harper's Mean Little Stare
10:25 AM EDT on October 12, 2023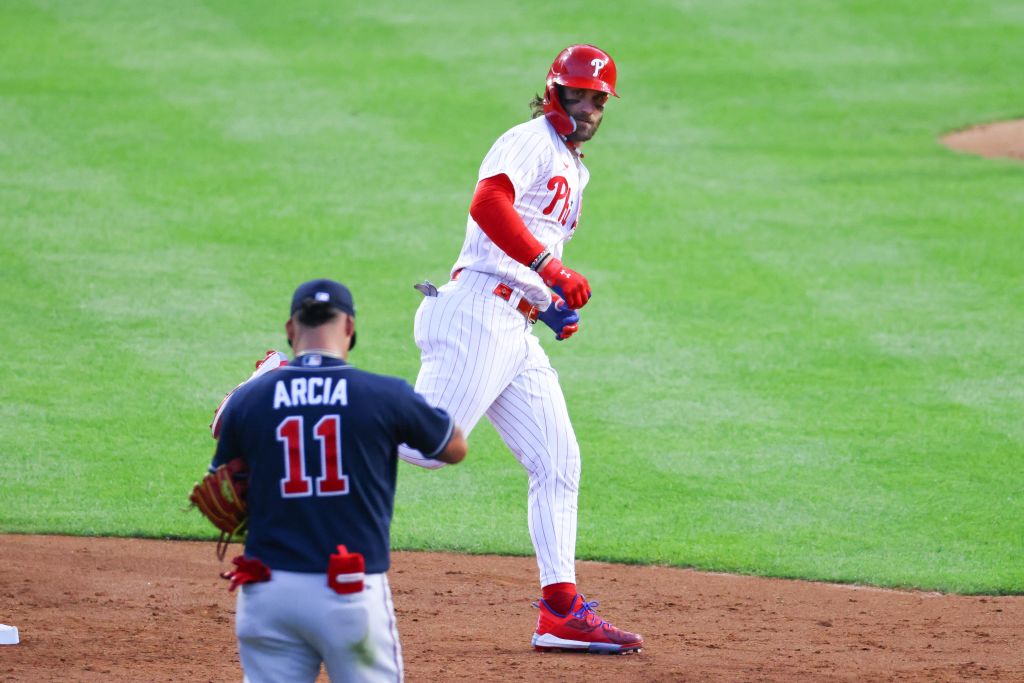 Bryce Harper had a vintage game on Wednesday night, which is to say he hit two big-ass home runs and made a show of it. The homers, a three-run shot in the third inning and a solo dong in the fifth, were instrumental in helping the Phillies secure a 10-2 win over the Braves in Game 3 of the NLDS. The show, twice staring down Atlanta shortstop Orlando Arcia as he rounded the bases, also did what it was meant to do, which was send the Braves back to their clubhouse crying.
Harper ran himself into the final out of the Phillies' Game 2 loss when he failed to tag up on a Nick Castellanos drive to right field and got doubled up trying to race back to first. You never want to be the guy who ends a playoff game by getting thrown out on the bases, but Harper's blunder wasn't really all that embarrassing. The ball looked like it was going to reach the right-field wall off Castellanos's bat, and Harper knew that if he went all out he had a chance to score and tie the game. Michael Harris just made a great catch. Sometimes you have to live with that.
One person who was not so willing to give Harper the benefit of the doubt after Game 2 was Orlando Arcia. Both the Washington Post and Fox Sports reported that a Braves player was yelling, "Atta boy, Harper!" in the locker room while his teammates were celebrating their victory. Fox identified the player as Arcia, and this piece of information quickly reached the Phillies. "There's a lot of talk of the Arcia thing," said Phillies manager Rob Thomson before the start of Game 3.
"[My teammates] told me," said Harper after Game 3 while explaining how he heard about Arcia's comments. "They looked at me and they were like, 'What are you going to do?'" What Harper did was conjure up the sassiest glare he could think of, and kept it fixed on poor Arcia's face as he rounded second both times.
This was great fun to watch, in no small part because there is a lot of physical comedy to be found in a man pompously strutting in one direction while keeping his beady glare fixed in the opposite direction. It's how I'd imagine the world's sauciest 12-year-old giving the business to his biggest classroom rival after cranking a homer at recess kickball. It's also great when stuff like this happens in the playoffs, as it sets up the potential for further rowdy behavior. What will Arcia do if he smacks an RBI double in Game 4? Turn to Bryce Harper and hit him with the suck-it chop?
Unfortunately, based on the Braves' reactions, the fun part might already be over. Arcia was cold and cagey after the game, saying through an interpreter that Harper "wasn't supposed to hear" his shit-talking. "When you're in the clubhouse, I was under the impression that you could say whatever you wanted."
A few of Arcia's teammates were on a similar wavelength, and attempted to recast their buddy getting publicly owned as the result of some sort breach of journalism ethics. "I'm not going to comment too much on gossip in the clubhouse," said a peeved Matt Olson.
"The clubhouse is a sanctuary," said Travis d'Arnaud. "I think that when things like that get out, it doesn't make people want to talk to the media at all. It affects the people who have been great to us all year, and it is what it is."
To all of this I say: Can it, fellas. It is indeed true that there is a clubhouse code that dictates that not everything a reporter sees or hears in there should be reported. But Arcia's comments didn't get out because some nosy muckraker was eavesdropping on a quiet conversation between two players, or butting into a part of the clubhouse he wasn't supposed to be in. The Athletic's Matt Gelb wrote after Game 3 that he had listened to an audio recording from inside the Braves' clubhouse after Game 2, and that Arcia could be clearly heard shouting, "Atta boy, Harper!" several times, loud enough for anyone to hear. He was talking shit loudly and publicly, which is a cool thing to do, but it is deeply uncool for anyone to try and blame the comeuppance he received on the no-good, untrustworthy media. You got stared at. It's no big deal. Take it as a challenge to do something in Game 4.
Stay in touch
Sign up for our free newsletter