NBA
A Timely Preview Of The 2023 NBA Playoffs, Almost Certainly Including All Of The Participants
4:58 PM EDT on April 14, 2023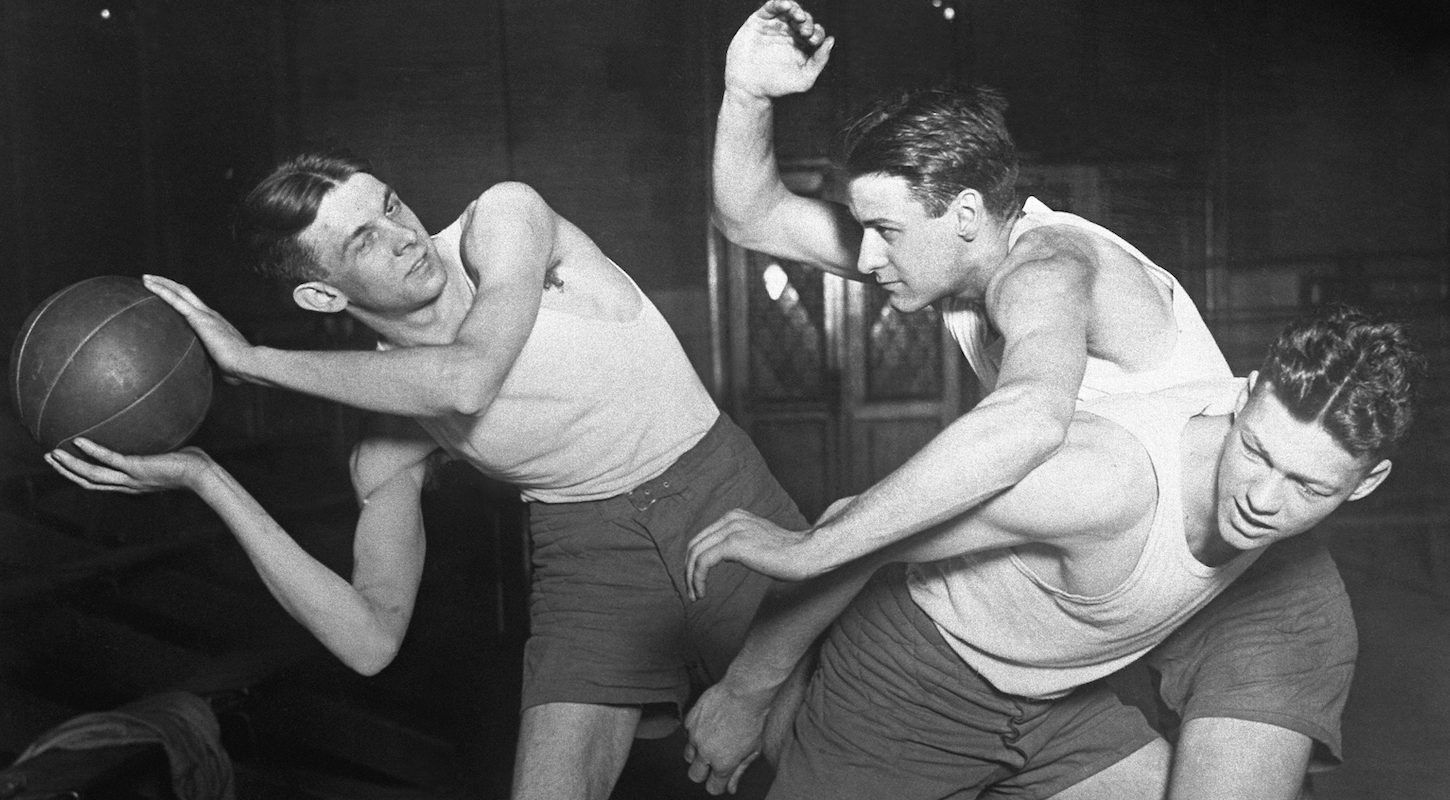 Well hello there, basketball fan! It's mid-April, 1,230 regular-season games are in the bag (plus however many play-in games, I don't have time to look it up) and you know what that means: The 2023 NBA playoffs are here, or possibly arrived here a few hours ago, depending on how quickly I can write the rest of this blog and get it sent off for editing. In either case, the 2023 NBA playoffs very likely are not over yet, or else I am in real big trouble.
The task now, for the basketball enthusiast, is preparing the catalog of knowledgeable sounds and opinions and facial expressions to bring to the viewing of these playoffs. Which of these guys "always does that"? Which guy "can't shoot a dang three to save his life"? Are any of these teams "the Vancouver Canucks"? You cannot simply walk into the bar unarmed to face these challenges. I won't allow it! I won't let you make a fool of yourself, roaring such nonsense as "Go Wolverines!" and "That's a strike if I've ever seen one!" and "I like the Lakers!" at the television in public, where people can hear you and conclude that you're a big-time dumbass. That would be a dereliction of my blog duty, and if there's one thing I never am, it's derelict in my blog duty.
With that in mind, below you will find encyclopedic and authoritative previews of each of the however many first-round playoff series there are, in the order they'll tip-off over the weekend. It is not possible for any person who can read English to read the following blog and not come away prepared to make Larry Bird (famous basketball guy) himself sound like a total, total bozo in any contest of hoops knowledge, nor indeed of any other kind. I guarantee it.
---
Brooklyn Nets (6) at Philadelphia 76ers (3)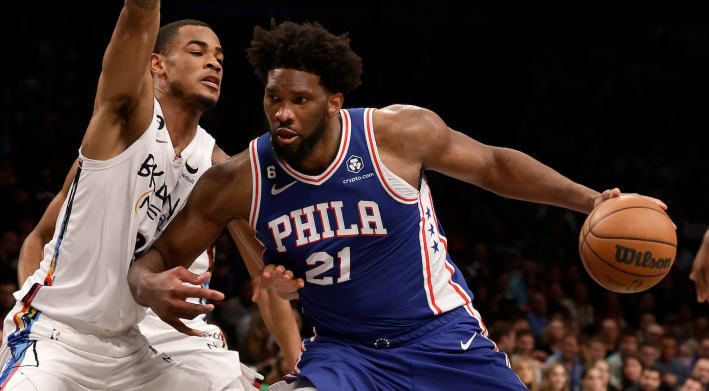 When does this series start?
Game 1 of this series begins at 1:00 p.m. Eastern, on Saturday, April 15. It'll be televised on ESPN.
What is the deal with these two outfits?
The latter-day 76ers are consistent. Remarkably so! Ordinarily that is a good or at least neutral thing, and in the bigger picture it is a good thing for the 76ers and their fans: In the five seasons prior to this one, notwithstanding a minor thematic variation in the plague-disrupted 2019-20 campaign, they've reliably won over 60 percent of their regular season games and claimed a spot in the upper half of the East's playoff bracket. It's great to have a team that can do that; if your basketball team is going to be consistent, better it's consistently the Sixers than consistently the Wizards.
It's just that, also, in the five seasons prior to this one, notwithstanding that plague-disrupted 2019-20 campaign, the 76ers were eliminated in the second round of the playoffs four times. Which, just to reiterate: Ultimately, that's fine! But it is the kind of fine that, once a year, if you are a fan of the home team, makes you want to scream and pull your own head off and drop-kick it into a river.
And so here we are again: The 76ers won a sterling 65.9 percent of their games this season, and as we have established up in the header of this section they are the owners of a top-four playoff seed in the East. Are they prepared to take the next step, which I just fucking cannot believe remains simply appearing in the conference finals one time? Who the hell knows! I am not here to answer questions!
As for the Nets, their deal is five straight minutes of me making gross fart noises with my mouth. The Nets, you'll recall, began the work of blowing up their doomed Big Three last season, when they traded James Harden to—hey! To these same Philadelphia 76ers! How 'bout that—in exchange for Ben Simmons (who has played only briefly and poorly since then and will not appear in these playoffs). They traded Kyrie Irving and Kevin Durant away this past February. On the morning of Feb. 9—the day the Durant trade closed the book on the Big Three era—their win-loss record stood at 32-22, a .581 winning percentage that would have been good for the East's fifth seed. They went 13-15 the rest of the way, a .464 winning percentage that would not have qualified them for even the play-in weekend. They're in the playoffs pretty much entirely on the residual momentum of a hot start by a team that doesn't exist anymore. They're the basketball equivalent of a plague ship drifting into Genoa harbor with nothing but dead bodies aboard.
Who are they. Just who the damn hell are they.
Philadelphia's main guy is Joel Embiid, one of the NBA's mainest of guys. He won the scoring title this year and has a strong claim to both the MVP and Defensive Player of the Year awards, perhaps undermined only by the fact that, once again, for the ninth time in the nine seasons since the 76ers drafted him, he played fewer than 69 games. That all ought to sound familiar: It describes last season, too.
On the one hand, that Embiid keeps doing this, despite what I think anyone would agree is a fair amount of supporting-cast turmoil over the past few years, is commendable. On the other hand, I do not want to diminish the accomplishments of this season by casting it as a mere repeat of last season. Embiid was a friggin' superhero in 2022-23; watching him at his best, scoring from all over the place at one end and functioning as a one-man defense at the other, the idea that he is not the NBA's best player sometimes seemed completely ludicrous. Here he is going for 52 points against the Boston Celtics a couple weeks ago:
The question, as ever, is, uh, well, two questions, I guess. The first one is whether Embiid, a truly gigantic person with a long history of pains and injuries, can stay healthy enough to sustain something like his highest level throughout a deep—as in, deeper than the second round—playoff run. The second, with implications for the first, is whether the team around Embiid—including a diminished but still extremely good James Harden, plus Tyrese Maxey and, for what only feels like the 500th year in a row, Tobias Harris—can provide him with enough support that he does not have to grind himself to death just to gut out exhausting seven-game escapes against crappy teams the Sixers rightly should pummel.
Speaking of crappy teams the Sixers rightly should pummel, the Nets have no guys and fill me with revulsion.
Is this series good or bad?
The Sixers are one of the real fascinations of these playoffs, for as long as they stick around, for the simple fact of Embiid. But this probably should be a shit series: It should be a perfunctory four- or five-game dismissal in which Embiid barely breaks a sweat. The Sixers swept Brooklyn in the regular season, 4-0, including two games prior to the Irving and Durant trades, which made the Nets definitively worse. Philly neatly boxing up the Nets and shipping them to hell is what's best for these playoffs, as it ensures a minimally worn-down Embiid for the matchups with actual juice. If this turns out to be a good series, then it is ... a bad one.
Which team's gonna win?
The Sixers are gonna win.
---
Atlanta Hawks (7) at Boston Celtics (2)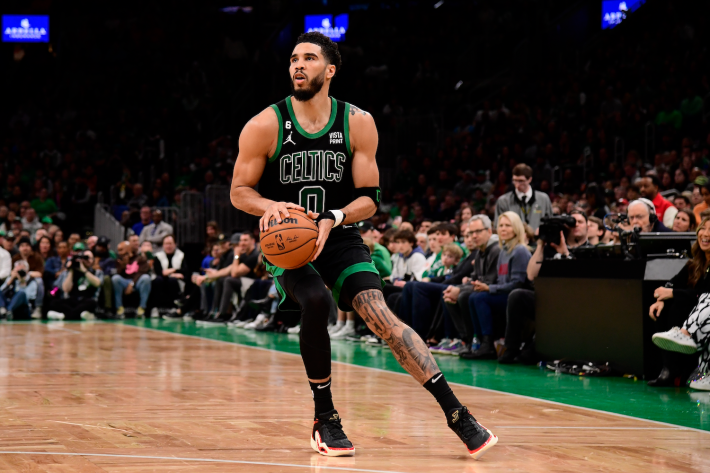 When is it? When???
Game 1 is scheduled for 3:30 p.m. Eastern, Saturday, on ESPN.
What are their respective deals?
The Celtics had a surprisingly normal season, for how it started. You might remember, even if I barely did: Ime Udoka, who coached the Celtics during their brilliant run to the Finals in 2021-22, drew a bizarre season-long suspension back in September due to what turns out to have been some kind of inappropriate, possibly nonconsensual interactions with another staffer in the organization. The Celtics began the season under the (at that point) interim stewardship of assistant coach Joe Mazzulla, a deeply weird situation that became a bit more normal in February, when Mazzulla officially became the team's permanent head coach. Meanwhile, notwithstanding a few minor burps along the way, all the actual basketball Celtics did was put together their best regular season winning percentage (.695) since the 2007-08 team that won a championship. For their efforts, they received ... the same playoff seed as last year.
I don't guess this will strike anybody as all that bold a take about a team that won just shy of 70 percent of the games it played, but: The Celtics are real damn good! They're big and athletic and deep and endlessly configurable at both ends of the floor, in pretty much the same way as last year, only now with the added experience of a Finals run plus whatever benefits you might guess they get from not being coached by an irresponsible sex creep.
As for the Hawks, look, man, this blog is already overdue and we're only a little more than an eighth of the way into it. The fact of the matter is, the Hawks friggin' stink. They finished with a .500 record, they're chronically unhappy, their vibes are shit, and they've only barely treaded water at best since their shock run to the conference finals two springs ago. They fired their coach, Nate McMillan less than two months ago, and did not meaningfully improve as a result. They stink. They stink! The Hawks stink.
Who are their respective guys?
Were Joel Embiid, Denver's Nikola Jokic, and Milwaukee's Giannis Antetokounmpo just fractionally less utterly impossible, Jayson Tatum might well have been the MVP this season. (Strictly speaking he still might, but I don't believe anybody considers that realistic.) He put up 30 points a game. Were Tatum himself just a tiny bit more normal, Jaylen Brown might well be the NBA's best wing right now. All of what has been infuriatingly true about the Celtics for the past couple of years—that they're built around not one but two superstar exemplars of most valuable and hardest to find player type: the big, skilled, athletic two-way wing—remains true now, only even more unfairly so. All of that was a long way of saying that Tatum and Brown are Boston's guys. Unfortunately for all who celebrate misfortune befalling Boston sports fans, the Celtics also feature a terrific supporting cast of smart, versatile pros who can defend multiple positions and do useful stuff on offense. They have Malcolm Brogdon and Derrick White and the ancient Al Horford and Williamses Grant and Robert and even somebody named Sam Hauser I'm not sure I'd ever heard of before just now.
Mark my words! There will be games in these playoffs that will be like the fourth quarter of Game 1 of last summer's NBA Finals, when the Celtics went on a disgusting 40-16 run, seemed to outnumber the Golden State Warriors 2:1, and never seemed to have a defender within three yards of them on any shot attempt. It will be a fucking nightmare. How will this team ever lose?, you will find yourself wondering. It's gonna be awful.
Trae Young is Atlanta's guy. I think this season, his fifth, was the one in which that fact tipped definitively over from being something for Hawks fans to get excited about to being something for them to feel sort of bitterly doomed by, as his numerical production pretty much uniformly declined, the Hawks foundered, and he certainly appeared to be the wellspring of the team's fucked vibes. Here I would underline this grim fate by pointing out, once again, that the Hawks traded away Luka Doncic for Young—only Doncic, too, now appears to be kind of a pouty miserable guy nobody likes playing with, and his Mavs, like Young's Hawks, seem committed to going backward following a surprise visit to the conference finals.
Is this a good series or a bad one?
It's a total mismatch—the Celtics won all three regular-season meetings between the teams, including one just about a week ago, and none were particularly hard-earned—and possibly the worst conceivable pairing for these crappy Hawks, as Boston seems like the single team in either conference least likely to suffer the kind of attentional lapse or single devastating injury that would make possible an upset at the hands of a slovenly bunch of bozos with no business in the postseason. Not that the Celtics are, like, paragons of focus or immune to injury or whatever; they're just so deep in good, versatile, veteran players that any three of them could spend a given game knuckle-deep in their own nostrils and they'd likely still pound the Hawks into the floor. Honestly there could be a kind of fun in watching them do just that. Still, this is a crappy series.
Whomst's gonna win?
The Celtics are gonna win.
---
New York Knicks (5) at Cleveland Cavaliers (4)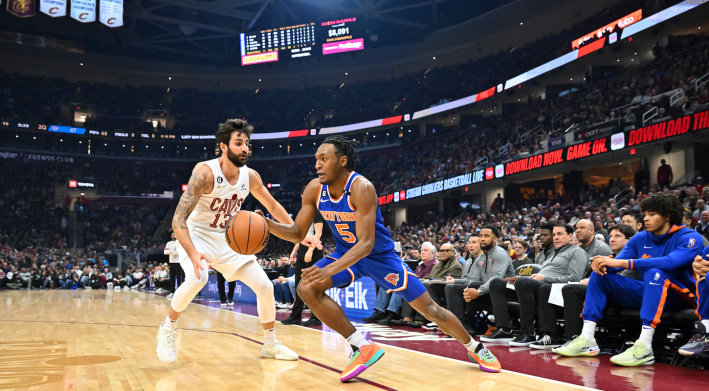 When does this series start?
Catch Game 1 of this series at 6:00 p.m. Eastern, on Saturday, on ESPN.
Tell to me the deals of these teams.
This, for my money, is the first round's Chaos Series. Neither of these teams made the playoffs last year. The Cavs haven't made a postseason appearance since 2018; as you might guess, that team has nothing whatsoever in common with today's. For that matter, today's Cavs team is different, in big huge ways, even from the one that qualified for the play-in games last spring: Most notably, over last summer they traded some guys—at least a couple of them important to last season's efforts—for Utah's Donovan Mitchell, who then went out and had the best season of his career for Cleveland. Shit. I think that's supposed to go in the next section.
Anyway, it is very difficult to formulate any idea of what to expect from the Cavaliers in these playoffs! And I am not just saying that to duck the responsibility to make this section more detailed and authoritative, while the clock ticks away! But also, I am partly doing that.
They're ... probably good? I mean, they're clearly good in the way that a team needs to be good to do well in the regular season: They won 51 games, sported the league's top defense by rating, and paired it with a top-10 offense. That's all great! But the other kind of good, the postseason kind, well, there's no way to know. As is my custom with the Cleveland Cavaliers, I will maintain a healthy skepticism unless and until they hoist (really running short on time here) whatever the NBA championship trophy is called.
As for the Knicks, this is their triumphant return to the playoffs after a, uh, one-season absence. To commemorate the event, I have enlisted Giri Nathan, Defector's premier New York Knicks Sicko, for help with this section of the blog.
Here's Giri on the Knicks' deal:
These Knicks are a stubborn, funky assemblage. They run the third-best offense in the league, despite shooting at a below-average clip and passing at league-bottom frequency. What they do is minimize turnovers, bash the offensive glass, and grind their way into just-enough, good-enough shots. The beautiful game it is not, but Tom Thibodeau wouldn't have it any other way. They finished 47-35, well ahead of any sane predictions.
Give me the guys. I want the guys.
I already mentioned Donovan Mitchell up there. The Cavs also feature notable youths Darius Garland (extremely cool and fun and good), Evan Mobley (not really cool or fun, but extremely good), Jarrett Allen (cool and good but not really fun), and Isaac Okoro (one-in-eight chance I could pick him out of a lineup). Caris LeVert is cool and fun and good but, at 28 years old, not really a youth anymore in basketball terms. If I don't get a frickin' move on, these people will be on the damn television, playing basketball against the New York Knicks, before anybody can read this section.
Giri, tell us who the Knicks' guys are!
Last offseason, the Knicks couldn't manage a Donovan Mitchell trade, but they did pry a consolation-prize point guard away from the Mavericks. Back then I lamented the fact that the Knicks would be a matryoshka doll of lefties who rumble into the paint and make mediocre decisions: Julius Randle (big), RJ Barrett (medium), and Jalen Brunson (small). I was wrong! Brunson has deliriously exceeded expectations as one of the best offensive guards in the league, a low-center-of-gravity bully with a capacious bag of midrange tricks and 42-percent three-ball. Randle, too, has looked better with a responsible adult running the offense, closer to the All-NBA Randle two years ago than to the barf-tornado Randle last year. RJ Barrett is not a guy, just a guy-shaped entity, and the Knicks must swallow their pride and bench him whenever he sucks.

Truer guys: the Knicks' gnarly perimeter trio. There's Immanuel Quickley, once a microwave guard, now sculpted by Thibs into a help-defense savant. There's Quentin Grimes, a three-and-D gem wiser than his years, and Josh Hart, a hard-charging bastard acquired at the trade deadline. To me, these three are the core of this team. Also, the Knicks have two different looks at center: Mitchell Robinson (dunks and defense) and Isaiah Hartenstein (push shots and passing), both offensive glass monsters.
Is this series good or bad?
Take it away, Giri:
It is probably the best first-round series! Somehow, both teams feel slightly better than their seeding would suggest; as No. 4 and No. 5 seeds in the East, they clocked in with the second- and seventh-best net ratings in the league. The Knicks beat the Cavs in three of their four regular season meetings. Their entangled-fate star guards are going to put up big numbers all series long. Last playoffs, Brunson (then with Dallas) lit up Donovan Mitchell (then with Utah), and while his brilliant play this season has dampened regrets about failing to land that big fish, he has the chance to banish those regrets even more conclusively here. Jarrett Allen and Evan Mobley give the Cavs fearsome twin-tower rim protection, but fortunately, Brunson flourishes in the midrange spots they tend to concede. The one bummer is that Randle is coming off a bum ankle and it's unclear when he'll be ready to play.
Who's gonna win?
Here's Giri again:
Cavaliers in five! But five games of blood and glory.
---
Golden State Warriors (6) at Sacramento Kings (3)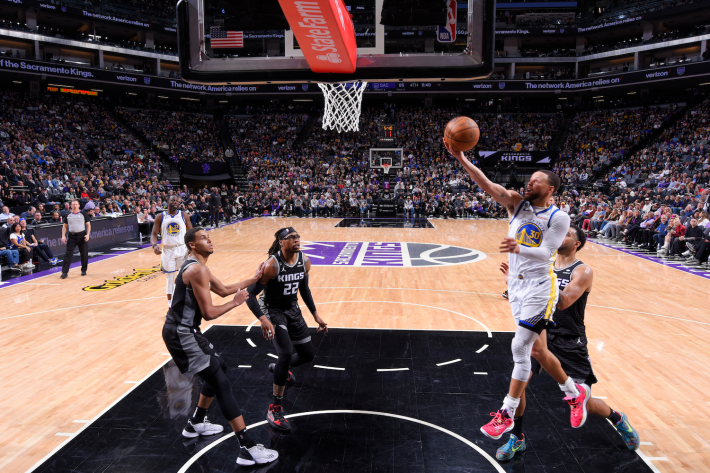 When does this series start?
This series tips off at 8:30 p.m. Eastern, on Saturday, on ESPN. Sike! It's on ABC!!! Way to fall for it, dumbass!
I've an itch to learn the deals.
Listen. I am not going to lie to you. I respect you too much for that!
Sacramento Kings games come on extremely late at night. Also Sacramento Kings games tend to feature, and quite heavily, the Sacramento Kings, a team that history has conditioned me never to watch, and that even deep into this dream season I have occasionally forgotten even exists. What I am saying to you right now is that, for as good as the Kings have been in the 2022-23 NBA season, I have watched them for maybe, maybe, a grand total of like 25 minutes. For this reason I have tapped Defector's premier Sacramento Kings Sicko, Patrick Redford, to help with this section.
Patrick says:
The Kings' deal is that they have the highest-rated offense in NBA history, that is their deal. The Kings run and fight and shoot at a turbo-high level, with an extra-cool offense built to space the floor out around Domantas Sabonis's handoff game and De'Aaron Fox touching the paint whenever he wants to. There's a really delightful irony in Mike Brown coming over from Golden State as this vaunted defensive mind, joining a team that hasn't cracked the top-20 in defensive rating since the Neolithic Era and then getting his team to the playoffs with a killer offense and a straight-up bad defense. They're incredibly fun to watch, capable of outshooting any team in the league and being outshot by any team in the league. They're young and crazy, nobody scares them, and they play in front of a rabid fanbase who will make their arena into a temple of pain (for who? not for me to say) on Saturday.
Dang! That sounds fun. What kind of a frickin' idiot would almost totally fail to watch that team across an 82-game regular season. The dumb kind!
As for the Warriors, their deal is one of the most well known deals in all the world. Or is it??? Well, yes, it is. But also, it isn't.
Frankly, the Dubs stunk mondo ass this season, posting an apocalyptic 11-30 record away from home and routinely getting their asses booted off by lesser opponents; an 8-2 finish is all that accounts for the entire margin between .500 and their final win-loss record (44-38). On top of that, they were perhaps the league's most visibly dysfunctional outfit: Draymond Green, for example, attacked and punched Jordan Poole in practice back in October, and in the aftermath nobody on the team seemed all that interested in laundering either of those guys' reputations. Everybody's been grumpy and disgruntled all year, on top of, y'know, not playing basketball very well.
Ordinarily the thing you'd say with confidence about a deeply aged team whose play nosedived into hell one year, without any obvious rash of fluky-but-devastating injuries to account for it, is that it has reached the end of the line. To be clear, that's probably what has happened in Golden State, too! But also, the Warriors won the dang NBA championship last season, after a couple of years scrabbling around the absolute bottom of the standings, giving them perhaps the strongest claim to the benefit of the doubt in all of sports. Who the hell knows!
Guys! I need guys!
Once again we turn to Patrick Redford, to tell us who the damn hell the Kings' guys are:
Their guys are Fox and Sabonis, who are a really lovely pairing. Fox has distinguished himself as the best crunch-time scorer in the game this year, and he's won the Kings a half a dozen or so games by taking over in the fourth quarter and scoring in bunches. Sabonis plays as a Jokic-lite type big man, serving as the hub for all the motion, backcutting, and complicated screening action that propelled the Kings to that offensive rating. Spacing the floor will be some combination of Keegan Murray, Kevin Huerter, Harrison Barnes, Malik Monk, Davion Mitchell, and Trey Lyles.
Seems cool! But also, if that last handful of names included some guys who are not even on the Kings at all, as like a joke or whatever, I would be in no position to catch it.
You know who the Warriors' guys are. Of course you do! I will not insult the both of us by presuming to list them.
Good? Bad?
Take it away, Redford!
This series is going to rule! First to 150 wins. The Kings coaching staff has consistently warned that they're going to play even faster and crank up the intensity even higher for the playoffs, which may not work but will definitely be fun.
Who's gonna win?
Patrick says:
Nobody knows what the future holds.
---
Los Angeles Lakers (7) at Memphis Grizzlies (2)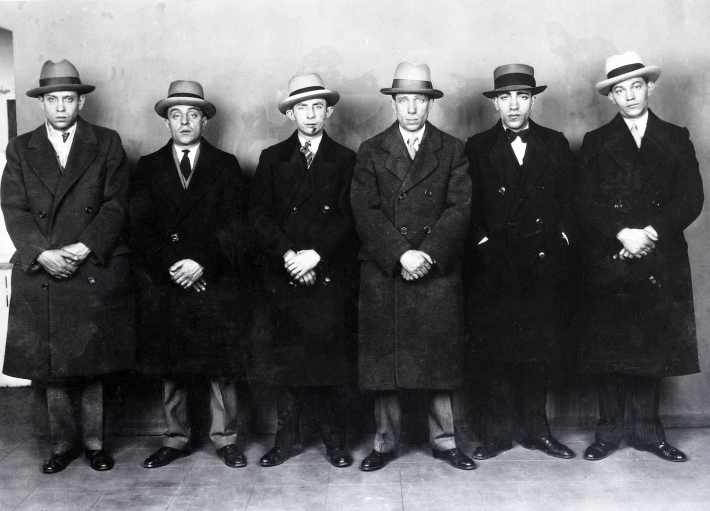 When does this series start?
I'm not sure it's important to know this, frankly. But fine—fine!—I'll tell you. This series begins at 3:00 p.m. Eastern, on Sunday, on ABC.
What is the deal with these teams?
The Memphis Grizzlies' deal is, oh no! They are scary outlaw bad guys!
It's wild how much stuff can change over the course of a season. Back in October the Grizzlies may have been the most widely liked team in the league: Young and charismatic and clearly on the rise, fresh off a huge come-up from the middle of the conference to very near its top, led by a daring new superstar barely old enough to buy a beer who dunks like an NBA Jam sprite, surrounded by variably tough and fun role players, ready to clear out a Western conference clogged by various dusty old dinosaurs. They were the 2022-23 season's official team of Hell Yeah Buddy.
Now? They're a friggin' mess. The daring new superstar, Ja Morant, had a nine-game suspension/leave of absence last month, after appearing on social media flashing a gun in a Colorado nightclub. He's also facing a lawsuit in Tennessee, the result of a September incident in which he and at least one other guy (allegedly) beat up and threatened a 17-year-old guest at Morant's home over some basketball trash-talk. Oh and also there is the other (alleged) incident, when he showed up to a mall shoe-store with like nine other guys to intimidate a clerk who'd been rude to his mom, then (allegedly) threatened a security guard. There was this other thing, where he apparently brought his baby daughter and entire crew of buddies to a high school volleyball game in order to intervene on some beef involving his sister. Ah right, and then there's the thing from January, where a member of Morant's entourage got into an altercation with Indiana Pacers players during a game, and then after the game may possibly have aimed a laser (-pointer or, more menacingly, -sight) at the Pacers' team bus.
For one thing, all of this—which amounts at least to the possibility that he's a big-time dickhead and/or surrounded by big-time dickheads—certainly complicates Morant's image and, uh, murkifies what used to be very uncomplicated rooting calculus. More germanely to the Grizzlies' whole deal, it disrupted the back half of their season, as Morant missed a huge chunk of March. (To the rest of their credit, they weathered that pretty well, going 6-3 during Morant's absence.) We haven't even gotten into the part where the Grizzlies also employ detestable shit-housing goon Dillon Brooks, the most despised player in the NBA.
The Lakers' deal, by contrast is fairly simple. I hate them and want them to lose every game by a thousand points until they all retire from shame.
I have no idea who either team's guys might be.
How could say that to me, after the previous section? What is your frickin' problem?
Here, enjoy a video of Memphis's Jaren Jackson Jr. doing cool stuff.
JJJ enjoyed the best season of his career in 2022-23, leading the league in blocked shots and laying a decent claim to the Defensive Player of the Year award, which he might nonetheless lose if the powers-that-be decide to offer it as a consolation prize to whichever of Joel Embiid or Giannis Antetokounmpo doesn't win MVP (assuming they don't both lose it to Nikola Jokic, who will not under any circumstances win DPOY).
The Lakers' guys are LeBron James and Anthony Davis, the most accursed and vaguely sickening of pairs. This is like, no shit, the sixth or seventh straight spring that I've had the very strong impression of LeBron having definitively declined as a player, only to look at his actual numbers and be like, Oh, ha ha, jeez, he's the same guy he's always been. Seriously man, look at this shit. It's preposterous!
Even if the eye-test says (and it definitely says) that LeBron isn't the player he used to be, that's he's more earthbound, that it's far easier to wall him off from the paint than it used to be, that he's more vulnerable to injury, that he's less able than ever before to translate his own personal excellence into team success, the verdict is complicated somewhat by the desperate shittiness of the Lakers squad around him. Not that LeBron hasn't spun gold out of doodoo before! Some of the Cavs teams he dragged to the Finals during his peak years were straight ass. It's just that, holy cow, these Lakers friggin' stiiiink. They might stink marginally less than when they still had Russell Westbrook, but they stink.
And you know what? Though he put together some of the longer stretches of good play in his deeply dissatisfying career this season, Anthony Davis isn't exempt from that stinkiness. He was supposed to be the younger mega-star who would shift some of the burden off of LeBron so that he could coast down the backstretch of his career until his son shows up, and has turned out to be just another piece of luggage for LeBron to tote around. I'm sick of talking about this team! I hope the Grizzlies smear them into the wood like a coat of varnish!
Is this series good or bad?
I hate this series. The Lakers won two out of three regular-season meetings between the teams, but none of that seems like it predicts anything, since both teams are such gross radioactive slag piles at the moment. I can't imagine this series producing anything other than an ugly, desperate slog that further diminishes my estimation of both teams. I hope the Grizzlies win the first four games by a combined 900 points.
Who's gonna win?
I don't know!
---
I Don't Have To Tell You Which Team This Is (8) at Milwaukee Bucks (1)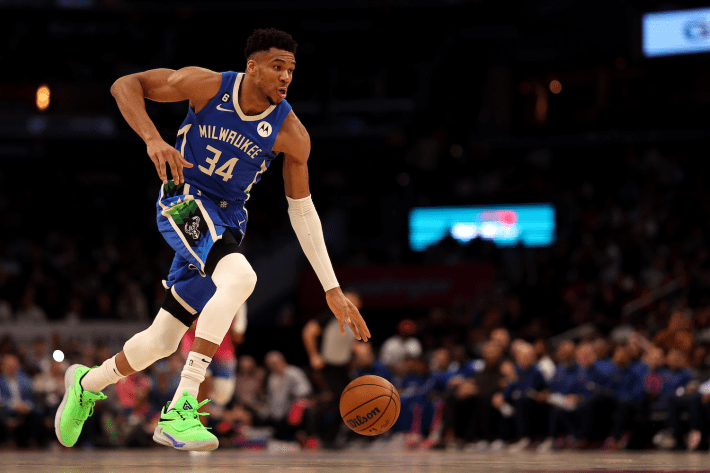 When does this series start?
Bucks-Team I Definitely Know tips off at 5:30 p.m. Eastern, on Sunday, April 16, on TNT.
What is the deal with these two outfits?
Well, one of them is either the Chicago Bulls or the Miami Heat, that's for damn sure! The other thing that's for damn sure is that we both know which one it is, the Friday night play-in game for the eighth seed having already happened, and so we don't even need to bother going over that here!
Let's see. The Bucks. This is the third time in the five seasons of head coach Mike Budenholzer's stewardship that the Bucks have won more than 70 percent of their regular-season games and claimed the East's top seed. If you watched them over the previous four years, you recognized this season's edition: They're stout defensively (fourth-best in the league by defensive rating) and on the glass; they share and care (and share and care and share) at the other end; they leverage Giannis Antetokounmpo's nigh-unparalleled gravity to get a lot of open threes, and they make a lot of them.
The Bucks went out in seven tough games to the Celtics in last spring's second round. That would be a fun rematch this time around. Of course, to get that far the Bucks will have to get past a tough, uh, either Chicago or Miami team first! Which presents matchup problems we all can see with our own two eyes!
Who are they. Just who the damn hell are they.
Giannis averaged over 30 points a game this season, for the first time in his career. Beyond that, in broad terms, he was just as productive and preternaturally awesome as ever—which is to say, as productive and preternaturally awesome as just about any other player in modern basketball history. Somehow, the top of the league is now stacked enough that this sufficed to give Giannis, in most reasonable reckonings, no better than the third-strongest claim on this season's MVP award.
Anyway here is a video of him wrecking shit.
It's hard to nail this down in any kind of measurable way, but I'm gonna write it anyway, and then I'll read it back to myself and feel weird about it and wonder whether it will seem to readers more patronizing or backhanded than I intend it, and then decide that I don't have time to replace it with anything better and just go "Oh what the hell, let's keep it." I feel like Giannis crossed a kind of rubicon this season: For the first time, the amount of cool shit made possible by his experience, his wits, his reading of the game, by his fine veteran feel for the flows and patterns of the action on the floor caught up to the amount of cool shit made possible by his being one of the very most extraordinary athletes in the world, possibly ever. This was always bound to happen, but I'll admit that I, personally, expected that it would be later on, when his physical gifts eroded. That it has happened already, when he's 28 years old and at or very near the absolute apex of his body's capabilities, is incredible.
As for the other team, let me tell you, they sure do have some guys.
Is this series good or bad?
What's not to love in this series? It's got it all: Two teams, both of them from towns in North America, both of them definitely known to me at the time of this writing. You can't ask for more than that from a first-round playoff series.
Who's gonna win?
The Bucks are gonna win.
---
Los Angeles Clippers (5) at Phoenix Suns (4)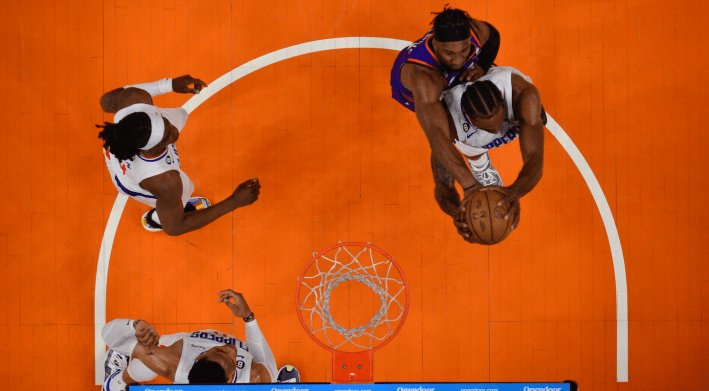 When does this series start?
Tip-off is scheduled for 8:00 p.m. Eastern, on Sunday, on TNT. Which means they'll actually tip-off at like 8:20 or thereabouts.
What is the deal with these teams?
The deal with these teams is that time is getting desperately short, they're both deeply unlikable, and this blog is already longer than The Stand. If they wanted a more thorough examination in this dang playoff preview, they should have had a game on Saturday afternoon instead of Sunday night.
The Clippers are mediocre and dull and feature the most boring and uncharismatic stars who ever lived. Kawhi Leonard makes Tim Duncan look like Cary Grant. Paul George is Danny Green with all of his 2K attributes turned up by exactly two points. I don't even think that's true, I just wanted to say something rude about him, as revenge for his having bored me to tears for a decade. The Clippers do not have one single player on the roster who is more thrilling to watch than the bubbles rising through a cup of tepid seltzer water. People thought the Kawhi-PG trade summer was the dawn of a new dynasty, but even Kawhi and PG thought the idea of a Clippers dynasty was too miserable and boring to think about, which is why they've both been part-time players ever since. The most exciting thing they've ever done was lose, repeatedly, shy of the Finals. Everyone who gassed that team up in the summer of 2019 should have their hands sewn to their ass so they can never type another basketblog.
The Suns would be the least enjoyable team in the NBA but for the efforts of L.A.'s two franchises. With sincere apologies to Diana's husband who likes them, I hope they all fart their brains out on Sunday evening, forget how to play basketball, and wander into a ravine. Failing that, I will settle for them sweeping the Clippers out of the playoffs by a combined 450 points, and then farting their brains out, forgetting how to play basketball, and wandering into a ravine.
OK, fine, but can you at least tell me who their guys are?
L.A.'s guys are Kawhi Leonard and Paul George (who'll likely miss the beginning of the series due to a leg injury that kept him out of the last couple weeks of the regular season); for this the franchise should pay a billion-dollar fine every week until they have guys less dreary and lame than these. The Clippers are like Dark Side Boston (or, well, Even Darker Side Boston): built around two star two-way wings, but somehow deathly miserable instead of cool. The Clippers had John Wall for the first half of the season, but they traded him to Houston back in February, out of fear that anybody might find any reason to watch or like them.
The Suns' guys are Chris Paul, Devin Booker, and Kevin Dura—
[The sound of you screaming and barfing your guts out]
See? See???
This series is bad.
Correct.
Whoever wins, the world will lose.
Right again!
---
The Famous Eighth Seed We All Know (8) at Denver Nuggets (1)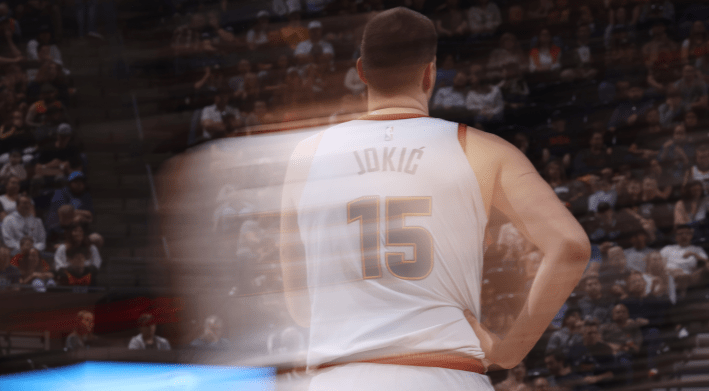 When does this series start?
What is "time," anyway? Is it not in fact "an extremely useful frame for perceiving and communicating information, such as when one can expect a given basketball game to begin, without some measure of which one cannot reasonably expect to witness, intentionally, a given basketball game more-or-less as it happens"? Is it not also, from another perspective, "a desperately precious and limited resource that happens to be sliding down the drain right now while you dither and write cutesy baloney instead of finishing your blog?" The answer is: No. It is not.
In any event this series tips off at 10:30 p.m. Eastern, on Sunday night, on TNT.
What is the deal with these two outfits?
Fun fact! This is the Denver Nuggets' first conference number-one seed literally ever. It might conceivably have come earlier, had their second-best player and most incendiary scorer not missed all of last season. He's back now, and also the top of the Western conference is worse now (the Nuggets finished with better winning percentages three times just in the past decade), and here they are, at the top of the heap.
If you watched the Nuggets during the past couple years, during which they became the darlings of the blogger set and Nikola Jokic won two MVP awards in a row, their deal this season will be familiar to you. They whir beautifully around the big Serb, whose combination of passing, shooting, and interior ruggedness presents one of the sport's great challenges to opposing defenses; most of his teammates do not have jobs much more complicated than "run around and shoot" at the offensive end, which suits most of them just fine. They had a top-five offense by rating, and a top, ah, well, half-of-the-league defense, a fun combo that perhaps doesn't portend all that great for their championship ambitions.
One thing that's for sure is that the winner of Friday night's eighth-seed play-in game between the Oklahoma City Thunder and Minnesota Timberwolves, an outcome I know the shit out of as I write this, is going to present some very specific strategic and tactical challenges that I do not have to enumerate here!
You already mentioned Nikola Jokic. Are there any other important guys here?
There's the aforementioned second-best Nugget, Jamal Murray! To be honest I'm not totally sure he's Denver's second-best guy anymore: A season-and-a-half away can do a lot, and both Aaron Gordon and Michael Porter Jr. (two other guys!) are very good. But the Nuggets had Murray, the very best version of him, the fearless shot-maker who could catch fire in a second half and send an opposing team screaming into hell, during their 2020 COVID-bubble run to the conference finals—and they certainly seemed to miss the hell out of him during their meek 2022 five-game dismissal in the first round at the hands of the Warriors. If he can be that guy again in this postseason, that will be incredible. That's what I'm hoping for.
As for the other team in this series, let me tell you, in order to beat that team you definitely have to have a plan to contain its famous best player, or else to limit how easy he can make things for its limited but still dangerous secondary guy(s). I would post one of the many cool videos of those guys doing cool stuff this season, if their excellence were not so totally well-established as to make doing so redundant and kind of insulting.
Is this series good or bad?
A rivalry as intense as this one always promises fireworks!
Who's gonna win?
I know, but I don't have to tell you.
Stay in touch
Sign up for our free newsletter