NBA
Nets Coach: The Challenge With Ben Simmons Is He Is A Crappy Player
12:56 PM EST on February 14, 2023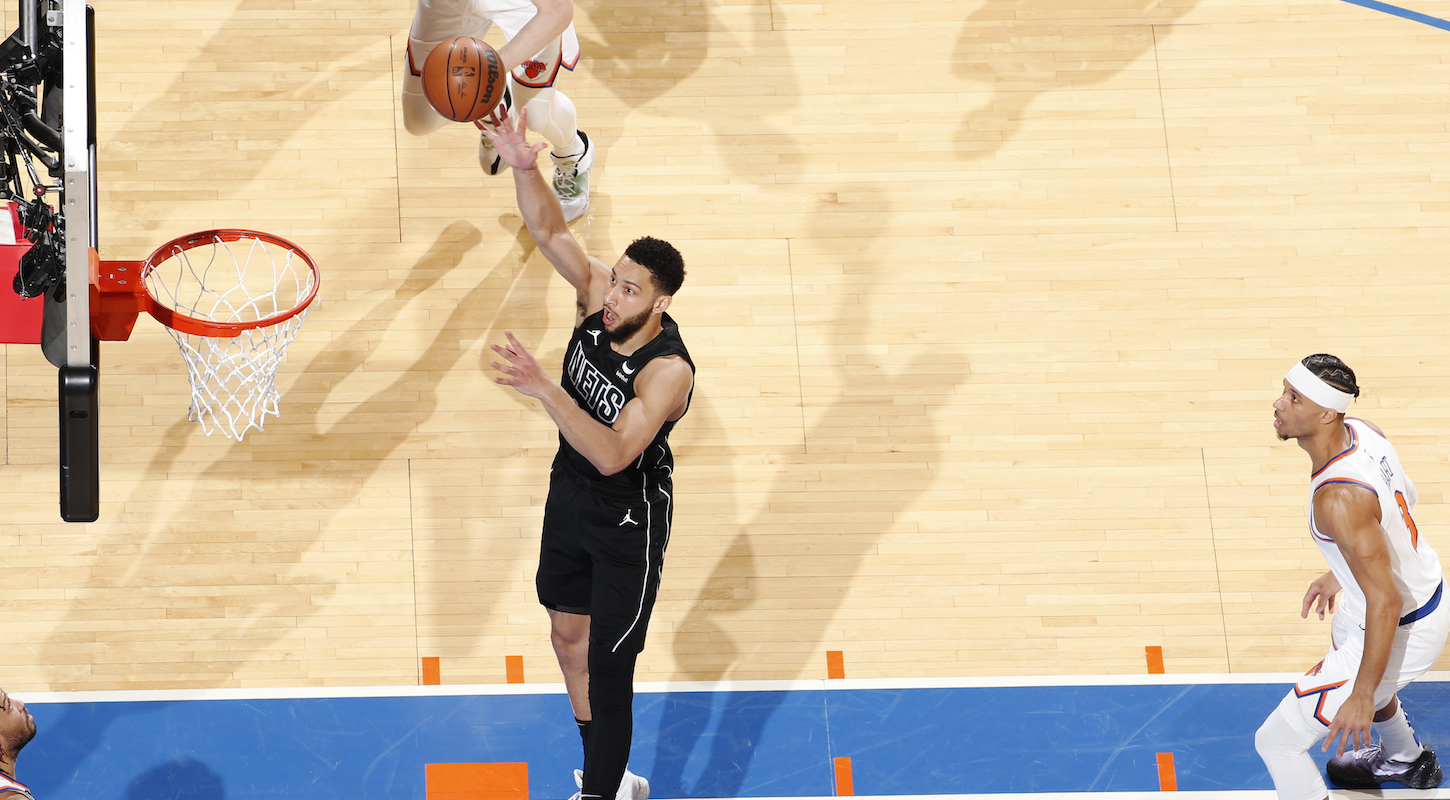 However praiseworthy a job Brooklyn's front office did under duress last week in arranging the least-bad possible trade returns for Kyrie Irving and then Kevin Durant, those trades nevertheless sent out Kyrie Irving and Kevin Durant, and brought back ... well, not-Kyrie Irving, as well as not-Kevin Durant. This is to say that the Nets seem not very good right now. They lost to the Knicks on Monday night, 124-106.
In the press conference following that loss, Nets coach Jacque Vaughn fielded, with his characteristic openness and good cheer, all the predictable questions about fitting together a violently overhauled roster on the fly. Eventually, as it had to, the subject of Ben Simmons came up. The 26-year-old, acquired in exchange for James Harden just about a year ago and thus the closest thing to an incumbent star that the Nets now possess, began Monday night's game on the bench and logged a measly 13 minutes of playing time, for a team that certainly seems as though it would value any continuity it could get. In one of those 13 minutes he did this:
What you see here is Ben Simmons turning down a golden scoring opportunity so that he can dump the ball onto a teammate in a much worse position, which is as close to a "signature offensive move" as Ben Simmons possesses in this, the seventh season since the Philadelphia 76ers took him first overall in the 2016 draft. Simmons logged two shot attempts against the Knicks, and made one of those; he has appeared in 15 of a possible 21 Nets games since the start of 2023, and scored in double-figures in two of them. In the new calendar year, the Nets have been outscored by an aggregate 25 points when Ben Simmons has been on the floor for them. That's all bad.
This remains, by miles, the weirdest situation in the NBA: a three-time all-star at what should be the earliest dawn of his prime, who—sheesh, how even to phrase it?—won't or can't do the very simple and fundamental basketball stuff that would most directly add value to his presence on the court.
Anyway, here's what his coach had to say.
On Simmons only having logged around 13 minutes of playing time:
You know, Nic [Claxton] played less than his amount of minutes, too. So again, it's match-up a little bit, with [Knicks guard Jalen] Brunson being out there, trying to throw different bodies with him. The rebounding piece we're always concerned about, so didn't want Ben to be the lone big out there. We tried him with another big, I didn't like that rhythm of the game, because we weren't scoring enough at that time. So a lot of different problems thrown at you in the course of a game, you try to figure 'em out, we got another game before the [All-Star] break so we're keeping guys fresh also to hopefully finish off the game before the break.
Here we've got: Ben Simmons played fewer minutes than all but three other Nets against the Knicks because...
The two-time NBA First-Team All-Defense honoree wasn't a good choice for defending Jalen Brunson; and

The 6-foot-11 non-shooter also doesn't rebound well enough to be relied upon as a center; and also

When you put him in a lineup that can rebound and defend, the guy for whom the Nets traded three-time scoring champion James Harden torpedoes that lineup's ability to score points.
On the subject of this having been the third straight game in which the 26-year-old three-time NBA All-Star acquired in exchange for James Harden played fewer minutes than in the game before:
What we want from each guy is to give everything, every ounce that they have every single game, and all 16 guys are in that bucket. And trying to figure out what lineup fits around Ben, what position fits for Ben, how we can make him look good at every opportunity, that's the goal. And I'm still trying to figure that out, that's on me to figure it out, but I think overall as a team we're gonna try different lineups to try to figure this thing out.
Here we have: Ben Simmons's playing time is cratering because, in simple terms, the coach is not aware of any fruitful use for him. (But he hopes later on to discover one!)
On the challenge of figuring out how to use Ben Simmons now that he will no longer share the floor with two of the most dynamic scorers in the history of basketball:
It's gonna be some work that we have to do, because you just take a look at what the lineups could potentially look like. You put another big next to Ben, then you gotta figure out what the spacing is around him. Then if you put a playmaker next to him, then you gotta figure out what Ben looks like without the basketball. Then if you go small with Ben, then you gotta figure out can you rebound enough with him. So the challenges are ahead of us, we'll look 'em head-on, we'll figure it out, we have the personnel to figure it out. Whether it is me mixing and matching throughout different pieces of the game, and allowing him to have a group and run with a group, that part we'll figure out. But you see the challenges that lie ahead.
This one is the bleakest, I think, and also the most revealing. The challenge with Ben Simmons, as Vaughn lays it out, is that he can't function as the playmaker in a lineup featuring a big center type, because he not only can't shoot but isn't willing to try to shoot, and so the team won't be able to space the floor; and he also can't function next to an adept playmaker, because without the ball in his hands he is so comprehensively useless that it undermines whatever value the other playmaker's skills bring to the floor; and furthermore he can't function as the big guy in a small lineup stacked with shooters, because he doesn't rebound well enough to keep the team from getting muscled off the floor. Got all that? You can't play Ben Simmons with a big guy, or as a big guy; he can be used neither with a guard, nor as one. Simmons has that broad player profile in common with virtually every cashier at my local supermarket. You can see the challenge this poses!
This is as close as a modern professional basketball coach can get to saying, "This player on my team is bad at basketball." That's the nut of it, isn't it? The challenge with figuring out the most fruitful way to use Ben Simmons on a pro basketball team is that using him in just about any plausible configuration will currently make the team worse. What do you call a player who, in any plausible configuration, will make their basketball team worse? The most succinct thing to call that player is "bad." Jacque Vaughn is being as nice as he can be about it, but what he is saying is that Ben Simmons stinks.
He makes a strong case in laying this out, without actually using those words. Just as the mark of a great player is their ability to transcend circumstance, to port their greatness to nearly any lineup and impose it upon nearly any opposition, you know a bad player by the highly specific and ludicrously implausible conditions they require to thrive: All Ben Simmons needs is to be surrounded exclusively by elite three-and-D players, none of whom ever want to do anything else with the ball except catch it and shoot it, and one of whom must be a seven-footer who shoots like Klay Thompson and rebounds like Giannis Antetokounmpo. Then you'll see how great he is. A player whose greatness cannot be unlocked except in those circumstances, and who is effectively unusable in anything more realistic than that, is a player who has no greatness to unlock.
Once upon a time, Ben Simmons seemed to embody the ideal of positionless basketball. He was, and in the most abstracted sense still is, a nearly seven-foot hyper-athlete with the two-way versatility of a wing and the ball-skills of a guard. Theoretically, and for a little while back there, such a player could slide fluidly between roles on the fly, taking whatever shape best exploited any given opponent's weaknesses. That sure feels like a long time ago! Here in 2023 Simmons represents the exact dark side of that particular moon: unsuited in equal measure to every role but spectator.
Stay in touch
Sign up for our free newsletter