NBA
Nate McMillan Finally Freed From The Hawks Mess
2:42 PM EST on February 22, 2023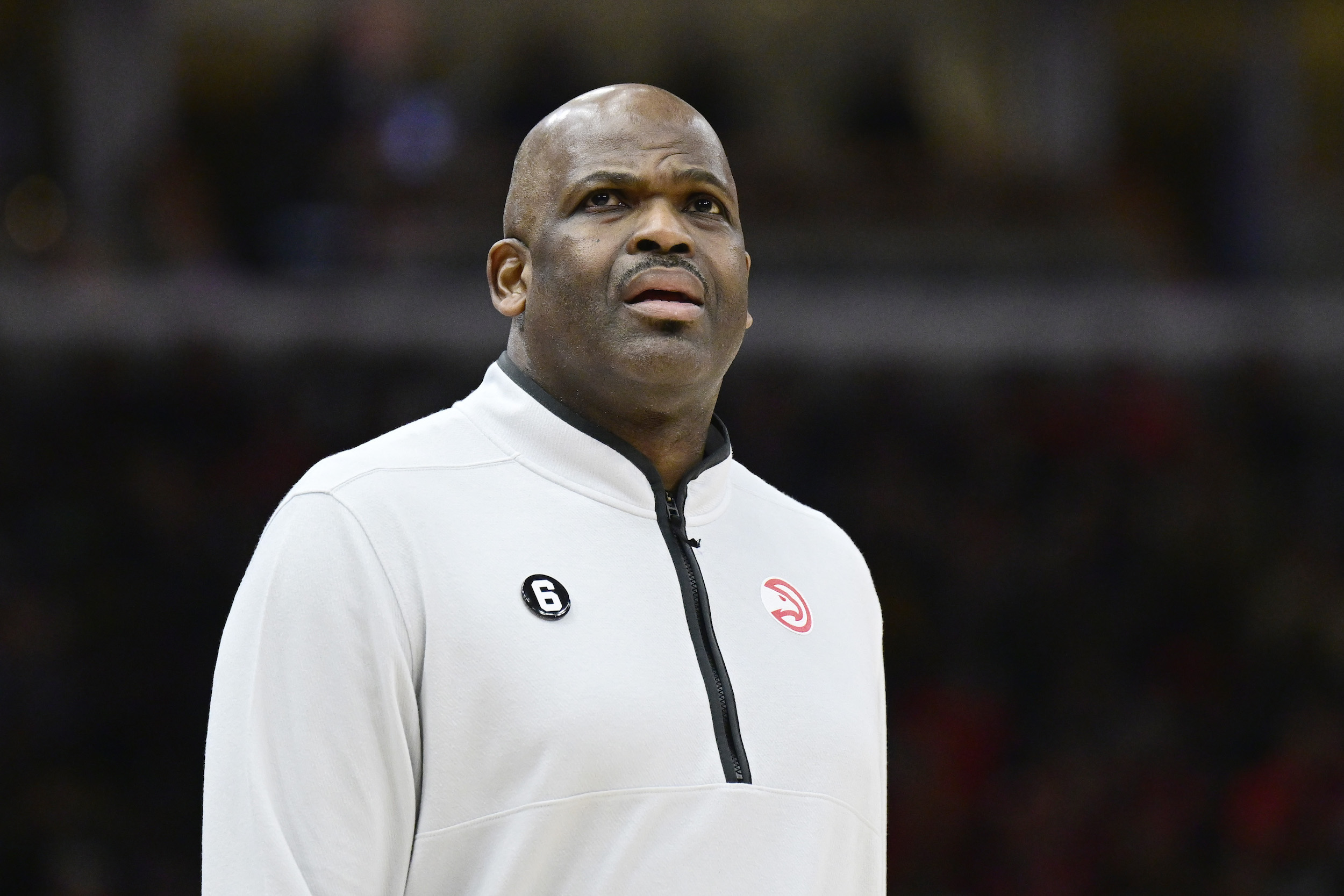 The Atlanta Hawks fired head coach Nate McMillan Tuesday evening. It's been a frustrating season. The Hawks are a game below .500 with 23 left to play, scrapping with the Bulls and Pacers for play-in positioning. This is not where any team wants to be, but it is especially bleak because the Hawks are supposed to be young and cool. They're supposed to be built around the strengths and style of a foundational superstar. They're supposed to be capitalizing on the success of a conference finals run in 2021. Instead of doing any of that, though, they stink. That stinking was inevitably going to cost some people some jobs; general manager Travis Schlenk stepped down from his post in December and McMillan reportedly made noise that month about resigning as well, before Landry Fields, Schlenk's replacement, talked him off the ledge. Now the Hawks have fired McMillan, a month and a half later, with the team in more or less the exact same condition of stinkitude.
Trae Young, Atlanta's best player and their most marketable star since Dominique Wilkins, never seemed all that enthused about McMillan. Shams Charania and Sam Amick of The Athletic reported earlier this season that the Hawks were managing "simmering issues" between Young and McMillan. On December 2, McMillan and Young reportedly had an awkward and possibly heated interaction during morning practice that led to Young staying home during Atlanta's home win over the Denver Nuggets. Charania and Amick reported then that "many people within the Hawks" were questioning Young's "leadership approach," and described the incident as "a microcosm of tension that exists among Young, McMillan, and the locker room." It was middling performance and uneasy chemistry between Young and Lloyd Pierce, McMillan's predecessor in Atlanta, that got McMillan the gig back in 2021, and it appears to have been middling performance and uneasy chemistry that cost McMillan the gig in 2023.
This is not to say that it is Young's fault that McMillan is now jobless. McMillan won more games than he lost in Atlanta, which has for the most part been true in the other stops of his head-coaching career, but the Hawks haven't exactly thrived under his stewardship. Atlanta's gone 73–69 in regular season games since their conference finals run, and were bounced without much resistance from the playoffs last year after advancing from the play-in to secure the East's eight seed. The Hawks went through a teardown at the end of the overachieving Mike Budenholzer era, then came out of that teardown with Young and a handful of promising supporting pieces. At the first sign of real success they maneuvered in trades and free agency to surround their young core with useful veterans. That's what you want from an NBA team, and now for all that work they find themselves toiling on the fringes of the playoff picture, half a game up in the standings on the dreaded Washington Wizards. That right there is the kind of thing that costs a head coach his job; that the head coach may also be disliked by the guy the Hawks will pay $178 million over the next four seasons cannot help.
But that's not to say that Atlanta's stagnation is entirely on McMillan, either. A thing that I think I have learned is that for the most part—certainly for the majority of NBA teams, those sandwiched between the very top and the very bottom of the standings—it is impossible from the outside to know with any real certainty whether a given coach is actually doing a good job. There's too much to the job, and too much complexity within an organization. McMillan's teams, going all the way back to his Seattle days, always compete like hell and tend to sweep up the low-hanging fruit, and at some level that seems like it must be the work of a good coach. On the other hand, McMillan's teams have also often been criticized for running basic offenses, for being schematically inflexible, and for generally relying too heavily on individual brilliance. On a freakish third hand that suddenly reaches out from behind my lapel and causes you to spit hot coffee all over yourself and back away in gaping terror, McMillan has coached for parts of 19 seasons in the NBA, and in 13 of those seasons his teams finished .500 or better, and 11 times he's coached his team into the playoffs. Oh God, it's another hand, you are screaming, as your hair goes white and you claw at your eyeballs: Unfortunately, only once in those 11 playoff appearances has McMillan coached his team beyond the first round.
So it's possible to believe wholeheartedly that McMillan is a very good basketball coach and also to worry that he might perhaps not be the guy to lead Atlanta through what fans and management hope will be a championship window. Fields and Atlanta's front office clearly believe that there's some untapped reservoir of greatness within Atlanta's roster, which might account for why they mostly declined to move and shake in the Deal Zone, beyond trading nine million second-round picks for Saddiq Bey and trimming some salary in an exchange of flotsam with the Houston Rockets*. But it's worth pointing out that Atlanta's most recent close brush with excellence came with McMillan at the helm, and that the shining moment in question briefly interrupted what has otherwise been a run of shitty, uninspiring non-contending during the Trae Young era.
McMillan denied the reports about contemplating a mid-season resignation, but he did not sound like a guy who was particularly psyched about a long-term commitment to this Hawks project. "We're trying to get our guys healthy and make another run at the playoffs, but the things that were reported, look, I'm here to coach this year," he said in December. "At the end of the year, I'll do as I've always done. I'll talk with my family and see if that flame, that fire, to continue next season, but that's the end of the season. All of us think about retiring, but that's at the end of the season." The Hawks finally made the decision for him, buying themselves a little room for the transition by timing it to the all-star break. They've elevated the immortal Joe Prunty to interim head coach, in advance of a more thorough search for McMillan's long-term replacement.
The Hawks are in a tricky, precarious position. They've got a strong-willed and idiosyncratic star, a clunky roster that seems to have stalled and even regressed, and a front office that suffers from instability and periodically lapses into crippling indecision, but which also seems to believe that most of the work of constructing a championship roster is already complete. They're looking for a head coach to push them over the top, but they also might be much further from the top than they think. That is not necessarily a reason to keep a coach who doesn't really move the needle, especially if he can't get along with the team's best and most popular player. But there's also a non-zero chance that it was McMillan's high-floor steadiness that kept the Hawks from facing some deeply unpleasant truths about their young core, and spiraling back into the crud zone.
Stay in touch
Sign up for our free newsletter