Some people are fans of the Las Vegas Raiders. But many, many more people are NOT fans of the Las Vegas Raiders. This 2023 Defector NFL team preview is for those in the latter group. Read all the previews so far here.
Your team: Las Vegas Raiders.
Your 2022 record: 6-11, and here is where I remind you of the curious triumphs of 2021, when the Raiders got rid of Jon Gruden early in that season for racism, and then barnstormed their way into the playoffs anyway under interim head coach and Carnegie Deli menu item Rich Bisaccia. They damn near beat the eventual AFC champion Bengals on the road in the wild-card round at the end of that season, too. So you'd have been right to say that Vegas had stumbled bass-ackwards into a shot at future stability and prosperity.
But both the Raiders, and Las Vegas as a city, are the sworn enemies of those two things. So owner Mark Davis let Bisaccia walk and replaced him with an expensive new coach who had a proven track record of failure, not just as a head coach, but as one in the Raiders' own division. Here now is what ensued:
That holy quartet of chokejobs included a home loss to Arizona where they held a 20-0 lead. Witness now, from that game, the worst instance of single-down pass rushing in league history:
#Fantastic. Vegas was also the first and only team to lose to the immortal Jeff Saturday. It was Saturday's first game as interim coach of Indianapolis, and his playcaller's first game as a playcaller. The Colts still beat the Raiders anyway. Witness now, from that game, the worst instance of single-down contain in league history.
Mangia. The 2022 Raiders started 2-7, prompting their owner to declare that "Rome wasn't built in a day," which I now believe to be a lie. They blew a 17-0 lead to the Chiefs, and then capped off that loss with a two-point attempt at the end that got stoned on the one-millimeter line. They blew a 17-0 lead to a 2-6 Jacksonville team that used them as a stepping stone to an eventual division title. They got shut out by Andy Dalton. They lost a Thursday night game to Baker Mayfield, who had signed with the Rams two days prior and only had one practice with his new team to get ready. In that game, Vegas a blew a 16-3 lead and let Mayfield stage an eight-play, 98-yard, game-winning drive with no timeouts and less than two minutes left on the clock. His finest practice of the week. They lost to the Steelers on a game-winning touchdown catch by George Pickens in the final minute. They blew a 14-point lead to New England and only won that game because the Patriots committed one of the dumbest turnovers you'll ever see. If football is truly family, these guys are your abusive stepfather.
To that end, they made their QB cry. Again. And then they shut him down for good once the season was lost. This turned out be a light blessing. because the Raiders' best QB performance all season would end up coming from Jarrett Stidham … in a game where the Niners still went on to beat them anyway. Who was the mastermind behind this shit parade? Who could have executed all of this with such imperial sloppiness?
Your coach: You guessed it.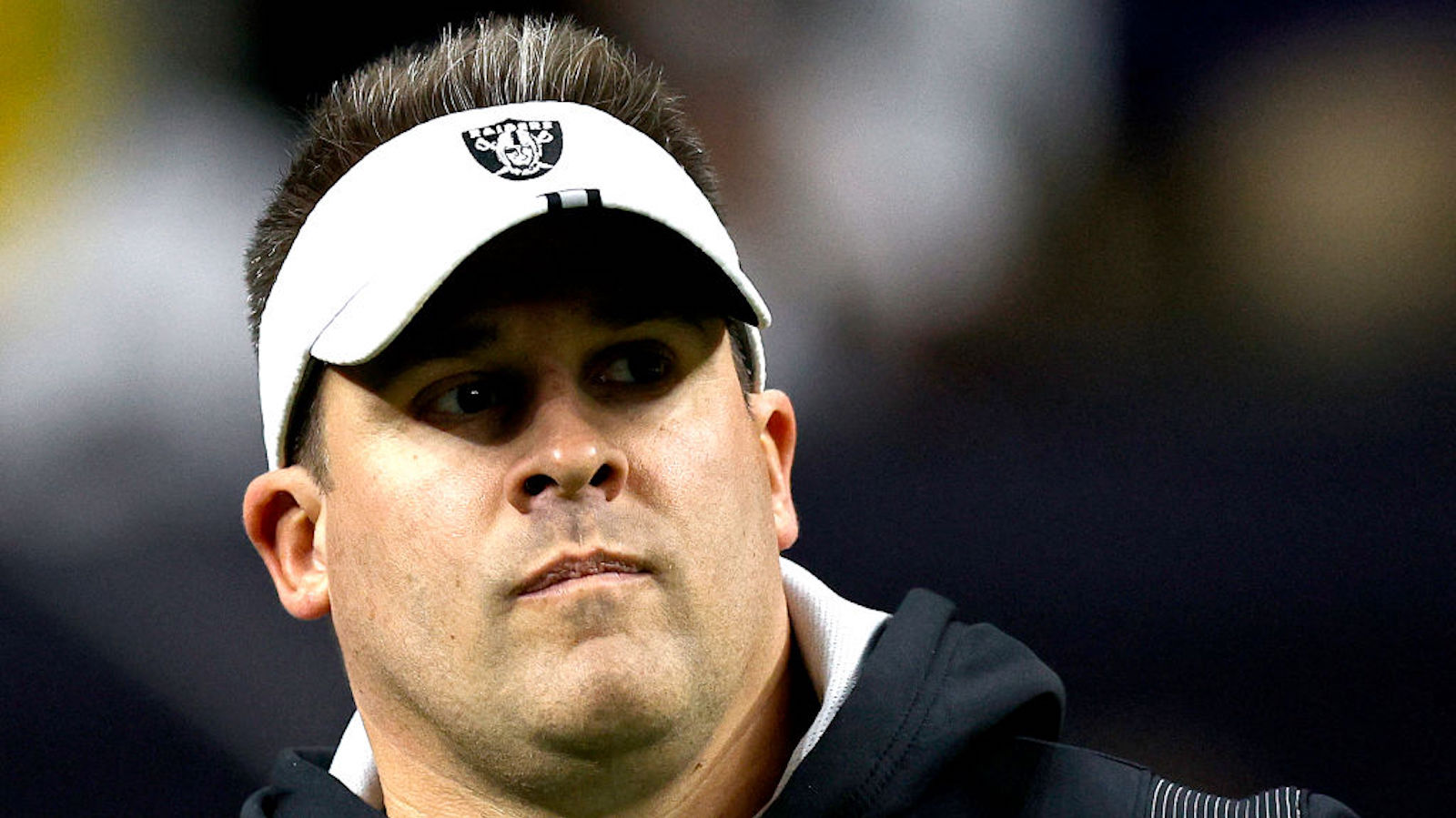 I can't begin to tell you how happy I am that Josh McDaniels is exactly as bad of a head coach as he used to be. Imagine if he had been GOOD. *shudder* Are the rising oceans and raging wildfires not enough at the moment? Ah but this time, God granted the people of Earth a rare mercy by making sure this man—this awful, be-visored, getting-kinda-fat man—remained conspicuously unable to lead a football team. Hard to believe, given McDaniels' trademark charm ...
... but alas, he was unable to win his players over this second time at the helm. Not only did McDaniels end the season putting Derek Carr on ice, he extended his fuckery well into the offseason by doxxing tight end Darren Waller's wedding date, and then trading him the second that Waller's wife and local WNBA star Kelsey Plum made a fuss about it. If you're familiar with the track record of the Bill Belichick coaching tree, and you've seen young coaches like Sean McVay find success with a more humane approach to their chosen profession, you know that "be a raging cock" hasn't proven to be a winning leadership formula in the 2020s NFL.
But being a cock is McDaniels's stock-in-trade, and his boss has no money left to replace him with someone who has a less pronounced vindictive streak and a functional brain. So here he remains. I hate this man. I hate his face. I hate his voice. I hate his existence. I want to stuff his asshole full of enriched uranium and then sew it shut. His players do, too.
Your quarterback: The Raiders released Carr, the best QB they'd drafted in over 50 years, and replaced him Niners castoff Jimmy Garoppolo, despite knowing that Garoppolo needed surgery on his foot, and that he will almost certainly need another 56 exotic surgeries before his career is over. Garoppolo's contract includes language that allows the Raiders to cut bait with him and suffer no cap adversity of any kind, but they have yet to release him. In fact, McDaniels doesn't even know why you people are worried about the foot thing at all.
I'm not worried. You worried? You got a problem? YOU WANNA FUCKING TAKE IT OUTSIDE, BRO? I'LL GIVE YOU SOMETHING TO WORRY ABOUT. Josh McDaniels could ask me to pass the salt and he'd still manage to come off like your best friend's dickhead older brother. He is a pure, uncut Todd.
But I'm getting distracted. Functionally speaking, swapping out Carr for Garoppolo is like trading in a 2014 Honda Civic for a 2014 Honda Civic that has no brake pads. This team still needs a quarterback, and badly. Will it be newly signed, 52-year veteran Brian Hoyer? No. Will be fourth rounder Aidan O'Connell? Again, no. But at least starting the latter would put Vegas in a good position to inexplicably pass on drafting Caleb Williams for a homicidal track star nine months from now.
What's new that sucks: It's gonna be a challenge for these Raiders to be any better than they were a year ago. The two brightest spots on this roster in 2022 were running back Josh Jacobs, who led the league in rushing, and newly imported wideout Davante Adams, who was somehow able to remain a first-team All Pro despite all of the Raidersness surrounding him. But Jacobs is currently holding out after Vegas franchised him, and Adams had this to say to The Ringer's go-to "this is a story about fathers and sons" essayist Mirin Fader back in May:
Still, Adams has reservations about the Raiders' vision for the offense: "[The front office] think this is the best bet for us right now to put us in a position to be urgent," he says. "We don't see eye-to-eye on what we think is best for us right now."
Is he suggesting that GM Dave Ziegler doesn't know what he's doing? Because I saw nothing but committed excellence from him this offseason. That's why Ziegler's marquee free agent signings included TE O.J. Howard, who's already been cut; TE Austin Hooper, who stopped being useful about three years ago; CB Duke Shelley, who needs assistance reaching his favorite cereals in the grocery store; and WRs Jakobi Meyers and Phillip Dorsett, who excite me less than a David Zaslav commencement speech. I don't see what Adams is complaining about here.
Also, Tom Brady is a new part owner. No, he's not gonna unretire to play for your loser of a coach.
Why the players think you suck: Take a guess.
Player respondents felt that head coach Josh McDaniels is less likely to listen to his players and keeps them for longer hours than other head coaches around the league. Longer hours are not correlated to winning, as seven of the top eight coaches rated as being most efficient with their players' time in the 2022 survey made the playoffs this year.
Excuse me, but I was told there wouldn't be any learning required if I wanted to coach this team.
What has always sucked: If Mark Davis had gotten his way, and he only gets his way at SuperCuts, Jon Gruden would still leading this team.
So when Davis and Ventrelle took the conference call with Goodell and NFL general counsel Jeff Pash, Davis leaned toward sticking by Gruden. But Davis felt immediate pressure. According to sources with direct knowledge of the call, Goodell repeatedly told Davis, "You have to do something."

"What are you going to do?" Pash asked.

The statements and questions incensed Davis. He believed the league office had no purview to pressure an owner to fire a head coach, regardless of the circumstance.

"There's more emails coming," Goodell told Davis. "Something has to be done."

When the call ended, Davis turned to Ventrelle.

"Motherf---er," Davis said in exasperation.
Such a shame that Davis wasn't given the freedom to retain a man who cost $100 million and led Vegas to a -327 point differential in his three full seasons back with them. Tell you what Mike Tirico, everything could have been so much better if Jon Gruden were still running things. He would have TAKEN IT to this division, and then said something racist about Pat Mahomes's hair.
Davis has every right to claim that the NFL, somehow in accordance with Dan Snyder, conspired to make Jon Gruden, and the Raiders by association, the fall guy for all of its current image problems. Davis could be right, and that ESPN report from Wickernatta would make for compelling proof.
But here's the funny part: even if everyone DID conspire against Gruden and the Raiders… WHO GIVES A SINGLE FUCK. If you were in a jam, wouldn't YOU stick the blame on Gruden, the dumbest asshole who ever lived, and Davis, who makes Snyder look dignified by comparison? Of course you would work these chumps over. They're the ones who chose to move to Vegas. They're the ones who went from being rebels to being posers four decades ago. They're the ones who offered themselves up as eternal marks for the rest of the football world, including head crypto sucker Brady. I'll never feel sorry for them in the least.
That goes for their fans, too. The fuck you doing rooting for the Raiders? What are you, a shithead? You're embarrassing yourself. Go cheer for the hockey team.
Ratto says: Yeah yeah yeah, Jeff Saturday AND Baker Mayfield beat them. Like that's some sort of mark of royalty. Since Al Davis joined the postmortem shriekers' chorus in 2011, the Raiders have been beaten by EVERYONE, and the last team to do so, the 49ers, did it on New Year's Day of this year.
If we go back to their last playoff victory 21 years ago, their winning percentage is the same before and after Al achieved full inertia. This is who they are, and have been, for nearly the entire century. They employed a coach who got them to the point where they were able to lose to that same coach in the Super Bowl, and who since then has helped blow another franchise to smithereens despite having never worked for it. Jeff Saturday? Jeff Saturday was a high-water mark for these hyenas, and Baker Mayfield may as well have been Brett Favre. And now Jimmy Garoppolo? The Raiders defy the very concept of low moments.
What might not suck: Tyree Wilson fell to them in the draft and he's supposed to be pretty solid. Also, in any pissing contest between Davis and John Fisher, Davis wins in a rout.
HEAR IT FROM RAIDERS FANS!
Madelyn:
This team abandoning me for Las Vegas, the way I wish my father would, was the best thing that's ever happened to me. Can't wait for Fisher to follow.
Edward:
I once owned a JaMarcus Russell Fathead.
Jake:
Our long running experiment to find out what Eli Manning's career would have looked like without a topflight defense is now over, but somehow we ended up with an even worse quarterback.
Stefan:
I have recently taken to watching The Price is Right Barker Era on the Roku Channel. In one sepia-toned episode, peppered with shag carpeting and light-for-the-era misogyny, contestants were asked to bid on season tickets to the "World Champion Los Angeles Raiders." I have no idea which of these anachronisms is most likely to return: the World Champion part, the Los Angeles part, or Bob Barker himself. 
Derek (not Carr):
I'm 27 years old and the only thing the Raiders have done consistently well in my life is have excellent kickers and punters.

Hue Jackson is the third best coach the Raiders have had in my life.

Derek Carr is the only quarterback in the history of football that could have Davante Adams and regress. 
John:
Because being Raiders fan is like having a random stranger kick me in the balls 17 Sundays a year. God I hate them. 
TM:
They had a genuinely likable head coach to end 2022, so of course, they hire the guy that drafted Tim Tebow. The crowds look like those pop-up Halloween stores that show up in your town every fall.
Burt Thaxton:
One of the real problems you encounter with a coach like Visor Patricia is that deep down, you just want the Raiders to fire him. You can't help but hate-watch. I'm at a point where I want Herbert and Mahomes to fire laser after laser until McDaniels's soul breaks and he goes crawling back to the Pats. I want 17 games a year against LA and KC.

Derek Carr Note: He was mediocre but god dammit he was OUR eyeliner Jesus boy. Farewell, sweet prince. I shan't forget you.
Tarek:
I think they broke me. I can't even act like I have any faith or care that they will be good in 2023, 2024, or 2025. But in 2026, you better watch out!
Colby:
I assume no one shoved a gun in Mark Davis' face and demanded he build Pats West with the meatiest-headed Belichick failson. Is it disappointing? No. Is it surprising? Also no. Will it drag on two seasons too long, and end in the stupidest fashion possible? You know the answer to that.

God's Handsome Idiot will take the snaps and demonstrate his elegance as a handoff artist. The line cannot block a fart. The idea of Crosby, Chandler Jones, and Tyree Wilson providing a terrifying pass rush to mask the rest of the defensive issues is great in theory, but "theory" describes the rest of the defense nicely.

Either way, this all ends with Daniel Carlson being team MVP and the Chiefs winning both matchups by a combined 157 points. Copy and paste the whole thing and change a few names for WYTS every year until the sun burns out.
Jason:
I am 41 years old. I will be 42 by the time the season starts. Their last Super Bowl win came when I was less than one. Their last Super Bowl appearance is older than my 19-year-old daughter and featured the center going on a bender after ditching his meds, a coach refusing to change the audibles known by his opponent, and a Super Bowl blowout win by fucking Gruden that he definitely celebrated by wrapping himself in a Confederate flag and screaming homophobic and racist taunts at his cleaning staff before going to Mar-A-Lago to harass waitresses with Trump.

In between, I have seen more coaches than candles on my birthday cake, busts, a murderous DUI, more busts, two of the ugliest owners in a league full of ugly owners, the team moving back to Oakland and then to Vegas to play in a Roomba, wasted potential, Randy Moss just deciding not to try, Antonio Brown showing the real time example of CTE/being a rapist, Gruden returning, and now another failed New England coach running shit into the ground with the added benefit of ditching Carr for a guy that will play six games and then get hurt.

Oh and the one time I went to a game it was the MNF where Rich Gannon suffered the injury that cost him his career. They lost to the Chiefs on the goal line, I saw fights in the stands, and I got to drive home in the middle of the night for four hours miserable but having to sell my family on it being a great birthday gift. Truly the death of the franchise being relevant in any positive way. I honestly don't know why I bother. 
Conor:
I live in the UK and, as such, am used to being deeply embarrassed about the people I'm associated with. In September last year, our Government deliberately tanked our own economy, and the Prime Minister had to resign after lasting for less time than a lettuce. It was still significantly less shameful than being associated with the Raiders.

We hired a head coach whose greatest achievement was abandoning the the Colts, and were surprised when he sucked. We had teams literally hand us games by lateralling the ball to Chandler Jones, and we still couldn't manage more than six wins. Our defence could not have been worse, even if we hadn't bothered fielding a secondary at all.

Mark Davis wants to be a maverick like his dad so badly, but knows nothing about football and even less about coaching hires. Whenever we're hiring a new coach and/or GM it's like watching the wimpy kid being peer-pressured into eating a dead spider. I have never played, coached or watched a football game in person in my life, and I'm still reasonably certain I could run this team better.

I will watch every single minute of us scraping out way to 5-12 this season, and in a year's time will have convinced myself that Jacoby Brissett is definitely our solution at QB. I deserve this.
Jake:
Tom Brady bought into the fucking team and gets to be part owner of them after he somehow snatched the soul out of us and body-swapped our franchise with the Patriots when he fumbled two decades ago. I'm 37 now and I'm starting to realize there's no particular reason for this team to ever win a Super Bowl in my lifetime.
Adam:
I've watched this failure train derail in three different cities so far, and economically devastate those cities, too!

The only winning season they've had in my adult life, and I'm not young, was the year Reggie McKenzie had a decent thing going. Even with January 6th sympathizer and leather jacket wearer Jack Del Rio as his coach, only for Derek Carr to break his leg on Xmas eve and then have some cracker QB whose name I don't even remember start a playoff game lose to future Hall of Famer Brock Osweiler.

Then, sallow fuckface Mark Davis gave the keys to Jon Gruden and it was even worse than I had imagined. Gruden took Mackenzie's job because he hates black people as much as he loves ineptitude. Then he got rid of prime Khalil Mack. And then he did all the racisms. For all this, he has 100 million dollars and we have Josh McDaniels' stupid fucking visor.

I hate this team. I hope Gruden gets beaten to death in a parking lot. Raider Nation, including myself, are losers for watching this annual flood of diarrhea. They'll ruin Maxx Crosby and trade him for a clipboard. I hope they lose all their goddamn games.
Smokey:
A few years ago when I was living in DC, the Raiders came to town to play the Commanders, so I tailgated the game with a few other Oakland expats. We were all hella homesick, and with the 2017 Raiders coming off the team's best season of our respective fandoms, we were juiced. For the first time since elementary school, the Raiders weren't the most embarrassing team in league.

They didn't score that night until the third quarter and lost 27-10. The team finished 6-10, Del Rio was fired, and the team never went back to the playoffs while in Oakland.

The Raiders have never brought me joy. I am too young to remember the glory days, so the move to Vegas made perfect sense. A city full of the stars of yesteryears overcharging their fans for lackluster live shows. They fit right in.
Submissions for the NFL previews are now closed. Next up: Atlanta Falcons.
Stay in touch
Sign up for our free newsletter