Some people are fans of the Green Bay Packers. But many, many more people are NOT fans of the Green Bay Packers. This 2023 Defector NFL team preview is for those in the latter group. Read all the previews so far here.
Your team: Green Bay Packers.
Your 2022 record: 8-9, starting with this beauty.
That drop was part of a season-opening loss at Minnesota in which the Vikings didn't even know their own playbook yet. Many "R-E-L-A-X"es ensued thereafter, and god will I be grateful when I never have to hear that fucking turn of phrase ever again. The Packers won three in a row after that loss, enough to make you think that their moon-unit QB would Namaste them back to yet another 13-win season that would end in failure.
He didn't. Bereft of dependable wideouts, the Packers would go on to lose seven of their next eight. They blew a 20-10 lead to the Giants in London. The Commanders held them to 232 total yards and 233 fun laterals. Their starting corner tried to shit-talk Stefon Diggs before a game in Buffalo, and Diggs promptly roasted him for 108 yards and a touchdown. They got crushed by the Titans' passing game—how, I have no idea—in a double-digit loss at Lambeau. The following week, Jalen Hurts ran for 157 yards on them, setting an Eagles franchise record. When it comes to multi-purpose QBs like Hurts and Colin Kaepernick, the Packers defense lies down like they just got stricken by the flu.
This was one of the worst run defenses in football a year ago. Drafting two UGA defenders was of no help, because one of them couldn't stop getting ejected from games. Their receivers dropped a million passes. Their QB couldn't stop blaming his teammates for poor vibe control. They didn't add a seasoned wideout at the trade deadline because Packers management moves about as quickly as the team's fans do. This team was 4-8, dead in the water, and deserved all of it.
Oh, but wait a moment. Do I detect a hint of magic in the air? Because these Packers won four in a row right after that 4-8 start, including a thorough destruction of Minnesota in their Week 17 rematch. The rest of the NFC broke Green Bay's way and the Packers found themselves only needing to beat an already-eliminated Detroit team in the final week, at Lambeau, to get into the playoffs as the dreaded Team No One Wants To Play. They had everything going their way that night: momentum, the home crowd, the refs, the NBC crew … all of the advantages that the Packers are usually afforded. They weren't gonna lose this game. This was 2010 all over again. America, ever stupid, was very excited about it.
And then Dan Campbell fucked the Packers with a cheese knife.
This is how the Aaron Rodgers era ended in Green Bay. I wish it had ended with him trapped under ice, but sometimes you have to accept certain compromises. This was good. This made me happy.
Oh, and this is where I disclose that I'm a Vikings fan, and that we won the division last year. Us. The Vikings. Not you. Normally this is where I say something creatively insulting towards opposing fans, but that's not how I roll when it comes to the Packers. With the Packers, all you'll get from me is blunt, ugly vitriol. I fucking hate you people. I hope this is only the first taste of shit you eat this decade.
Your coach: Matt LaFleur. I've had to hear about how brilliant this little shit is for the past three years when his quarterback did all of the coaching for him. You'll pardon me if I'm not dazzled that a rookie coach who lucked into Aaron Rodgers made a good first impression on the job. Now this fake ID-ass loser is gonna have to actually earn his money, which is a big ask given…
Your quarterback: Trey Lance with a better PR firm. Jordan Love has only one career start under his belt, which makes him an unknown quantity and therefore the perfect guy for football hipsters to salivate over before the season begins. Twitter is so in love with this sweet baby angel you'd think he was the producer on all of the (Taylor's Version) albums. Meanwhile, he plays for the smarmiest franchise in North America and has an HGTV-ass name to boot. "Jordan Love" sounds like the name of a Mormon lady who puts weird gray flooring in homes that she's trying to flip. His current stat line suggests that he's gonna make Matt Flynn look like a hidden gem. And given the history of Green Bay's quarterback room, he's gonna feel so obligated to be an Interesting Personality that he'll somehow end up doing welfare fraud by accident. In a moment of panic, convinced that he's losing the clubhouse, Jordan Love will cry out, "BIRDS AREN'T REAL!" at the top of his lungs, and then everyone on the O-line will groan at his bullshit.
But if you think I want Jordan Love to bomb out spectacularly, you are wrong. If he turns out to be Green Bay's third straight Hall of Famer at the position then yes, pass the cyanide tablet. But if he's fucking terrible, then that puts the Packers in pole position to draft Caleb Williams, which no reasonable football fan wants. Fifth-round dartboard pick Sean Clifford is currently listed as Love's primary backup, so you tell me if that screams TANK JOB or not. GM Brian Gutekunst is no dummy. I know because the football media won't stop telling me so. That's what happens when your intellectual opponent for three years is Aaron Rodgers. You end up looking like fucking Isaac Newton. But for now, I'll go with the flow and assume that Gutekunst knows what he's doing—even though he's the jellyfish who extended Rodgers just a year ago—and that it wouldn't exactly break his heart if Love failed.
So what I would prefer here is what the law of averages dictates: that Love will be competent but unspectacular. That's perfect. That's just the kind of McCown I want behind the wheel of this jalopy. Gimme another 8-9 season and with no hope of recovery. I'll snort up your franchise's ashes like I'm Keith Richards honoring his old man.
Third string is a guy named Alex McGough. I have no idea who that is. He might have blogged here once, who knows.
What's new that sucks: Nothing! Thanks to over $57 million in dead cap space, the Packers finally got to live out their lifelong dream of signing no free agents at all. The highest-profile signing was backup S Tarvarius Moore. Their second-highest profile signing was a long snapper. Meanwhile, they lost S Adrian Amos, DT Dean Lowry, WR Allen Lazard, WR Randall Cobb, DT Jarran Reed, K Mason Crosby, and both their tight ends. None of those losses count as terribly significant, which means that this year's Packers will look an awful lot like the 8-9 Packers of a year ago, only minus Aaron Rodgers.
Despite my personal feelings about Aaron Rodgers (they trend negative), I must acknowledge that he was a fairly good quarterback who forced everyone else on the Packers to play up to his impossible standards. The whole Kobe thing. But Rodgers is gone now, which means that he isn't here to sign-language guys like Christian Watson and Romeo Doubs into being elite. That's why this will be the year that Green Bay finally makes full use of its running attack, and only a decade too late. Both Aaron Jones and A.J. Dillon are still here, and they'll get the ball a combined 75 times a game. Jones will be a killer fantasy back. Dillon's thighs will be openly ogled by Cris Collinsworth at least twice a game, like he's Brent Musburger whipping his dick out at his first sight of Jenn Sterger.
Otherwise, the Packers are about to endure the same kind of season the Bears had a year ago, where winning games is less a priority than using those games to evaluate the roster for the next season and beyond. This will be a 17-game referendum on Love, but also on Watson, Doubs, and the four rookie pass-catchers that Gutekunst drafted—another thing that happened 10 years too late—in April: TE Luke Musgrave, WR Jayden Reed, TE Tucker Kraft (that's a real Packers guy name), and WR Dontayvion Wicks. Maybe one of these guys will be the next Davante Adams. Maybe not. Maybe fuck yourself. All I know is that these guys already have an establish track record of dropping passes, and that LaFleur won't want to count on any of them. Just like Rodgers didn't.
Over on defense, the Tarvarius Moore signing might end up being of genuine import, because the safety room is atrocious. The Packers still have at least one primo defender at every level—DE Kenny Clark, OLB Rashan Gary, CB and Diggs victim Jaire Alexander—but good passing offenses will be able to split them wide open downfield unless the pass rush can stop them from doing it. That's why Gutekunst overdrafted OLB Lukas Van Ness in the first round: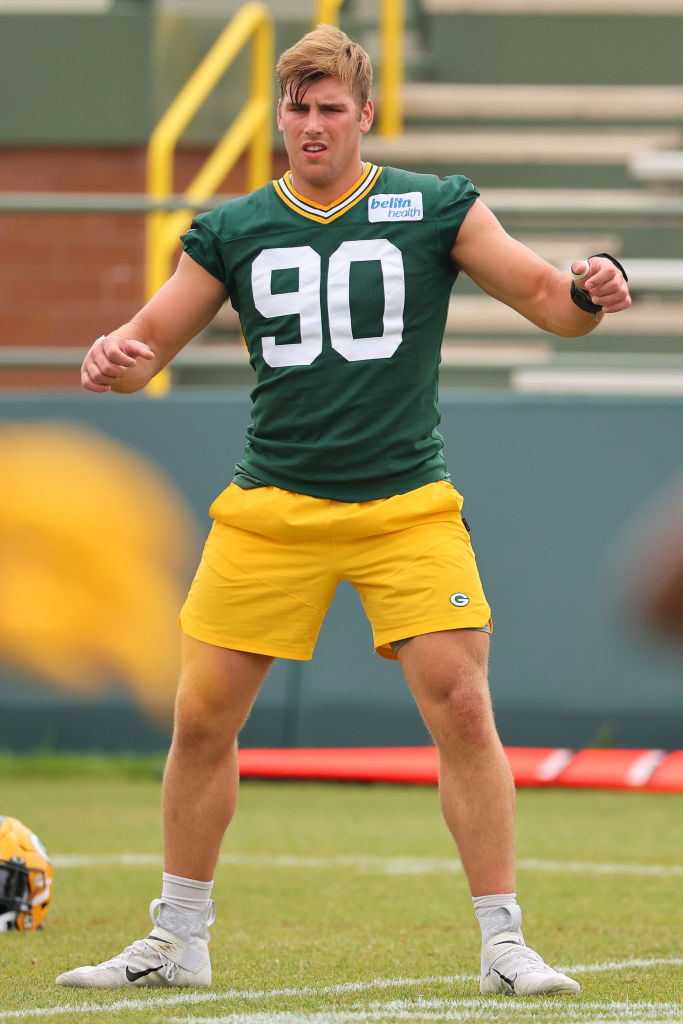 Why does every Packer have to look so much like a Packer? I'm getting really sick of it.
David Bakhtiari is an asshole.
Why the players think you suck: While the 2022 Packers were good at avoiding injuries (only 52 Adjusted Games Lost, good for sixth best), their players still aren't wild about the resources on hand:
Players believe that additional physical therapists should be added to the staff; many players noted that they have outsourced their physical therapy due to understaffing.
I think we're all a little wary of NFL players outsourcing their physical therapy needs these days, are we not?
What has always sucked: I should be pleased that the Packers are on the brink of long-term irrelevance, but I already know that the rest of America won't abide it. America gives this team more deferential treatment than a legless child at a swim meet. Every victory is special. Every loss is deeply concerning. Every flag that goes their way is a good call. If these Packers have another 8-9 season and Love posts an 89.0 passer rating, people will treat this team like it landed on fucking Mars. OMG YOU BETTER KEEP AN EYE ON WHAT THEY'RE BUILDING OVER IN GREEN BAY!
Nope. No thank you. I've had enough Green Bay for the next 100 lifetimes. I shouldn't even know where Green Bay is, or WHAT it is. This town shouldn't have a football team. It's barely a town. It wouldn't even make for a convenient rest stop. It's just another shitty, right-wing backwater that I hope gets wiped out by a surprise earthquake. But because America lionizes small-town living like it's the fucking priesthood, I have to spend way too much time every year hearing about how Green Bay is the Mecca of the Western Hemisphere. It's nauseating.
So fuck the Packers. Fuck Rodgers, fuck Favre, fuck LaFleur, and fuck their fans. Fuck 'em all. Fuck 'em on a train, fuck 'em off to Spain. Fuck 'em on a box, fuck 'em wearing socks. Fuck 'em in the dark, fuck 'em in the park. Fuck 'em with a goose, fuckin' drink some juice. Fuck 'em in the snow, fuck 'em with your bro! Fuck 'em in the pants, fuck 'em at the dance. Fuck 'em on the moon, super fuck John Kuhn. Fuck 'em 'cause they suck, fuck-a-ducky-duck! FUCK FUCK FUCKITY FUCK YOU. Fuck.
The Vikings are winning the division again. Go ahead and screenshot this, like the cop that you are. I don't care. I'll shit on your face.
Ratto says: Brian Gutekunst won his long war of reputational attrition with Aaron Rodgers. So Jordan Love is finally in position to answer to the question, "Who was the last Packer quarterback not to be a Hall of Famer?"
The Packers have been getting by Rodgers's looks and old Lombardi clips for years now, so this forced remake will allow us to rethink their entire ethos. And what scares folks is the very real possibility that they could bring back the glorious memories of Lindy Infante and Mike Tomczak, the last non-Hall of Famer to start a game as Packer quarterback by design. This passing game could look like the old Packer logo. But if Love turns out to be the next Rodgers, we could be in for another 15 years of unbearable smugness by a fan base that lives on it.
What might not suck: Did you hear about Christian Watson having a great second half in 2022? Trust me, you will. I wish no American had a tongue.
HEAR IT FROM PACKERS FANS!
Will:
We all deserve to be kicked in the throat.
Matt:
I simply hope Jordan Love has a nice long career that doesn't end with him being revealed as just the biggest asshole you could ever imagine.
Eugene:
I'm a team "owner." For $250, I got a piece of paper that I got framed for $300. It's worth nothing. I can't resell it. Oh, and apparently Newt Gingrich has one too. 
Nicholas:
This is the first year since COVID that I can actually cheer for the Packers instead of just hoping that every game has a billion turnovers because our quarterback became the worst stereotype of a California Guy.
Tom:
I bought my dad a Jordan Love jersey for Father's Day. Within five minutes my mother spilled coffee all over it. 
Rob:
I'm glad last year ended with a wet fart in an elevator of a comeback. It proved to so many people just how much he wasn't worth any of it.
Don:
There are 537,460 stockholders of the Green Bay Packers, of which I am one. I know deep down in my heart that if you averaged us all out, we are actually Daniel Snyder.
John:
Above all else, this must be remembered: we deserve this. When Jordan Love turns the ball over nine times against Atlanta in Week 2, we will deserve it. When LaFleur tries to do an 'R-E-L-A-X' to a dead silent in the locker room in Week 9, we will deserve it. When every nitrate-infused psycho between Ashland and Beloit has to be cut off from AM call-in shows before he screams the n-word on the air, we will deserve it. When Rodgers goes on McAfee and says Green Bay suffers from "lake truth, which is distinct from ocean truth," we will deserve it. We have been weighed in the balance and found wanting. The Temple at Lambeau will become as a howling wilderness. We will still have a better record than the Bears.
Ethan:
LaFleur's beard is stupid.
Alex:
It's March 15th and he's finally gone. I hate myself 60% less as a Packer fan now that I don't have to support that no talent assclown. I'll definitely be clamoring for him to come back after we go 4-13. 
Adam:
Our old quarterback decided he'd rather spend days at a time sitting silently in a dark room than living in our cheese-obsessed, pseudo-Rust Belt town. Our new quarterback was overdrafted solely to piss our old one off, and is probably gonna be backing up Nathan Peterman on the Saskatchewan Roughriders in two years. Not only that, but we paid him $25 million just so that Green Bay fans can boo him (because he's not white) and our franchise can give his parents nosebleed seats to watch him play.
Cory:
Our only hope is that Jordan Love is a regular, everyday, normal guy.
Nick:
It's too late. The damage is done and our rebound QB is just a short-term fix.
Patrick:
Mark your calendars: in 15 years, former Super Bowl champion and two-time MVP Jordan Love will misappropriate government funds that were earmarked for the distribution of a vaccine that protects against a pollution-fueled lung disease that's killed hundreds of thousands across the country. The good news: 1) he'll lead the Jets to a 6-11 record in the 2038 season, and 2) I'll be dead from that lung disease. 
Johnnie:
I have only known two first ballot HoF quarterbacks in my years as a fan. Both are objectively horrible people.

Growing up, Green Bay was the largest nearby city. It is an extremely depressing place. No place manages to combine the blandness of a strip mall and the bleakness of a dying rust belt town quite like Green Bay. Any vestige of charm surrounding Lambeau has been completely wiped out by all the horrendous Title Town development nearby. The Lambeau adjacent Cabela's is also worse than any other Cabela's I've been to. Everything is tacky and everything has an oversized parking lot that goes unused at least 40 weeks out of the year.

At this point in my life, Green Bay exists as a place to stop for Culver's on my way to the Upper Peninsula and even then, it's somehow always the worst Culver's experience I could have. The voyageurs referred to Green Bay as La Baie des Puants, the bay of stinking waters. I can think of nothing more appropriate. That town deserves another few decades of football irrelevance. Maybe that way, I can afford tickets once in awhile.
Andy:
I flew halfway around the world to witness a second half collapse the likes of which are usually reserved for fans of any team quarterbacked by Matt Ryan.

The very next weekend, I drove to Lambeau from Nashville for the pleasure of being dog-walked by Zach Wilson.
David:
Let me tell you something about us Packers fans. We act like the "only two Super Bowls with 30 years of HOF QB play" taunt doesn't get to us. But that's a lie. It hurts bad. It reminds us of all the missed chances and failures when it counted. Yes, it's better than what the Vikings and Bears have accomplished. But we know we were granted an absolute unicorn of an opportunity and we did practically the minimum with it. That is loss. That is regret. Unless....

JORDAN LOVE WILL WIN THE MVP AND THE SUPER BOWL THIS SEASON!!!
Jude:
This year, for the first time in my adult life, the Packers are going to start an ordinary mortal at quarterback. That quarterback is Black. You can see what's coming. Get ready for broadcast delays from Lambeau so the production crew can bleep out all of the racial slurs that will descend from all the neck goiters in the stands.
Nic:
It'll probably be another two decades before they luck into a good quarterback again.
Dave:
A pile of receivers whose combined pro experience is significantly younger than my underwear.
Derek:
The air here is secretly what makes everybody fat. 
Shalom:
A lot has been said about Brett Favre stealing from poor people, but it's also important to remember that Reggie White was a raging homophobe.
Patrick:
Two all Hall of Fame quarterbacks and the Packers still cannot regularly build a complete team.
Dylan:
The Packers just bought Foamation, the company that makes the cheesehead. To celebrate, they unveiled a new product: a special edition cheesehead that says OWNER on it. You better believe that I'm going to buy one of those when I'm at Lambeau this year. FML. 
Jeff:
When we drafted Jordan Love. I told my friend it was "exactly what I wanted" to happen. He promptly took a screenshot of the conversation and I'm sure I'm going to spend the season just waiting for it to pop up like a case of herpes. Fuck this team with 32+ hours of complete darkness. 
Mike:
The only hope for this season is that Rodgers goes full Russell Wilson on the Jets, ruins their season, and Saleh gets fired so the Packers can hire him to replace Joe Barry.
Landon:
The Packers have drafted six receivers and two tight ends in the last two years, and it's possible that zero of them are actually any good. 
Jake:
This franchise had two Hall of Fame QBs for the last 30 years and only won two Super Bowls, and have fewer NFC titles than the Panthers over the last 25 years. Now they face a future with a QB whose mid-major college team saw its record fall from 11-2 to 7-6 in his final year.
Stosh:
Lambeau Field is an interdimensional carny portal to hell filled with bar-tanned alcoholic septuagenarians with smoker voices screaming the most basic and inane shit for the first quarter until they get too hoarse from fried cheese curd reflux. At halftime, you wish the bombs would fall and end this Jan. 6th insurrection cosplay.

Gute is a gutless coward scared to lose his job. His decision to trot out Rodgers last year instead of getting the Russell Wilson haul screwed us for 10 years, but the fans don't realize it.

I gleefully anticipate watching Rodgers refuse to pass over the middle during the AFC playoffs. He's more washed than jeans in Loronzo Lamas's closet, and not having to root for him is the biggest gift we've gotten since Ron Wolf suckered the ambient cowboy hat running the Falcons into giving us Favre. We didn't deserve any of this. We're filth. And I used to be proud of this sordid state, but Wisconsin is the South of the Midwest. I-43 is a gauntlet of Trump signs slickened by Scott Walker's drool. We murdered Dan Devine's dog. We even drafted the I-5 killer. Let us be cleansed by futility because we never deserved any of this.

But fuck the Vikings and the Bears still suck. 
Nicholas:
There's gotta be something in the cheese.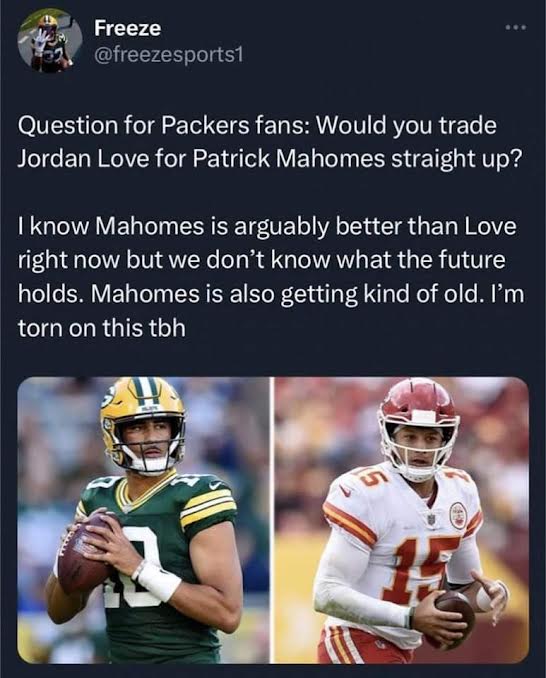 Lonny:
You printed my email last year about my brother, "Harry." On Christmas Day, Harry texted me about Green Bay Packers football. He was disappointed with the opening half, and hoped that they'd turn it around in the second half. I wished him a Merry Christmas. About two hours later, I got another text saying that it was a Christmas miracle. I told him that it was meaningless if they couldn't beat Detroit in Week 18.

He texted me, "Fuck You," today (Jan. 9), the morning after Detroit eliminated them from playoff contention. 
Andrew:
As an African American Packer fan, I can't wait for the fanbase to inevitably pull a, "Jordan Love doesn't look like a quarterback, but I can't my finger on why" before yearning for the days of Brett Favre robbing poor people and Aaron Rodgers being MAGA lite. 

When Brett Favre's dick pic leaked on internet, my dad (ironically, a Mississippian) referred to it as The Pink Panther.
Lucas:
Bring on a season where the Packers might be the worst team in the NFC North! At least that'll be more interesting than yet another season where we know our hard ceiling is a home playoff loss to the 49ers. 
Paul:
A man wore Packer Zubaz to my mother's funeral. It was on a Wednesday. In March.
Erinn:
Full disclosure: Although I don't live in Green Bay anymore, I'm having my wedding reception at Lambeau Field next year. It's the nicest venue in town, let's be honest.
Andy:
Other than football, the last event of any cultural significance to occur in Green Bay was when Poison filmed part of their music video for "Every Rose Has Its Thorn" in the local arena.
Mike:
The night before the 2002 Divisional Playoff between the Rams and Packers in St. Louis, a group of friends and I were at the Blues hockey game. Afterward, we walked to a bar between the Scottrade Center and the then-TWA Hole. The bar had a fire pit out back, so we went out with our drinks and found a group of Packers fans, in full Packers gear, in town for the game, drinking around the fire. We talked football with them for a while, finished our drinks, and told them we thought they'd see a good game the next day.

One of them replied, "Oh, the Rams are going to stomp the shit out of us." They then produced a sandwich bag of lunchmeat and cubed cheese and began toasting it over the fire pit on a skewer, s'mores style.
Colin:
The night I broke up with my girlfriend, a big group of those friends and I had a backyard bonfire. We smoked a couple joints, drank some 40s, and all of them told me how I had made the best decision of my life. By going off to college without a girlfriend, I would be free to explore a fresh campus full of attractive girls. Six weeks into the semester, rocked by a humbling streak of going home alone from every single house party every single night out, I went back to my ex with my tail between my legs.

The biggest difference between the Packers and my naive, younger self is that when the Packers start 0-6 and Jordan Love is as effective as an overconfident teenager trying to drunkenly spit game, they can't go spend a weekend sleeping over in Aaron Rodgers's dorm room to get their swagger back.
Johnny:
December 23rd, 2017. My first and only game at Lambeau Field. I had just gotten out of rehab. I tried so hard to enjoy myself, but at the time I didn't know how to enjoy myself sober. It was -2 degrees and the Packers lost 16-0. Bret Hundley was the starting quarterback. The drunk and shirtless guy next to me got himself a brat. He held it out to me and asked, "Want a bite?" When I declined, he looked truly puzzled, like maybe he misheard me.
Adam:
"Everything about this place (Green Bay) is terrible, to be honest with you." -Ray Rice, 2008

Even a wife-beating shitbag can be right sometimes.
Dave:
Packers fans love to talk about how Packers fans takeover other stadiums. The reason this happens is because everyone with half a brain gets the fuck out of Wisconsin as soon as they can. This is a state that prides itself in Red Dog, high obesity rates, union busting, and having inner cities that make Ferguson look like bastions of racial tolerance. Despite all this, the team still managed to sucker me into buying a $200 piece of paper.

Also fuck Golden Tate and Lance Easley.
Hank:
I've been praying everyday that they launch an old Unsolved Mysteries with Robert Stack to figure out what the fuck happened in that closet with Najeh Davenport. Was it a loose shit that he couldn't hold? Was it an angry big dump that he just decided, "Fuck you, here's my bowels."  My life will never be complete until I find out the details.
Christopher:
That vaunted season ticket waiting list is long because every John J. Fuckface in Kenosha put all five of his dumb-ass kids on the list after a night of cow tipping and telling tired Polish jokes over warm MGD at the local watering hole while trolling for a plus-size Mrs. Right.
Riggs:
If you have a Packer fan to invite to your fantasy football league, invite them. They will draft a Packer for every position.
Andrew:
During COVID, my 67-year-old mom started showing signs of early and aggressive Alzheimer's. She's got great recall of moments from years ago, but has trouble remembering what she did last week, yesterday, or an hour ago. She's been a Packer fan her entire life, so many of my calls home devolve into her wanting to talk about the Packers. At least twice a month, I've had to remind my mom that Aaron Rodgers is no longer the quarterback, and that yes, he really kinda was a piece of shit. But she loved him anyway, and yes, the Packers are gonna be terrible this year. 

I hate this organization for a lot of reasons, and I hated Rodgers before he was anti-vax pilled. But having to break my mom's heart every other week is a new low, and I went to high school in Packers country during the Mark Chmura trial.
Brian:
Worst of all, Drew will likely be happier with football than me going forward. 
Scott:
We deserve every bit of shit people dish our way. We're barely more competent than Bears fans. And yet I'll still tune in every Sunday to watch this shitshow because I'm an asshole too.

Fuck Brandon Bostick, fuck Mark Chmura, arrest Brett Favre, and good luck to the 2023 New York Packers. See you in hell.
Submissions for the NFL previews are now closed. Next up: Washington Commanders.
Stay in touch
Sign up for our free newsletter