Why Your Team Sucks
Why Your Team Sucks 2020: Minnesota Vikings
10:21 AM EDT on September 16, 2020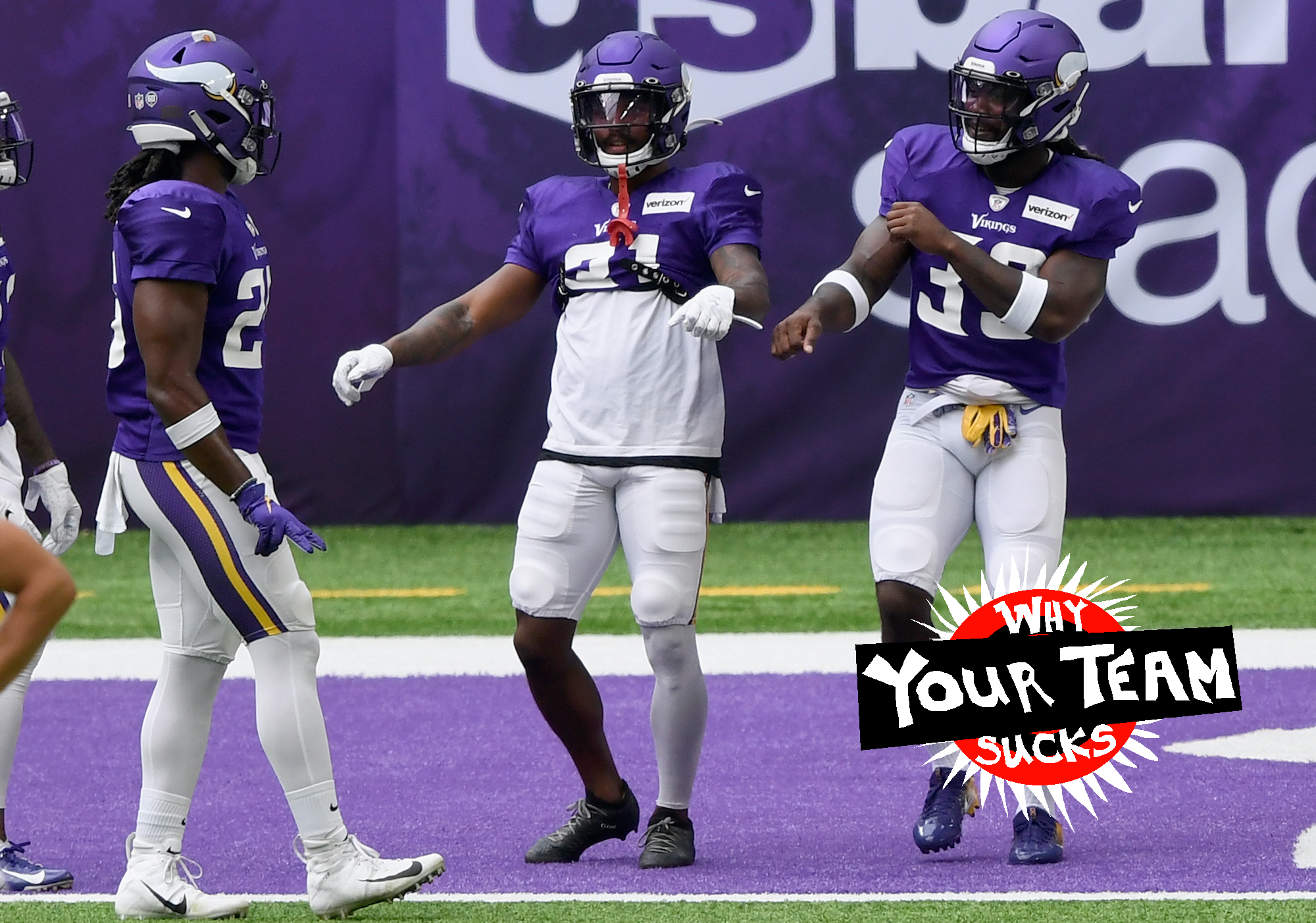 Some people are fans of the Minnesota Vikings. But many, many more people are NOT fans of the Minnesota Vikings. This 2020 Defector NFL team preview is for those in the latter group. Read all the previews so far here.
Your team: Minnesota Vikings. Here is where, as always, I disclose that I am a Vikings fan. I wish I were anyone else. I wish I had been a Manson family victim.
Your 2019 record: 10-6, with just enough highs to make the lows TOTAL FUCKING AGONY. The Vikings blew a game to the Chiefs in Kansas City, which sounds like respectable enough failure until you remember that Matt Moore started that game and not Patrick Mahomes. They couldn't beat the Bears in Chicago. Again. They drafted a center the prior spring in their 50,000th attempt to help the O-line, and he ended up being one of the worst pass protectors in the entire league. One of the best corners in team history fell off faster than Tiki Barber's morning show career. That corner's potential heir ended up missing the playoffs with a surprise neck injury, which is always the best kind of neck injury. Their quarterback had to publicly apologize to their wideout for throwing him uncatchable balls. The other wideout was so miserable playing for them that he forced a trade to Buffalo. Imagine saying to yourself, "You know what? I'd rather be in Buffalo" and being CORRECT about it.
The Vikings won a playoff game in New Orleans that they had no business winning, which was enough to convince rubes like me HEY THIS TEAM MIGHT BE FOR REAL, AMERICA! I was like no more expecting the worst for me! I'm not giving my team those bad vibes! Then they went to San Francisco and hit a fucking wall.
The Vikings' offense gained 147 total yards in that game. It was like watching a 15-year-old try to get out of a tight parking spot.
Your coach: Mike Zimmer, coming to you LIVE from his personal tannery.
Do note the Zimmer Ridge fireplace emblem. Looks like some shit you'd see on an $11 bottle of wine. Mike Zimmer lost yet another offensive coordinator this offseason. Your new OC is Gary Kubiak, who quit head coaching due to stress overload and now holds a job that has even longer hours. We call that the Urban Meyer Joyride. Ah, but there's even BETTER news. Zim brought in an old friend to help give the defense an extra boost in Dialed Up Blitzes.
NOOOOOOOOOOOOOOOOOOOOOOOOOOOOOOOOOOOOOOOOOOOOOOOOOOOOOOOOOOOOOOOOOOOOOOO
Shit. Fuck. Being a Vikings fan means goofing on other coaches and players when they fuck up will ALWAYS come back to bite you in the ass. Thus, after years of delighting at the sight of Dom Capers fucking up in Green Bay over and over, he is now my problem. And amigos, was that ever a problem on Sunday, when Aaron Rodgers treated this defense like an inflatable doll. I am the only person alive who didn't foresee this. All comeuppances are inevitable around here. Look at that motherfucker's rug. You could scrub a transmission clean with that thing.  
Your quarterback: If he dies, we all live.
It's a testament (?) to Kirk Cousins that my biggest thrill having him on the Vikings was the day the team managed to get his cap number down. Did they have to commit to two more years of Kirk to accomplish this? Yes. Was it worth it? Reader, WAS KIRK WORTH IT is a question even God himself refuses to answer.
The past two years, the Vikings have labored, in painstaking detail, to tailor this offense so that Kirk can't fuck it up. They made every single pass a play-action pass. They drafted a preternaturally gifted tight end in Irv Smith. They added so many screen passes to the playbook that Kirk never has to throw the ball farther than two yards. When Kevin Stefanski took the Cleveland job, they begged Kubes into taking his OC job so that Kirk wouldn't have his precious continuity disrupted. Everything has to be JUST right for Kirk to succeed, otherwise it all goes to shit, just as it did in San Francisco this January. He's a QB who needs the people around him to make him better and can NEVER provide the opposite service.
And you know what the worst part is? I have to DEFEND him. What choice do I have? I'm stuck with this failed Blue's Clues replacement host until the sun dies out. So I have to be like well, he beat the Saints in that playoff game! And what about that heroic tie he forced in Green Bay two years ago? THIS GUY'S PASSES HAVE GREAT TOUCH! I feel like I have a disease.
The backup is Sean Mannion. It doesn't matter. Kirk never gets hurt. The one guy God protects and it's this grinning idiot.
What's new that sucks: The defense fell off last season, forcing Zimmer and newly extended GM Rick Spielman to make fixes that all fit squarely into the PROFIT!!! meme. They signed Michael Pierce away from the Ravens and I was like THAT WAS A GREAT VALUE SIGNING FOR THE MIDDLE OF THE D-LINE. Pierce, an asthmatic, quickly opted out for the season.
They let virtually every cornerback walk, including Trae Waynes, Mackensie Alexander, and Xavier Rhodes, who was a shutdown corner in a past life. Replacing them is a patchwork quilt of dudes like Holton Hill, Mike Hughes and rookies Can Dantzler and Jeff Gladney. I do not trust Gladney, largely because his last name is very silly. Rodgers and Davante Adams just threw the ball around against this secondary at will and I swear to you I heard the color guy say, "They're like kids out there right now!" My whole adult life is nothing but Packers QBs treating this secondary like a fucking swirly slide.
They thought DE Everson Griffen would stay because, like, loyalty. He signed with Dallas instead. They tagged all-pro safety Anthony Harris hoping to trade him, only to find no takers. As with every year, the Vikings are praying that their rookie class can fill holes that they DESPERATELY need filled. Immediately. Never a flaw in that plan. No one has any idea if this defense will be worth a shit. The Vikings' blockbuster preseason trade for Jags' all-worlder Yannick Ngakoue looked like a masterstroke right until everyone discovered that it was a panic move triggered by Danielle Hunter suffering a mysterious neck injury that the Vikings have still yet to disclose. WHAT IS THE FUCKING STRATEGY TO THIS? Does punching your own fans in the cock give opposing QBs night sweats somehow? Ngakoue is also now hurt. Rodgers touches his parents more often than this pass rush touched him on Sunday.
On offense, the Vikings traded a disgruntled Stefon Diggs to Buffalo after an internal feud that was Minnesota nice from wire to wire: highly passive-aggressive, inexplicable simmering tension where no one would really say outright what the problem was, and never did. This team avoids open conflict as scrupulously as its fans. Really pleasant shit.
The Vikings used the first rounder they got in return for Diggs on LSU stallion Justin Jefferson. Diggs is the best contested-catch wideout in football. He can make virtually any quarterback look competent, which means Kirk will no longer appear to be so. Jefferson could conceivably replace Diggs opposite Adam Thielen, but pretty much every scout says Jefferson is more of a slot receiver. EVERY wideout on this team is more of a slot receiver. When you have Tom Brady, you can jack off to this prospect. When you have Kirk Cousins, you go shopping for razor blades. By the way, the last time the Vikings traded away a god receiver for a first rounder and drafted his replacement with it, they ended up with… Troy Williamson. Again, razor blades.
Dalvin Cook got a new contract the same week his backup ran for the exact same number of yards against Green Bay on only half the number of carries. Pat Elflein is still at guard and he fucking sucks.
What has always sucked: Being a Vikings fan is like a having a KICK ME sign tattooed on the back of your neck. I could tell you I've heard it all before—because, of course, I have—but that would be a cheap attempt on my part to dissuade you from shitting on me because I'm pretending to be numb. I wish I were numb. I wish I were dead inside. I am not. I am eternally vulnerable to emotional pain, and the Vikings are the reason why. Get your licks in down in the comments. If I read them, I'll get mad, try to keep it to myself, and then fail. This happens every fucking time. I joke about other fans being hilariously defensive, but then my team eats shit and I take ANY slight personally. All you gotta do is tweet the Blair Walsh gif at me and I feel assaulted. I'm that much of a fucking baby.
In that way, I remain very much a Minnesotan even though I haven't lived in Minnesota since 1991. You're talking about a bunch of people who are CONSTANTLY hiding their ugliness underneath a foundation of plastered-on smiles and lukewarm hot dishes. Of course this is where George Floyd was murdered, and of course this is where everyone in Edina reacted to that murder by locking up their flatware when they go to sleep at night. Minnesota is the birthplace of every misplaced American fear. It deserves a football team that's equally phony. Minnesota is the original Karen.
What might not suck: Irv Smith is gonna be an All Pro this year. You watch. Yes I'm doing it to myself again.
Ratto says: "Kirk Cousins. There we go, a nation of psychopaths screaming about his temerity to get paid a trainload of money in a short quarterback market, and nutjobs are straining against a leash made of vibranium and barking like pitbulls on crank while shrieking 'OVERPAID!' To which I say, eat a metric ton of hippo behind. Football isn't about winning, it's about surviving long enough and well enough to enjoy the money you were able to blackjack out of the local billionaire cheapscrew while not forfeiting the use of your legs. Frankly, I hope Cousins succeeds beyond everyone's wildest dreams, wins everything you can win, and then when he is asked if he has finally proved he is an elite quarterback says, 'Nope. I'm not an elite quarterback, I am Scrooge McDuck' and then cannonballs into a gigantic pile of hundreds wearing only a fez, a monocle and a pinky ring with a jewel the size of a baby's head. The new analytic in football is guaranteed money, so he won."
HEAR IT FROM VIKINGS FANS!
Jeff:
Our Infection Control Officer tested positive for COVID-19.
Bob:
Watching Kirk Cousins on MNF almost makes me wish he'd pass a fake $20 in the vicinity of Derek Chauvin.
Nicholas:
They constantly emphasize how they want a run-first scheme and then they don't want to pay the player who makes that scheme work.
Scott:
I'm sure I'm not saying anything unique here, but good God, WHY must I be forced to reckon with Kirk Fucking Cousins.
Stephen:
This team is as two-faced as people from Minnesota.
Tom:
In the last 25 years there's at least five years where (in hindsight) our best offseason move would have been trading our first round pick for another team's kicker.
Patrick:
Far too many of our fans get more joy out of Green Bay losing than us winning. We could lose 45-0 to the Jags in a game where even Gardner Minshew's mustache throws a touchdown against us, yet if the Packers lose the same day no one gives a shit.
Robert:
Despite a winning record, a playoff appearance, and a playoff win, I didn't enjoy a single second of watching the Vikings last year. How could I? Every meaningless blowout against the likes of the Falcons and Raiders was met with an equal and opposite display of complete and utter fraudulence.
Zach:
Cousins and Zimmer are the perfect qb and coach for the team with the best winning percentage without a title.
Greg:
There's nothing more Kirk Cousins than being the spokesperson for a chain called Pizza Ranch.
Mike:
I am more bitter over Favre's interception in the NFC Championship game than I am about the end of every romantic relationship I've ever had.
Ben:
The Vikings have so many co-coaches and assistants it's not entirely clear what Zimmer even does there.
Jay:
We think we are the Packers' biggest rival but we are not.
Tim:
I shouldn't know that Mike Morris was the long snapper on the '98 Vikings team, but he parlayed a high snap in the NFC Championship Game that led to Gary Anderson's miss into a radio career in the Twin Cities. Fuck Mike Morris!
Sam:
Sometimes I wonder if what it would be like if I could see into the future to find out when we are finally going to win it all, but in my heart I know that the only thing waiting for me and every other chump that supports this team is a bleak wasteland of spectacular loss after spectacular loss. My father has been a fan of the Vikings since their first season, and every time I see him lose his mind on account of them I get a harrowing look in the mirror of me 40 years from now.

I went to college with a lot of Jets and Bills fans and always looked down on them for having such shitty teams. They're hopeless! How could they keep doing this to themselves? At least the Vikings are a contender! It never made any sense to me until the end of last season, but I now envy fans of these teams. Their absence of hope sets them free, while I am stuck pushing this boulder up a mountain knowing I am going to be right back at the bottom at the end of the season to start the cycle anew. Hope is what keeps me chained to this franchise, and despite the fact that I know exactly where this journey is going to take me, I will continue to gleefully push that boulder up the mountain on my path to a promised land I will never reach.
Frank:
They suck because Mike Zimmer is an objectively good coach whose teams are usually well-prepared and yet are always good for a couple of complete and embarrassing collapses every year, games where they're absolutely unrecognizable as a team and look for all the world to see like a complex machine that has broken a gear and slipped a belt and is now just flying apart, its original purpose and design not only hopelessly beyond their reach but rendered forgotten and irrelevant by the scale and speed of their disintegration. This often happens in the playoffs, which is fun.
Steve:
Oh hi, here we are again rooting for a team with a 10-6 ceiling that MAYBE will upset someone in the wild card round.

Kirk Cousins is the new Dave Krieg. Dalvin Cook's knee will explode the second he signs an extension.
Alex:
I live in California now. Sometimes Jerry Jones parks his yacht in the harbor nearby. It's a hell of an eyesore in an otherwise idyllic setting. In the same spirit as JerryWorld, it's too big to actually park anywhere, and it looks more like a retired battleship than a luxury vessel. It's a big hulking piece of shit. It still looks better than U.S. Fucking Bank Stadium.
Pat:
In 2016, I had just started working at a bar in Fargo, North Dakota. The Vikings were playing the Seahawks, and most of my coworkers were drinking and watching the wild card game. I was still trying to fit in, and as Blair Walsh lined up for a 27 yard field goal I saw my opportunity to break the ice - "If Gary Anderson FUCKS me again I'll never watch another game!" We watched in silence as the most horrific field goal miss I've ever seen sailed wide left. I did not fit in with that group for months.
Steve:
Last summer my wife and I hiked Trolltonga, a 12-hour round trip hike in Norway culminating in a rock which hangs 700 meters over a glacial lake. It's also one of the most Instagrammable places on earth, and so we lined up for over an hour waiting to get our picture taken. While we were in line I struck up a conversation with the English guy behind us. I assumed he was a soccer fan, so I asked who his team was. He said he didn't watch soccer but was a die-hard NFL fan, and all of a sudden - about to climb onto a rock 700 meters above a Scandinavian glacial lake - I knew exactly where the conversation was headed.

"Who's your favourite team?"

"The Minnesota Vikings."

There's literally no better place for two Viking fans to meet than Trolltonga: you only get there after a brutal, seemingly interminable journey, and just when you've arrived at what's supposed to be a spectacular payoff there's nothing but 700 meters and then absolute nothingness.

Fuck I hate this team.
Greg:
The offense firmly tied itself to QB and Senior Executive Pastor Kirk Cousins at the cost of exiling their best post-Moss wideout to Siberia. Blaming Diggs 100% for whatever went down, with no noteworthy supporting evidence, is as On Brand for the team as the impending three years of 1st-half Divisional Round shutouts.
Paul:
I look forward to this year's meaningless, Pyrrhic victory over the Saints. I do not look forward to the swift kick in the ass that comes the next week.
Chris:
This team will never win a Super Bowl. But it's ok because the Saints are our bitches.
Walker:
Vikings fandom is different from other NFL fandoms because it rests upon a bedrock of dour, Scandanavian Lutheranism unique to Minnesota (and North Dakota, but they don't have a football team). Every other team's fan base has internalised the logic of American Christianity; that God is your personal friend. That He wants you to win. That every failure or embarrassment on the field is a lesson to be learned on the road to the promised land: The Super Bowl.

Vikings fans know that this is not the case. They will never win the Super Bowl. I understand that now. The Minneapolis Miracle will be as good as it gets. I am unburdened. I am free.
Patrick:
The fact that Eric Kendricks hasn't slammed Kirk's head into a toilet suggests that Kendricks should get serious consideration for the Walter Payton Man of the Year award and the Nobel Peace Prize.

Kirk got a congratulatory call from Trump after a week 5 win over the Giants last year, and I honestly don't know who that reflects more poorly on.
Brian:
Recently my wife and I refinanced the mortgage on our house. The notary showed up to our home to sign the paperwork, and noticed the Vikings license plate cover on my truck. Being as this is northwestern Indiana, she mentioned that she was a fan too, and asked me why I was a fan. I told her that my dad was a fan, so I became a fan growing up. The notary then told me that her older brother was a fan, so she became a fan of the team as well growing up. After that there was an awkward, 15 second pause where the both of us had an unspoken realization: neither of us had a legitimate, compelling reason to be a fan of this underachieving fucking franchise. At any time either of us could have gotten out and been Patriots fans, but instead we chose to be bleating sheep following this rudderless ship. Saving money has never been more disappointing.
Seb:
After nearly 30 years in South Florida, my old man hardly follows the Vikings anymore, leaving me alone to wonder why I invest so much time and emotion in a team representing a state in which I've never lived. I can walk away any time I want to, no one would notice or care, it objectively makes all the sense in the world... and I still voluntarily choose to watch Cousins read the field with the speed of one of those room-sized computers from the 1950s. BEEP BOP BOOP, sacked for 15 yard loss on a 3rd-and-9. What an asshole.
Thomas:
Vikings quarterbacks I have seen lose a playoff game in person, Ranked

1. Bret Favre2. Kirk Cousins3. Case Keenum4. Teddy Two Mitts5. Tavaris Jackson (RIP)6. Getting Hit by a Bus7. Joe Webb, though I wouldn't really qualify that performance in Lambeau as "playing quarterback"

Gonna guess the Coronavirus vaccine sprint is going to turn into a real monkeys paw situation for yours truly come January when the Vikings are playing, let's just say Kyler Murray in Arizona come playoff time.
Nick:
Got my book signed and told you I was a fellow Vikings fan. You wrote this and a week later Teddy's leg fell off.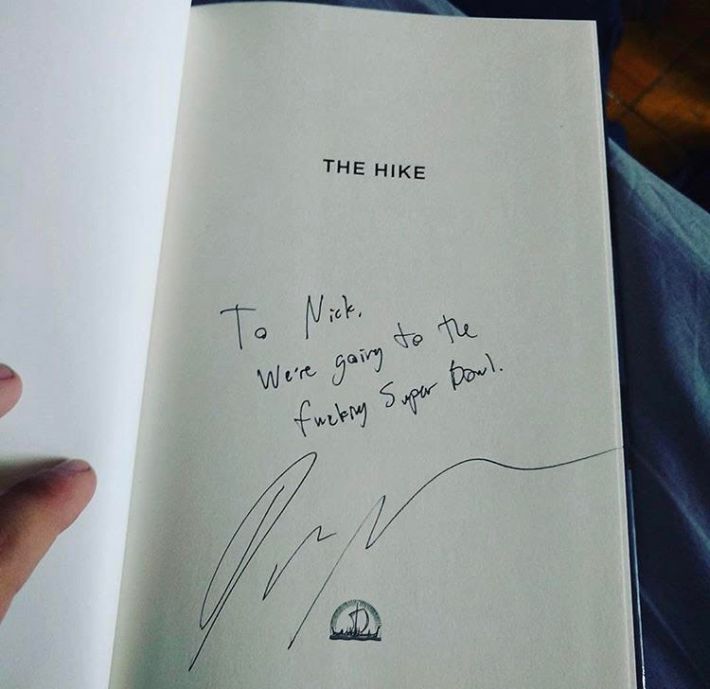 Mike:
Do I start with giving a three-year extension to a 64-year-old coach who keeps hiring more coaching dinosaurs in an ever-evolving, young-man's NFL? The same coach whose ceiling is getting some cute, cheeky wins in the playoffs only to get thoroughly outcoached and outclassed in the next game? I mean honestly, ANY other fucking team wins the Super Bowl after the Minneapolis Miracle. The Vikings? We get embarrassed and Zimmer's pride and joy defense looks like the Little Sisters of the Poor high school basketball team trying to guard Wilt Chamberlain in his prime.

I had more things to say but fuck this. This sucks. Sports are supposed to be a reprieve from shitty ass COVID but the Vikings make me more depressed than a global fucking pandemic. I'm just gonna go get drunk on Michelob Ultra at 10 AM on a Tuesday working from home.
David:
Every time another team wins their first Super Bowl, a part of me dies.

Our quarterback makes Matt Ryan look cool.

We're one of the winningest franchises in the history of the league, but in terms of games that count we're the same as the fucking Bills. We're never winning dick.

Living in Minnesota is great (if you're white). Being a sports fan from Minnesota blows. My other options are the Twins, owned by one of the richest families in baseball who refuse to spend any money and who can only luck into a winning season by building an entirely one-dimensional team right as the MLB starts corking balls; the Wild, who have fewer fans than the Benilde-St. Margaret's JV team; and the Timberwolves, who can't tank right and whose owners desperately want to rehire Tom Thibodeau, who gets off on the sound of his players' knees grinding into dust. The best teams to root for in town are the Lynx and MN United FC. I don't even know if the latter are any good, they just have cool jerseys.

Minnesota is a place where generational athletic talents get to start their careers by being tragically, chronically Almost Good Enough to drag their dysfunctional franchises to championships, before they give up and leave for Boston and immediately win a trophy. My only consolation is that Adrian Peterson left for even more dysfunctional teams and is now too old to win a championship and embarrass us like everyone else.

I wrote all the above back in August 2019 and forgot to send it in, and not a single fucking thing has changed or improved. Great!

Justin Jefferson is definitely going to be a bust.
Submissions for the NFL previews are closed. Next up: Houston Texans.
Stay in touch
Sign up for our free newsletter