Why Your Team Sucks
Why Your Team Sucks 2020: Jacksonville Jaguars
10:00 AM EDT on September 12, 2020
Some people are fans of the Jacksonville Jaguars. But many, many more people are NOT fans of the Jacksonville Jaguars. This 2020 Defector NFL team preview is for those in the latter group. Read all the previews so far here.
Your team: Jacksonville Jaguars.
Your 2019 record: 6-10, featuring a five-game losing streak where every margin of defeat was greater than 20 points. Somehow that wasn't even the worst part of the season. No, the worst part was when WIDELY RESPECTED head coach Doug Marrone spent the entire buildup to the regular season hoping to pick a fight with Jalen Ramsey and then wasted NO time picking it once the games booted up.
That's me hunting down my 14-year-old after she hasn't washed the dishes. Ramsey was traded to the Rams a month later. That'll learn him good. SEE HOW YOU LIKE IT PLAYING IN SUNNY LOS ANGELES INSTEAD OF A RACE WAR BOG THAT EVEN REPUBLICANS WON'T THROW A PARTY IN. This team went to the AFC title game three years ago. Every important player on that team has graduated on to playing in the NFL.
Your coach: Still the bologna sandwich guy!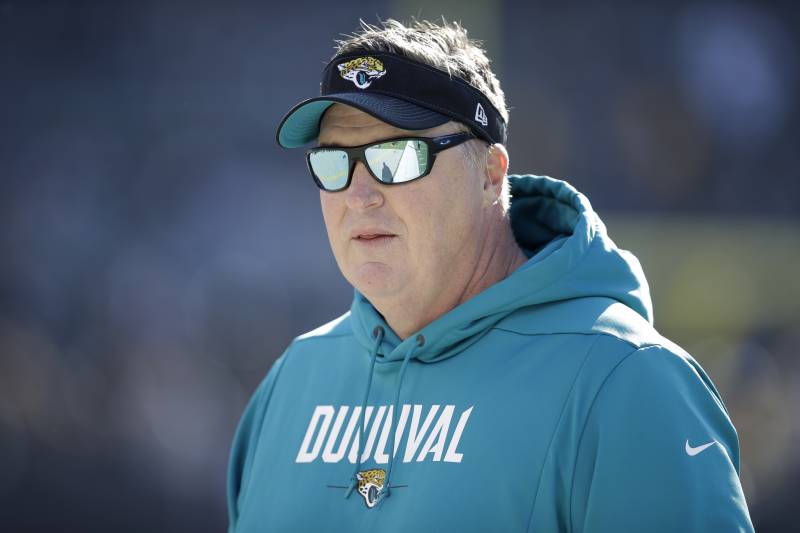 I wouldn't play for this man. I wouldn't hold a bathroom door open for this man. Who the fuck would? Doug Marrone has a career record of 37-45. If his name was Jim Caldwell, he'd be running tables at a fucking Carrabba's Italian Grill by now. But no, no Doug Marrone gets to pull a Del Harris and head coach every team like he's doing a bar crawl. It's maddening. He even outlasted puppetmaster Tom Coughlin. Coughlin was forced out in December so that he could retire to a life of touring Army bases stocked with the only remaining people alive who admire him. And yet, Marrone remains. All this fucker does is pick fights with his own players in ways that even Jon Gruden can't match. He can't even call a potential game-winning two-point conversion right!
This slob will never learn how to win an important football game. Every mean thing said about Andy Reid that was wrong is right for Doug Marrone. Handyman Jay Gruden is your new offensive coordinator. I hope you like watching your quarterback run three straight delayed handoffs from the three.
Your quarterback: Only the Jaguars could cut Blake Bortles, carry the largest dead cap number in NFL history as a result, and simultaneously spend $50 million for four games worth of Nick Foles. The Panthers are the only team to carry more dead weight on their payroll in 2020, hence the Jags have little choice but to commit to a rickety second installment of… MINSHEWMANIA.
Loved him as Dave on Flight of the Conchords. Gardner Minshew is like if Baker Mayfield had the on-field consistency to properly supplement his retro douche charm. But Minshew is playing behind a bust of an O-line and has Vince Young's washout potential stapled to his mustache. If Minshew turns out to be a colorful nobody, your quarterback is the immortal Mike Glennon. How Mike Glennon became a Jaguar only just now is one of history's great wonders. This man was BORN to be an anchor on Dave Caldwell's payroll.
What's new that sucks: Great news for Marrone! Leonard Fournette and Yannick Ngakoue are finally gone! THE GREATEST VICTORY OF ALL. This is the youngest roster in football. It desperately needs whatever good players it still happens to have on hand. And yet that didn't stop the Jaguars from attempting to trade Fournette away during the draft, nor from tagging Ngakoue and locking him away like a basement gimp so that he could never know the pleasure of playing for an actual NFL franchise. Ngakoue finally got traded to Minnesota in a deal that makes the Jared Allen trade looks like a ripoff.
Fournette got released outright. Granted, some of Fournette's game logs from last season had yards per attempt numbers that looked like Max Scherzer's lifetime ERA. But that's what happens when your team sheds talent like it's fallen dandruff. Calais Campbell is gone. Foles and his big throbbing cock are now property of Virginia McCaskey. The GOP convention fled. Even Khan's planned duet of home games in London are out of the mix now. God, imagine being stuck in JACKSONVILLE during all this shit. I'd rather let my kid sleep with Jeffrey Ross. Anyway, onto this eternal pile of discontents, the Jags added the aforementioned neck of Mike Glennon, plus the remaining 10 percent of Tyler Eifert's frontal cortex, and scatback Chris Thompson from Washington. Who doesn't love a good scatback, I ask you? Why it's like I'm living in 1992 all over again. Washington fans loved Chris Thompson. You know why? Because him catching a 12-yard swing pass was the highlight of pretty much every Washington season. Now you too get to experience the thrill.
What has always sucked: The Jaguars tried to make Tom Coughlin's dad pose its master template for the franchise. That failed miserably, and yet this team is so lacking in imagination that they're happy to just keep rolling along with the dregs of that failed campaign. They may as well have hired Gene Smith back to run this joint. Meanwhile, the Iron Hedgehog keeps saying he doesn't want to move, but because he owns Fulham—a soccer team that is miserable in a DIFFERENT kind of way—he wants to put his tongue in London's mouth twice a year. This is a bad team in a sewer town with an owner who should be smarter but isn't.
And ever since they blew the AFC title game to the Pats in 2018, the Jags have modeled themselves after Major League Baseball in having a never-ending reservoir of contempt toward the idea of self-improvement. This isn't a tank job, because tanking implies purposeful failure as a means to future success. There's no success in what the Jags are planning. There is only poop. Marrone is one of those Football Men who loves the game so much that he HATES his own players for ruining his vision of it. Bill Belichick found a way to turn otherwise disposable players into his own, Swiss Army–precise acting troupe. Everyone hits their marks and no one misses any of their lines.
But Belichick is one of a kind. Polluting the rest of the sport are swollen-fingered visors like Marrone who believe, with just a few roster teardowns, that they'll have the perfect assemblage of men to execute everything they see inside their grease-stained minds. So they sift through their own players like they're perusing the aisles at T.J. Maxx, leaving shit all over the floor and finally settling on a $15 Van Heusen shirt that they end up returning six days later.
I've gotten off track here. But can you blame me? Just thinking about this team is an exercise in PAIN. Not only do they reside in the dumbest state in America, but in the dumbest part OF that state. This city is idiot concentrate, which is why the Jags can alienate everyone down to the fucking equipment manager and still have some pair of man-tits that broke into the stadium pool screaming DUUUUUUVAL as his team loses by two points to the Colts on Thursday Night Football for the 98th time in a row. That one piece of white trash will be the only person still alive in Florida by the end of 2020. His name will be Jarryd. I will not treasure his survival.
Jacksonville is named after Andrew Jackson, the nation's seventh president and offensive coordinator for the Trail of Tears. Andrew Jackson never even bothered to set foot in this fucking town.
What might not suck: Minshew has incredible stats in garbage time, which means that you're gonna draft him in DFS one week and get a bagel out of him, then watch him drop 40 points when your opponent drafts him a week later. Fun?
Ratto says: "Only one thing to note here: Shahid Khan's other sporting holding, Fulham, just got back into the Premier League, so he'll have reasons not to pay attention to general manager Dave Campbell's daily updates on trading his best players away. Otherwise it's full steam behind as the team embarks on a new world free of the underside of Hate-Fining Tom Coughlin's flinty thumb, and Fulham opens at home against Arsenal on September 12. Khan promises not to destroy the team's soul by forgetting they're not as big a team as Norwich City."
HEAR IT FROM JAGUARS FANS!
Christopher:
We finally get a lovable white trash meme QB that fits the city I grew up in perfectly and he can actually play. It only makes sense that the idiots that run the state will murder him, the other players, the fans, and their grandparents with Covid.I fucking want to cry.
Alex:
Shahid Khan looks like if Ron Jeremy only starred in porn videos where he fucked couch cushions.
Nick:
I was born and raised in South Florida but became a Jags fan at five years old because my grandparents in Duval bought my fandom and Jaguars were cooler than Dolphins. The 62-7 playoff win cemented my allegiance and I have only partially regretted it since. I also lived in London for a few years and love the city. I am probably moving back there in the near future (covid pending), but if the Jags move to London, I am switching back to the Dolphins. Khan is inching ever closer to getting his wish and if it happens I hope they rot.Doug is an idiot, Gruden definitely is hiding his participation in the Washington Foreskins' BS, and the front office can't keep a good player to save their lives. I wouldn't be shocked if we re-signed Bortles for no other reason than "he is Duval."

I believe in the Mississippi Stache and all things Beowulf.
Billy:
Dave Caldwell got demoted under Tom Coughlin and then failed his way back into his old job. Is there another GM that has had one lucky year and lasted this long? I'm sure Khan hasn't stepped foot in Jacksonville this year but that hasn't stopped the city from demolishing an overpass and handing out the tax breaks for his pet projects. At least Minshew is fun to watch and totally makes me forget about all of the above. Except Dave Caldwell, that guy sucks. Fuck Dave Caldwell.Go Jags.
Hunter:
This team, man. Holy shit. Shad Khan hired the current GM, Dave Caldwell, in 2013. He's managed his way to one winning season in seven, while not topping six wins in any other year. Over the last two years, he's managed to run off just about all of his Pro Bowl defensive talent, he pissed off his best remaining defensive player so bad that he threatened to sit out entirely if he's not traded, and he's ostracized the team's best running back since Maurice Jones-Drew after drafting him fourth overall in 2017. He also signed Big Dick Nick to a huge contract, who, naturally, was trash last year and lost his job to a rookie sixth round draft pick. Fuck Dave Caldwell. Flush him and the ownership down the nearest fucking toilet. Toss Tony Bosseli and Mark Brunnel in there too while you're at it.
Sebastian:
I was cursed a military brat and landed in the swamp city of Jacksonville. I became a fan because the team will basically rent out its mascot to any school event. My elementary school mascot was the Jaguars, so Jaxson DeVille would come to our pep rally and hype up 8 year olds to watch Garrard throw to… (checks notes) Matt Jones?

We'll go 6 -10 and nothing will change.
Ryan:
51 wins. 51 goddamn wins in an entire decade. That probably had something to do with the fact that our most productive first round draft pick was Tyson Alualu. Remember drafting a punter in the third round and going all in on Justin Blackmon? That was the same year! We'd go on to spend the equivalent of Finland's 2019 GDP on Aaron Kampman, Julius Thomas, Nick Foles, Zane Beadles, and Andrew Norwell. That doesn't even count the eight figures we shelled out for Toby Gerhart to average 3.1 yards per carry.

The coaching carousel has been a regular MENSA squad too. Jack Del MAGA nearly quit the team. Then we hired a guy whose name was literally Mularkey. And then Gus Bradley broke the record for losing-est coach in NFL history. Now we have Doug Marrone, who got us to an AFC Championship running on fumes, bologna sandwiches, and cold glasses of milk. Pain.

Oh, speaking of coaches, we re-hired Good Ol' Tom Coughlin to run our front office -- a guy who can't even pronounce Yannick Ngakoue at a press conference because he's too busy formulating how he can piss off the NFLPA. Thank God we replaced him with THE GUY HE WAS REPLACING IN THE FIRST PLACE.

Dave Caldwell wants his legacy to be that he can find talent on Day 3 of the NFL Draft as if those picks matter. What actually happened is he helped Blake Bortles land a contract extension, causing a rift in our locker room the size of our fucking scoreboards.

Oh yeah, and the guy who used to be our mascot is now a COVID truther.
Submissions for the NFL previews are closed. Next up: Cleveland Browns.
Stay in touch
Sign up for our free newsletter