NFL
Why Your Team Maybe Doesn't Suck Quite As Much As Drew Says It Does
3:31 PM EDT on September 10, 2020
Comrade Magary's magnum oh-piss Why Your Team Sucks has been a part of the landscape of the Old Internet for years now, and has been stolen by many people more responsible and less feral since then. But there's a new squalid little alleyway of the New Internet, and that alleyway is us, so Magary's bilious monument to this stupid sport is back, and in moderate rebuttal (since most of the points made in his epic are largely verifiable), here is Why Your Team Maybe Doesn't Suck Quite As Much As Drew Says It Does—because you can't say Defector without "defect." Or "cede fort." Or "cord feet." And if you're looking for some guiding principle here, there isn't one. At least I can't find it and I wrote the bloody thing. I know the Washingtons are an abomination and the Kansas Citys aren't, but the best I can tell you is that this goes bad to not as bad and eventually to not unsightly. I did not follow Comrade Magary's order because frankly, who pays attention to him? He's a certifiable lunatic.
So, in descending order because being at the top of any Defector list means being at the bottom of all others, we give you the first, and almost certainly last WYTMDSQAMADSID. See? Even the initialism is semiprecious and stupid. We'd be sorry if we didn't have such low regard for you as readers.
32. WASHINGTON FOOTBALL TEAM: This could not be a hotter mess without relegation, in which case they'd be totally Sun Belt—Coastal Carolina with a crappier nickname. But you and your friends, such as they are, can whip up a pool guessing the date when new consigliere Jason Wright gets fed up being deposed in court cases that had nothing to do with him that he quits to start a CFL expansion team. Hours of fun, hours of drinking, and if he doesn't quit by Christmas because Danny Snyder still exists, at least you got to drink.
31. JACKSONVILLE: Owner Shahid Khan will be distracted by soccer so it will be easier to parse out who's to blame when they go 3-13. Hint: Dave Caldwell and Doug Marrone. But everyone in the building should watch their asses when Fulham gets relegated and Shad comes back with murderous eyes. Going back down to the Championship is always a precursor to employees hitting the street with nothing but a cardboard box and all the office supplies you can lift.
30. DETROIT: New owner Sheila Hamp, whose mom was old owner Martha Ford, will maintain the quality of the franchise with visible tenacity. In other words, the uniforms aren't changing, and Matt Patricia won't look any less like a vagrant.
29. CINCINNATI: Watching Joe Burrow try to make sense of the cut-rate chaos around him will be fun, because he'll either end up as the next David Carr or the next Peyton Manning. AND YOU WILL BE THERE—if you live in Cincinnati, anyway, because the Bengals aren't likely to be part of a national game for a few years.
28. NEW YORK GIANTS: Dave Gettleman remains the face of the franchise, so you get laughs at every presser. This is a minimal time commitment, and you'll be thankful for that because the team will continue to be fully ignorable. In other words, you won't have to commit any intellectual resources to the Saquon Barkley trade rumors, and when someone mentions Daniel Jones, you can just mutter "never heard of him" and walk away.
27. NEW YORK JETS: Another pure drinking game, only this time it's a tumbler full of Old Overcoat for the bar every time Adam Gase has to retrieve his eyeballs from the table full of recorders after being asked to go over the injury list from that 37-10 Week Four loss to Denver.
26. MIAMI: Just waitin' for Tua, because ...  well, because Josh Rosen ain't walkin' through that door. I mean, he just walked out.
25.  DENVER: The Broncos were a lot lower on this page before Von Miller got thoroughbred ankle, so the best they can hope for is Melvin Gordon rushing for 1,850 yards to lead a team that goes 5-5-6. It's not the way to bet, to be sure, but the kids can always hope.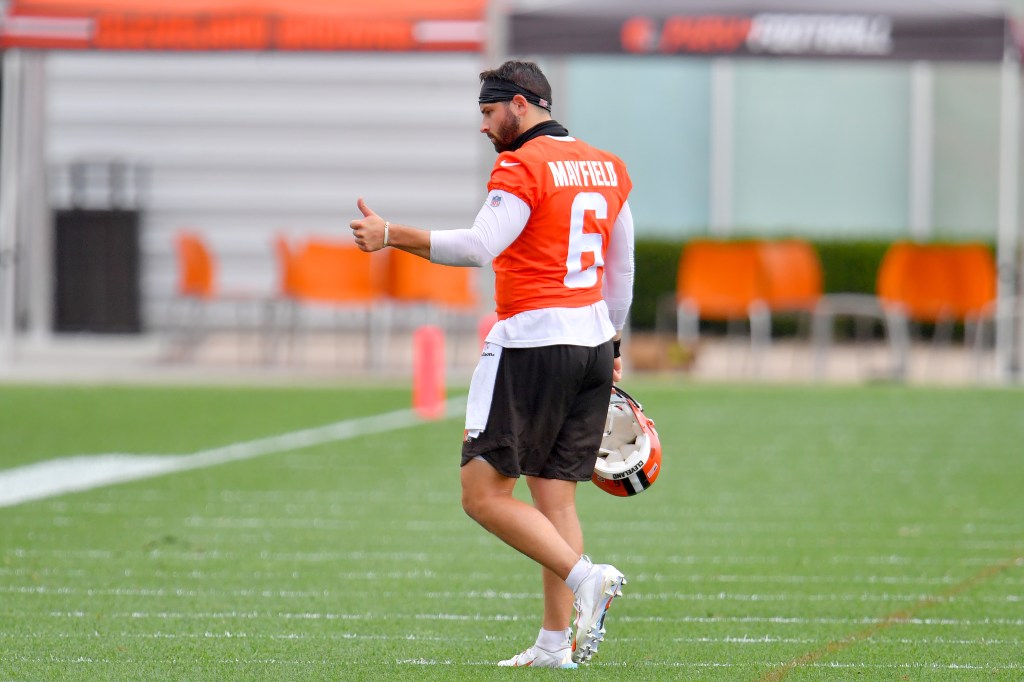 24. CLEVELAND: This has been the burdensome "team on the come" for three years now and it still hasn't gotten off the sofa, so the fun here will not be in watching how they go 6-10 and call it a major leap forward after last year's 6-10, but in seeing NFL Total Access host MJ Acosta toss to a video saying, "And now here's more tiresome propaganda about the Browns that nobody in their right mind asked for. And yes, since you asked, I HAVE thrown away a quality education to pay way too much attention to Kevin Stefanski. "
23. CAROLINA: The pure unalloyed glee that comes from needing to know only one thing: is Christian McCaffrey on your fantasy team? If he is, you're happy. If he isn't, you're rooting for a hamstring tear, because that's all fantasy football is: rooting for your guys to score and everyone else's to get catastrophically injured because you are at your essence a terrible human being. Added bonus: owner David Tepper bitching about the inequity of allowing fans in some stadiums but not others (which is to say, not his). Unhappy owners always bring smiles to infants, dogs and misanthropes, so whinge on, Pops.
22. LOS ANGELES RAMS: The new stadium will bore you to tears within seconds, the gushing from the broadcasters about the stadium will enrage you within minutes, and then you can go about the rest of your day because Aaron Donald's 25 sacks aren't going to make up for the 2,000 Rams plays when he doesn't have one. Time management matters.
21. LOS ANGELES CHARGERS: The vision is pure and unambiguous: owner Dean Spanos shown on camera in a mostly empty stadium and then flipping off the cameras as his way of saying "The NFL screwed me, and now I screwed the NFL. I'm here, and I'm never leaving. I am America's Worst Tenant, and the people I'm hosing are even worse than I am." Conversely, every fan in San Diego and the other 31 team owners are flipping him off in return, the fans for him taking the team they foolishly invested their emotion on for 57 years, and the other owners for him making them a laughing stock and screwing up the L.A. project forever. Everyone gets what they want, especially me.
20. INDIANAPOLIS: Any team with a cornerback named Rock Ya-Sin, a placekicker named Rodrigo Blankenship, and a Philip Rivers named Philip Rivers is its own entertainment.
19. ARIZONA: Do you believe in a team with seven winning seasons in the last 43? Do you believe in Kliff Kingsbury looking hotter than Sean McVay, let alone Vic Fangio? Do you believe that swindling Bill O'Brien out of DeAndre Hopkins means this team is finally cured of its essential Cardinaldom? Your naivete will keep you warm through those long quarantined nights.
18. ATLANTA: No fans in the stands through at least September means that prices for concessions items will drop again. Presumably someone will credit Arthur Blank's generosity for that. Other than that, there will be fun arguments about whether Matt Ryan is still an elite quarterback, at least until the bartender starts throwing people out to the street.
17. LAS VEGAS: A regional franchise (a little from L.A., a little from Oakland, a little from Vegas, and a little from the opponents' fan bases), and NOBODY CAN GET IN ANYWAY. Somewhere, Al Davis is laughing his ass off, even if it is at the expense of his kid. And who says Al shouldn't be happy in the afterlife at least once?
16. CHICAGO: Their fans bitch about Mitchell Trubisky the way they've bitched about every quarterback they've ever had with the single exceptions of Sid Luckman and Jim McMahon. Thus they'll be able to enjoy their team as they always have: knowing they have no quarterback, deserve no quarterback and will never have one again.
15. SEATTLE: Little-known secret: Pete Carroll has chewed the same piece of gum since he was coaching the Jets. Littler-known secret: Russell Wilson is Dorian Gray. A team that passed its sell-by date three years ago and still makes the 49ers sweat antifreeze every time they play.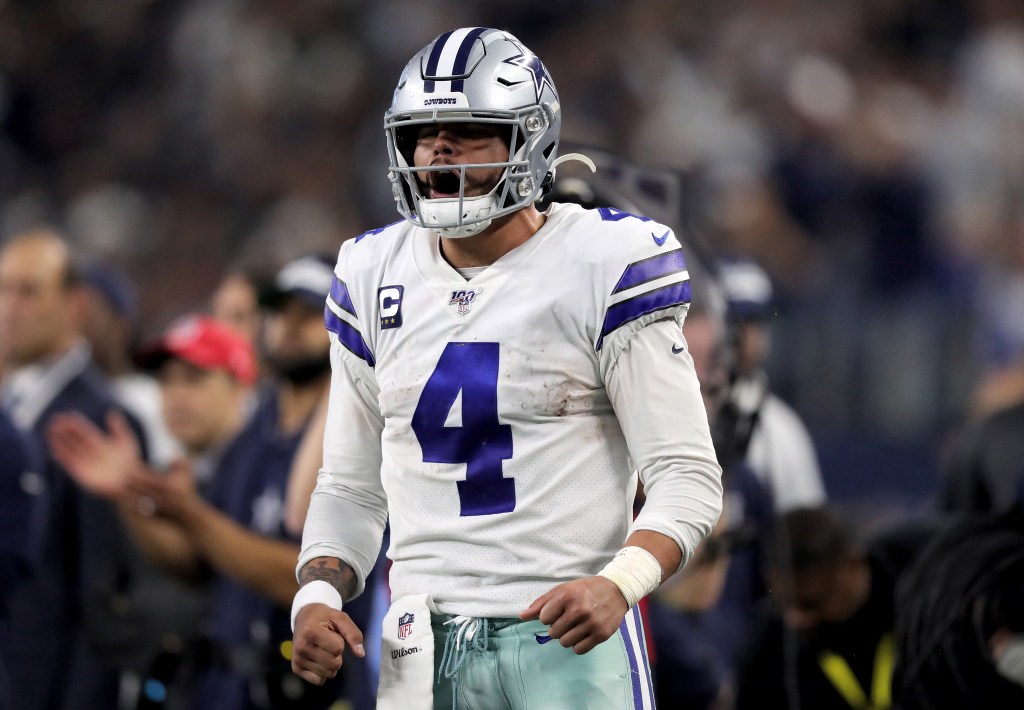 14. DALLAS: Jerry Jones is about to unveil his new "play the anthem during the other team's first offensive drive" plan, which may finally convince someone to throw him out of the luxury box and onto the seats below. Fortunately for him, there will be fans positioned there to cushion his fall because he still runs the league.
13. HOUSTON: It's Bill O'Brien on line one, and he's thinking that he has Deshaun Watson, your favorite team has a third- and fourth-round draft pick just sitting there gathering dust, and maybe you'd like to have a little conversation.
12. TENNESSEE: You're watching football so you've already repudiated ideas like health and care for your fellow man, so you're watching for the game in which Derrick Henry spontaneously combusts. Sure that makes you a bastard, but you came to terms with that years ago.
11. PHILADELPHIA: That Nate Sudfeld–Jalen Hurts battle to see who gets to stand next to Carson Wentz and Doug Pedersen during timeouts will be must-see Red Zone. No fans in the stands, though, means no booing, which means logs of camera shots of people on the streets shooting middle fingers at a stadium miles away, if that's your idea of a good time.
10. MINNESOTA: Zygi Wilf is positioning himself to buy the Timberwolves, which will make him a hero. He plans to keep the Vikings, which will prevent him from being said hero. Also Kirk Cousins still exists, which is its own form of hilarity.
9. GREEN BAY: Aaron Rodgers remains near the top of every pundit's list of of great contemporary quarterbacks, which infuriates analytical folks who say Rodgers is clearly slipping, which infuriates pundits who think analytics people need a good punch in the throat. Now how are you going to get a fairer deal than that?
8. BUFFALO: Owners Terry and Kim Pegula could screw up the task of opening a bottle of beer that has already been opened, so seeing how they retard the team's development is about a given. Also, the Bills were never more highly regarded than when the Patriots lost Brady and Gronkowski, and now that everyone's brains have regressed to the mean and Bill Belichick is a genius again, the Bills' collapse is both inevitable and will be traced back to the Pegulas. This is particularly civic-minded, since Sabres fans hate them too.
7. PITTSBURGH: Every talking head's pick to rebound from two consecutive non-playoff years, and since talking heads are an excellent barometer of what has no chance of happening (except for the ones who predict at one time or other that every team will make the playoffs), this will be a very confusing year for Yinzers who like their quarterbacks immobile like Ed Brown and Bobby Layne.
6. NEW ORLEANS: Nothing says fun around the hearth quite like guessing when Drew Brees will be done, except maybe...
5. TAMPA BAY: ...guessing when Tom Brady will be done.
BACK TO 6. Taysom Hill just made a boatload of money for god only knows what, and watching him get rewarded for that is good for the game because you know Gayle Benson will spend every waking day between now and the end of his career trying to get most of it back.
NOW BACK TO 5. Patriots South reminds us that Florida's view of entertainment is mostly taking ideas from other places and recreating it in slapdash fashion for snowbirds and reprobates. This can end well, sadly, unless of course Brady is whisked away as part of a sting about allegedly bogus health schemes. I would discount nothing here.
4. NEW ENGLAND: It's an all-in-all-out year for Subway Billy. If Tampa wins, he will be pissed, though you wouldn't know it. If Tampa doesn't, he'll be elated, though you wouldn't know it. Plus Patriot fans will be tortured daily by a team that doesn't have Brady to worship any longer, and the Red Sox blow at an almost galactic level, so those of you who hate New England for whatever reasons now have two more.
3. BALTIMORE: Lamar Jackson is fun. But people who struggle with the concept of running quarterbacks can enjoy him too, just be fantasizing about the year when instead of gaining 1,205 yards on 176 carries, he gains 176 yards on 1,205 carries. Schadenfreude is much underrated as a force in today's flaming turd of a civilization.
2. SAN FRANCISCO: At some point this season, Kyle Shanahan will screw up a game in galactic fashion because every coach does it at some time, and then maybe people will stop flapping the lowest holes in their head about what a goddamn genius he is. He is without question the most overpraised coach without a ring in sports history, having needed only three seasons to pass what Brad Stevens has accomplished, and not accomplished, in seven. Indeed, to match his outsized reputation at this point, Shanahan would have to find the vaccine for COVID, of which I think most people outside the White House would approve.
1. KANSAS CITY: Patrick Mahomes and Andy Reid. They are the latest team you can hate and love at the same time because even when they're cutting out your gizzard with a dirty corkscrew, your screams of agony will be intermixed with wonder-tinged exclamations of "Damn, that was amazing." And that's what sports is all about. A little amazement, and an infected wound that leaves in an emergency waiting room for nine hours.
Now go away.
Stay in touch
Sign up for our free newsletter