MLB
When You Avoid Rock Bottom, You Don't Have As Far To Climb
3:46 PM EDT on October 25, 2023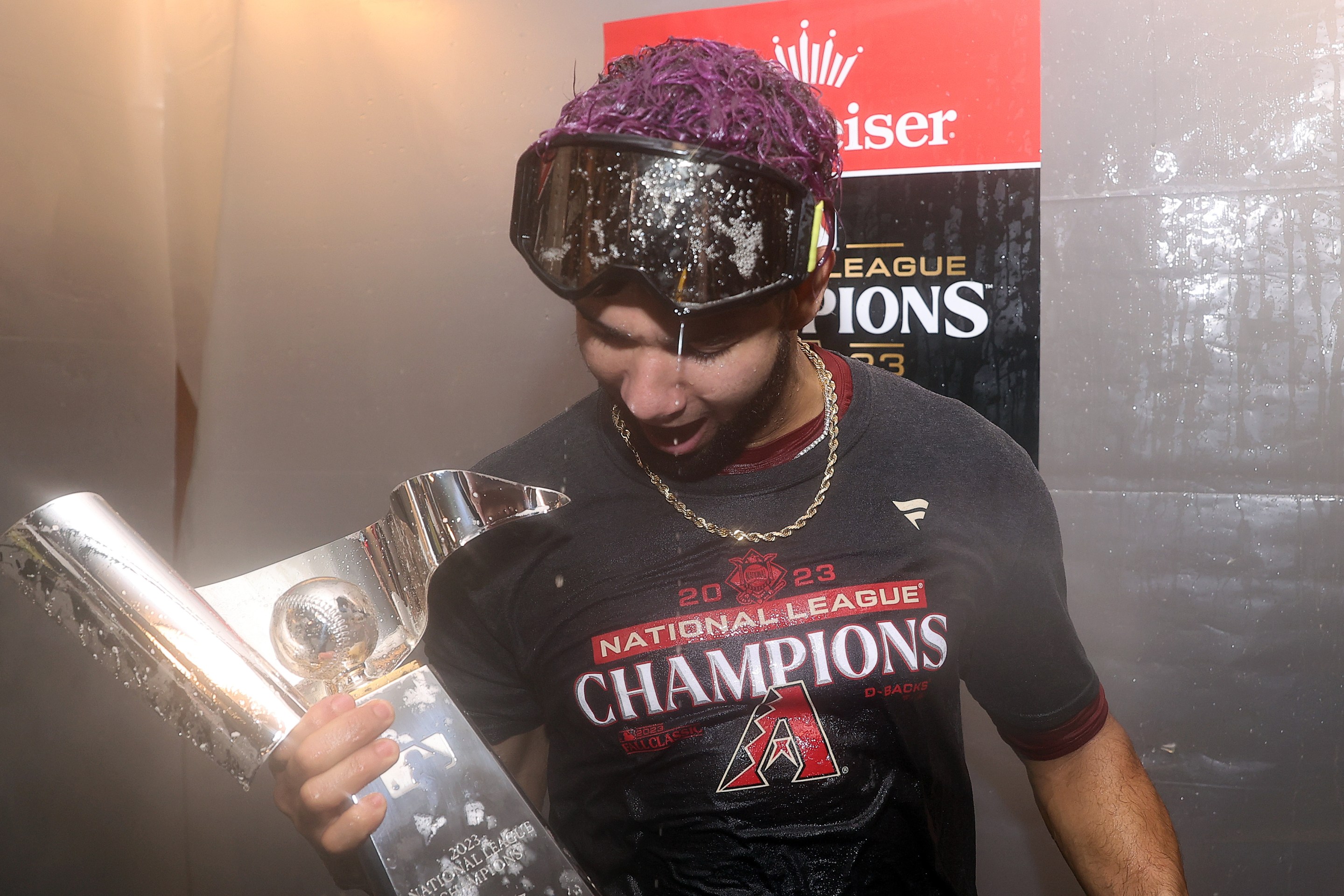 First things first: By the numbers, the 2021 Arizona Diamondbacks were not a 110-loss team. If you consult the standings for that season, which you may remember because it was just the one before last, you will see that the Diamondbacks were in fact a 110-loss team, which was tied for the worst record in the sport with the Baltimore Orioles. But their Pythagorean record had them as merely a 101-loss team, which is still quite bad but not "bottomed-out tank-warfare team at the end of a long and concerted campaign to get as bad as possible" bad. Not "Orioles" bad. Those Diamondbacks got to 110 losses in a strange and distinctive way—they were 14-12 at the end of April, and then lost 48 of their next 56 games, including a MLB record 24 consecutive road losses. This is how the team that won the National League pennant on Tuesday night came to have the second overall pick in last year's draft. They chose Andruw Jones's son.
It is one of the stranger things, if probably not quite the strangest, that both teams in this year's World Series lost more than 100 games in 2021. It's hard to see much of that 102-loss Rangers team in this 90-win one, so thorough and vigorously executed was the team's decision to Go For It. Just a handful of players from that roster remain, and the team's decision to spend on the free agent market over the next two winters, complimented by a few ambitious deadline deals earlier this year, gave the team about as complete an overhaul as is possible over that kind of time frame. What's striking about the Diamondbacks, on the other hand, is how similar this year's National League Champion Diamondbacks are to the team that lost 85 percent of its games for two damn months just a couple of years ago.
There are some crucial differences, of course, with the most crucial of those having to do with the arrival of young players promoted from within the organization or brought in via trade. But that 52-win rotation, like this one, was led by Zac Gallen and Merrill Kelly, albeit with the surly decaying scarecrow version of Madison Bumgarner sandwiched between them; that bullpen was awful, but The Gink was already there; the lineup didn't have Corbin Carroll yet, but the healthy version of it did have Christian Walker and Ketel Marte. After being vaguely competitive for years, the Diamondbacks were startlingly bad during the truncated 2020 season. Their approach to the 2021 campaign suggested that the organization believed that was a bit of bad pandemic luck; their performance in the 2021 season suggested that, actually, it was not. Which put them in position to do one of two very different things in the years ahead.
A Rangers-style pushing in of chips was probably off the table: Owner Ken Kendrick has been willing to spend, but generally in idiosyncratic desert-dwelling rich guy ways and never really like that. A full-spectrum sell-off was also probably not in the cards, and not just because the organization was still smarting from the disastrous 2018 deal that sent homegrown star Paul Goldschmidt to St. Louis or the slightly less embarrassing one that sent Zack Greinke to the Astros a year after that. (None of the seven players Arizona received in those trades are on the postseason roster, and all three of the players that came over in the Goldschmidt trade are out of the organization entirely, although Arizona did turn Josh Rojas, part of the Greinke return, into closer Paul Sewald in a deadline deal with Seattle.) The organization had plenty of problems, in short, and ones that went beyond a retrospectively poignant reliance on late-stage Asdrubal Cabrera. That was concerning, but the organization was not exactly teeming with prospects to shore up what had been the worst bullpen in the league, and there was also concern that Bahamian outfielder Kristian Robinson, one of the team's top prospects, might never get a visa again after he was charged with assaulting a cop while having a mental health crisis in 2020.
It will not mean as much to you as it means to me, probably, that I was assigned the Arizona Diamondbacks essay in the 2022 Baseball Prospectus Annual. If all of the stuff in the previous paragraph qualifies as ominous, that assignment confirmed for me that this was not a team in a great spot. This is because, as what is sort of a shared joke and sort of just a joke that lands on me every year, the editors at BP give me a team in some kind of crisis to write about. ("We give you teams that are upsetting, the most upsetting really," BP editor in chief Craig Goldstein confirmed when I asked him about this. "It's personal in the sense that we give you upsetting teams, but we're not necessarily aiming to give you the most upsetting-to-you team, if that makes sense.") The 2021 Arizona Diamondbacks, who were clearly very bad but also seemingly unsure about exactly how bad, were just such a team.
As it stood, they made a decision to sell off the marginal veterans they could sell during that season, your Eduardo Escobars and Joakim Sorias and the like. But the Diamondbacks pulled up notably short of executing the kind of multi-year reboot—with the attendant reduction in payroll from their customary spot around the middle of the MLB table to something more on the order of Baltimore's institutional insistence on ordering off the kids' menu—that their record could well have justified. Arizona made moves and kept making them, but they were patient in the ways that mattered more. Their good players started playing well again; Carroll arrived and was instantly a no-shit franchise cornerstone; some of the position player prospects turned out better than others, and some are still on the way. Robinson's stateside career didn't resume until this spring, and he made it to Double-A after three years away from the game; Druw Jones spent his age-19 season getting the bat knocked out of his hands in A-ball. Nothing is finished.
That statement is less prosaic than it seems, if also less portentous than it looks. All teams are unfinished, because they are constantly in the process of becoming something else. But if a competitive team is always at work figuring out how competitive it is going to be, a team that has chosen the abstraction of a multi-year teardown is more of a mystery, if only because it is unclear where in the process of beginning to try they even are; as the Mariners have demonstrated during the ultra-abstracted Jerry Dipoto Administration, there is not inherently any kind of timeline to that. A team can go on becoming something, or being a Pittsburgh Pirates–grade nothing, for as long as ownership is willing to entertain it. "Our approach to want to compete every year got torpedoed because our lack of farm system depth caught us in 2021 and into 2022," Hazen told the Arizona Republic's Nick Piecoro earlier in the playoffs. "The goal was to contend the whole time. Everybody was like, 'Oh, the Diamondbacks are going to rebuild.' We didn't rebuild in 2021. We stunk. That's the facts."
Hazen also told Piecoro that the failed trades of Goldschmidt and Greinke resulted from that desire to compete every year, as he prioritized prospects that were closer to the bigs over ones that might have made a bigger impact after a longer wait. But if there are some risks to trying to compete, or just inherent in refusing to opt out on that basic part of the unspoken broader compact that is supposed to keep baseball teams honest, the rewards are equally obvious. Few people who watched baseball this year would argue that the Arizona Diamondbacks were at any point or are now the best team in the National League; the squeakers who are dismayed in some global sense about the Diamondbacks being in the World Series despite that absolutely have a right to their dismay, but their fundamental quarrel is with the universe, or the month of October, or whatever force it is that makes baseball act like this as the field narrows.
It is not quite true that anything can happen in baseball, but it is close enough that things like this can happen even to a team like Arizona—imperfect, obviously unfinished, in every sense the product of a workmanlike and principled institutional refusal to bail as opposed to some masterful and opaque feat of executive mastery. The only thing that a decision to tear things down in 2021 would have guaranteed for the Diamondbacks in 2023 is that they would not be where they are now. It's not too early to call that a win.
Stay in touch
Sign up for our free newsletter