NBA
Trae Young Shoots, Shoots, Shoots To Keep The Hawks Alive
12:39 PM EDT on April 26, 2023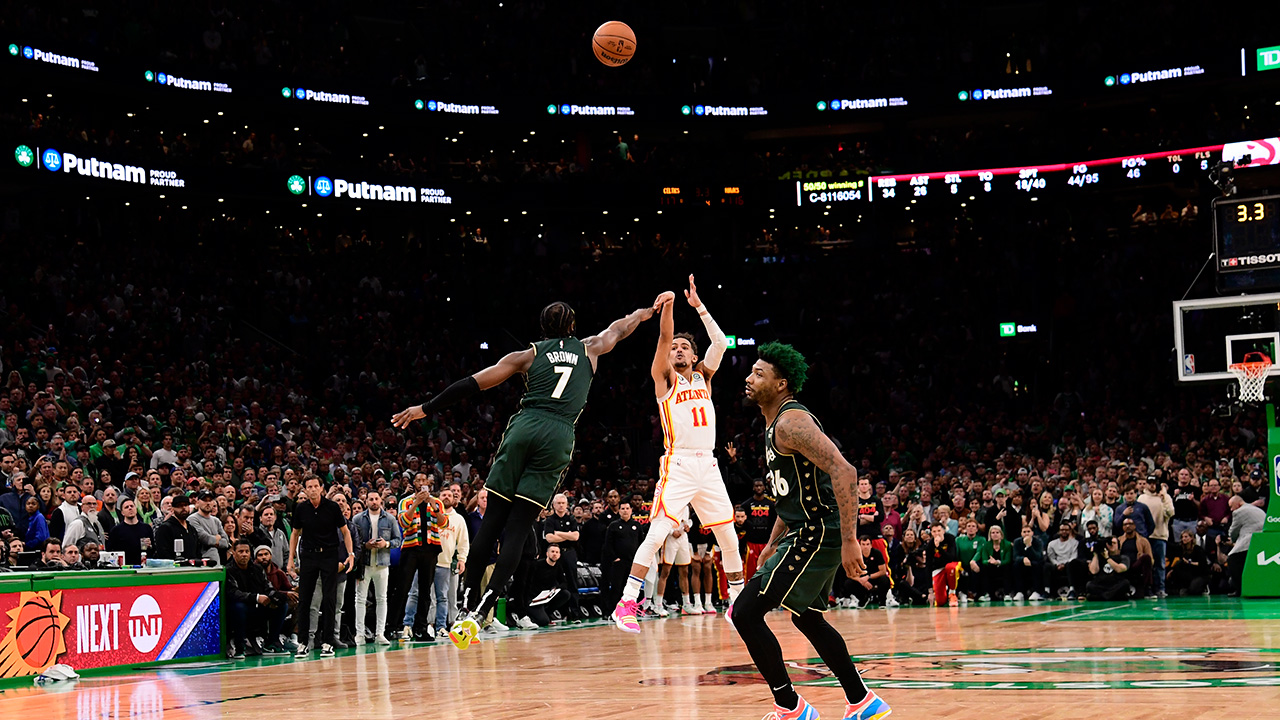 It was a ridiculous shot. He was 29 feet away from the basket, though a little jab step to the right had shaken Jaylen Brown loose just a bit. Still, his form on the shot wasn't perfect. The Hawks were also just down one, so there was no way this was the shot Atlanta wanted with its season on the line. Quin Snyder told him to go the hoop: "I told him try to get to the rim if you can but, if you have space, just be instinctive with making a play. We all believe in you."
And he did have that space, and the necessary self-belief to let instinct take over from there. "At that point, I looked up, and it was only like three, four seconds left, maybe two," Trae Young said after his team's Game 4 win on Tuesday night. "So I decided to trust in what I've done my whole life." Yeah, it worked out.
Young scored 14 straight for Atlanta in the fourth quarter as the Hawks rallied from a 13-point deficit with six minutes left in the game. The 117-115 win in Boston made the series 3-2 in favor of the Celtics; the teams play tomorrow in Atlanta in Game 6. Young's shot provided the margin of victory, but he was the difference in a broader sense, too. He was the hero.
Trae Young's stock has fallen since he took the Hawks to the Eastern Conference Finals in 2021. (Here's a story I wrote when I attended the Game 5 Sixers collapse if you want to drink my tears.) Some of that is pegged to the team's collapse into gloomy, self-defeating mediocrity; some of that decline is probably Young's fault. He's been productive, but his star has fallen so far that, despite an absurd game-winner that staved off elimination in the first round of the playoffs, the CBS Sports headline called Young "an imperfect player built perfectly for big stage." He couldn't even hit a game-winner in the playoffs without being called "imperfect."
Then again, the story backed it up. "He was picked on defensively, at times unbothered to even move as a helper," Brad Botkin wrote. "He whined about non-calls instead of getting back, leaving his team at a disadvantage. His poor shot selection led to a pretty inefficient night—38 points on 33 shots." That is a lot of shots! Young is averaging 24.2 shots a game in his five playoff games—second only to De'Aaron Fox, who has taken more threes per game and is shooting about four percentage points better.
Two years ago, when Young scored 48 points in a Game 1 victory at Milwaukee in the Eastern Conference Finals, the AP's Steve Megargee wrote this: "His focus at the line revealed the veteran savvy the 22-year-old Young has displayed throughout his first career postseason." Peachtree Hoops: "Trae Young Dazzles." Brew Hoop: "Trae Young? That man can play basketball."
Things are different now. The same day the Celtics beat the Hawks to go up 2-0 in their first round, Young won a plurality of votes for "most overrated" in The Athletic's NBA player poll. Celtics fans chanted it at him all game. (They got meaner last night. "A few minutes earlier Celtics fans had directed a vulgar chant at Young," per the AJC.) This season Young feuded a bit with coach Nate McMillan, who was fired in February. His dad was angry about something that The Ringer's Kevin O'Connor said on a podcast. There are rumors of a trade in the offseason. How is this the same guy who bowed at the Garden?
This is all coming from somewhere. Young had his worst season offensively since his rookie year in 2022-23, and his defense was somewhere between bad and nonexistent. I looked at his stats on Cleaning the Glass and Dunks and Threes, and what I saw was not flattering. His points per shot attempt dropped immensely. His effective field goal percentage was near the bottom of the league. His field goal percentage at the rim was horrid. (Maybe a three-pointer was the right decision at the end of last night's game.) He did continue to rack up a lot of assists, but O'Connor's criticism was that he had "shown an unwillingness" to play off-ball.
The way Trae Young's season went is why these stories are persisting into the playoffs. He couldn't even fully silence them for one night, even on a night that ended with a game-winning shot. This is fair, and it isn't. Young really was kind of better offensively in Atlanta's Game 5 loss to the Celtics; his points per shot attempt are down in the playoffs. His team is still alive for at least one more game, thanks to him. But he's still the same Trae Young he's been all year.
Stay in touch
Sign up for our free newsletter