NBA
The Sun Rises, The Sun Sets, Dwight Howard Is Exhausting And Nobody Likes Him
12:31 PM EDT on September 23, 2020
This was a fun moment: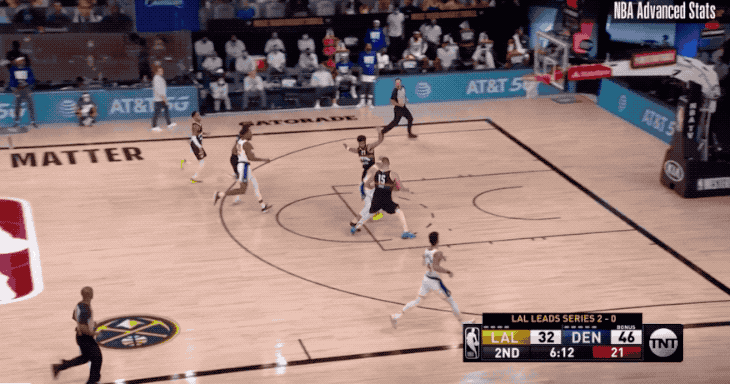 That's Dwight Howard attempting to fire up the Los Angeles Lakers' bench after drawing a loose-ball foul on Denver's Michael Porter Jr. in the second quarter of last night's Western Conference Finals game. What the footage doesn't really capture—both because the NBA.com video clip from which I pulled this GIF cuts off too soon, and for the larger and more conceptual reason that it's not strictly possible for nothing to be captured on video—is the perfect non-response by that bench. Who could be fired up by Dwight Howard? There can be no more persuasive argument for sitting down and being quiet than Dwight Howard exhorting you to get up and make some noise. When he retires from basketball—when he finally goddamn retires—some healthcare conglomerate will save a lot of money on anesthetic drugs by hiring Dwight Howard to hang out in the operating room, putting surgery patients into deep comas by pumping his fist and yelling "LET'S GO!" at them. Anyway that was the high point of his night.
I can think of no better summation of Howard's career than that he has cycled through some half-dozen different personality gimmicks and every single one, without fail, has been exactly as exhausting and insufferable as every other. He was exhausting and insufferable when he was the Wholesome No-Sex Teen; when he was the Lovable Goof; when he was the Sulky, Passive-Aggressive Dickweed Undermining Stan Van Gundy; when he was Just Trying To Keep Kobe Bryant Off My Case; when he was Ready To Have Fun Again; when he was the Tortured Man, Filled With Regret, Seeking Redemption; when he was Just Trying To Prove I Can Fit In And Be A Productive Role-Player On A Great Team. Now, in this series, he is going for a deeply off-putting Dennis Rodman: Agent Provocateur sort of thing, and wouldn't you just know it? It's exhausting and insufferable.
The Nuggets jumped out to a big early lead last night, behind a startling level of early engagement and aggression from center Nikola Jokic. Howard entered the game with around eight minutes to play in the first half and a clear mandate to get Jokic under control, if not by rooting him out of his preferred spots and keeping him off the glass then at the very least by liberally using up to six personal and/or two flagrant fouls to rough him up and throw him off his rhythm. This is mean, annoying work even when done by players infinitely less personally obnoxious than Dwight Howard; in his hands, it registered mostly as a bizarre, frantic, fake-smiley quest to get ejected, as though misinformed that ejection, in and of itself, would somehow be a desirable outcome for the Lakers. Within a minute he'd picked up a stupid technical foul, after picking up an equally stupid personal foul for trying to hip-check Jokic into the scorer's table during a race for a loose ball. (As for the attempted hip-check, Jokic never even left his feet.)
What was immediately weirder and worse than Howard's manic crazy-eyed energy was the sense that it was a phony and badly acted performance of manic crazy-eyed energy. He'd been sent out there to be annoying, and was in fact being annoying, but somehow wrongly? Somehow he was failing at the intentional kind of annoyance and succeeding at a whole different kind?
This is about all poor Dwight has left at this stage of his career. He played 14 minutes last night, matched up against one of the NBA's premier frontcourt players, and recorded four points, a single rebound, and four fouls. He never did accomplish the kind of message-sending flagrant foul he seemed on a mission to earn in his first few hyperactive minutes of action.
The game did contain a trio of classic Dwight Howard moments, though. With around eight and a half minutes left in the third quarter and the Lakers in possession of the ball, he sealed Denver's Paul Millsap under the rim and called for the ball; when LeBron James didn't immediately feed him an entry pass, he spun away in frustration and sulked off to the dunker's spot, where he watched the rest of the possession flat-footed. (His box score line between that moment and the end of the game included 3:37 of playing time; zero points, rebounds, assists, blocks, or fouls; and a three-second violation.) A few minutes later, the Nuggets used a Jokic ball-screen to get Howard matched up with Jamal Murray, and Dwight did this: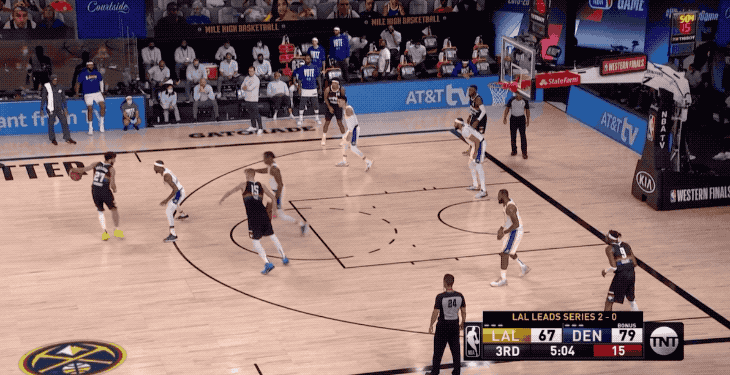 And then, even more delightfully, when Murray missed the wide-open shot he'd gifted him, Dwight competed with his own teammate, Danny Green, for the ensuing defensive rebound, and knocked it out of bounds and back to the Nuggets. Here's that: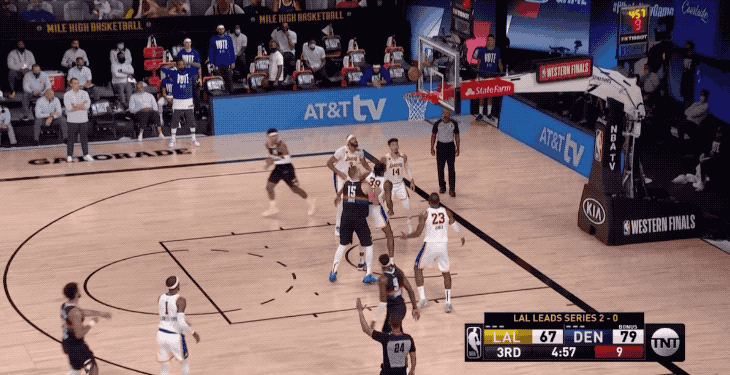 I particularly enjoy Anthony Davis's reaction.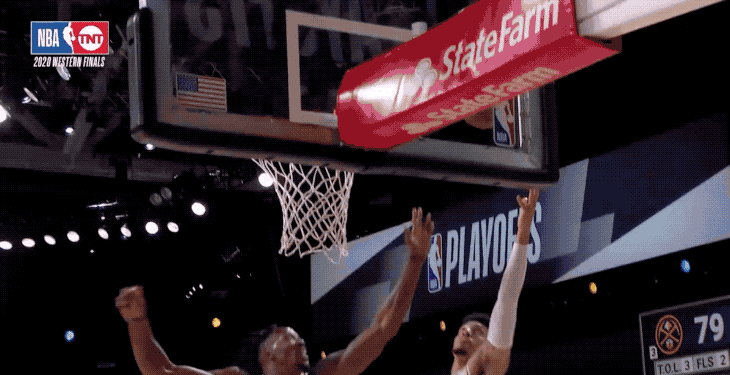 Lakers coach Frank Vogel replaced Dwight with Markieff Morris during the resulting stoppage. For whatever reason, he never subbed him back in. Maybe he just forgot.
Stay in touch
Sign up for our free newsletter